In today's world, using social media has evolved into a new lifestyle trend. Using social media has several advantages, including fostering relationships, disseminating news, and sharing daily activities.
Have you ever wanted to read deleted an Instagram direct message? Well, the good news is that you can read the deleted messages from your boyfriend's phone. Although Instagram doesn't state clearly how to restore deleted messages, it is a rather simple process. Continue reading if you want to learn how to get deleted Instagram messages back. This article outlines a few quick and simple methods for getting your DMs back.
Table of Contents
Method 1: Recover Instagram messages from account data
For Android Guide
The simplest method to make sure you can always recover your messages appears to be to regularly download your data so you have a backup copy on hand in case they are lost or damage.
Here is how you can
1 .Log in to Instagram in your browser
2.Sign into your account
3. Tap the Small Profile Icon at the right bottom corner and you will be redirected to your profile page.
4.  Then, you have to tap on the Three Lines Icon at the top and a new menu will pop-up for you.
5. .Select  "Settings" option from the list.

6. Here you have to tap on the Security option.
7. Scroll and there will be an option Download Data inside the Data and History section.
8. Just enter your registered Instagram email address and tap on Request Download. You'll receive copy of data on the email.
9.. Next, you will be asked to enter the password for the verification, enter the Password and tap on the Next.
10 .Thats it,Your request todownload your account data was submitted successfully. ;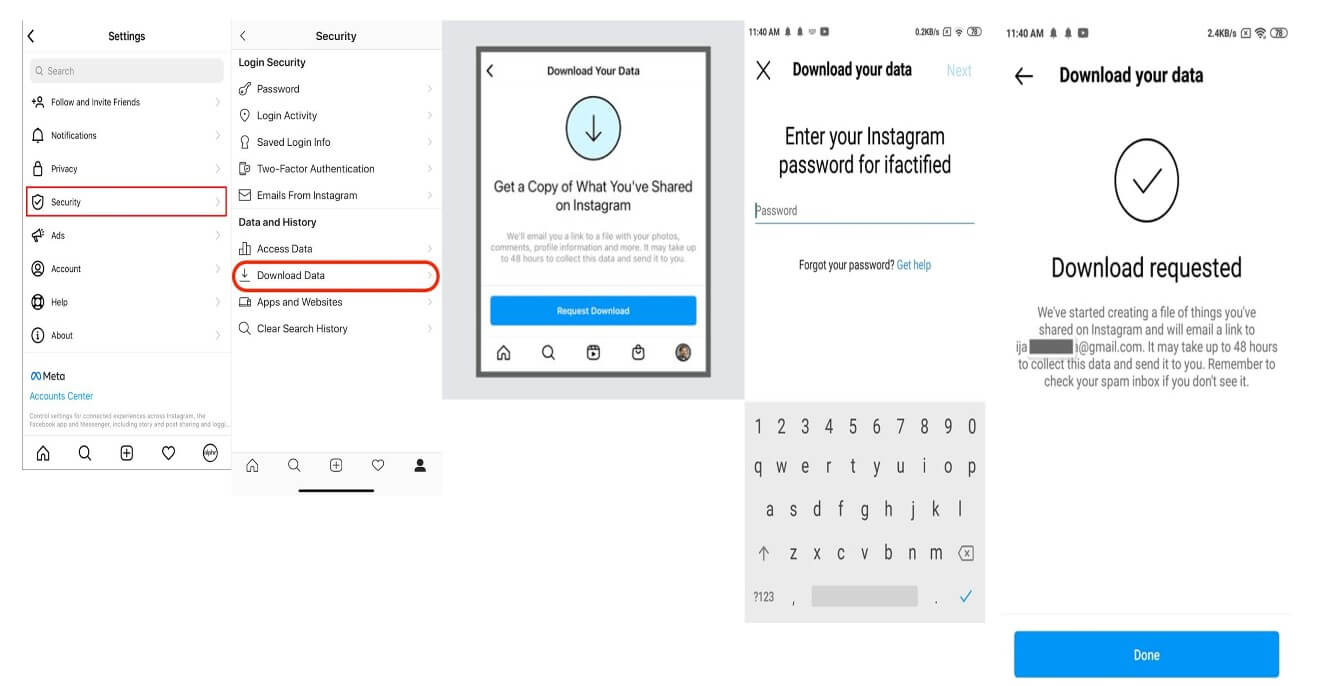 11. Open email from Instagram, you will receive it within 2 days. Tap on the Download Data button as shown in below image.
After you download it on your smartphone, follow the below steps to view and restore deleted Instagram direct messages (DMs).
How to View & Restore Deleted Instagram Messages
Install the Json Genie (Editor) app on your phone.

Extract the downloaded zip file.

Launch the Json Genie (Editor) app.

Locate the Instagram data folder and open the messages.json file.
Thats it, here you can see deleted Instagram messages of all time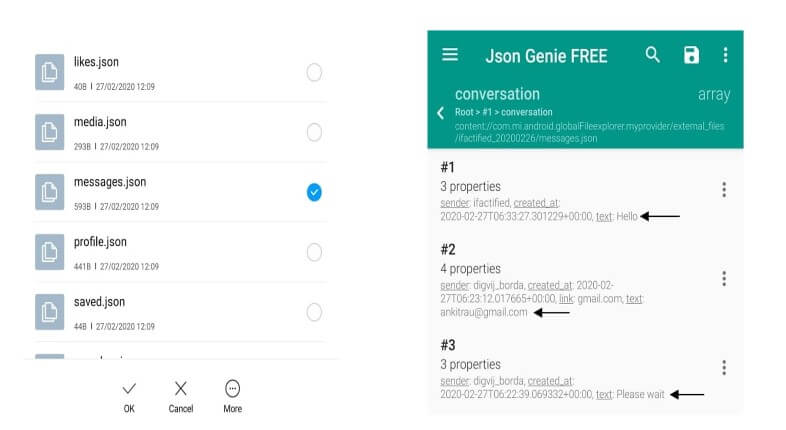 For PC Guide
Open Google Chrome browser on your PC and visit the https://www.instagram.com.
Login to your account by providing your username/phone number/email address and password.
2. Tap on your profile icon at the top right corner of the screen and select the it.
3. Here tap on the Setting icon available next to the Edit Profile option.
4. A menu will pop up for you, select the Privacy and Security from the list of options.
5. Now, scroll down and tap on the Request Download option inside the Data Download section.

6. Enter your registered email address, select JSON inside the Information format section and tap on the Next.
It will ask you to enter your account password for the verification and tap on the Request Download button.

That's it, Instagram will started creating a file of your account information and they will email a link to Gmail once it's ready to download. Keep in mind that it may take up to 48 hours to collect this information and send it to you.
After you receive an email to download the data, you will find the deleted Instagram messages in a JSON file.
Method2. See deleted messages on my boyfriend's Instagram through Famiguard Pro for Android
However, it is very disadvantageous to check your boyfriend's phone by means of data recovery. Since he will know that you checked his phone, this can be a conflict. So, if you want to monitor your boyfriend's phone in real time, then I recommend you to use monitoring software - FamiGuard Pro for Android
What is FamiGuard Pro for Android?
Famiguard Pro for Android is an application that lets you remotely monitor and control activities on a particular device. This includes viewing messages and tracking activities and location. This All-in-One Android tracking application enables users to monitor more than 30 applications, such as WhatsApp, Instagram, etc. and ensures that you can monitor devices without being traced.

Monitor more than 30 applications through a single App.

FamiGuard Pro for Android enables you to monitor several apps and their activities remotely. The applications include Whatsapp, Snapchat, Instagram, Facebook, Messenger, Telegram, etc.

Tracing location and pace

The application has a built-in GPS and tracking system that enables users to track the location of targeted devices in real-time. Along with tracking location, you can even track their pace and view location history or set up Geo-Fence to get notifications when they are nearby.

View files and data at any time

Forget about sneaking around and waiting! FamiGuard Pro enables you to access any file or data at any time. The data includes conversations, call logs, pictures, and browser history.

You can now remotely control devices:

FamiGuard Pro for Android enables you to monitor devices in incognito mode and control them as you want. This includes recording phone calls, taking pictures, capturing screens, and tracking activities. The real-time recorder records both ends of a phone call and lets you hear the entire conversation remotely. It also allows you to view and capture screens and save them. Users can also secretly turn on the camera of their targeted device and take pictures.
PROCEDURE WITH STEPS:
STEP 1: Create your account for FamiGuard Pro
To create a FamiGuard Pro account, click the Sign Up/Monitor Now option and enter a working email address. After then, in order to use all sophisticated monitoring capabilities, you must buy a premium package. You have the option of selecting a 1-month, 3-month, or 1-year plan. Prices will change accordingly.
STEP 2: Download the FamiGuard Pro app and set it up
After successfully purchasing our Android monitoring solution, you will be taken to the page for managing your orders and products. Here, you can manage and check the matching order you previously created. The Setup Guide button should then be selected, and you should carefully follow the on-screen directions to finish setting up the target Android device.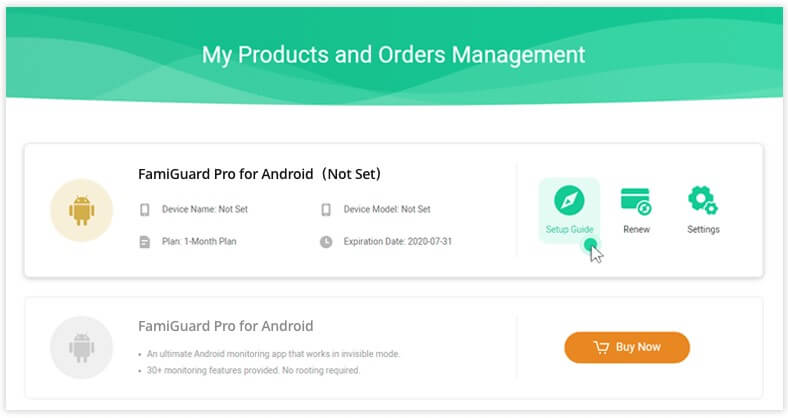 STEP  3: Verify your setup and start monitoring from your account
Log into your FamiGuard Pro account on our website once the target phone has been configured and the software has been installed. If everything is configured properly, you should be able to see the device name and any relevant details. To view the phone's activity and data, click Dashboard. Please be aware that the first time you sync data from your phone to your dashboard, it will take some time.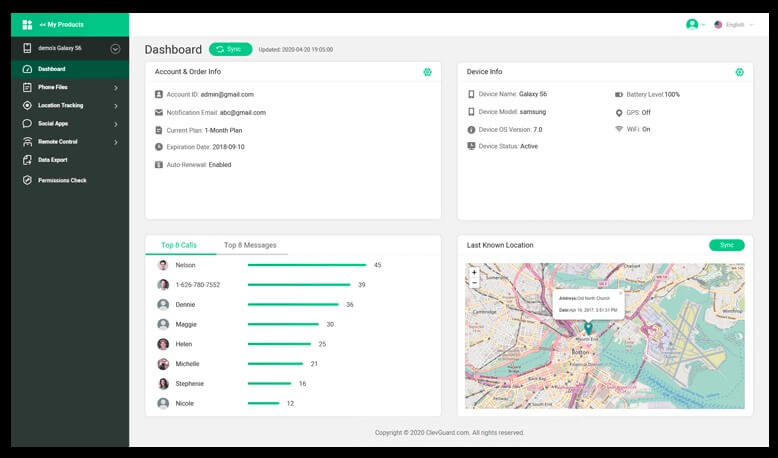 Conclusion
One of the most widely used social networking sites for sharing precious moments through images, videos, and tales is Instagram. Millions of people use it to communicate with friends, family, and coworkers on a global scale. But we all have a person, say your boyfriend removes something or deletes a message. If you know it will be difficult to recover them, him deleting significant messages on Instagram can feel disastrous. While some claim they were able to restore deleted messages by downloading an archive of their Instagram data, others found it to be ineffective. What Instagram has saved on its servers will determine everything.
The simplest technique to guarantee that you can always recover your messages appears to be to routinely download your data so that, in the event that they are destroyed, you have a backup copy on hand that you can refer to.
You may also be interested in:

By Tata Davis
professional in software and app technology, skilled in blogging on internet
Thank you for your feedback!