Technology has made it easier to hide things, lie and keep secrets. From disappearing messages to archives, hiding things is not an issue!
However, technology also provides efficient methods to retrieve those deleted messages. Do you know how to see those deleted Telegram messages again? Keep reading, the following part is about how to see your boyfriend's deleted messages on Telegram without being traced.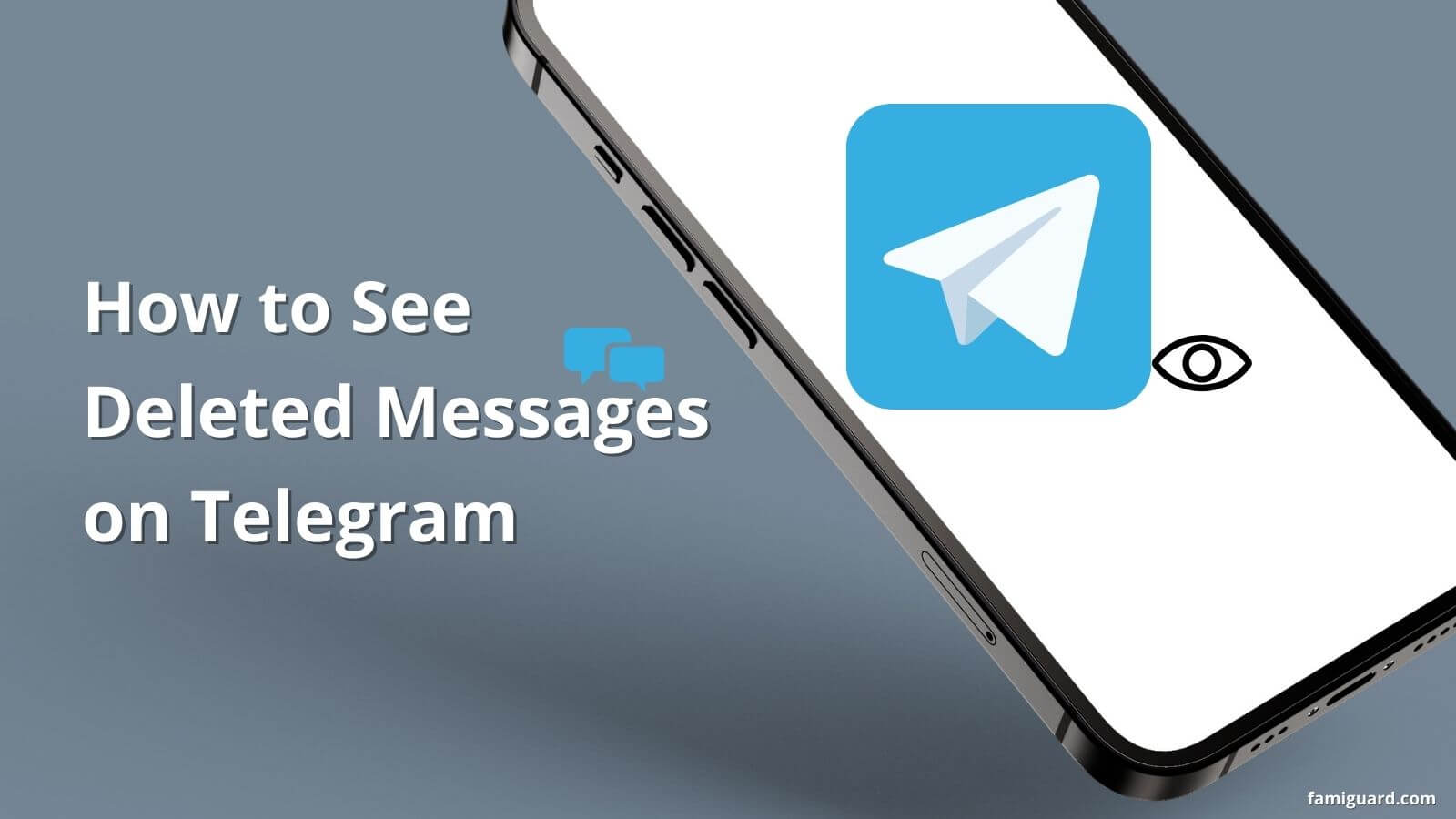 Table of Contents
Method 1: See Deleted Telegram Messages from a Previous Backup
Telegram is known to be a cloud-based instant messaging platform and thus also enables its users to recover deleted messages through various methods.
Here, we will show you three major ways. Keep Reading!
1.1 Recover Deleted Telegram Messages with Telegram Desktop
Step 1: Download the Telegram Desktop version on your computer and log in to your targeted account. The application will then redirect you to the dashboard, where you can click on the three lines icon at the top to open a menu screen.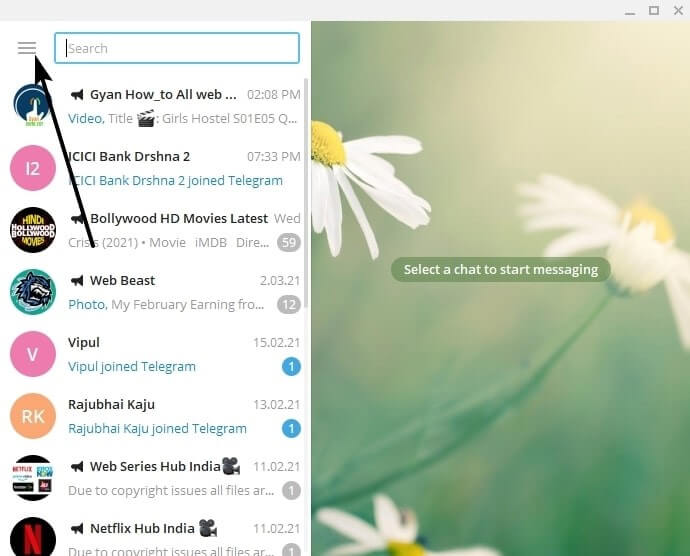 Step 2: From your given menu, click on 'Settings' and pick the advanced option. You can then go to the Data and Storage section and select Export Telegram Data to retrieve deleted data.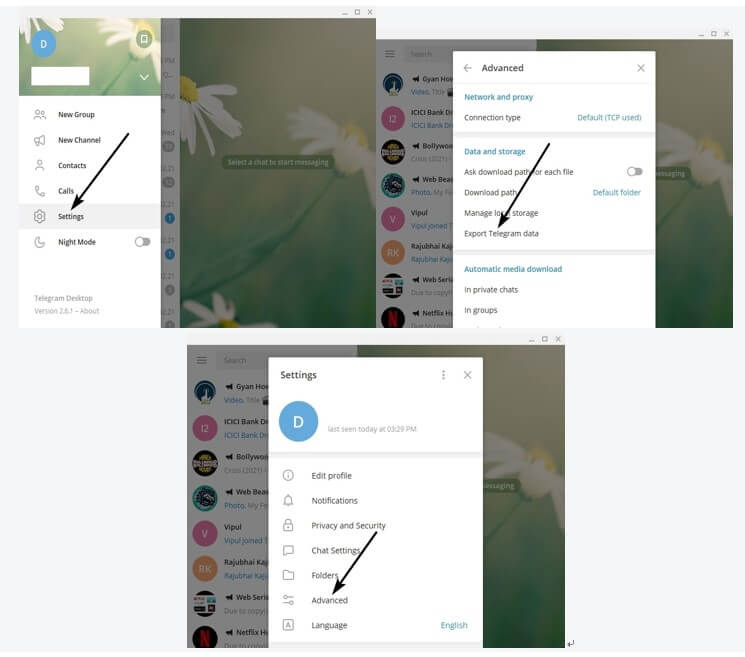 Step 3: Choose the deleted messages that you want to recover and export. Select the options and click the export button. Telegram recovers and exports data within 24 hours for security reasons and notifies all devices about the requested recovery. You can then request your data recovery again after 24 hours. Confirm this request by clicking on 'Allow'.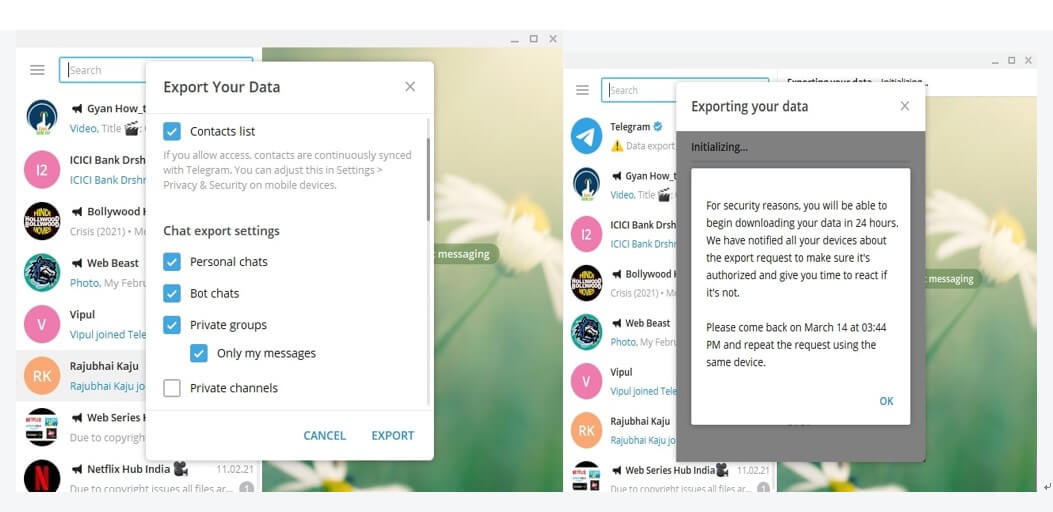 Step 4: After clicking 'Allow' you will receive a confirmation message stating that your request has been accepted. 24 hours later open the application again, go to Export Telegram Data and tap on the Export button. The application will initiate the exporting process after which you can click 'Show My Data' to view deleted chats in the export_results.html file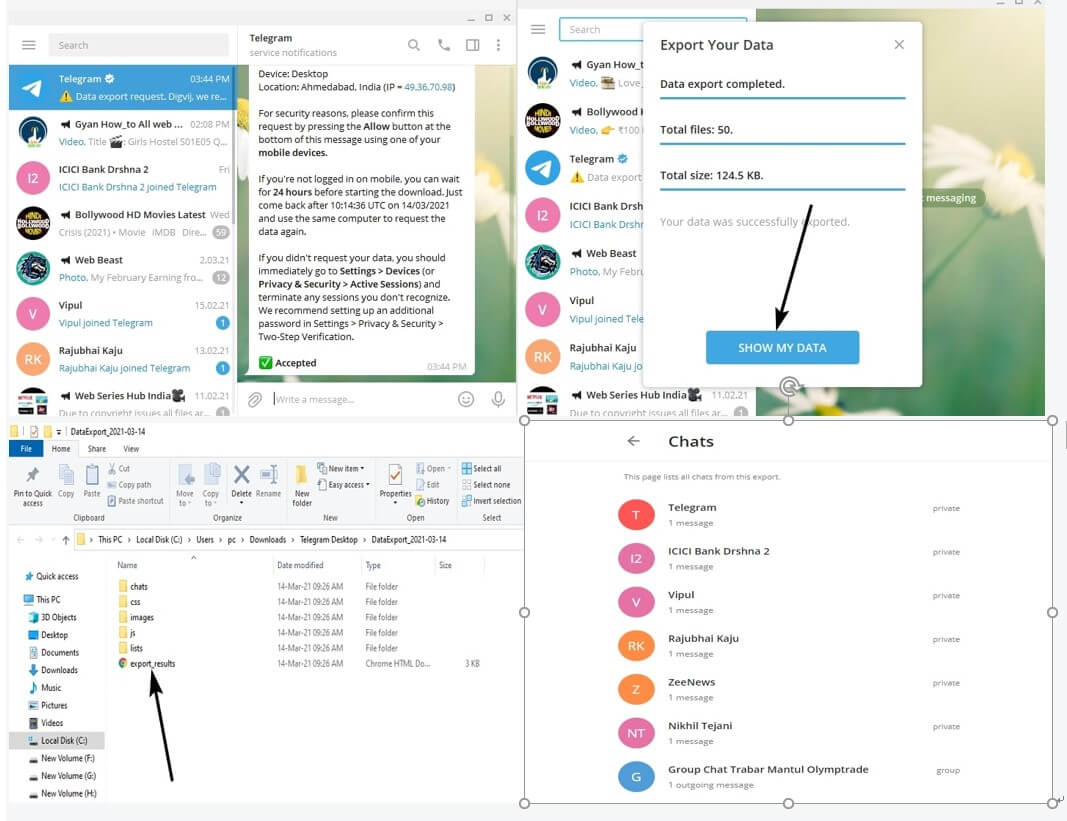 1.2 Recover Deleted Telegram Messages with Android Cache Folder
You can retrieve deleted messages on an Android device through the following steps:
Step 1: Access the file manager application on your targeted device
Step 2: Go to Android, click on data, and then on org. Telegram. Messenger, you can then access the cache folder.
Step 3: You can then view the content and even copy it to another folder on the device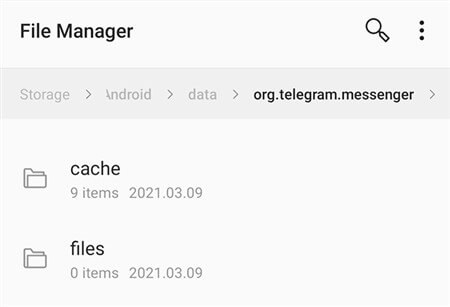 1.3 Recover Deleted Telegram Messages with Backup on iOS
There may be two options available for this: backing up data using iCloud or through iTunes.
1.3.1 To restore an iCloud backup on your iOS device:
Step 1: Access the general settings on your phone
Step 2: Click Reset and Erase all previous content and settings
Step 3: Set up your device from scratch
Step 4: You can then tap on Restore from iCloud Backup
1.3.2 To restore an iTunes backup:
The initial steps are similar to those for iCloud, after which you can follow these steps:
Step 1: Connect your device to a desktop through a USB cable
Step 2: Launch iTunes and, click on the device, tap summary on the left.
Step 3: Click on Restore Backup to restore the iTunes backup and wait for the process to complete.
However, this method will cost a lot of time and your boyfriend can also view the messages you've recovered.
Method 2: View Deleted Messages on My Boyfriend's Telegram Without Recovering It (Monitoring solution)
If you want to check your boyfriend's Telegram for a long time without being found by him, then I recommend you to use an Excellent Telegram Monitoring Software - FamiGuard Pro for Android.
2.1 Why to View Deleted Messages on Telegram with FamiGuard Pro for Android?
Record Every Telegram Messages Even if These Messages Are Deleted.

Monitor All Activities on Telegram, including Received and Sent Telegram Messages.

No Need for Backing Up or Recovering Telegram Data. With Its Online Dashboard, You can View All Telegram Messages Directly

Support Deleted-Message-Finding on Most Popular Social Apps from Snapchat, WhatsApp, Viber, to Facebook.
Other Advantages:
Real-Time Syncing Data: You can sync and monitor messages from social apps in real-time using Wifi or other connections.

Easy to Set Up: The application is quick and easy to set up and can be installed and set up in less than 5 minutes.

Track without Being Traced: The application's icon is invisible on the home screen, which lets you track and monitor devices without being traced.

Protect Privacy and Data: The data collected is encrypted and safe to use, ensuring the user's privacy.

Supports Multiple Languages: It serves the needs of users worldwide and supports multiple languages.

Reliable Customer Support: FamiGuard Pro for Anroid provides 24/7 support for its users in case of any queries or issues.
2.2 How to Use FamiGuard Pro for Android to See Deleted Messages on Your Boyfriend's Telegram?
You can now monitor and see your boyfriend's deleted messages in less than 5 Minutes and remotely control his device. Here's how:
Step 1. You need to complete the Registration on FamiGuard.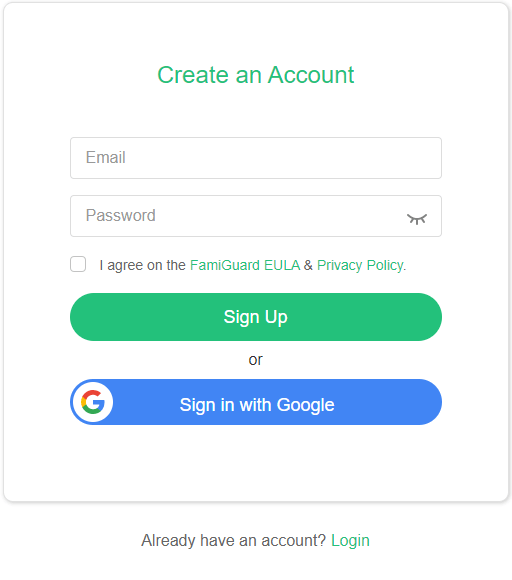 Step 2. Download FamiGuard Pro for Android on the Target Device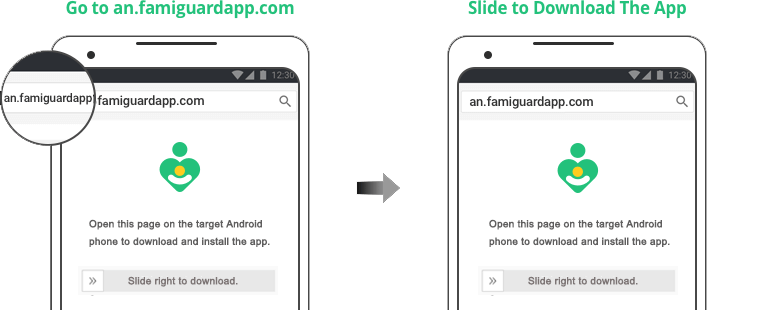 Step 3: Install FamiGuard Pro for Android on the Targeted Device

The application can easily be installed through the link by following the provided instructions. You will be directed to the website to review and edit your purchased plan. Follow the Setup Guide to complete setting up your application.
Step 4: See Deleted Messages on Your Boyfriend's Telegram Remotely on the dashboard of FamiGuard Pro for Android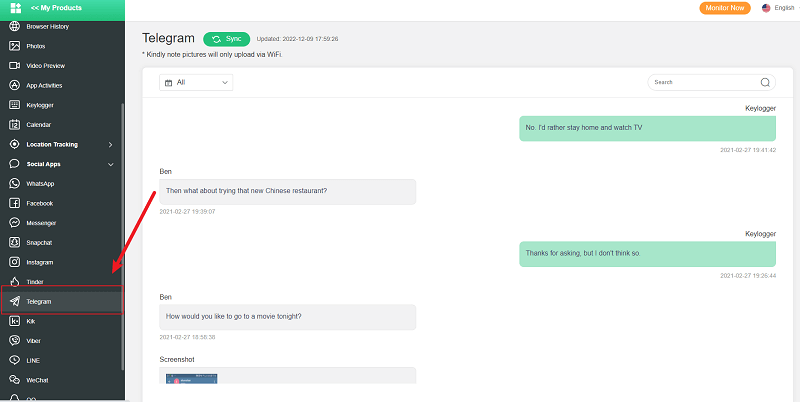 Conclusion
Infidelity increases by the day; in such situations, it may not be so wrong to protect yourself and keep an eye out. Thus technology may provide users with avid solutions to such needs.
Social Monitoring software such as FamiGuard Pro for Android may be your key to erasing those doubts and insecurities. Such software makes it easier for people to track and monitor the activities of their loved ones and to protect them as well.
Hurry up, don't let the chance go! Try this App right now! With its 30-day Money-Back Guarantee, you can even Get Your Money Back at the 29th day if you are not satisfied with this app!
You may also be interested in:

By Tata Davis
professional in software and app technology, skilled in blogging on internet
Thank you for your feedback!