It has become much easier to hide things. Disappearing messages, optional backups, and several applications have increased infidelity and disloyalty over time. Secrecy has become more manageable and may have made it easier for people to cheat, lie and hide things. So if you think your boyfriend may be hiding something from you or deleting his messages, here's how you can see deleted viber messages without being traced.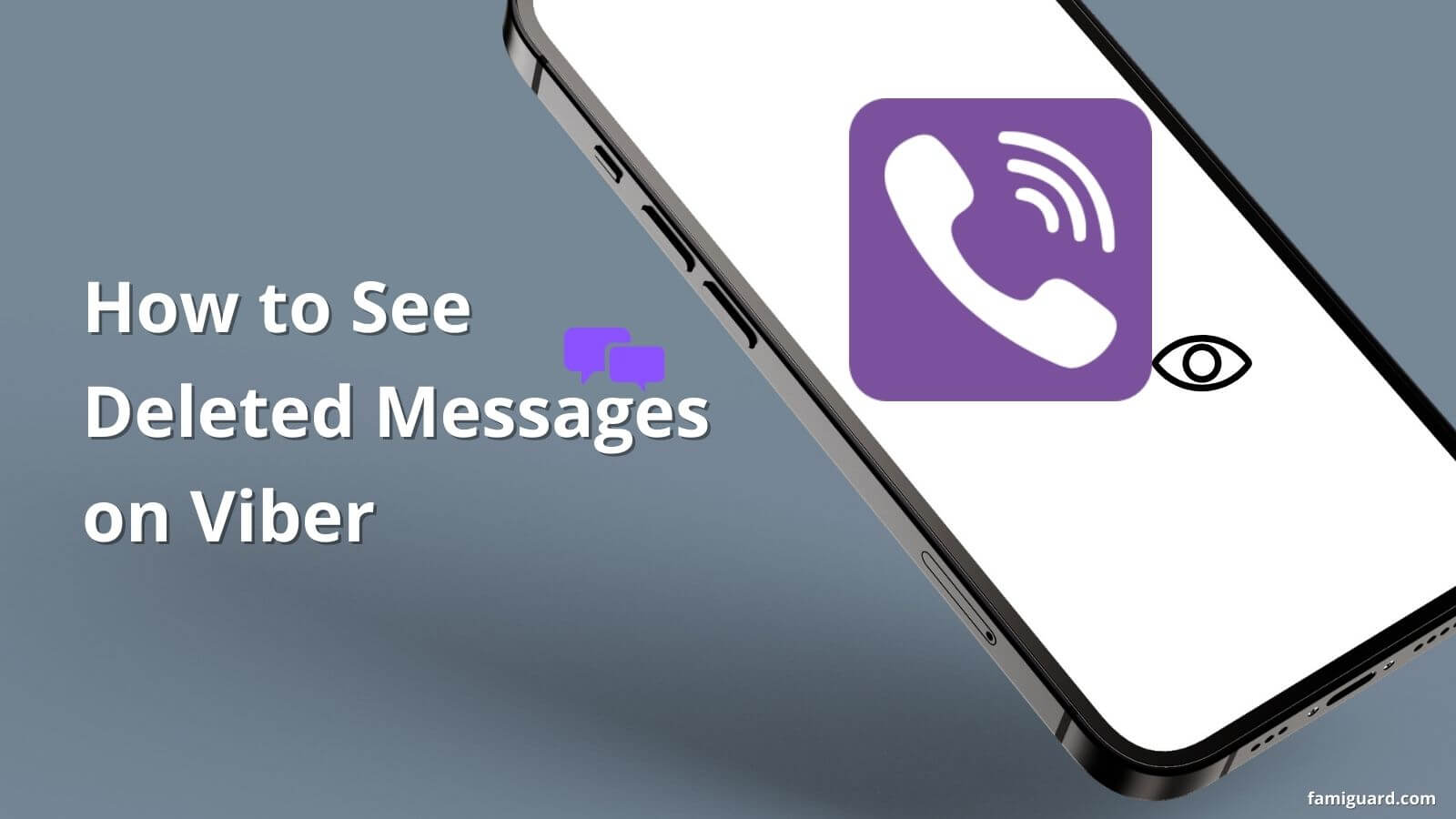 Table of Contents
Method 1: Restore Deleted Viber Messages from a Previous Backup
If a backup has already been created for your boyfriend's Viber chats on his Android or iPhone, restoring them won't be much trouble! Viber enables users to link to Google Drive or iCloud by default, making it easier to save or restore chats.
1.1 For Android Devices
Android users can link their applications with their Google accounts and can thus create a backup for their chats, attachments, and other data; this makes it easier to restore them later on.
Step 1: Backup your Viber chat
This step is crucial considering that you need to have a backup on Google Drive first to restore your messages. To create a backup, you can go to the application; then, from its settings menu, you can go to 'Viber Backup' and simply tap on the Backup option. This will then connect your boyfriend's account to his Google Drive.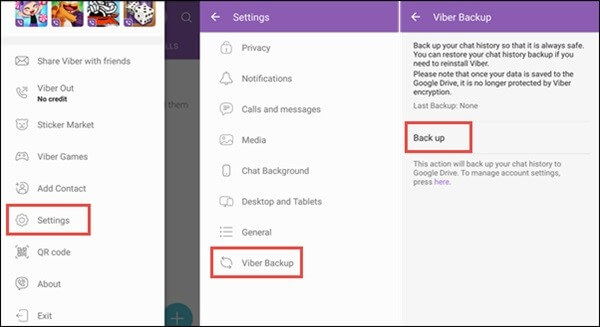 Step 2: Restore Viber chats
For the second step, you will need to reinstall and connect the application to the same Google account. Once that is done, you can set up the account as it was. While setting up, you will get an option to restore existing data which will let you restore all previous messages. If not, you can simply go to the application's settings, click on Viber backup and then click on the 'Restore' option provided.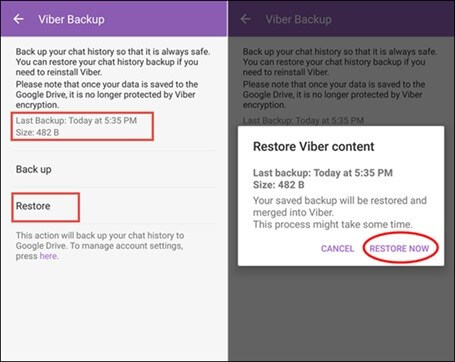 1.2 For iOS Devices
Step 1: Backup Viber messages
Backups are also necessary for iOS devices. After linking your application with iCloud, you can create a backup by going to the application's settings menu and tapping the Backup option.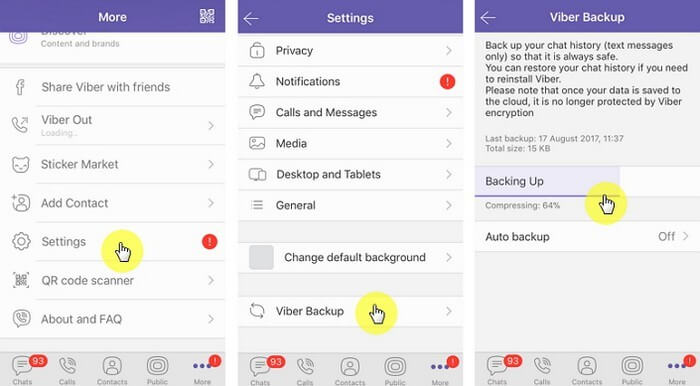 Step 2: Restore Viber backup
To restore messages from the iCloud backup, you must first ensure that the application is connected to the iCloud account where the backup is stored. You can then go to the iCloud settings and enable the Viber app sync feature and the iCloud Drive option. Then you can reinstall the application and link it to the phone number used. The application then enables you to restore existing data, including chats.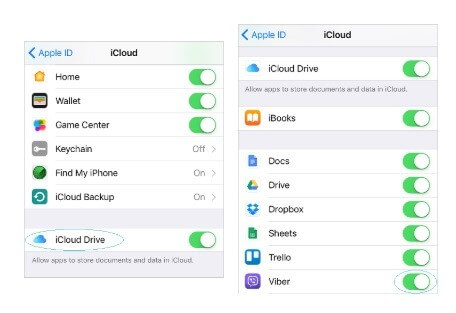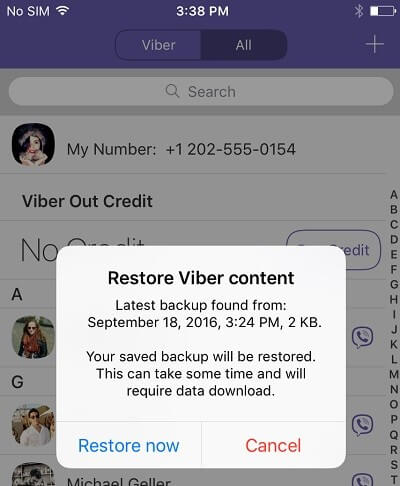 This method however may take a lot of time and the restored data can also be viewed.
Method2: View Deleted Messages on My Boyfriend's Viber Without Recovering It (Best Monitoring solution)
2.1 What is FamiGuard Pro for Android (Features & Functions)
FamiGuard Pro for Android is an All-in-One Android tracking application that enables you to monitor activities remotely and thus view messages on any android device. It allows you to monitor more than 30 applications, such as Snapchat, Viber, Whatsapp, etc., and lets you monitor them remotely without being detected. With this application, you can even track their location as well as their previous locations.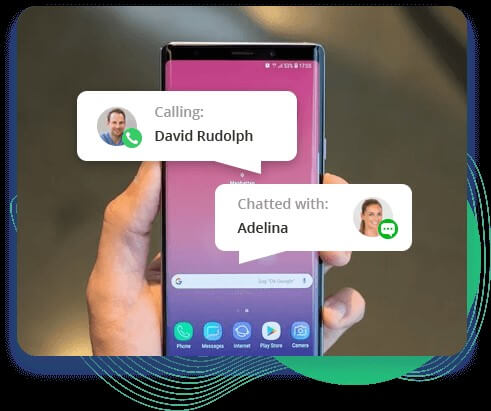 You can now monitor dozens of applications through a single App:

This application lets you monitor the activity of several apps remotely. These applications include Instagram, Snapchat, Whatsapp, Viber, Facebook, Messenger, Tinder, Telegram, etc.

Trace the location as well as the Pace of your loved ones:

The application also includes a built-in GPS and tracking system that enables you to track your boyfriend's real-time location. You can even view location history or set up Geo-Fence to get notifications when they are nearby.

View files and data at any time:

You no longer have to wait to check his phone! You can now access any kind of data, including conversations, call logs, pictures, and browser history, anytime. The application also lets you get details of each activity and save data.

You can now remotely control devices:

The application also enables you to monitor devices in incognito mode and control them as well. You can now record phone calls, take pictures, capture screens, and track activities. The real-time recorder records both ends of a phone call and thus enables you to hear the entire conversation remotely. You can also view and capture screens and save them as well. Another exciting feature is that you can secretly turn the camera on and take pictures on your targeted device. Nothing can get past you!
Features

Real-Time Syncing Data: You can sync and monitor data in real-time using Wifi or other connections.

Easy to set up: The application can be installed and set up in less than 5 minutes and thus is not only easy but also quick.

Track without being traced: This application enables you to track and monitor devices without being traced since the application's icon is invisible on the home screen.

Protects Privacy and data: The data collected by the application is not only encrypted but also safe to use to ensure the user's privacy.

Supports various data types: The application enables you to track and monitor various data types per your needs.

Offers a competitive and fair price: The application enables you to track and monitor data at a relatively low price of $0.27 a day.

Supports multiple languages.: The application caters to users all over the globe through its support for multiple languages.

Reliable Customer Support: The application ensures 24/7 support for its users in case of any queries or issues.
2.2 How to Use FamiGuard Pro for Android to see deleted messages on your boyfriend's Viber
You only need 5 minutes to start monitoring your boyfriend's messages. This can be done through 3 simple steps:
Step 1: Sign Up and Choose Your Plan
First and foremost, you must sign up for the application through a valid email address and purchase a plan to activate the application. It then provides you with a link to download it to your device.
Step 2: Install Application on targeted Device
You can easily install the application through the download link and by following the instructions provided. You will then be directed to the website that lets you review and edit your purchase, after which you can follow the Setup Guide to complete setting up your application.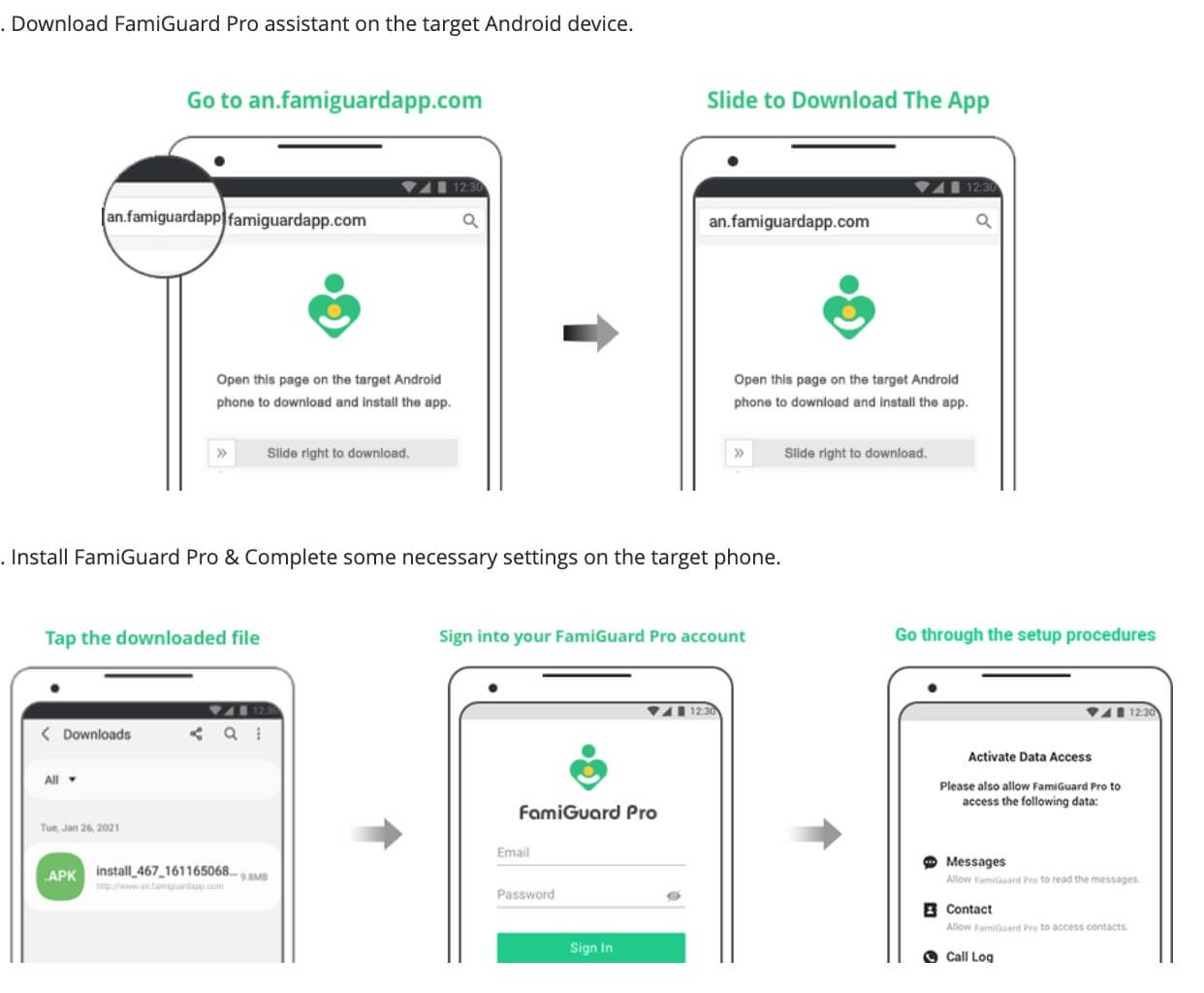 Step 3: Monitor Remotely
Once you're done setting up, you can now continue monitoring your targeted device through the web dashboard control panel. You must first sign in to your account on the website; you can then start viewing the targeted device and monitoring it.
Conclusion
There's nothing wrong with keeping your guard up and protecting yourself; in certain situations, finding out for yourself may be easier than confronting the other person. Thus applications like FamiGuard Pro for Android may make it easier for people to track and monitor the activities of their loved ones to not only stay safe but also to steer clear of any misunderstandings.
You may also be interested in:

By Tata Davis
professional in software and app technology, skilled in blogging on internet
Thank you for your feedback!