Sometimes we want to enjoy texting or calling our friends, family, and even people we're not acquainted with anonymously. In this digital age, concealing our identity when making calls becomes even more difficult. It's only natural to want some privacy while messaging or calling.
The most popular method is to use an anonymous calling application. An anonymous calling application will conceal your real phone number and real identity if needed so you can interact with people without fear of your personal information being intercepted.
If you're unsure where to start, check out the list we've compiled below. Here are the top 10 anonymous calling apps you should try out!
Table of Contents
Part 1. Top 10 Anonymous Calling Apps
1. Sideline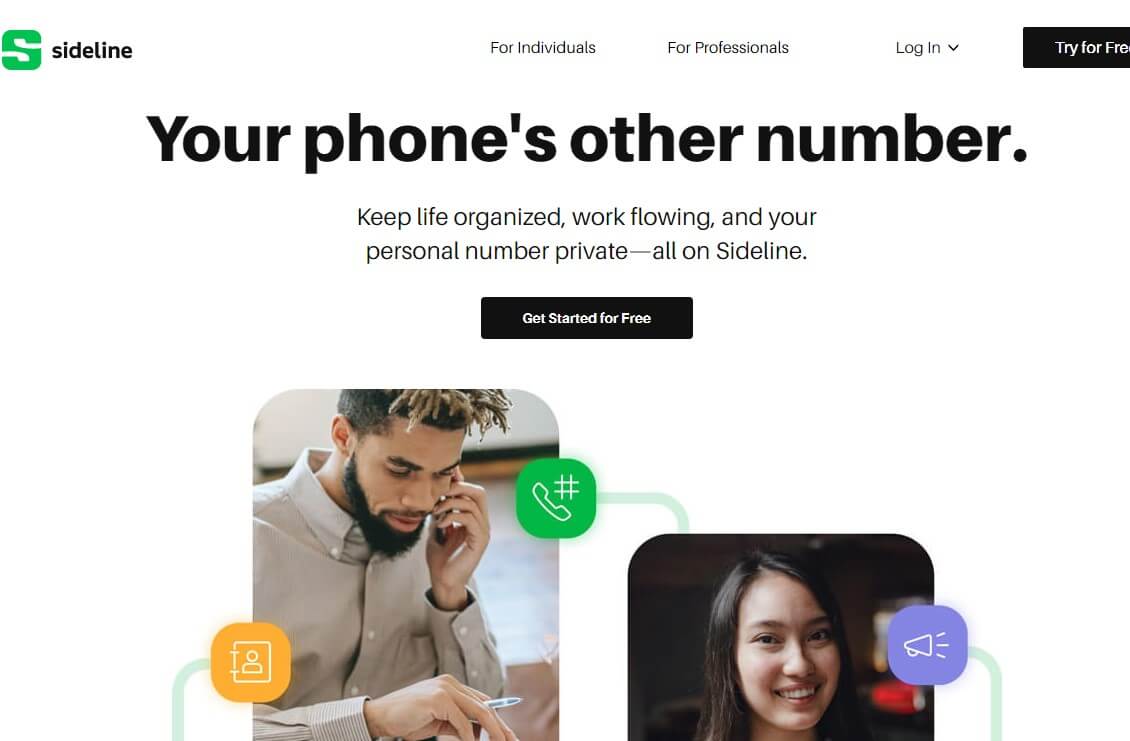 Many argue the best anonymous calling app is Sideline. Sideline is originally meant to be a resource for businesses to streamline their communications while maintaining privacy. However, it is also touted as the best for personal use. You can use it to keep your personal number private and instead work with the application's second number. This second number can then be used for calling, texting, and even voicemail, as you need.
Features
Sideline doesn't simply work on Wi-Fi; it also uses your existing network carrier to make calls. You can make calls like you normally would on your phone but by using a second anonymous number.

You will still be charged the standard calling and messaging fees according to your network carrier plans.

You can differentiate between the second number and your original one with sidelines custom caller ID. Any incoming calls on your 2nd number will display a Sideline caller ID tag.

You can also use VoIP (Voice-over-internet-protocol) if your cellular network carrier isn't operative.
Pricing
Pricing for standard Sideline starts from $9.99/month. Sideline also offers a free trial for 7 days before you sign up.
2. Hushed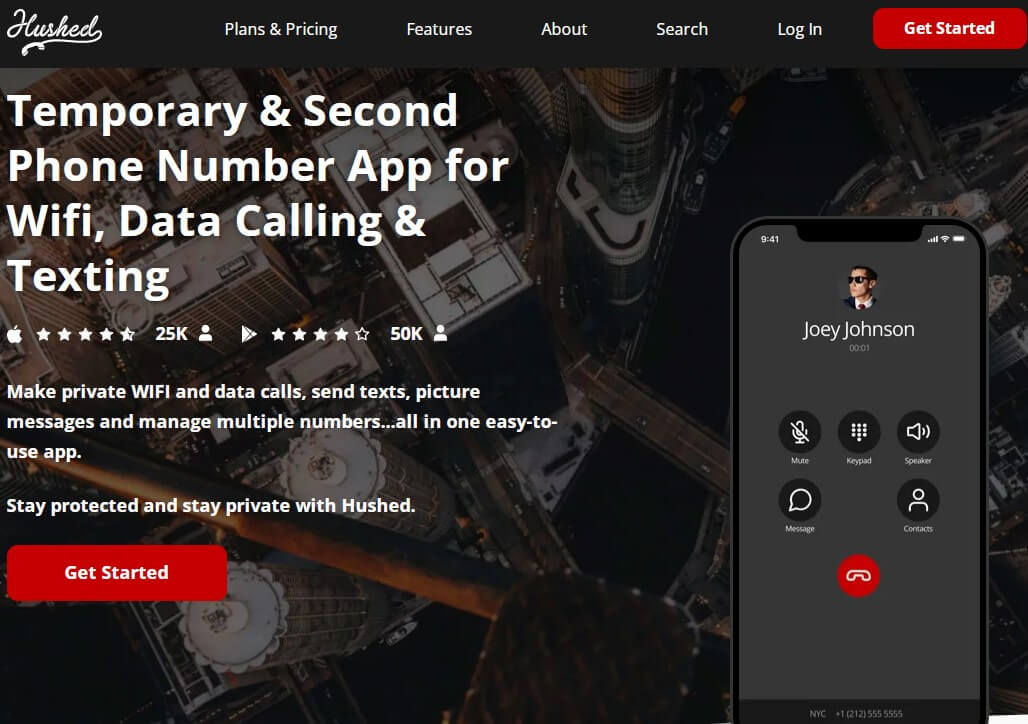 Hushed also acts as a virtual phone number application. It will provide a number you can use for texting, calling, and voicemail. The anonymous phone call app also has features such as call forwarding and auto-responding. Unlike Sideline, Hushed uses your device's Wi-Fi or data connection to make calls. This means you don't need a contact number or even a SIM card to get started.
Features
You can add multiple lines of connection as you want.

There is no limit to the number of calls or messages you send in a day.

You can also add a dedicated phone number where incoming calls can be forwarded.

You can use auto-replies to send automated messages if you're unavailable.

Add customized voicemail greetings to your number.
Pricing
Pricing starts at $3.99/month. For international calling, you can also use the pay-as-you-go plan starting at $4.99/month. New users are also provided a 3-day free trial to test the service.
3. Text Me Up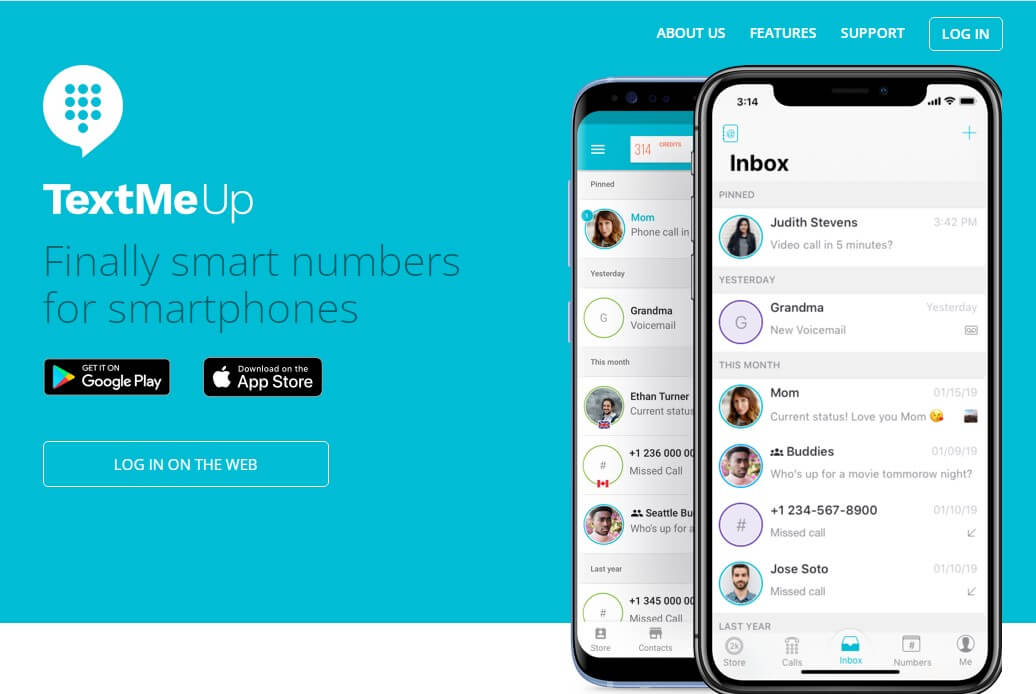 Text Me Up is a free anonymous call app that allows you to send text messages or make calls for free. It allows you to connect with users who aren't on Text Me Up in over 200 countries. You can also share videos and photos with individuals from around the globe. The application will provide you with a number you can use while concealing your real number. You could, for instance, use this application for dating so you can keep some parts of your life private.
Features
You can create multiple numbers and manage them from your account.

You can access your messages from your iPhone, Android, tablet, or PC.

Send message requests to users who aren't on Text Me Up and invite them for free calling and messaging.

You can enjoy free HD voice and video calls to other Text Me Up application users.
Pricing
The application is generally free for users from the US and Canada for the first number. You have to pay a small $2.99/month fee for unlimited calling and texting.
4. Line2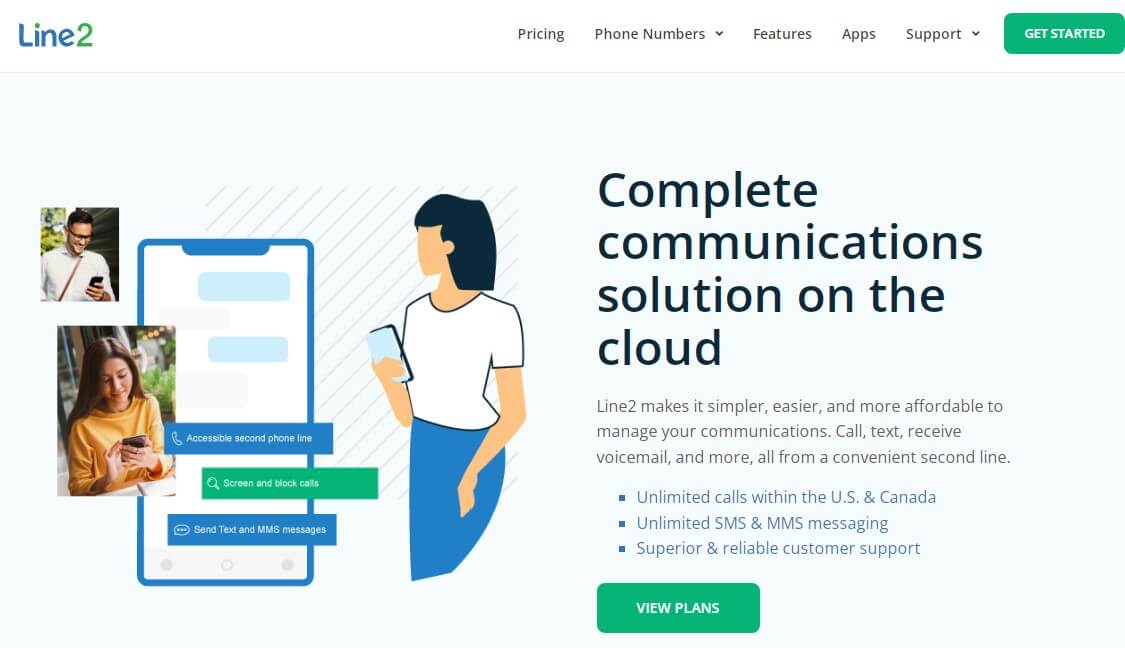 Line2 is a simple, reliable VoIP service that works on your desktop and smartphone. It provides you with a second number you can add on top of your existing number for communication. In this way, you can keep your original contact private. It offers you basic texting and calling services, although the producers plan to introduce video conferencing in the future.
Features
Line2 allows for united calls within the US and Canada and unlimited SMS and MMS messaging.

You can merge calls for a group chat in the application.

The basic version includes texting and calling. You can also upgrade for additional features such as voicemail transcription and call recording.

The application is incredibly simple to set up and use; its ease of use is what drives its popularity.
Pricing
Line2 is available at $15.99/month billed monthly or $13.75/month billed yearly.
5. Burner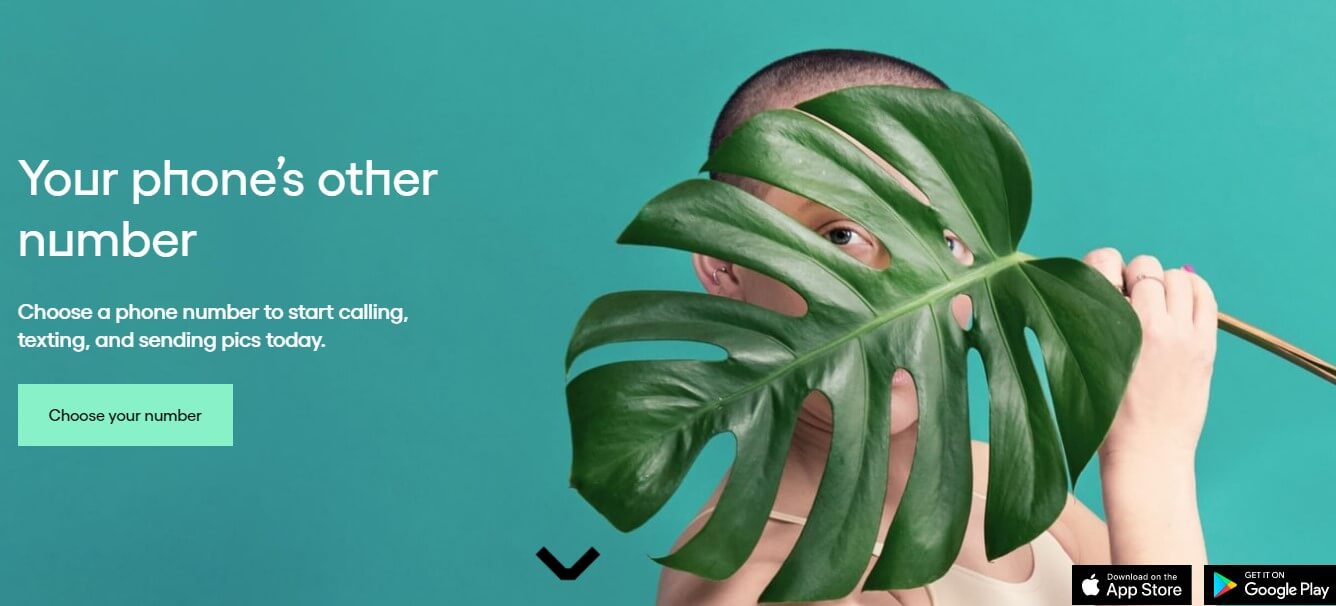 The Burner application works just as a burner phone would. A burner phone is usually inexpensive and is designed for temporary use before it is discarded. Using the same concept, the burner application provides a secondary line for calling and texting that you can use for dating, online shopping, or anywhere you want to keep your identity hidden.
Features
The Burner application allows you to set up multiple anonymous numbers for contacting individuals.

You can easily delete your number to remove all texts and call history and eliminate access to the number whenever you want.

You can also mute or block numbers as needed or seamlessly switch numbers.

Use the application to send text, calls, and picture messages to your contacts.

This is an untraceable calling app; anyone you contact through Burner won't be able to trace your personal number.
Pricing
You can get Burner for $4.99/month. You can also sign up for the 7-day free trial to test the service.
6. Dingtone

Dingtone is a free anonymous phone call app that allows you to make calls through Wi-Fi and send text messages to your contacts. It provides you with a second line that you can use in place of your original contact number. You can also make international calls to over 200 countries and regions worldwide.
Features
Dingtone will allow you to make unlimited calls to anyone over your Wi-Fi or data connection.

You can choose the phone number you want, including number codes from the US, Canada, UK, Belgium, Netherlands, Australia, France, Sweden, Mauritius, Poland, Austria, Indonesia, Puerto Rico, Czech Republic, Malaysia, Denmark, and Romania.

Use the anonymous number to send free calls or send texts.

You can also use the application for group phone calls and conference calls.

Dingtone Premium will also offer features such as call blocking, call recording, call forwarding, and voicemail.
Pricing
Calls from one Dingtone user to another Dingtone user are generally free; however, you may have to pay a small fee if you make international calls to non-Dingtone users. You will have to buy Dingtone credits to pay for international calls.
7. Pure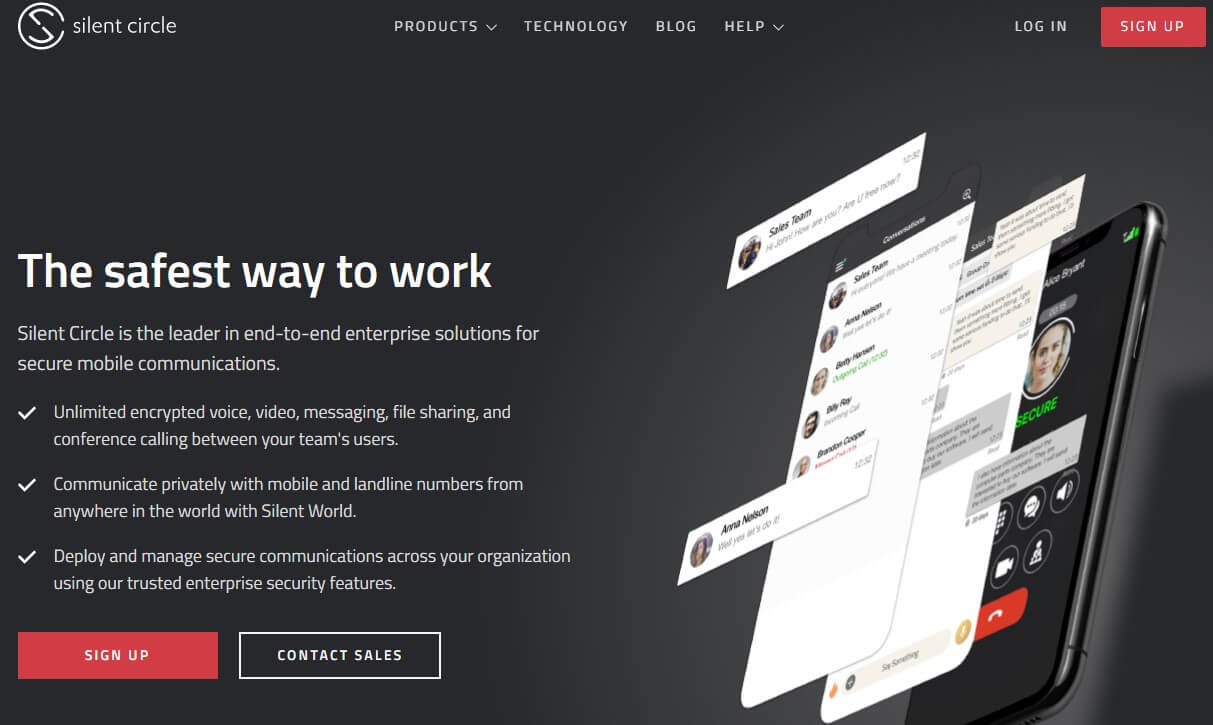 Pure is primarily a dating app where singles can connect for discreet chatting or dating. However, it is also popular for the anonymity and privacy it offers its users. You can use the application to connect with others, all while keeping your identity and personal information secure.
Features
The application allows you to build a profile and add as much or as little information as you want.

You can then connect with people who share similar interests while staying anonymous.

The application allows you to send text, photos, and voice messages or have video chats. All messages will disappear after 24 hours, but you can ask your contact to disable timer settings if you want to continue chatting.

You will also be notified if anyone takes a screenshot of your chat. Photos from your chat also can't be saved or copied by another user.
Pricing
The app is listed as free, but this is only true for women. Men can use the app after they sign up for their services at $29.99/month or $14.99/week. The application also offers a 3-day free trial before you sign up.
8. SilentCircle

SilentCircle is an enterprise-grade voice, messaging, and anonymous video call app that allows you to connect with other users anonymously. You can use it for both Android and iOS devices. The application takes many steps to ensure complete privacy and security. All chats are protected by end-to-end encryption and will disappear after some time. You can set the redaction period on your own from anywhere between one minute to 90 days. 
Features
You can use Silent Circle for private messaging, voice messaging, video calling, or file sharing.

Communicate privately with users from all over the world with mobile or landline numbers.

All conversations are 100% private, and all encryption is done on the device so no one can tap in.

Use the application for unlimited calling or messaging with no additional fees.
Pricing
You can subscribe to Silent Circle's "Silent Phone" service for encrypted voice, video, conference calling, and messaging at $9.95/month.
9. TrustCall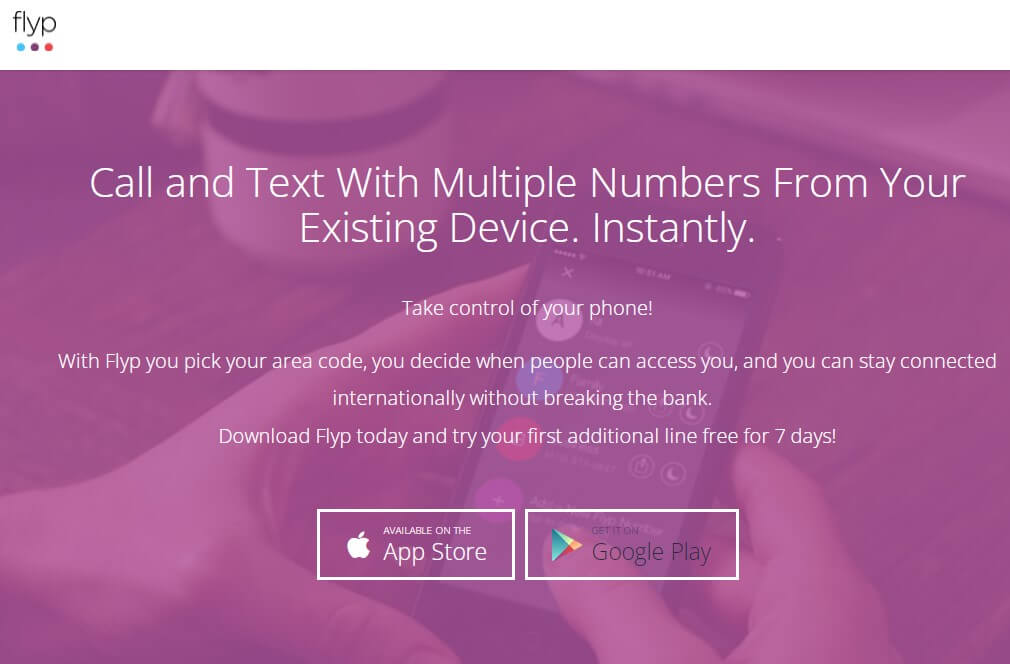 Trust Call is a secure calling, text messaging, and file-sharing application that works to protect your information. If you want a service that offers security for file sharing along with text messages and calls, this is the service for you. You can use this service for personal texting, calling, or professional needs in the workplace.
Features
The application features end-to-end encryption, so all your chats and calls are completely secure; only the sender and recipient can access your data.

It offers voice encryption for android, iOS, and nearly all types of smartphones and connected devices.

TrustCall works by integrating its "TrustChip," a microSD encryption engine that will help secure encryption.
Pricing
TrustCall falls on the more expensive side of the services. It is available for $119 for each device you want to activate.

10. Flyp
Last on our list is Flyp, an anonymous phone call app that allows you to connect with people from over 15 different nations around the globe. Like most services we've mentioned, Flyp will provide you with an anonymous phone number you can use instead of your original number of unlimited calls, texts, or picture messaging.
Features
Create up to 5 different numbers you can use to stay anonymous.

Send text and picture messages or call individuals in over 15 locations anonymously.

Flyp does not have any limits on the number of texts or minutes of call it allows.
Pricing
Flyp's pricing model will have you pay for each number separately. Each Flyp number will cost you $7.99/month. Flyp also offers an additional line free for 7 days to new users.
Part 2. How to Know Your Partner is Secretly Using Anonymous Calling Apps
After reading about Anonymous Calling Apps above do you worry that your partner is using them secretly. Don't worry, I'm going to introduce an all-in-one monitoring app that will give your cheating partner nowhere to hide.
This powerful monitoring software is FamiGuard Pro for Android, you just need to install it on your partner's phone and you can receive all the messages on his phone remotely. These messages are stored and synchronized, so you can get them forever with just one installation. In addition, FamiGuard Pro for Android is an undetectable app, so if you don't tell your partner, he will never know that his phone is being monitored by you.
Final Thoughts
We all want to keep our chats, texts, and our identity private while communicating with people. You don't need an ulterior motive to back up your need for anonymity; it is well within your rights to try and keep your personal information secure.
With the applications we've listed above, you will be able to connect with anyone you like while keeping your identity secure. You can confidently use these anonymous calling apps to make calls, send text messages, or share pictures and videos, whenever you like!
If you are worried about your underage children or your partner who is using anonymous calling apps, you can monitor them by using FamiGuard Pro for Android.
You may also be interested in:

By Tata Davis
professional in software and app technology, skilled in blogging on internet
Thank you for your feedback!