The Internet is so vast and it comprises information related to each and everything. Within a decade Internet had evolved to a new instinct. Since everything has merits and demerits, the Internet too has some that can affect an individual's life adversely especially a kid's life. Internet browsing history can really tell a lot of information. By tracking kids' internet history, we can understand what they are interested in, which sites are frequently visited or check if they are visiting some dangerous websites. As a parent, you can have a look over your kid's Internet activities through some third party Internet history tracker apps. But how can we make a quick decision among the apps available online? In this article, we are going to recommend some good browser history tracker applications and you will learn everything about how to track internet history on cell phone easily from here.
1. The Best Internet History Tracker - FamiGuard Pro for Android
FamiGuard Pro for Android is the most popular Internet history tracker as well as a great application to put a different restriction on your child's device. You can track your child's actual location, their browser history and can even prevent them from visiting some particular website that seems dangerous to them. You can not only keep a check on all the websites that your child has visited lately, but also check the actual visiting time and even the total time spent on a particular website.
In addition to the broswer history, you can also know what your kids are searching for with the app's keylogger feature. In order to track your child's browser history, you need to download FamiGuard Pro for Android app on children's device and then you can monitor from smartphone or computer. This app allows you to track your child's browser history remotely. FamiGuard has a simple yet elegant user Interface so anyone can use it.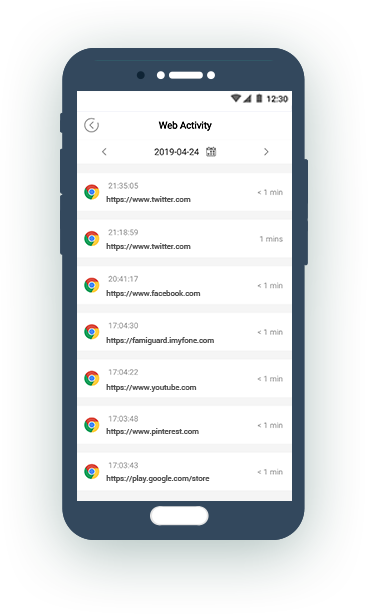 2. iKeyMonitor
iKeyMonitor is an option that you can use to track your kid's internet browsing history. It is designed for iPhone, Android, Windows as well as Mac too. Its vast compatibility has made it very popular. Through iKeyMonitor you can not only track internet history, whereas you can even keep a check on voice calls, social chats, SMS and even current location. Basically, iKeyMonitor allows you to get access to the complete smartphone of your kid and you can even set some particular restrictions on his/her smartphone phone, such as screen time limit, websites blocking, etc.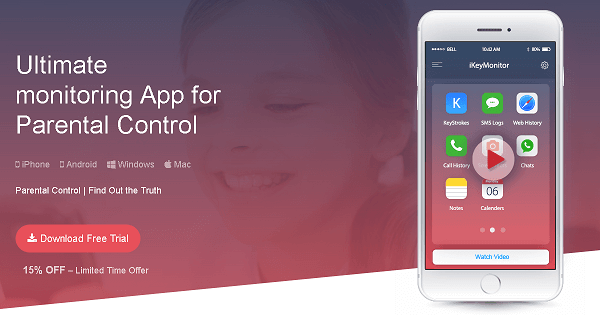 3. CocoSpy
CocoSpy is a parent controlling as well as a surveillance application that can be used on both Android and iOS devices. You can keep an eye on your child's smartphone without even holding it in hands. You can get an idea about all the internet activities of your kid. CocoSpy app is a browser history tracker, SMS tracker and even call tracker. You can record calls that your kid receives or dials. Not only SMS but you can also read your kid's WhatsApp chats and other social handle's massages. This app also gives you the feature to track your child's current location.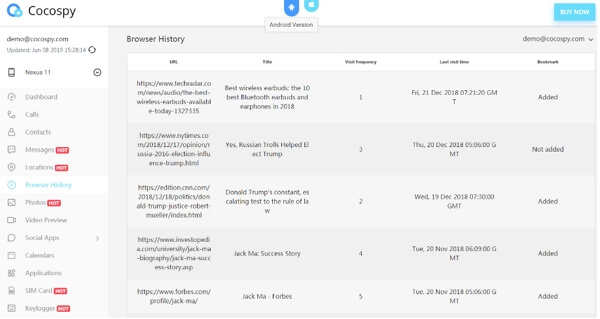 4. XnSpy
XnSpy is a compact monitoring application that can be used to track your kid or to track your employees. It gives you the feature to track the internet browsing history of your child you can read his SMS and even his WhatsApp chats. It is available for both Android and iOS devices thus, no need to worry about the compatibility of this application. Talking about restrictions then, XnSpy provides you with all the basic features through which you can keep your child away from all dangerous websites. You can simply block websites and social media handles of your kid. XnSpy is a great option for you if you need an app to track internet history on iPhone.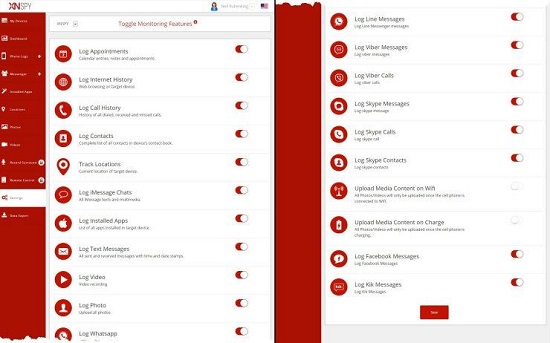 5. Highster Mobile
Highster Mobile is not very popular for as an Internet history tracker whereas it is popular as a phone spy application. However, Highster Mobile offers you the feature to track internet browsing history and it will perform as a great internet history tracker free as well. You can also track SMS, voice calls, current location, and several other things through this App. You can even restrict r your child's smartphone usage with the additional screen time features.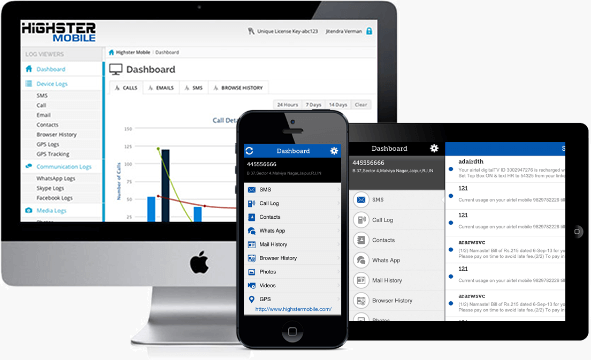 6. PanSpy
PanSpy is a paid parental control application that can be used for several different tasks. It can track voice calls, SMS and it can also be used as an internet history tracker. With PanSpy you can not only track your kid's activity, but you can also apply some restrictions on internet usage. You can schedule the screen time so that he/she can't access the phone anytime he wants. It will allow you to access all the social media activity of your kid. You can track Snapchat, WhatsApp even Tinder activities too. In order to track the activities you have to create an account on the official website of PanSpy and after connecting your kid's smartphone with it, you can easily track him on the website itself.
7. Spyzie
Spyzie is already being used by many parents to track their kid's activities. This app allows you to access the screen of your kid's smartphone in just a single tap. You can keep an eye on the SMS, WhatsApp chats and several different apps. Along with this, Spyzie can also be used as an Android web history tracker. You can also extract the required data from your kid's smartphone secretly through it. The user interface of Spyzie is very popular and simple. You can easily navigate through options even if you are new to monitoring apps.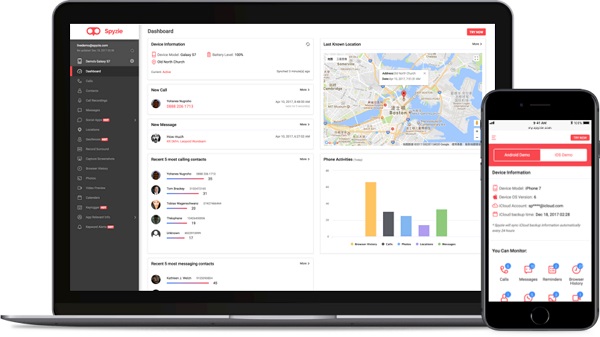 8. MobiStealth
If you need an application that can track your kid's internet history even on his computer, then MobiStealth is an option for you. The web history tracking feature of this app is really interesting. It will allow you to know everything about the target device's internet activities anytime. You will find MobiStealth simple, affordable and secure option to keep a check on your kid's device. Its user interface is quite simple and it supports almost all the basic options that a normal parental monitoring application has. Setting up MobiStealth is quite easy, all you need to do is to create an account, connect your kid's device and enjoy tracking.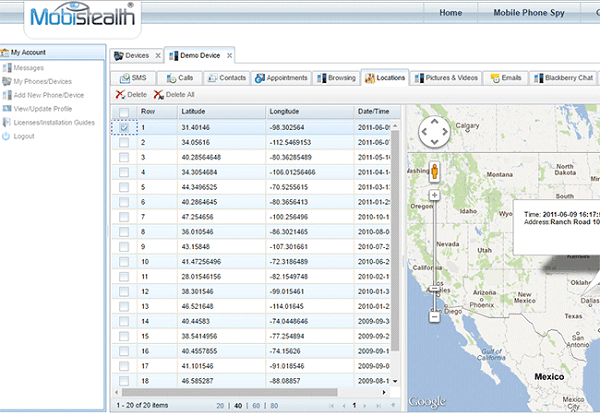 Conclusion
At an early age, anyone can get distracted easily. But as responsible elders, it's our responsibility to keep our kid's away from any sort of dangerous distractions. FamiGuard is a great controlling application and browser history tracker that will help you to keep your kid away from any inappropriate and dangerous websites. Apart from this, you can keep a check on your child's current location thus, all your worries will disappear once you Install FamiGuard app on your smartphone. It's a very reliable and safe app to track internet history, trusted by many famous tech sites and thousands of parents.

You may also be interested in:

By Tata Davis
professional in software and app technology, skilled in blogging on internet
Thank you for your feedback!