It is upsetting to lose your Samsung phone or have it stolen. Not only are you losing an expensive device, but all of the personal data that was stored on it as well. When this unfortunate event happens, most of the people immediately lose hope of ever seeing their phone again. However, what they don't realise is that there are actually a few ways that they can track their Samsung phone.
If you're also in the same situation and wondering how to track a Samsung phone, then you've come to the right place. In this guide, we'll share with you several effective ways that you can use to easily find out the location of your Samsung device.
So, let's get started!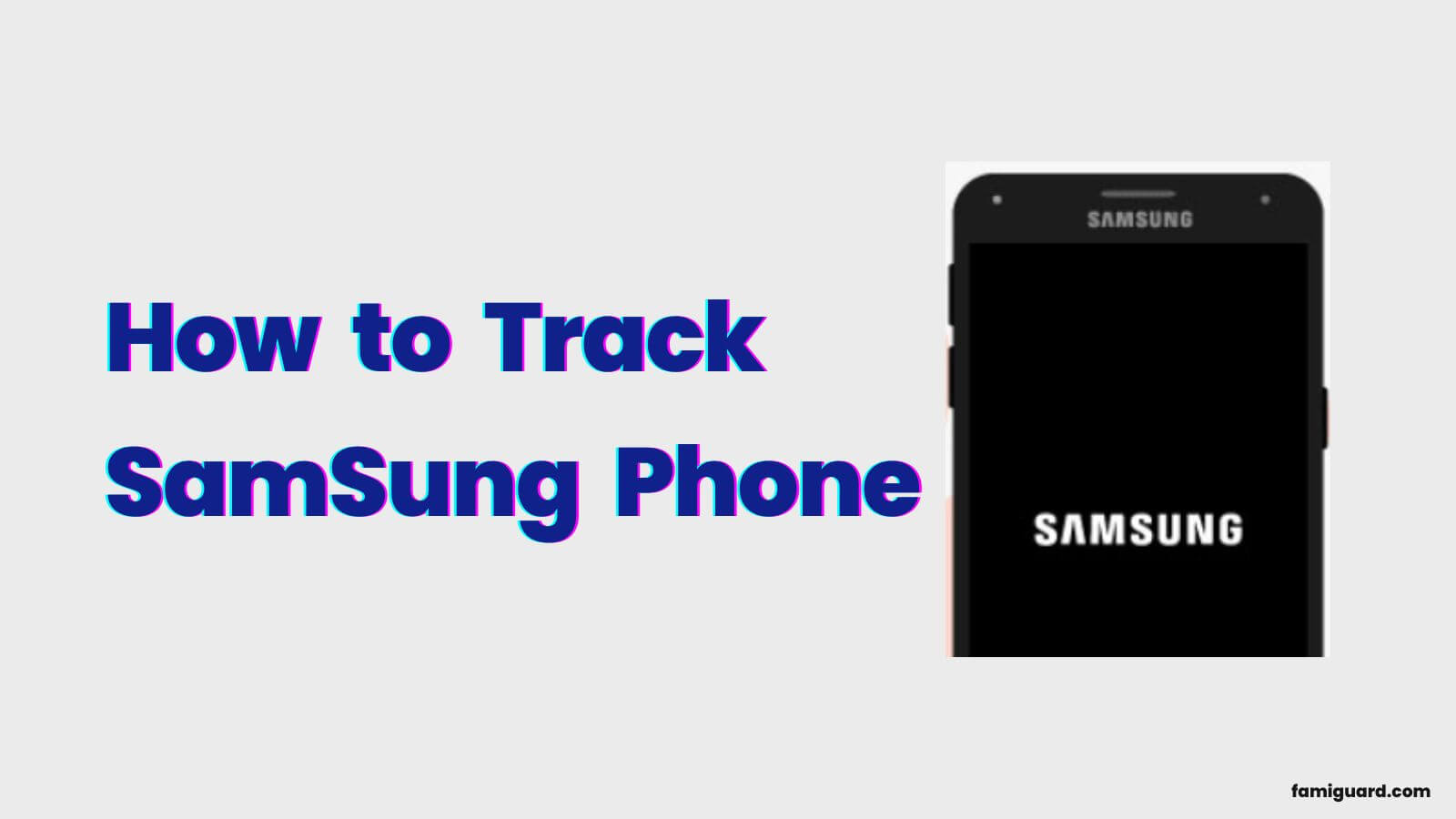 Method 1: How to Track Lost Samsung Phone Using the "Find my Mobile" Service
If you've lost your Samsung phone and want to get it back, the "Find my Mobile" feature can help. The Find My Device Samsung is an in-built service that allows you to remotely track the location of a lost device.
The only requirement for using this method is that you must have previously set up a Samsung account on your device. If you are unsure whether this service is enabled, follow the steps below to activate it and then use it to locate your lost Samsung phone.
Step 1: On your Samsung phone, go to the "Settings" app and then tap "Biometrics and security". Find out the "Find My Mobile" and turn it on.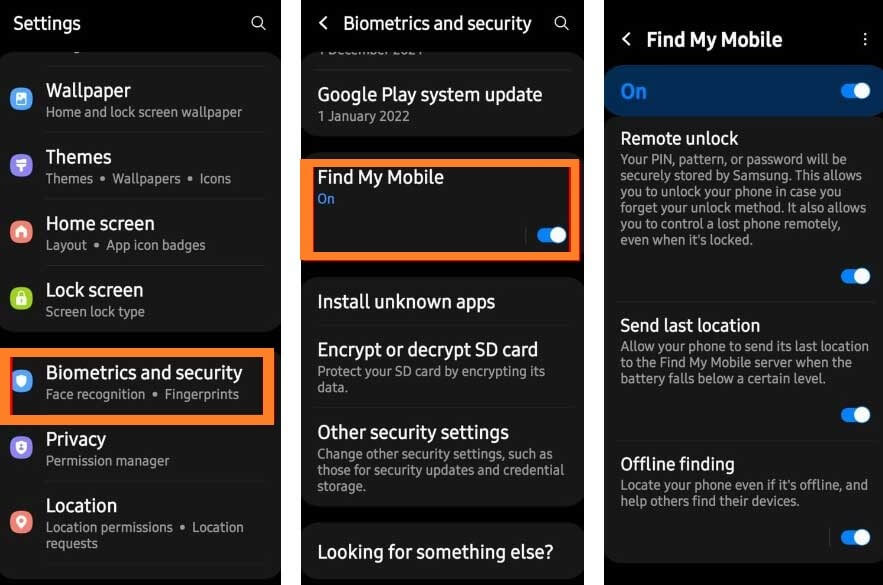 Step 2: Visit the findmymobile.samsung.com website from any of your web browsers and log in with your Samsung account details.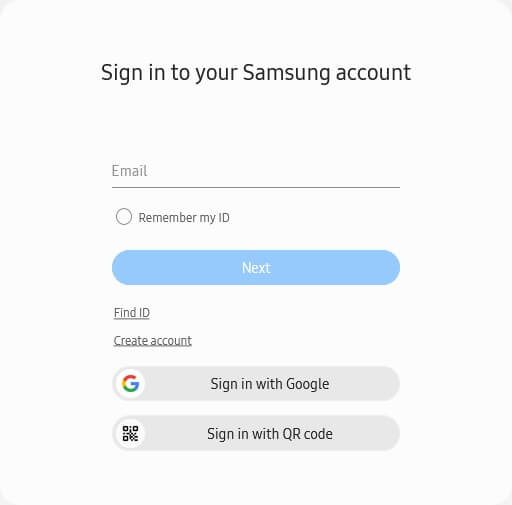 Step 3: Select the preferred device from the menu on the left. If your lost device is on and connected to a network, you will see an active indicator on a map showing its location.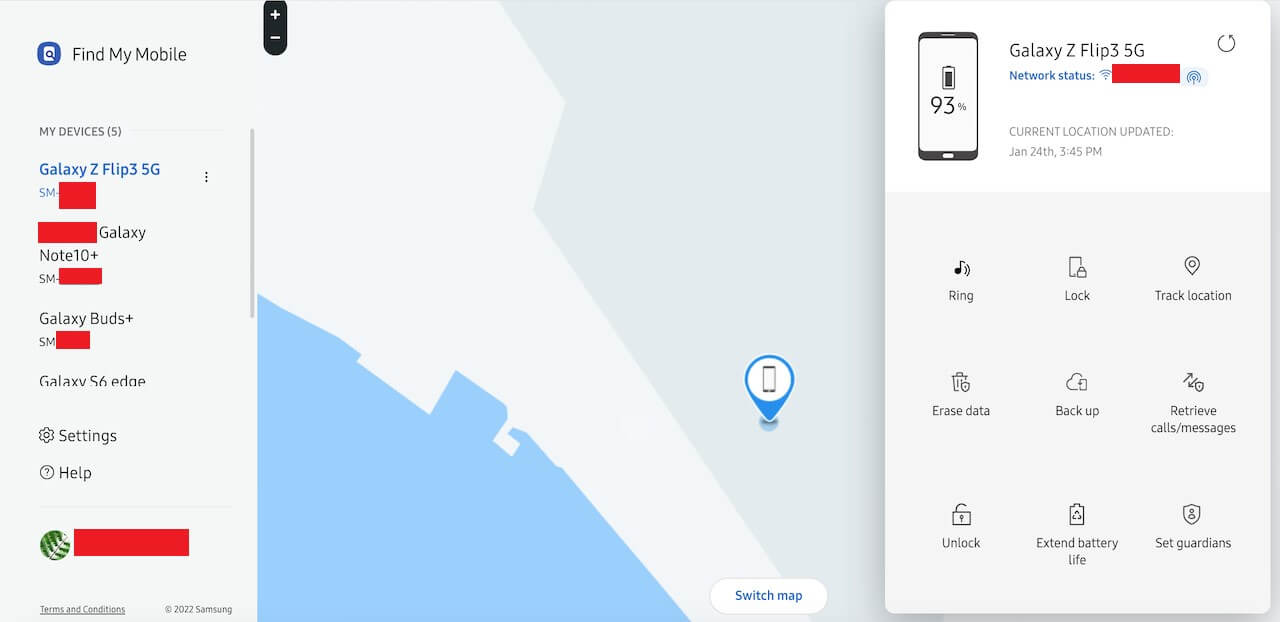 Method 2: Track Samsung Phone with "Find My Device" Features
Similar to Samsung's "Find My Mobile", Google also offers a free "Find My Device" service for all Android devices to help you locate, lock or erase a lost device.
As long as you've added a Google account to your device and enabled Find My Device location permissions on your Samsung phone, you're good to go.
Follow these simple steps:
Step 1: Visit the android.com/find website from any web browser on your computer or Android.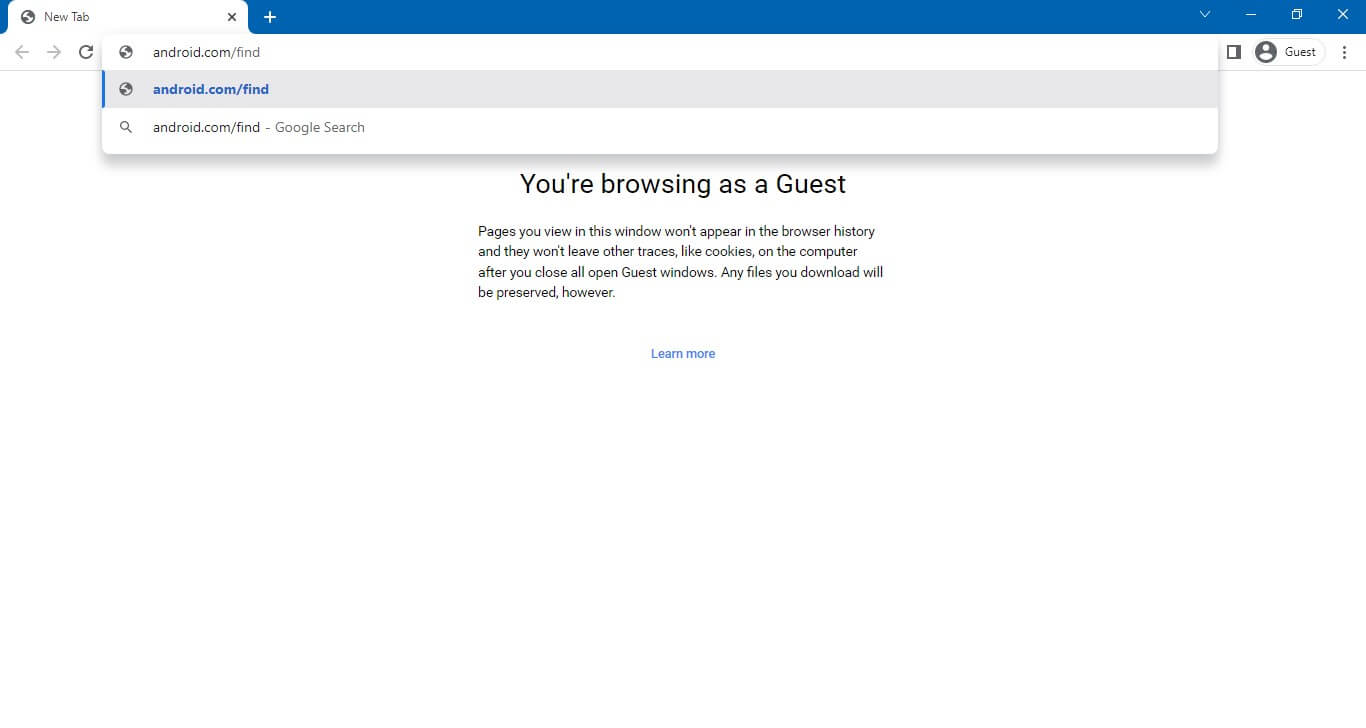 Step 2: Sign in with the Google account details associated with your lost Samsung device.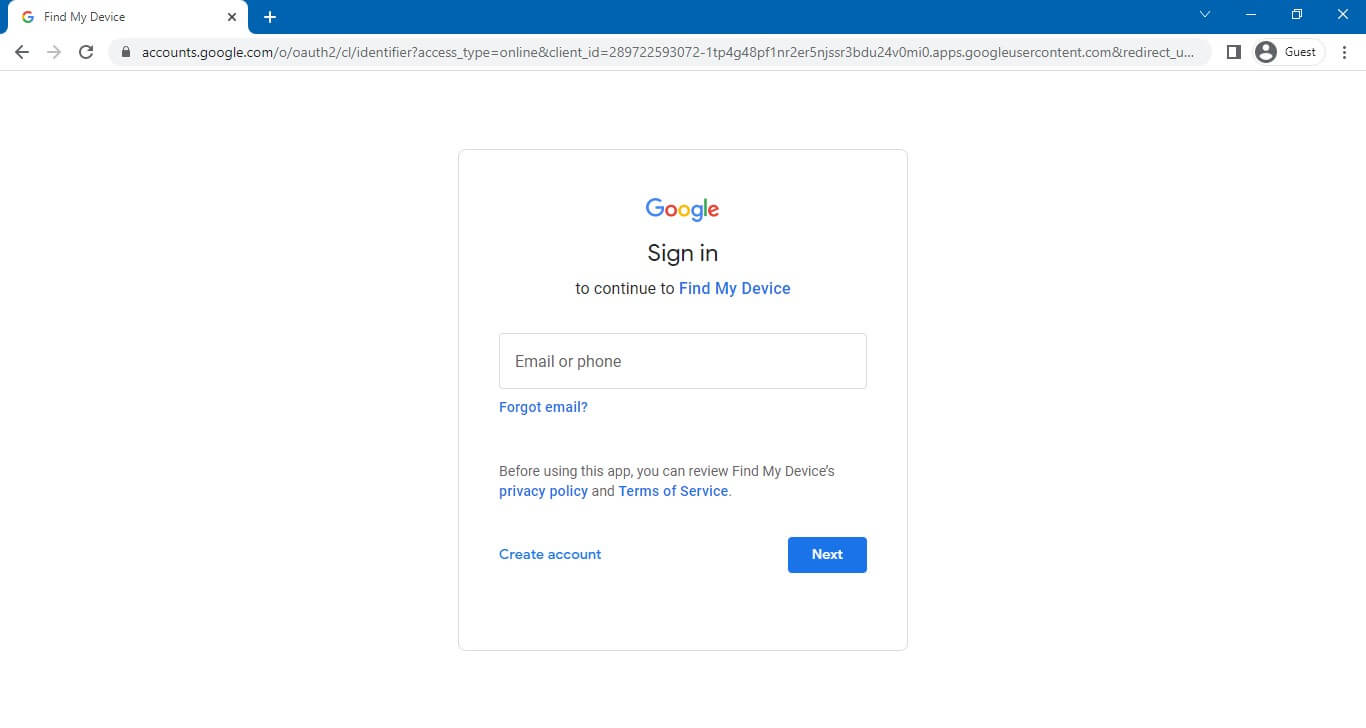 Step 3: Choose your preferred device from the list. You will then be provided with its current location on a map.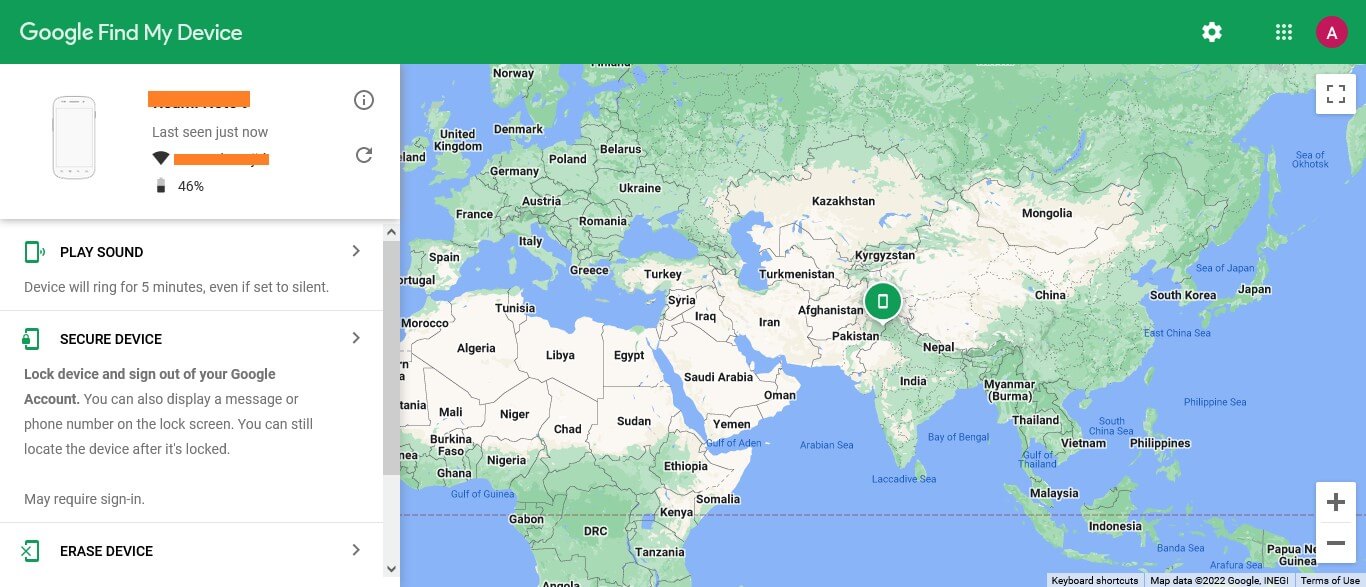 Method 3: Using "Family Link App" to Locate  Samsung Phone
The Family Link app from Google is a great tool for parents to locate their child's phone if it is ever lost or stolen. It can also track the child's location in real time by indicating the child's location on Google Maps.
Follow these steps to set up the Family Link app on your child's device and then use it to locate their Samsung phone:
Step 1: Download the Family Link app on your device and follow the on-screen instructions to finish the process of linking your account to your child's.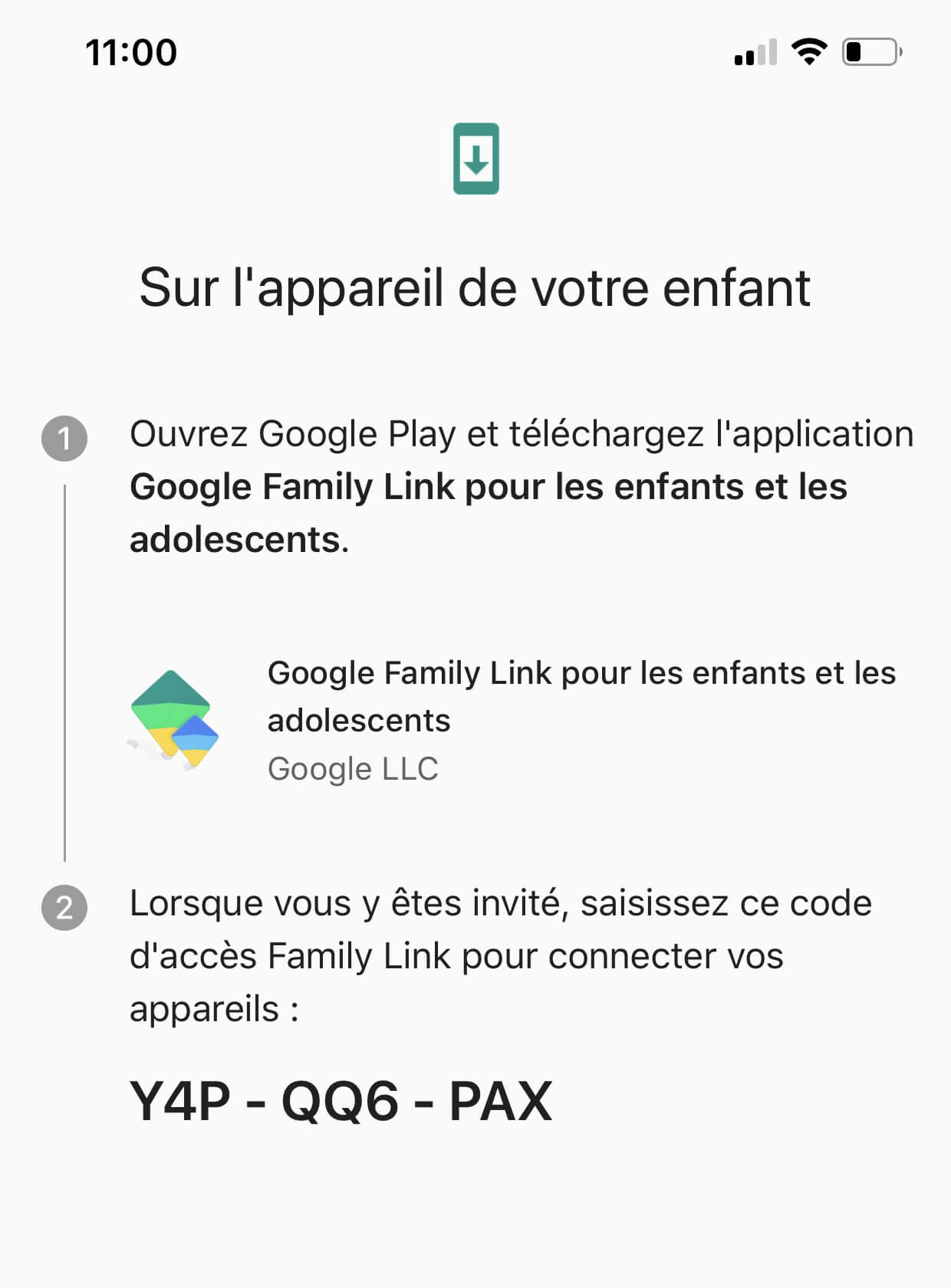 Step 2: Open the Family Link application and select the child whose device you want to locate. Select "Set Up" from the "Location" menu, then tap "Turn on" from the popup that displays.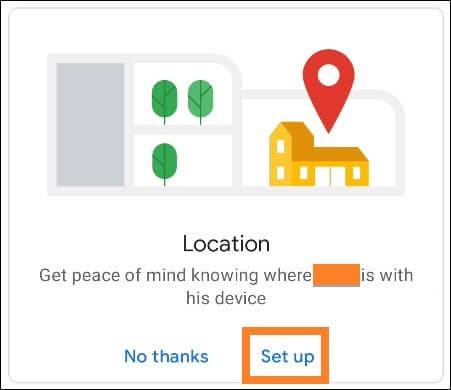 Step 3: "Manage Settings" > Enable "See your child's location" > "Location". Then, "Device location settings"> turn on "Device location" > "High accuracy". That's it!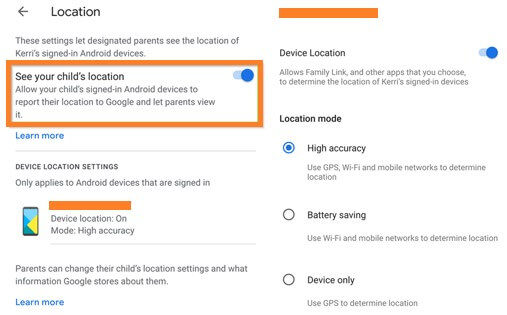 Method 4: Track your Samsung phone with the IMEI number
Every phone has a unique IMEI (International Mobile Equipment Identity) number which can be used to track the phone if it is ever lost or stolen.
There are many ways to track a Samsung phone by its IMEI number. One of the easiest is to download a free IMEI tracker app that will help you easily track your device.
Here's how to track a Samsung phone for free with the IMEI number:
Step 1: Go to the Google Play Store and search for the "IMEI tracker-Find my device" app. Install that app on your phones.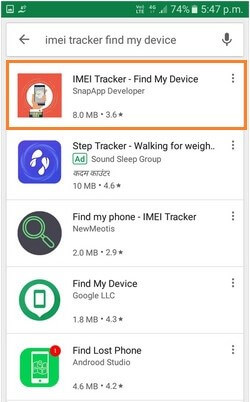 Step 2: Open the application and grant access to the location. Then enter the phone number.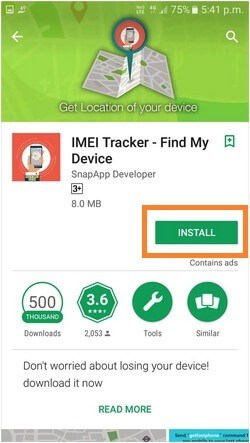 Step 3: When your phone is lost/stolen and a new SIM card is inserted, a SMS notification with the IMEI number and exact phone location will be sent automatically to that number.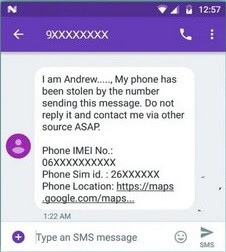 Method 5: Track my Samsung phone with "Android Lost"
Android Lost is a handy app that can help you find your lost phone or erase sensitive data from it so that it doesn't fall into the wrong hands.
If your lost Samsung phone was running on an Android version lower than 3.0, then you can easily install the app on your device remotely and activate it by sending an SMS.
The steps for using Android Lost to track your Samsung phone are listed below:
Step 1: Use a browser to visit the Google Play store and install Android Lost app remotely. Ensure that your Google Account is connected to your device.
Step 2: Now arrange another device and use it to send a text "androidlost register" on to your device. This will register your device and activate the application remotely.
Step 3: Finally, go to androidlost.com and log in with your Google credentials. From there, you can access options like device location and data erase.
Method 6: Find my lost Samsung phone with FamiGuard Pro for Android
If you want more control over the device than just location tracking for your lost Samsung phone, then you should consider using FamiGuard Pro for Android.
FamiGuard Pro for Android is a powerful phone tracking app that gives you full control over the target device. You can keep an eye on every action made on the device, including GPS location, text messages, call logs, social media activity, and more. Plus, the app is absolutely undetectable, thus the user won't ever be aware that they are being watched.
How to Use FamiGuard Pro for Android to Track Samsung Phone?
There is no complicated process involved in using FamiGuard Pro for Android to track your lost Samsung phone. All you need to do is follow these simple steps:
Step 1: Go to the official website of FamiGuard Pro for Android and create an account.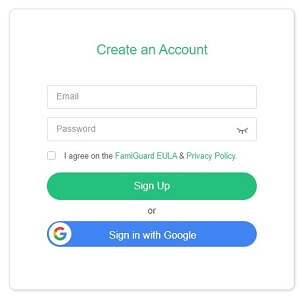 Step 2: Download the FamiGuard Pro app from the provided address & set it up on the target device.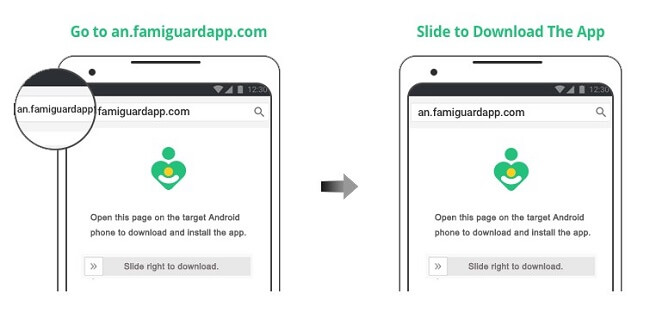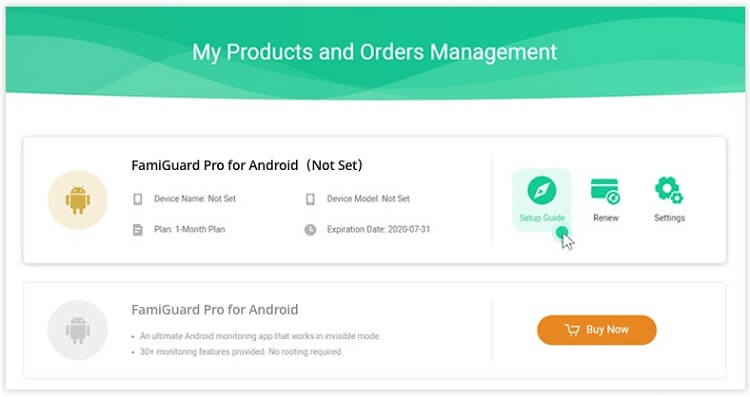 Step 3: Verify your setup by logging into your FamiGuard Pro account using any browser. Click Dashboard and monitor now.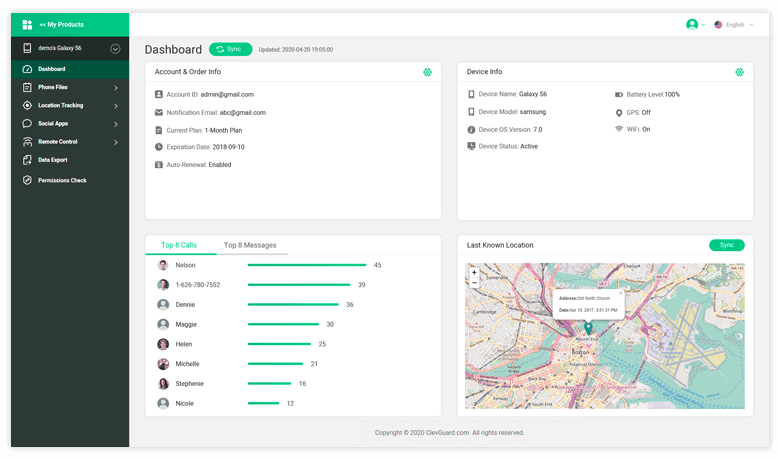 3. The Features of FamiGuard Pro for Android:
Some of the key features of FamiGuard Pro for Android that make it the ideal choice for tracking your lost Samsung phone include:
GPS Location Tracking: Track the current & past location of device along with timestamps, addresses and other details.

Geo-Fencing Alerts: Receive instant alerts whenever the target device enters or exits a certain area.

Remote Control: Take screenshots secretly, record calls, and remotely monitor the other person's screen.

Monitor Social Apps:Check out the conversations, app usage, and content posted on popular social media apps.

Track Phone Activity: Monitor the history of calls & messages, calendar events, keylogger, and more.

View Browser History:View the websites visited, and search history of the target device's web browser.
Conclusion
When your Samsung phone is lost or stolen, you're probably feeling panicked and helpless. But thankfully, tracking your phone is straightforward - you can easily find it using any of the methods mentioned above.
In order to avoid such situations in the future, we highly recommend you to use FamiGuard Pro for Android. This app allows you to monitor the location of all your family members' phones and keep them safe from any potential danger.
With that said, don't wait any longer and give FamiGuard Pro for Android a try now!
You may also be interested in:

By Tata Davis
professional in software and app technology, skilled in blogging on internet
Thank you for your feedback!