Messenger is an excellent tool for communicating. However, sometimes you don't want your contacts to know you have read the message. There are a couple of reasons one wonders how to read Messenger messages without seen.
Firstly, you don't want to reply to the message on the fly and, at the same time, don't want to be rude to your friend. Moreover, seeing a message without answering it may lead to relationship issues even when you have genuine reasons.
Therefore, turning off your read receipts on Messenger is better to get your peace without inviting more trouble. Some of the best methods are presented below.
Method1: Read Messenger Messages without Sender Knowing by Using Airplane Mode
The most common method how to read Messenger messages without being seen is by using Airplane mode.
For enabling the Airplane mode, go to Settings, search for Airplane mode and toggle it on. Most mobiles have it on top settings. But, you can search for it if you can't find it. Alternatively, you can use your phone's quick settings (the swipe-down menu) to activate the Airplane mode.
Once done, open Messenger and read your message. The seen status will not appear until you answer the message. The method works for both Android and iPhones.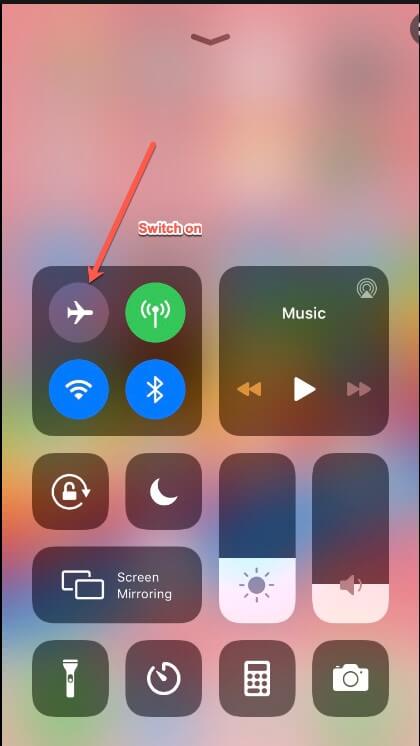 Method2: Read Messenger Messages without Being Seen by Ignoring Conversation
Although Facebook restricts turning off the read receipts, there is an exciting feature you can use to your advantage. Ignoring conversations send the uninteresting chats to message requests but notifies you about the new messages.
iOS Guide
Firstly, open your Facebook Messenger and swipe left the chat you want to ignore.

When you swipe, you'll see two options: 'More' and 'Achieve.'Click on more. A drop-down menu with options like Mark as read, Ignore, Mute, Block, etc., appears.

Select 'Ignore.' You'll see a confirmation prompt asking if you want to ignore the chat.

Click 'Ignore' to confirm.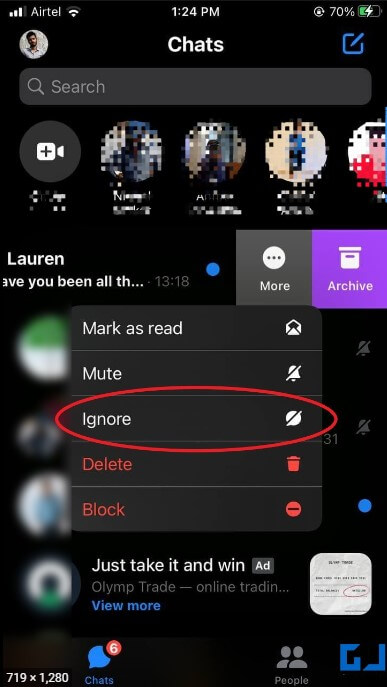 Now, click on your profile picture on the Messenger app and select the Message Requests. Toggle to Spam.

The ignored chat will appear here. You can open the message and read it without turning on your Seen status. It only appears when you reply to the text. Once you answer, the chat appears in the inbox.
Android Guide

Android has a slightly different procedure for ignored conversation. The below steps illustrate it.

Open Messenger App on your phone.

Long press the chat you want to ignore until a menu appears from the base of the screen.

Tap 'Ignore message'. Now you'll see a confirmation prompt. Press Ignore to confirm, and the chat will go into the Spam section.

Now click on your profile picture in the top left corner. Select Message Requests, and read your message. The Seen status won't appear unless you reply to the message.

NOTE:

Responding to an ignored chat brings it to the inbox.

Method3: Read Message Notifications

The following solution to how to read Messenger messages without seen is by reading messages in the notification. Every installed application shows pop-up notifications, which you can view by swiping down your phone's screen.

However, you must ensure that you have enabled the notifications from Messenger. To recheck, go to the 'Settings' of your phone and tap 'Apps and Notifications.'

Ensure the toggle is ON for 'Show notifications.'Below there will be a list. Make sure Messenger has a checkmark. Otherwise, you will not receive any notifications.

Method4: Use Facebook.com to View Messages

Web apps provide perfectly maintain your privacy. Open your laptop, Windows or macOS, and go to Facebook.com.

Sign in with your email and password and click the small messenger icon on the blue strip. Click on the chat you want to read.

A chat box appears at the bottom of the screen. Reading messages on a Web app prevents the seen status from appearing and provides privacy.

Note: A grey messenger window is inactive, meaning the Seen indicator appears. A blue stripe on the messenger window indicates it's active. Hence, the seen status will show. So, avoid clicking the chat. Else your contact will know when you read the message.

Method5: Switch to Desktop Mode

Another way to solve the how-to-read Messenger messages without seen is by switching to desktop mode. You can activate the Desktop mode on both Android and iOS devices.

For iPhones, open the Safari browser and go to Facebook.com.

Once the website opens, click on the AA icon on the address bar and select the option 'Request Desktop Website.'The desktop version of Facebook opens.Log in and read your messages.

If you are using an Android, open Google Chrome and type Facebook.com in the address bar. Click the three dots once the home page of Facebook opens. Tap 'Request Desktop Website' and log in to read the messages.

Method6: Read Facebook Messages without the Sender Knowing by Using Third-Party Tools

If you want to avoid sending read receipts quickly and easily, using third-party software or plugins is your best bet. Below are two third-party tools for you to choose from.

1. Use Unseen ( Only for Chrome)

If you are a Chrome browser user, or you need to use Google Chrome to open messenger very frequently, then I recommend you to use a Google Chrome plug-in: Unseen.

You just need to download it from the Google Play Store and install it in your Chrome, and when you open Messenger in Chrome, you will not send a read receipt to the other party.

NOTE:

Many users have reported that Unseen often fails when using it, and there is no guarantee that it will succeed every time.

2. Use FamiGuard Pro for Android

If you need to make sure your read receipts are never sent, then I recommend using FamiGuard Pro for Android. FamiGuard Pro for Android is a very good monitoring software, its main function is actually to monitor all the messages on the phone. So, if you have to browse messages without sending read receipts, FamiGuard pro for Android can easily do it for you.

How to read messenger messages without seen through FamiGuard pro for Android

Step1. Register on FamiGuard's official website and complete the purchase. You will get a download link after purchase.

Step2. Download FamiGuard Pro for Android on the Android device you need to view.

Step3. Go back to https://www.famiguard.com/android-parental-control/, click Demo, you can observe all the information of the Android device at any time (and will not be discovered).

Why I would recommend FamiGuard Pro for Android

Incognito monitoring various social media apps: Installing FamiGuard on the target device monitors the activities on various social media like Snapchat, WhatsApp, Facebook Messenger, and other social apps. All information (including text, pictures, video, voice, calls) in the target mobile phone can be recorded and monitored.

Real-time Location Tracking:The inbuilt GPS and real-time location tracking help track your phone in mishaps. Moreover, the app alerts you when the user enters the targeted area.

Backups: FamiGuard solves the security issues by accessing your calls, text messages, and vital data to create incremental backups. You can also record phone calls and secretly take screenshots and camera pictures. These features help identify unauthorized access and prevent data loss.

Conclusion

Everyone wants a break from the constant beeps of Messenger messages. Maybe you are having a bad day or want to have some time to yourself. Ultimately, you'll need a legitimate answer to the question "how to read Messenger messages without seen?"

The article highlights the best ways to turn off your Messenger read receipts. Although other methods are great, try the FamiGuard Pro for Android if you want a universal solution.
You may also be interested in:

By Tata Davis
professional in software and app technology, skilled in blogging on internet
Thank you for your feedback!