There are a lot of trending social media apps available for every smartphone, and due to this, many kids are becoming addicted to their cell phones these days. Cell phone addiction can lead to several physical and mental health issues. Not just this, there are so many inappropriate apps that may leave an everlasting impact on the young mind of your child.
The number of children being affected by phone addiction has risen alarmingly. Something needs to be done to control and manage the way the kids spend their time on their phones. More importantly, a close check has to be kept on the apps and websites which your kids use the most. You can do this easily by using any of the app usage trackers mentioned below.
FamiGuard Pro for Android is one of the best app usage trackers, which provides the most effective parental monitoring features. These features function very efficiently and help parents in maintaining healthy smartphone usage habits in children. It is highly recommended that parents download this app that tracks phone usage to protect their children online.
Features:
Name and Frequency Monitoring: Track which apps were used today and how many times they were used.

Apps Screen Time Monitoring : Track the total screen time spent on every app today.

Websites Usage Monitoring : Track the websites which are frequently visited and for how long.

Remote Control Target Phones: You can use FamiGuard Pro for Android to remotely control your child's mobile phone to take screenshots, take pictures and photos.

Track Locations: FamiGuard Pro for Android can track device anytime you want. Not only provides real-time tracking, but all the whereabouts of the device are recorded.
3 Steps to Get FamiGaurd Pro for Android
Step 1: First, create your account on the website and then select a plan (one month, three months, one year) based on your preferences.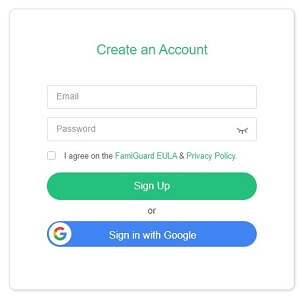 Step 2: Download and Install the app on the target Android device.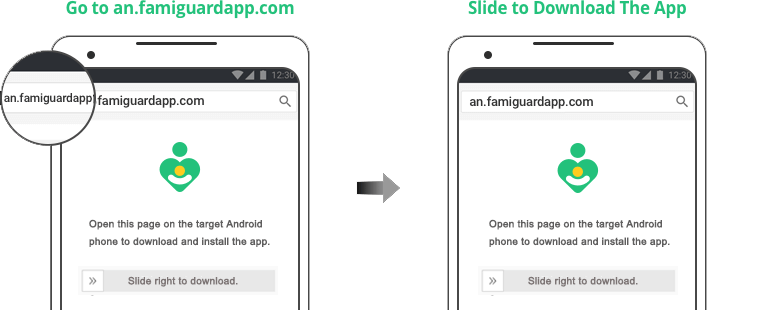 Step 3: Log in to your account on FamiGuard Pro for Android and start tracking your children's phone usage.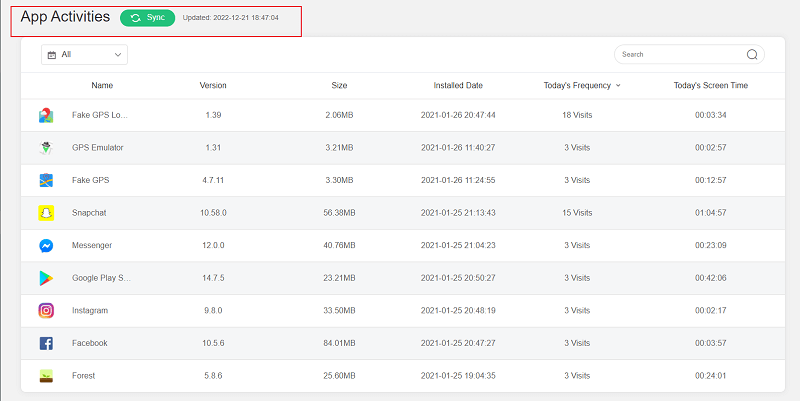 You can download this app on your child's phone to know how much time they spend on their phone and also the frequency with which they visit different apps. It offers a fun way to make the kids self aware about their smartphone usage activities. You can even check all the activities of your child on their smartphone through this and know which habits can be controlled.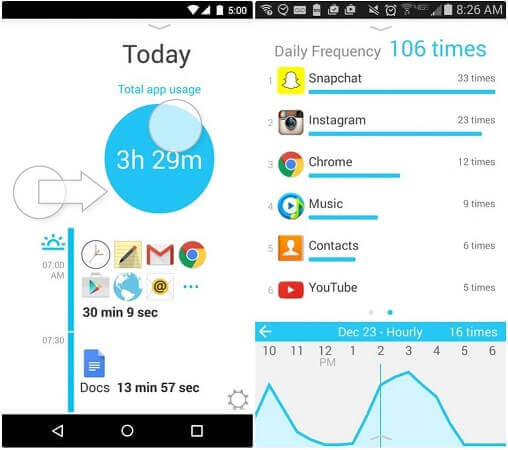 Features:
Displays daily as well as weekly usage of different apps.

Set the limits on usage of smartphone.

Interactive and colourful dashboard.
This app is pretty easy to use and is one of the most powerful apps to track app usage and to monitor the frequency of use of several apps as well. The activity on each of the individual apps downloaded in the phone can be managed effectively by using this app.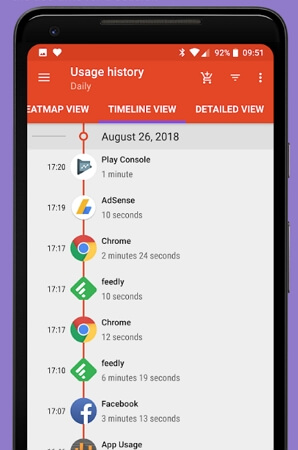 Features:
History of app usage.

History of phone.

History of all the activities on the phone.

Access to all the notifications shown by the different apps.

Displays the amount of battery used by each app.

Reminds the user whenever any app is being overused.

Shows the list of the apps which are used the most.

Lets you keep a track of all the apps which have been downloaded on the phone.
The usage of phones steals away a lot of time in yours and your children's day to day life. This app helps you in gaining those moments back. There are several daily exercises through which the healthy habits of phone usage can be instilled in any phone user. Millions of people have found this app useful in a great way.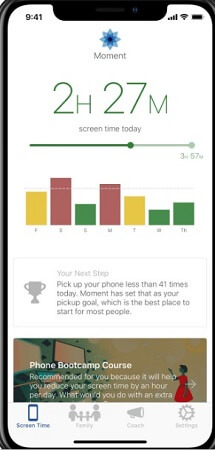 Features:
See how much time is being spent using phone.

Check the apps which are frequently used by the phone user.

Guided coaching sessions to help you develop healthy habits of phone usage.

See how your family uses the device.

Establish phone-free times for members of the family.
With the cell phone addiction becoming a serious concern among not just the adults but the children as well, serious precautionary measures need to be taken. Usage Time is a typical app usage manager and a phone usage tracker that helps the phone users track the way they use their phones and helps them in developing healthy habits of phone usage.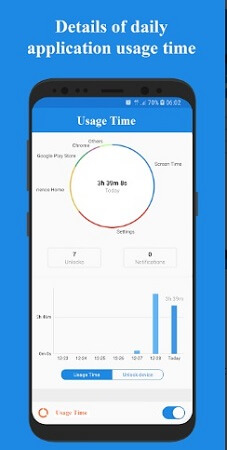 Features:
Reports on how much time is being spent by the phone user in apps of different categories.

Detailed reports on app usage.

Set time limit for each application.

During downtime you can use only the allowed apps.
If you want an app which can track the usage of apps on both the Android as well as iOS devices, Instant app is the one. However the iOS version of this app tracks only the overall usage of iPhone rather than giving you the details about how much time is spent on the individual apps on your iPhone.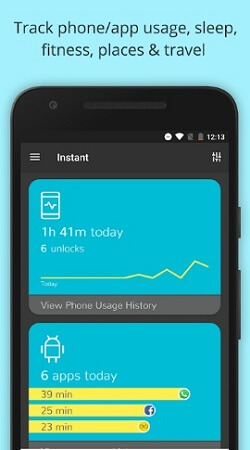 Features:
Track how much the phone is used and how many times it gets unlocked by the user.

Track the usage of individual apps.

Tracks fitness as well as travel time.

Helps you create geofences to effectively track the time spent at several places like at work or at home.

Set daily motivational goals.

Tracks sleep as well.
Offtime app is great for parents as well as young children to track the amount of time they spend on their phone. It motivates the phone user to stay focused at work or at any other useful activity. It helps the phone users to maintain the right balance between their offtimes and the time they spend operating the different apps on their phones.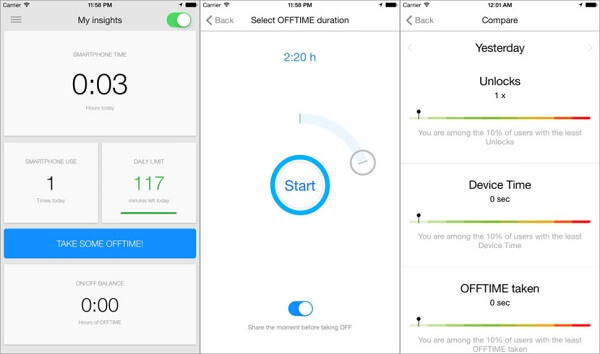 Features:
Earn incentives whenever you stop using your phone.

Lets you monitor the phone usage and set goals.

Allows you to compare the phone usage on different days.

Offers necessary guidance whenever needed.

Lets you block or filter any app which may be addictive.

Lets you block or filter any calls which may make you lose focus.
This phone usage tracker has been newly introduced as an app activity and phone activity tracker which lets the phone users manage and control the amount of time they spend on the different apps on the phone. StayFree - Phone Usage Tracker can help you get rid of your phone addiction as it comes with an overuse reminder and motivates you to do something productive in the same time.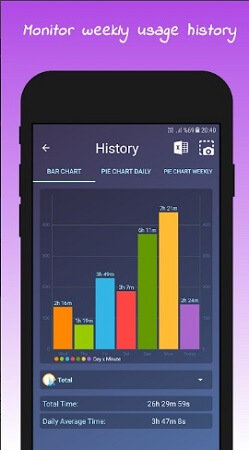 Features:
Lets you manage your app usage time.

Lets you monitor your phone usage frequency.

Overuse reminder and alerts if time limit is exceeded.

Shows weekly progress.
Conclusion
Cell phone addiction has not only affected the children but several adults as well. The above mentioned apps helps the kids as well as their parents in consciously monitoring app usage and controlling the excess amount of time they spend on their phones using the several apps installed in them. Out of all the apps, FamiGuard Pro for Android works the best to track the activity on several apps installed on phones. It comes with several other advanced features as well which makes it stand out among the many Android usage tracker apps. Don't hesitate, come and try this app with a free trial!
You may also be interested in:

By Tata Davis
professional in software and app technology, skilled in blogging on internet
Thank you for your feedback!