GPS (Global Positioning System) is a handy feature in Android and iOS-enabled mobile devices. The Android monitoring app makes the tracking easier, especially of the children by their parents. These brilliant apps can help parents monitor their kids' activities when away or at work. Let's look at some essential tracking apps that work as a perfect location finder in this post!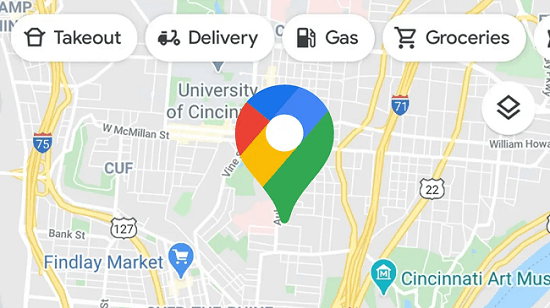 Table of Contents
Solutions for Track Phone Location
Solution 1: FamiGuard Pro for Android
Famiguard for Android is a professional Android mobile tracking app you can't miss! With the help of this app, you can locate your kid's position and know where they are going and where have been! Apart from this, you can keep an eye on over 30 apps on their mobile, including WhatsApp, Instagram, Facebook, etc. So you can have an overall observation on your kid's everyday activities!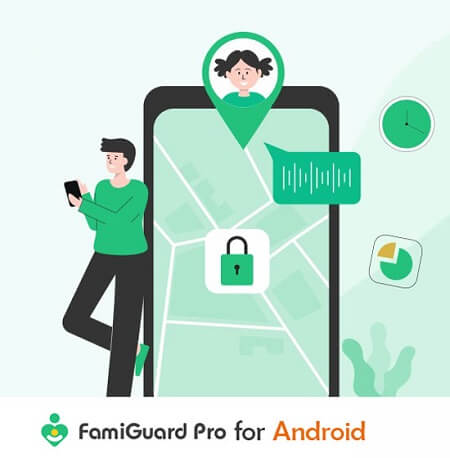 Tracking someone's location anytime without their knowing.
Help children stay away from bad internet habits.
No root needs & easy operating methods.
Pros

Location tracking whereabouts are very easy.

Provide regular updates on the location of the device.
Cons

Only compatible with Andriod system.

Some function needs to pay.
Solution 2: Family Locator
It is the best GPS tracking app for Android for parents who always want to keep abreast of their children's location. There is an in-built messaging system to contact other users of the app. It also comes with an SOS button for parents to help their children. Family Locator features are: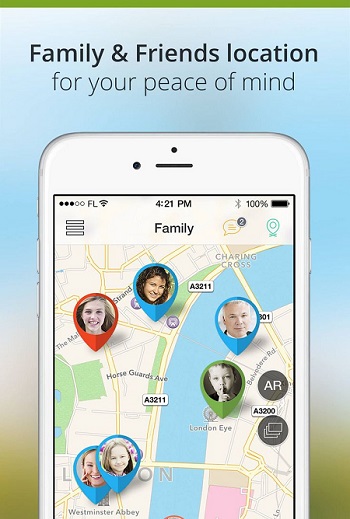 Real-time position tracking of users of this app.
Parents get notified when their child reaches a particular location.
Supports the creation of safe and unsafe zones.
Pros

Safe on family trips.

Good customer support system.

Advanced GPS for accurate tracking of kids and family members.
Cons

You need to send invitations all the time to the family members to track them.
Solution 3: Children Tracker
The Children tracker app works as the parental control app where parents monitor the location of their children using GPS. This app puts parents in a control position as they can rescue their children if they are in some danger. Some of its significant features are: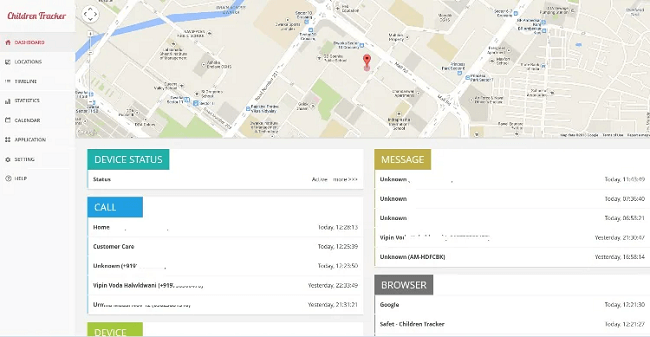 Set locations to get the names of places your child is wandering to.
Get alerts when your child leaves a particular place like school, a friend's house, etc.
Provides the shortest path to reach your child.
Pros

You can watch your kid's movements remotely.

Simple interface and easy to use.

It helps in tracking your child's location in real-time.
Cons

More pop-up ads appearing on the phone.

Lacks some tracking features.
Solution 4: Cell Tracker
The cell tracker app is also the finest app to chase your present and past locations where you have visited. It is an excellent app for parents, as they can come to know where their child has visited in the past few days. This app collects its data through Wi-Fi or GPRS, so there is no need to on your GPS. Its features are: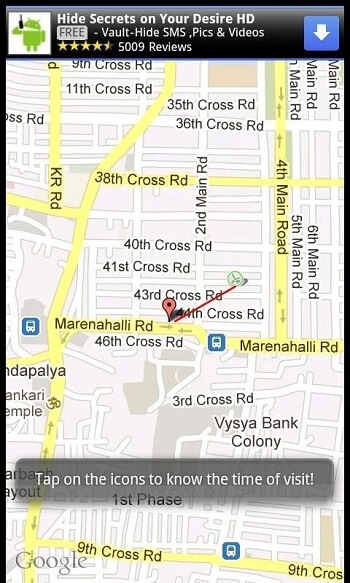 Wireless location in the settings needs to be enabled to obtain the exact location.
Free download and instant installation system to track the real-time locations.
You can find out your kids' position easily without accessing the carrier networks.
Pros

Helps to locate lost devices and against thefts.

Rescue your loved ones in need.

A handy device during emergencies.
Cons

Not many options to choose from.

The error of 100 meters can appear in certain area.
Solution 5: Family Locator & Safety
The family locator app is a free phone tracker app that provides the position of your children and family members in real-time. It helps restore your kids' safety, as the app allows location sharing on the family app. Parents can check the location history on their kid's phones too. Its best features include: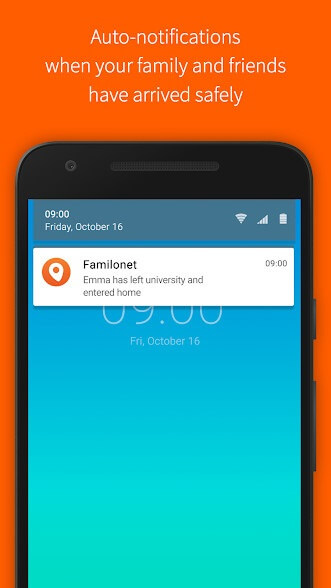 Get a zone-based tracking system.
If there are lost or stolen devices, it can track them immediately.
Pros

You get notified about your child's location when they reach or other family members

You can create private groups.

Panic button for kids to share their location when they are in danger.
Cons

Some family members can off their location anytime.
Solution 6: Kids Phone Tracker
Get the whereabouts of your child's location in real-time. You can install a special feature on this Kids Phone Tracker app to get 'now child's location.' It helps with battery control and sends loud signals to your child's phone through the app. Some of its salient features are: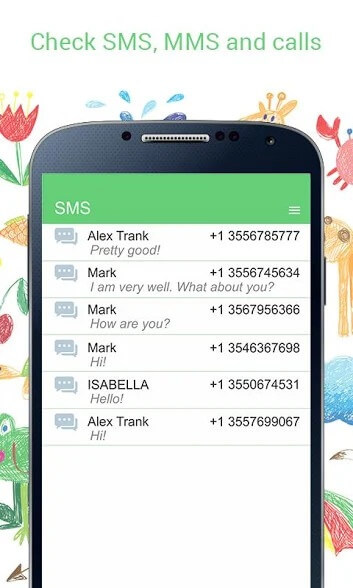 You can identify the present GPS location of your children easily.
User-friendly interface.
You can also track other activities on your child's phone like call logs, SMS, etc.
Pros

Allows you to chat with your kids anytime and anywhere.

Track the location of the places already visited.

Get detailed and easy reports of your children's location.
Cons

Some features may be lacking.
Solution 7: My Family GPS Tracker
The Family GPS Tracker app helps you to get control of the situations in your hand, and you can track the whereabouts of your loved ones. You can come to know the exact location of your family members, especially your kids, through the GPS feature. Let's check out some of its best features: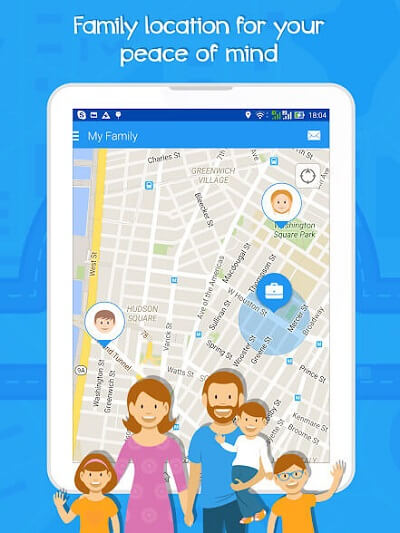 It's a secure, trustworthy, and reliable app for the parents and children.
The easy-to-use interface lets the whole family keep in contact with each other in real-time.
The in-built GPS tracker keeps your kids safe.
Pros

Track the history of the location of the children.

Get an in-built chatting device for the parents and children to keep in touch.

Premium mode through which you can see and hear what is going on in the surroundings.
Cons

The free trial period is limited.
Solution 8: Life360
TThe Life360 tracking app helps you find your kids, family members, and even friends in real-time. You can chat with the members on the device for free and locate them. The app lets you know if someone is running late to the destination so you can contact them quickly. Its features are:
You can manage with whom you can share your location through the 'Circle' feature.
Track mobile devices for free.
Triggers the automated SOS from your kids' phone to yours.
Pros

It makes location sharing and access to history easier.

You can send emergency messages quickly in your circle.
Cons

Only paid membership provides you with advanced tracking features.
Conclusion
If you wonder how to monitor mobile remotely, these eight significant apps come in handy in your Google Play Store to give you peace of mind. It especially proves excellent for working parents who want to know about their kids' whereabouts and are concerned about their safety. If you're hard to choose one, we recommended FamiGuard for your first choice! Click the button below to try the free version right now!
You may also be interested in:

By Tata Davis
professional in software and app technology, skilled in blogging on internet
Thank you for your feedback!