When opening the Instagram app, one thing that most people would do is scroll around the feed. Sometimes, we'd like to dig into the Explore page, finding something interesting, whether it's an image or a video. However, despite all the fun things you can do on the platform, you need to remember one thing: Instagram isn't always safe. You need to be precautions to know and prevent any hacking attempt that could be made on your account. So, how to know if your Instagram is hacked?
A hacked Instagram account can make anyone worried, especially if they work on the platform a lot. Losing your account to suspicious hackers could lead you to a more terrible financial loss. However, all problems always have solutions. And in this article, we want to share all you need to know about the signs, solutions, and ways to prevent hacking attempts.
Part One: 4 Ways to Know if Your Instagram Is Hacked
You may know that your Instagram is hacked if you notice something wrong with it. Usually, Instagram will try to tell you about it through notifications. But, if you didn't receive anything, it's always better to check the account yourself and find the indicators of the hacking attempts.
1. Check Login Activity
We got a lot of people saying, "my instagram is hacked, what's the solution?". Fortunately, there are multiple ways you can do to restore what's broken. But before doing so, we advise you to go to the login activity first to check whether there's anything wrong with your account or not.
You can access this menu by selecting Settings, Security, and then clicking the Login Activity tab.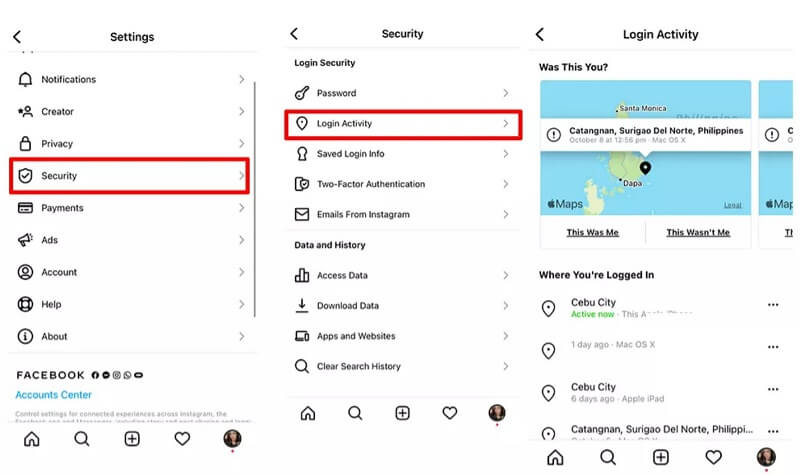 A new page will open, and you can see all the login activities from there. See if there's any location that you don't know.
2. Check the Login Alert in Your Email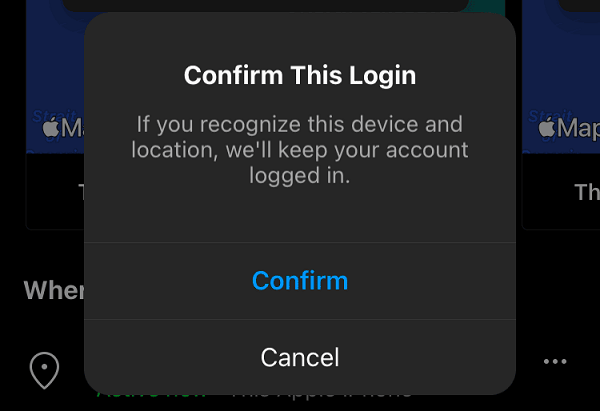 Hackers usually use their tools to log in to your account from different locations. If there's a type of login like this, Instagram will notice it immediately and give you a notification about it. To check whether there's a suspicious login or not, you can simply go to Settings again and navigate to Security and Login Activity. You can also check it from the email that Instagram sent to you.
3. Check Instagram DM
Opening a DM from somebody doesn't automatically get you hacked. What's matter is the media in it. If somebody is sending you a file with a strange format, you better avoid it immediately and block that person.
Try to avoid something like this in the future because it's included as one of the most common phishing methods. Once you download that file, it'll automatically read your device and record any important information, including your login details for multiple applications.
4. Check Instagram Posts
So, how do you know if your Instagram is hacked? One of the things you can do is check the Instagram posts. If you see something that you haven't posted before or something that's very unfamiliar, it could be a sign that your account has been hacked.
Part Two: What to Do If My Instagram Account Was Hacked?
If you notice one of those signs, it's better to take immediate action right away. There are some things you can do, such as:
1. Change Your Password
How can you tell if your Instagram is hacked? You can notice it by looking at the above indicators. The first thing you have to do is to change your passwords. You can do it by navigating to the Settings menu and choosing Security and Passwords. Now, change your passwords using complex letter combinations.
2. Turn on Two-Factor Authentication
After your passwords have been changed, now you can also activate the 2FA protection by installing the security apps. By using this instead of SMS, scammers and hackers would find it a lot harder to breach your security.
3. Remove Any Unrecognized Device
If you're still asking about "how do i know if my instagram is hacked," then feel free to read the above explanation. However, among the signs, there's one that is related to the login activity. The thing is, this feature will show you any login attempts done to your account if you notice one suspicious attempt that's done outside your location, it's time to remove it for good.
4. Request Support from Instagram
This is the method you need to apply as soon as possible if the hacking attempts are still running consistently. The team from Instagram will look into the situation and give you solutions along with support. Usually, they'll make you do a verification process through a video recording to make sure that you're the actual owner of the account.
Part Three: How to Avoid Being Hacked on Instagram
1. Use Strong Passwords
If you are still using a simple set of passwords, maybe now is the best time to change it all. Use passwords that have complex combinations, so it may be harder to guess.
2. Never Open Phishing Emails or Messages
In the above explanation, you can see how to know if instagram is hacked. So, in the future, make sure to not download any suspicious files sent to you from someone you don't know. Better avoid it as soon as possible.
3. Don't Use Unsafe Public Wi-Fi
Public wi-fi is dangerous, and it's a known fact. If you're still persistent in using the public connection, we advise you to use a VPN to at least make the connection more secure.
4. Don't Click on Suspicious Links
If someone sends you suspicious links with a very strange domain or website name, you better avoid it immediately.
FAQs: Hot Questions about How to Know If Your Instagram is Hacked
Q1: Can your Instagram Get Hacked by Opening a DM?
Technically, no. You can freely open DM from others without worrying about getting hacked. However, if someone sends you a file with a very strange format while promising you anything good might come out of it, ignore it. Block that person if you must.
Q2: Can you Get Your IG Back After Getting Hacked?
Yes! There are many possibilities that you can actually get your account back, including support from the Instagram team.
You may also be interested in:

By Tata Davis
professional in software and app technology, skilled in blogging on internet
Thank you for your feedback!