There's something money can't buy, and that's a family. Family is the most precious wealth that we have, and to stay together, we need to look after each other. Family tracker apps can assist us in this journey of mutual care and trust. We can check on each other by tracking the current locations of every member, so that, if any of the members are in an emergency situation, we can send necessary help as fast as possible.
There are various apps in the market that has numerous innovative features to bring the circle even closer. Features like low battery alerts, crash notifications, and distress alerts are at the top of the list. It can be harder at times to choose the best family tracking app. Below are listed the 8 best family tracking apps from all the million choices, to make it easier for you to choose.
FamiGuard Pro for Android is the best family tracking app for Android according to the users. It allows you to locate your family member's real-time location by GPS. Besides, since it can keep people's location history for a year, figuring out where your family members have gone in the past year also becomes an easy thing.
If there are kids in your big family, this tracking app also allows you to circle a place on the map and set up the Geo-Fences. A notification will be sent to your phone once the target device enters or leaves the geofence.
In addition to the locating or tracking feature, This app allows its users to check browser history, View Phone File, Control Target Phones Remotely and so on.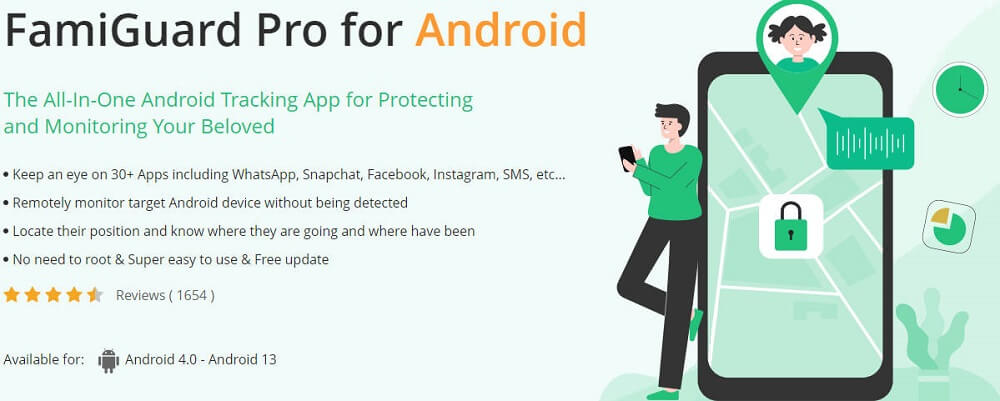 Price: A 30-days free trial (money-back guarantee), then $8.32 per month for a year.
Pros

Has a very simple user interface.

Real-time location tracking.

Can check all the location history.

Can set up a geofence and received alerts.
Cons

Doesn't supportiOS devicesyet.
The best part of this app is that you can create circles with your family and friends whom you can track together. All the members of a circle can track each other, and can know the real-time locations of each of them. The app also has a car crash detection feature that detects a car crash and notifies the members of the circle about it with the current GPS location, so that they can send immediate and necessary help.
Life 360 makes it easier to plan and coordinate life, as it notifies all the members of the circle when a person arrives and leaves a place. It also indicates battery life, so, you know why your daughter's phone is switched off, and when is she going to reach home. Thus, Life 360 is a family locator app free of charge, including two premium versions with added features that cost as low as a breakfast.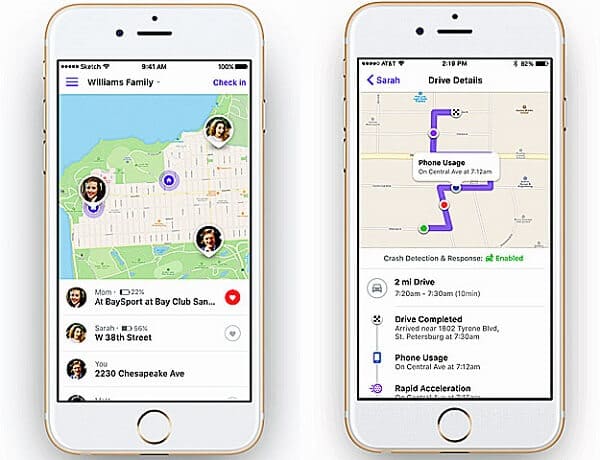 Price: Free with limited features, Plus version at $2.99/month, Driver Protect version at $7.99/month
Pros

Free. Premium versions are cheaper too.

Users can create circles of family members to track together.

Can detect a car crash and notify the circle
Cons

The free version doesn't have some important features.
Find My Friends is among the best family locator apps due to its simplicity. It has the ability to broadcast your location details during an emergency. The app also displays ETA so that, users know how far someone is. Users can even message each other using its messaging portal. Find My Friends is a solution for people who have a medical condition and needs to be constantly monitored. As the app uses Google Maps for its map, it also offers directions to any places.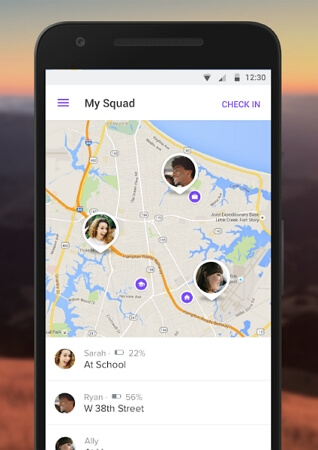 Price: A free version and a premium version at $5/month.
Pros

Well priced. Free version also available

Very easy user interface.

Premium version also works on phones that are not smartphones.
Cons

Not many features available.
Unlike other family GPS trackers, Safe 365 is extremely simple and is preferred due to its ease of use. The app, not only is capable of sharing an accurate real-time location, but also, can share journey routes and battery levels. It indicates if the person being tracked has a low battery, so that the user can make a guess about the situation the person is in and act therefore.In case of an emergency situation, there's a panic button to alert her/his close ones, broadcasting situation details and current location, for others to send help.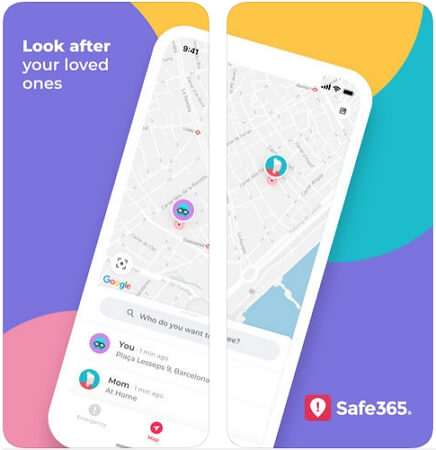 Price: Free.
Pros

Free of cost.

Very easy user interface.
Cons

The app sometimes shows inaccurate tracking details.
The Sygic Family Locator GPS tracker is a useful tracker app with some cool and handy features. You can set a geofence for any of your family members and restrict an area in the app, so that, when they goes to that place, or leaves the geofence, you will get an alert notifying you of the person's GPS location. It tracks the location real-time with virtually no lag and with minimum error. If your kid is lost, they can press the SOS button, and you will get their exact location, to go for help. It also has a premium version with added features like location history, and storing full addresses, dates, and times. The app is capable of real-time route sharing, so that you can know where the person is headed to. The app also allows you to check flight statuses, which is not present in any of the other apps.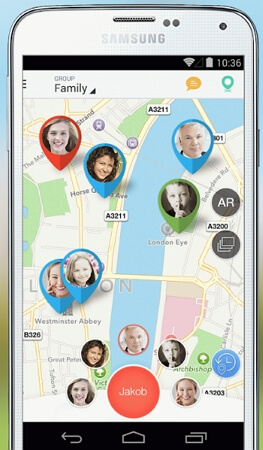 Price: Free with limited features, Premium version at $2.99/month
Pros

A free version available with many important features.

An SOS button

Ability to share real-time routes.
Cons

Location history is not available in the free version.

Only 7 days of location history available
Sprint Family Locator allows users to locate up to 4 devices at a time. The biggest advantage of this app is that there is no need to install an app or anything on the device you wish to track. You can send messages to the target devices using the app.
Sprint Family locator even allows you to track location history, and notifies you regularly about the location of a particular device at a particular time. The notifications you receive contains detailed address of the location, along with the pinned location on the map. This way, you can perform safety checks if your kid has safely reached school, or to study every day.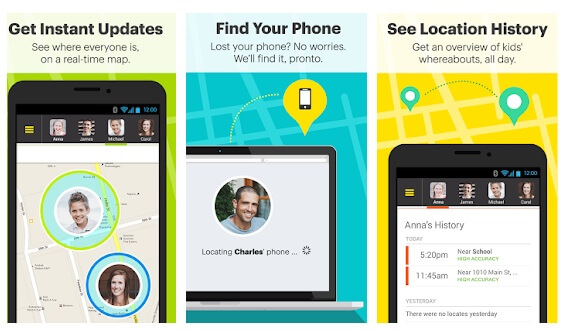 Price: 15-day free trial, then $5.99/month.
Pros

A 15-day free trial

No installation required

Even supported on phones that are not smartphones.
Cons

Only 4 devices are supported at max

A little inaccurate at times.

No real-time tracking available
Yes, Google Maps also has the ability to track and share locations. Just go to the menu, choose location sharing and choose a time from 1 hour to 3 days. You can even choose to share indefinitely until turned off. The biggest advantage of using Google Maps is that almost all the current Android smartphones come with Google Maps already installed on it, and chances are you haven't uninstalled it yet.
The location displayed by Google Maps is highly accurate, and you can even use the other features of the map with it, like the ETA, Directions, and traffic alerts. Moreover, you can even see the battery percentage of the device, whose location is shared. This location sharing feature works most of the time, and most of the users don't feel the need to use another app, as this is already present there all the time, until you need some advanced features, which isn't available here.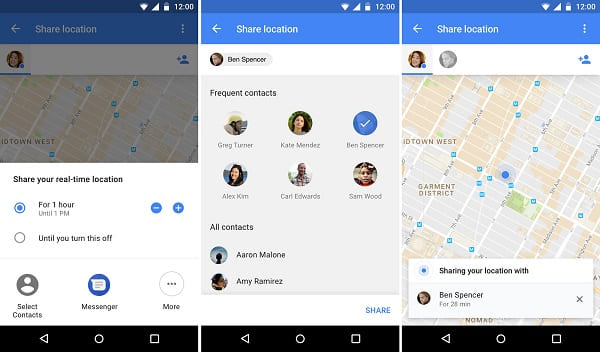 Price: Free.
Pros

Available in almost every Android smartphones.

Free

Also shows battery percentages of shared devices.
Cons

Only one device can be tracked at a time.
Foursquare Swarm works a bit differently from other tracking apps. It is similar to the Foursquare social media site, where people check in at locations and add reviews. Here, in this app, the locations are saved as pins on the map, when visited. The location is acquired based on GPS tracking. The app shows statistics based on the locations mostly visited by people. You can track your closed ones based on these location histories.
Although, it isn't real-time tracking, you get an idea of where your close ones are. The locations are added as names on maps, like the name of a restaurant, café, or a shopping mall. This app is useful for people who are familiar with the Foursquare social network site.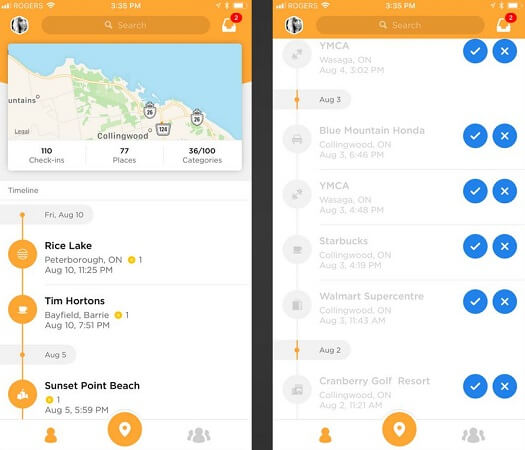 Price: Free.
Pros

Free of cost.

Extremely simple.
Cons

No real-time location tracking.

Useful for people who uses Foursquare social network.

Drains a lot of battery
Conclusion
If an emergency arises, the most important thing to do is to send help as soon as possible, and to do that one must know the exact location of the person first. These family tracker apps do exactly that by sending the current GPS location of the person to the other family members. And among them, FamiGuard Pro for Android is one of the best family tracking apps with features that makes it a favorite choice for many Android users. So, what are you waiting for? Just try it right now!
You may also be interested in:

By Tata Davis
professional in software and app technology, skilled in blogging on internet
Thank you for your feedback!