As the name suggests, a live mobile location tracker is used to track the real-time location of mobile phones. A lot of people looks for such compatible apps due to different reasons. The parents look for them in order to track their kids; on the other hand couples use them to track the movement of their elderly partners.
There is a lot of demand for a good live mobile location tracker. So, we are here with this article just to educate you about the best live location tracking app. All the details are available below.
Best Live Location Tracker Available for Android
There are numerous apps that are capable of location tracking. But only a few of them works as efficiently as they are advertised.
Basically, only a handful of apps fits the criteria and are advanced enough to be an effective live location tracker. We have tested a few of them but we found FamiGuard Pro for Android app to be the most effective.
The app is obviously available for Android devices and it is also quite a powerful Live Mobile Tracker.
Let's have a look at the powerful tracking features you can avail with FamiGuard Pro for Android:
Real-time location tracking is possible using the app's built-in GPS. The results are very accurate because it is updated every few minutes.

A map view is available with time and date stamp

The app also maintain a location history of the target device. So, you will be able to check out all of them

Geofence is also available. You will be able to create a virtual map and the app will inform you about the enter/exit events

There are also numerous mobile activity tracking features like app usage tracking and web history monitoring.

You will be able to remotely track locations from a computer or a cell phone.
Therefore, FamiGuard Pro for Android is a live mobile location tracker online, after the installation you will be able to track the target device in real-time online.
Why Is Live Location Tracking Important to Us
There are actually several reasons for the people to look for a live cell phone tracker. These apps are also very demanding at big industries for monitoring employees. But as for parents it can prove to be of great help while parenting. Live location tracking can actually ensure that your child is safe out there as you can remotely locate their actual movement on the map. Some apps even provide you with constant updates of the same.
Parents use them to:
Track the live movement of kids or any other family member.

Ensure the safety of their kids by following their live location.

Find location history to know their kid's common hangout places

They are updated with constant notifications about the whereabouts of the target device
There is also the Geofence feature and it helps the users to:
Set a virtual fence.

Preventing incidents like kidnapping by setting up a safe zone and making sure they are not accessing any unusual places and not meeting any strangers.

Last but not least, reassures the parents of their kid's whereabouts remotely. No need to be physically present near the kids.
How to Use FamiGuard Pro for Android Live Location Tracker
Now, it's time to discuss the setup and the operation of FamiGuard Pro for Android. It is true that FamiGuard Pro for Android is packed with features and quite convenient as location tracker. But the installation and even the operation must have to be simple enough to be used by even the most novice users. So, let's have a look at the installation and operation of FamiGuard Pro for Android as a live cell phone tracker.
Step 1: Sign up with FamiGuard Pro for Android and create an account.
Step 2: Now, you have to get hold of your kid's phone and unlock it. Download the app from Given Address.
Step 3: Now, complete the installation and sign in to your new account. Configure the app by following onscreen prompts.

Step 4: Now, back to FamiGuard Pro for Android website and sign in. From this web, you will be able to track and monitor the target device. If you want to track from the mobile device, you can also check the current location of the target device in this way.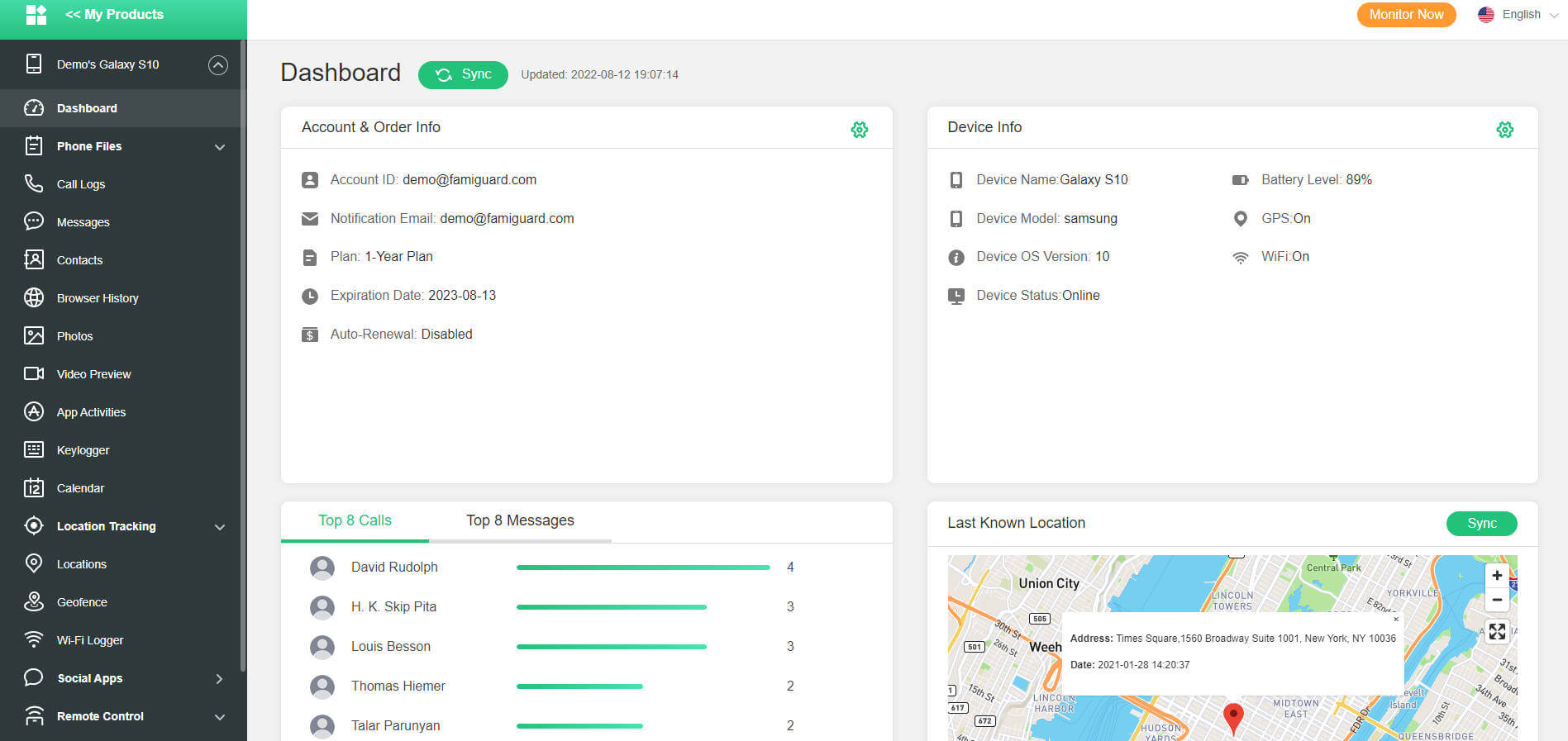 As you can see, tracking and monitoring is very easy with FamiGuard Pro for Android. It is convenient and very effective too.
Other FAQS About FamiGuard Pro for Android Tracking App
Question: Do I Need to Root the Device?
No, invasive and risky procedure like rooting is not required in order to install this live mobile location tracker app.
Question: Is the Location Tracking Accurate?
The app tracks the location of the target device using its built-in GPS. The GPS is very advanced and it is really accurate because the results are updated from time to time
Question: Will My Child Know that I am Tracking the Location?
That clearly depends if you want to tell him/her or not. Frankly, the app icon will be visible on the target device but it won't be accessible without a password. So, there is a probability that if you don't discuss the app with them they may not know what it is used for.
Question: Can I Check Location History with this App? If, yes, then How Old?
Well, the location history is clearly available if you use FamiGuard Pro for Android. You will be able to check even a year old location history.
Question: Is there Any Discount on the FamiGuard Pro for Android?
Unfortunately, there is no discount but the app is very budget friendly. It will only cost $8.32 per month and you can enjoy all features like live location tracking, geofencing and more.
Conclusion
Therefore, location tracker apps are very important for a lot of reasons and needless to say parents are very worried about their children. Corporate espionage has increased greatly. So, apps like these are in demand and we have provided you with the best one, FamiGuard Pro for Android. Use it wisely!
You may also be interested in:

By Tata Davis
professional in software and app technology, skilled in blogging on internet
Thank you for your feedback!