It's the modern age. The times when one could lose his way to a restaurant or cannot find which one is the best route to take, are gone. If I want to know where I am right now I would just turn my GPS on and BOOM!! I would have my precise location in a matter of seconds.
But let us move a little forward. Do you know that you could see where you have been for the entire day? You don't? Well, guess what, you can even know where your loved ones have been and the precise routes that they followed!
Want to explore that? Stick with the articles cause you are about to know how to check location history on android!
Table of Contents
Method 1 - Using Google Map to Check Location History on Android
We all have Google maps on our android phones One simple way to see Location History is to use this app. Although Google claims that this might not be precise, it still works well enough for a free application. Here is how to check location history on android using Google Map:
Step 1: On your Android phone or tablet, open the Google Maps app.
Step 2: Tap your profile picture or initials > Your Timeline
Step 3: Tap More > Settings and privacy.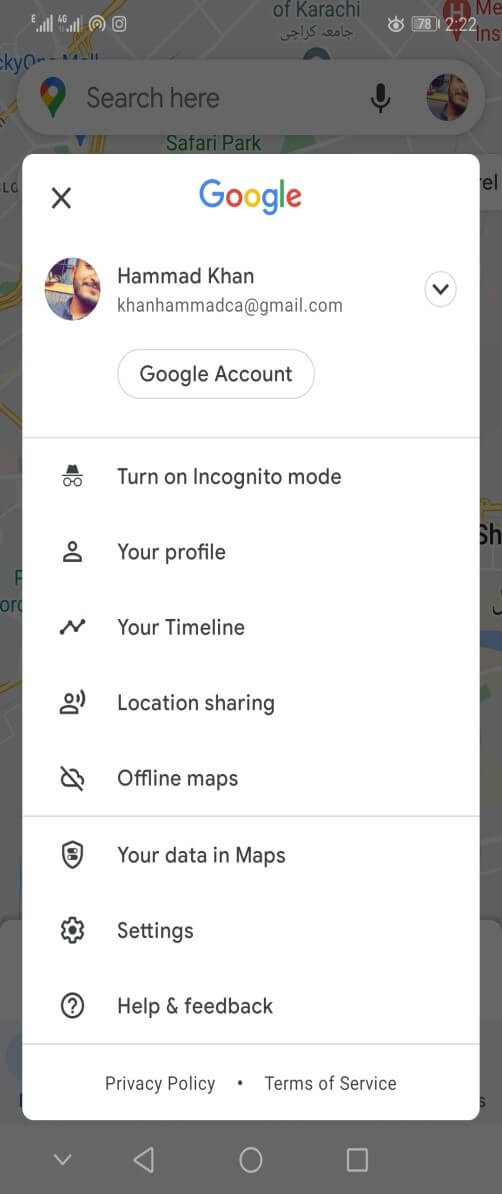 Step 4: Under "Location settings," check that it says "Location is on." If it doesn't, tap Location is off and turn on Location.
Step 5: Under "Location settings," check that it says "Location History is on." If it doesn't, tap Location History is off, and turn on Location History.
Part 2 - Using FamiGuard Pro for Android to Check Location History
It's one thing to see your location history but an entirely different thing to be able to track someone else's that too from your Device! Why go for "almost precise" when you can opt for "absolutely precise" location history?
1. What is FamiGuard Pro for Android
Famiguard Pro for Android is the only monitoring software that you are going to need to keep a track of all social media activity and the track of the location of whoever you want to monitor. Remotely monitor the activity of various apps including Whatsapp, Snapchat, Instagram, Facebook, Tiktok, and other popular social media. Read and check who they are chatting with, what they are viewing, and what they are posting and sharing without them knowing. Know the precise whereabouts of your children and family to live. All that could be done without a root of the device.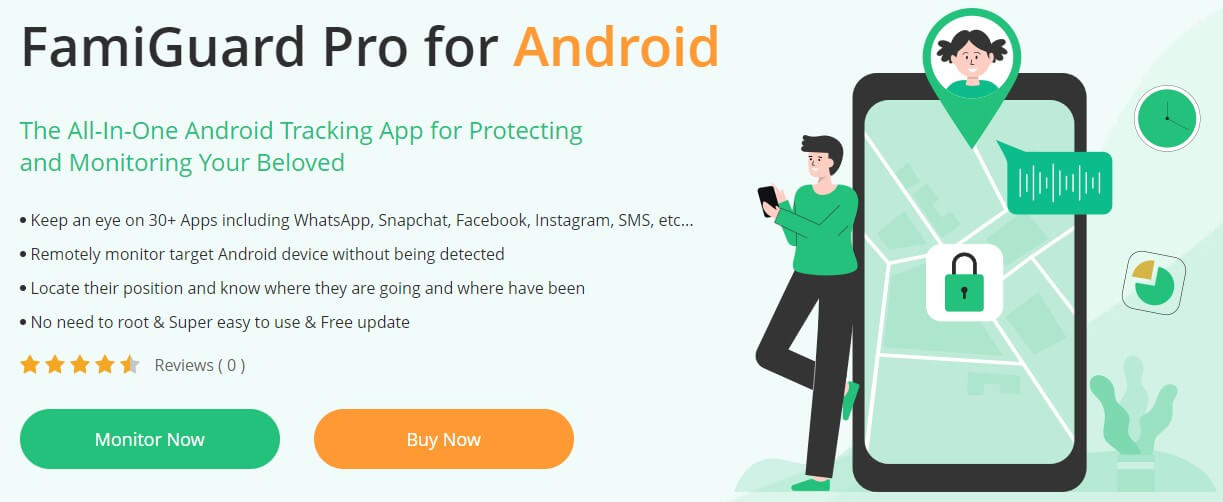 2. How to use FamiGuard Pro for Android to locate your Child
Setting a FamiGuard pro for Android account is as easy as it gets:
Step 1: Create your account for FamiGuard Pro
Click on the Sign Up/Monitor Now button to register for the FamiGuard Pro account with your valid email address. Thereafter, you need to purchase a premium plan to use all advanced monitoring features. You can choose a 1-month plan, 3-month plan, or 1-year plan. The pricing will vary accordingly.
Step 2: Download the FamiGuard Pro app and set it up
After purchasing our Android monitoring tool successfully, you will be navigated to the My Products and Orders Management page. Here you can check and manage the corresponding order you created earlier. Next, you should click the Setup Guide button and follow the instructions carefully to complete some necessary configurations on the target Android device.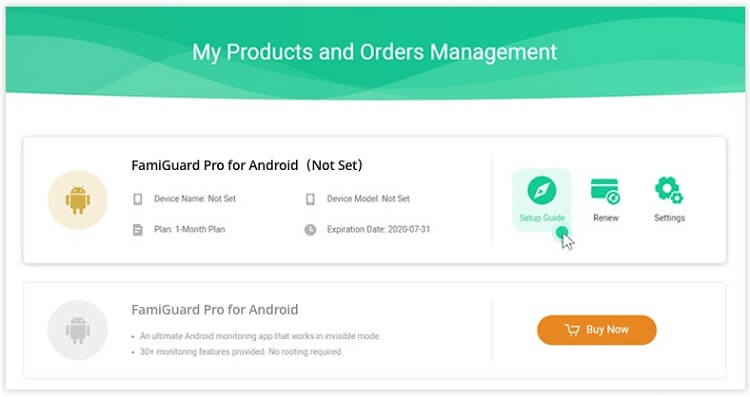 2.1. Download FamiGuard Pro assistant on the target Android device.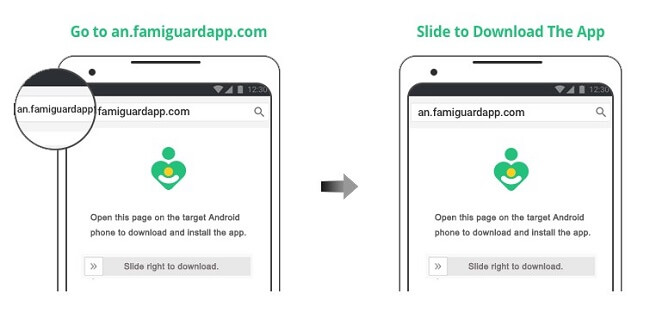 2.2. Install FamiGuard Pro & Complete some necessary settings on the target phone.

Step 3: Verify your setup and start monitoring your account
After completing the app installation and configuration on the target phone, log into your FamiGuard Pro account on our website. If everything is set up correctly, you will see the device name and related information. Click on Dashboard to check the phone activities and data. Kindly note it will take some time if it's the first time to sync data from the phone to the dashboard.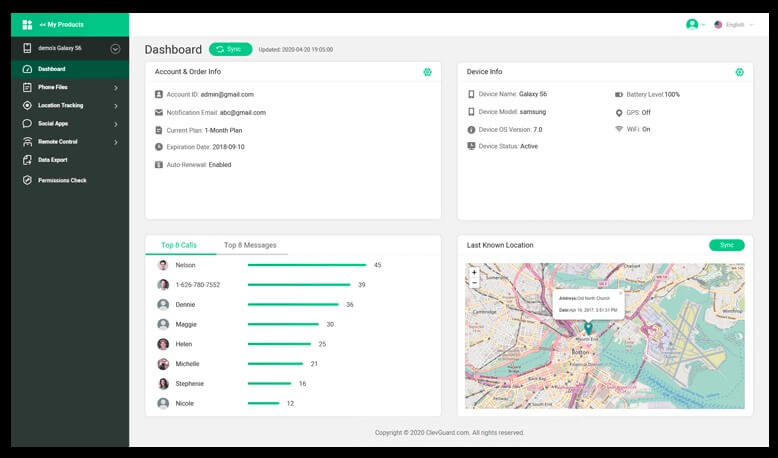 Once this is done you are ready to track the device of your choice using the FamiGuard Pro for Android. You will get the live location of the kid; you can find your device and know when your kid is out of the range that you set.
3. Features of FamiGuard Pro for Android
FamiGuard pro for Android provides much more than just Location history. It can be used to monitor the activity of all kinds on multiple major social media platforms. Below are some core features in the areas of "Tracking" that FamiGuard offers:
Track GPS location: FamiGuard Pro for android shows the precise current location of whomever you intend to track with absolute precision and in real-time. This will allow you to know when and where your children are at a point in time. The precision of this tracking is way better than the competitor of the same category.

History of the location : Not only can the current location of the person, but you also know where they have been thorough out the day by the history of their locations. So, you just have to log in at the end of the day and see what your child's day has been like.

Set up Geo fence : The star service that the FamiGuard Pro for Android offers is the option to set a virtual fence for your children known as the Geofence. You can set up this fence around the areas where your child is supposed to be and if the child for some reason goes out of these areas, your cell phone will get an alert that there has been a breach in Geofence.

All round monitoring: Famiguard Pro can monitor over 30 apps on the target device, including social media such as FB, INS, TW, Snapchat and many more. You can also view all call logs, SMS, web browsing history, pictures and videos online in real time.
Here is an extra tip – How to disable the location tracking on Google map
Step 1: On your Android phone or tablet, open the Google Maps app.
Step 2: Tap your profile picture or initials > Your Timeline
Step 3: Tap More > Settings and privacy.
Step 4: Tap Location History is off or Location History is on.
Step 5: Turn Location History on or off.
Conclusion
Knowing location history can be essential, especially when you are living a lifestyle that does not allow you to keep a close eye on your loved ones. So why not opt for it when FamiGuard Pro has made keeping a check on the locations so convenient for you?
You may also be interested in:

By Tata Davis
professional in software and app technology, skilled in blogging on internet
Thank you for your feedback!