Your birthday is a special day that you may want to share with friends and loved ones, but broadcasting it to the world via Facebook could put your personal information at risk. With identity theft and online privacy concerns on the rise, it's important to take control of your social media settings and protect your information. In this blog post, we'll walk you through the steps to how to hide your birthday on Facebook and keep your data safe from prying eyes.
Part 1: Can You Hide Birthday Info on Facebook?
Yes, you can hide your birthday on Facebook by adjusting your privacy settings. You may utilize Facebook's privacy settings to reveal your birthday to everyone if you don't want to. You have the option of hiding it from all individuals or just non-friends.
Part 2: How to Hide Your Birthday on Facebook?
Way 1: Edit Your Basic info on Smart Phones
This time around, you will begin the procedure by opening the Facebook app that is located on your mobile device. After the application has been started, proceed with the following steps to hide birthday Facebook:
Step 1. Your news feed appears when you first load the website. On the left of the search box, you'll see your profile image. Simply tap on your pic to go to your profile.
Step 2. Click the "See Your About Info" button.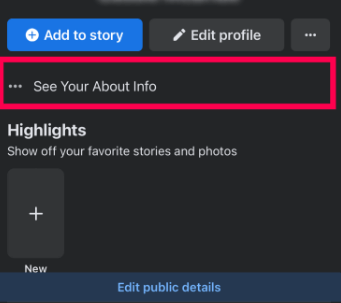 Step 3. Locate your birthdate in the Basic Info section, and then choose the "Edit" button that is located next to it.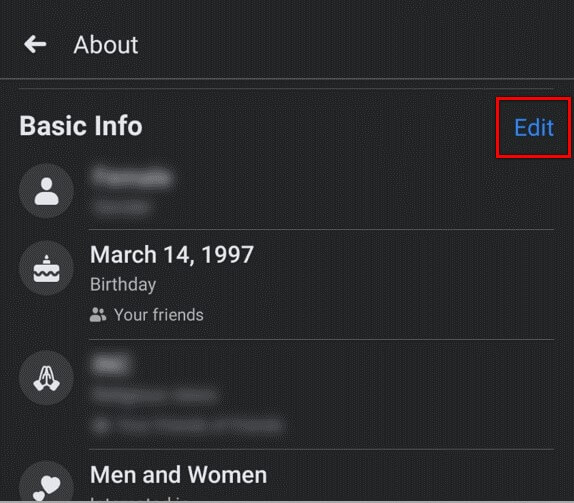 Step 4. Choose "Only Me" from the list of options that appears when you expand the privacy settings menu that is located next to your birthdate. If the option is not visible, you may have to choose More Options from the menu.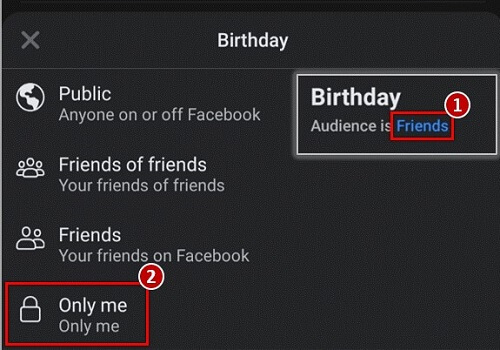 Step 5. Alter the privacy settings that are associated with your birth year as well. After you are finished, choose "Save" in the menu located in the top right corner of the screen.
Way 2: Edit Your Basic info On the PC
If you are not using the Facebook app anymore or a browser is a preferred option, then you can browse the website for Facebook hide birthday solution.
Step 1. With a web browser, go to the Facebook Official Website If you are signed into Facebook, the site will open to the page that displays your News Feed. If you aren't already signed in, please follow the steps shown on the screen.
Step 2. You may modify who can view the month, day, or year of your birthday by going into the settings for your profile and selecting the contact and basic information option.
Step 3. You may access your profile by choosing the picture of yourself that appears in the upper right corner of the website.
Step 4. To learn more about yourself, click the "About" page that is located just below your cover picture and profile image.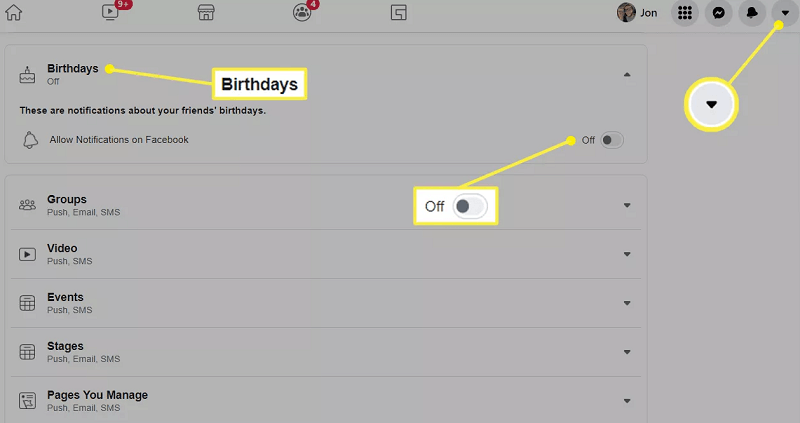 Step 5. Choose Basic Info and Contact from the menu on the left.
Step 6. Locate your birthdate in the list of basic information on the right side of the screen, and click the pencil symbol that is next to it.
Step 7. Choose the "Audience" button once again, then place it next to your birth date.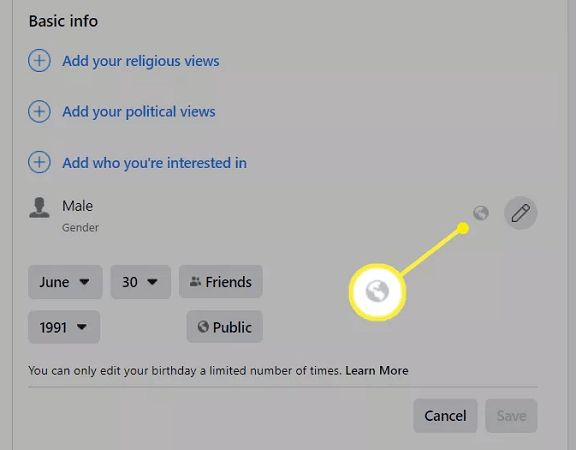 Step 8. You may make your birthday accessible to any or all of the following groups of people, as detailed below.
So, you asked how to hide my birthday on Facebook? Here, by selecting Just me, you will prevent anybody other than yourself from viewing it. If it is already set to Public, but you want to make sure that only your friends can see your birthday, pick Friends as the visibility setting.
Part 3: How to Hide Someone's Birthday on Facebook?
Since you now know how to hide birthday on Facebook , let's move to another hot topic about Facebook birthdays. How to manage and hide notifications that remind birthdays of your Facebook friends?
Way 1: Turn off Birthday Notifications On Smart Phones
If you are using the Facebook app on your iPhone or iPad, you may block unwanted Facebook alerts by following these steps:
Step 1. Launch the app for Facebook.
Step 2. Touch the More button that is located in the lower right corner of the screen.
Step 3. Tap the Settings menu, followed by the Account Settings menu.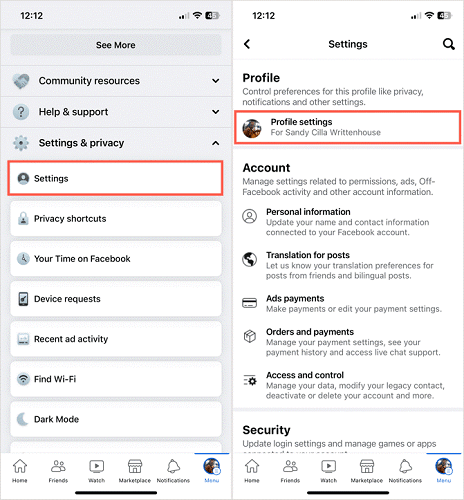 Step 4. Choose the "Notifications" option. In this section, you'll find the option to disable obnoxious alerts like birthday reminders and live videos.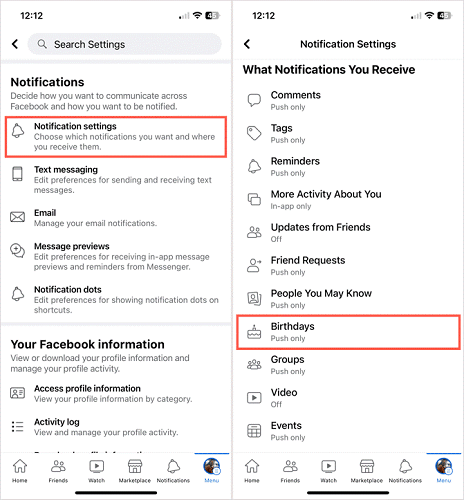 In case you want to activate birthday notifications or just re-select notification methods;
Step 1. You may start receiving alerts by activating the option located at the very top of the page that says Enable notifications on Facebook.
Step 2. Turn on the switch(es) that correspond to how you want to receive them down below. You have the option of selecting Push, Email, or SMS notification, or all three at once.
Step 3. Switch on the toggle(s) for either Upcoming Birthdays, Belated Birthdays, or both, located just below that.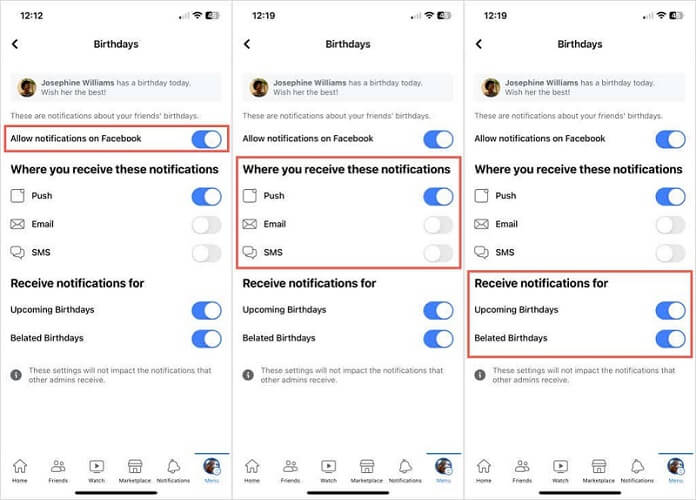 To turn off Facebook alerts that are a nuisance on your Android device, follow these instructions and open the Facebook app:
Step 1. Launch the app for Facebook.
Step 2. Touch the symbol that looks like three horizontal lines at the top of the screen.
Step 3. Choose the Account Settings menu.
Choose the Notifications menu option, then deactivate the alerts that aren't necessary.
Way 2: Turn off Birthday Notifications On the PC
You have the option of concealing notices about your friends' birthdays from your account, which is analogous to how you may conceal your birthday from your friends' accounts. You should do this if you would rather not be alerted about your friends' birthdays or if you would rather see the birthdays of your friends manually.
Step 1. If you are currently logged into Facebook, click the arrow in the upper right-hand corner of the page to get to Settings & Privacy, then Settings, and lastly, Notifications. You may also get there by going to the notification settings section of your Facebook account.
Step 2. Choose Birthdays from the drop-down list, and then make sure that the "Enable Notifications" on Facebook option are off by toggling the switch.
Tips: How to Monitor Someone's Facebook without Them Knowing?
Do you want to know someone's birthday on Facebook? Do you want to know someone's daily activities on Facebook? Would you like to log into someone's Facebook without them knowing?
Here we recommend FamiGuard Pro. With this Facebook monitoring tool, you will be able to monitor their Facebook activities without fear of being discovered, as it runs invisibly! Besids, once the app is installed on the target phone, you can remotely monitor their Facebook without touching that phone again!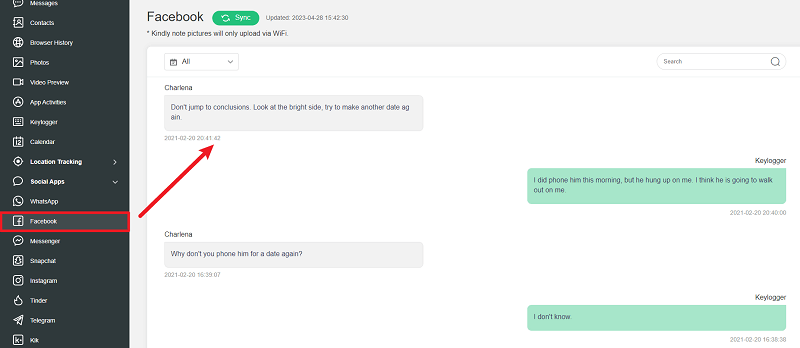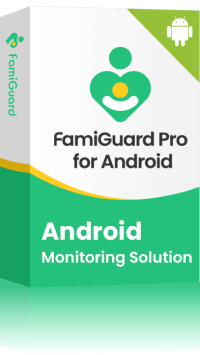 Amazing Features of FamiGuard Pro for Android
Monitoring Social Media Apps: Viewing messages or pictures on WhatsApp, Tiktok, Facebook, Snapchat, Instagram, Viber, WeChat, and more

Keylogger Feature: It has a keylogger feature that records everything typed on the keyboard.

Stealth Mode: No app icon appears on the target phone and the monitored person will not detect that you are spying on his phone

Remote Control: You can record calls, take pictures and screenshots remotely, without touching the target phone
You may also be interested in:

By Tata Davis
professional in software and app technology, skilled in blogging on internet
Thank you for your feedback!