Are you looking for Keylogger for Mac? Do you actually know what a keylogger is? Keylogger, known as a keystroke monitoring app, is a useful computer program to record every keystroke that's typed by the person. Of course, these apps will work with ultimate secrecy, so the target person would never know about it.
When used wisely, the keylogger app might be helpful in monitoring someone's activity for good purposes. Parents, for example, can benefit from this monitoring feature to prevent their kids from being caught in cyberbullying acts. So, read on and learn more about Keylogger for Mac!
Table of Contents
Part 1: Why You Use Keylogger for Mac?
As mentioned above, there are plenty of reasons why people are using keylogger on their Macs. Some of them are:
1: Monitor Kids' Online Activities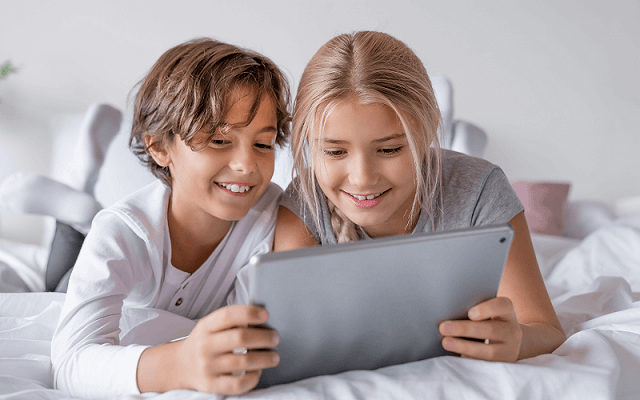 The best keylogger for mac can be used by parents to monitor their kids' online activities. Parents will know about everything inside their kids' devices. Yes, this could be a little bit annoying for the kids, and therefore, parents should inform their kids about it first before actually installing the keylogger app.
2: Safeguard Your Personal Data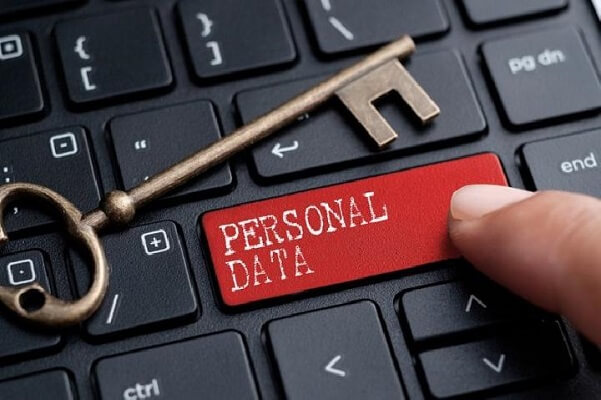 A keylogger app can also be useful to protect personal data. So when someone is typing anything on your device, you'll know it immediately and act accordingly.
3: Get Someone's Account Information
The not-so-good reason for the keylogger app installation is to obtain sensitive information like usernames and passwords. As we've just explained earlier, the keylogger apps will capture every keystroke that's inputted on the device.
Thus, the target person will send their usernames and passwords to you without their knowledge. What you want to do about it is completely your choice. Some people use this method to know the truth about their spouse's suspicious acts.
Part 2: What a Best Mac Keylogger should Be?
Since there are so many keylogger options out there, what are the factors in determining the best keylogger app?
1. Undetectable and Hidden
The best keystroke logger mac will always be hidden, no matter how the user wants to track it. If the installation process has been done successfully, the keylogger app is nearly impossible to find, thanks to its excellent secrecy. The type is even undetectable by the phone's system.
2. Easy Installation (No root)
The easier the installation process, the better. You have to look for a keylogger app that requires no complex processes to make the installation process on the target phone smoother and much quicker.
3. Better Be Free
We know that some keylogger apps might be a bit too pricy. Therefore, it's better to start with the free keylogger apps first to at least know how it works, what it does, and what they can offer. Once you grasp the ideas, then it's fine to buy the premium services.
4. More Powerful Features (Beyond Keylogging)
Surely, a keylogger app that has more than keylogging functions would look more valuable than the others. So, if you find a keylogger app like this, better consider it as your main tool.
Part 3: Which App Can Be Called the Best Keylogger for Mac? (Top 4)
We have some options for the best keylogger mac free here. Let us take a look at them:
1. Hoverwatch for Mac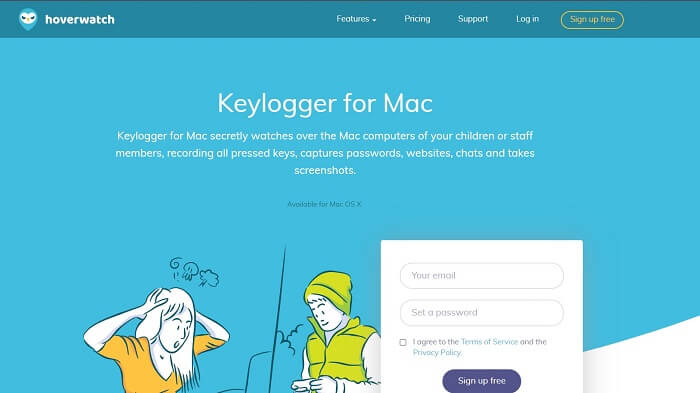 This app does the function of a Hoverwatch, and that's why people are calling it a Hoverwatch app. The app works wonderfully in doing the monitoring activity.
Some features are also available, like the upfront mode, stealth mode, clipboard monitoring, search engine monitoring, and more.
2. Actual Keylogger for Mac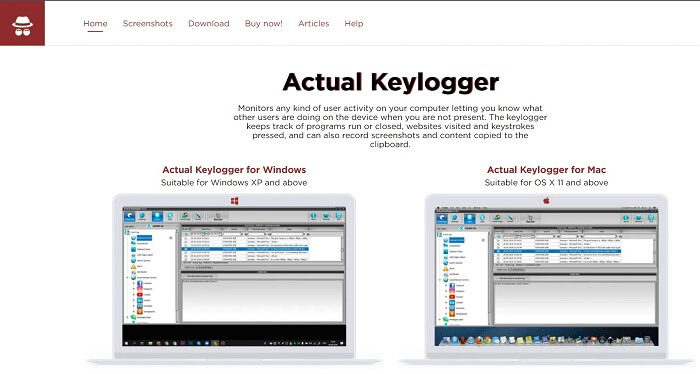 The second one is on the list of Actual Keylogger. Yes, as the name implies, you can record keystrokes with it. The app works with the basic functions to record keystrokes, fingerprints, and changes in storage. But, what people love the most from it is the great case-sensivity tracking tool on the keystrokes. So, you may expect great tracking results from it.
3. Clever Control for Mac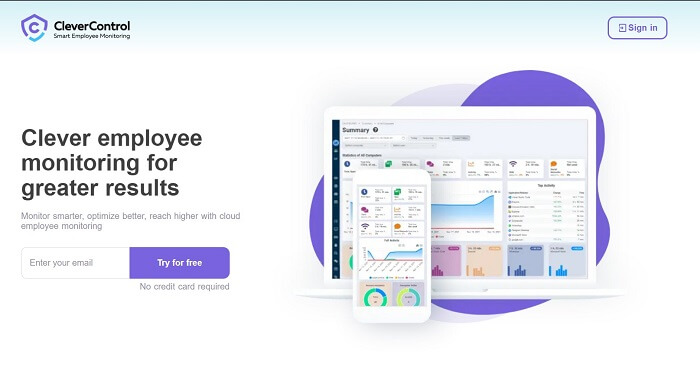 On the third option of the best Keylogger for Mac, we have the Clever Control for Mac. This app works really great as an employee monitoring app that is used by so many big companies. Clever Control is basically an all-in-one tool to track staff performance.
Not only giving the function to monitor employees, but Clever Control also offers suggestions to solve existing problems. That way, decisions can be made as fast as possible.
4. Elite Keylogger for Mac

Last but not least, we have the Elite Keylogger for Mac. Elite Keylogger has been known to be one of the best premium keyloggers that accommodate full hours of monitoring while greatly maintaining its secrecy at any time possible.
The app even has special functions when used on popular chatting apps like Viber or Skype. It's usable on many browsers and works best to identify the login credentials.
Hot FAQs about Keylogger for Mac
Q1: Can keyloggers for Mac be detected?
Generally, the keylogger MacBook is always hidden and undetectable even by the system. So, the target user would find it hard to notice its existence. However, if the user tries to dig deeper into the running processes, they might still notice an app that feels unfamiliar.
Q2: Does Apple track your keystrokes?
According to Apple's official statement, such a thing is impossible. Apple has been trying to give excellent privacy to all users. Although they do have the technology for it, they decided not to do it.
Q3: Can you put a keylogger on a Mac?
Yes, and there are so many methods to do so. You can see our recommendations above to pick the best keylogger for your case.
You may also be interested in:

By Tata Davis
professional in software and app technology, skilled in blogging on internet
Thank you for your feedback!