Have you ever wondered with whom your loved ones spend the entire day chatting on WhatsApp? Do you want to know what secrets they are hiding from you? Or perhaps you want to track what your loved ones are doing on WhatsApp for safety reasons.
In either case, cloning someone's WhatsApp account is a great way to keep track of that person. That way, you can have a complete copy of all the data on their account to monitor their activities.
In this article, we'll explain how to clone WhatsApp account by using a few different methods. We'll also provide step-by-step instructions for each method so that you can clone a WhatsApp account without any hassle.
Table of Contents
Part 1. Using WhatsApp Clone Apps to Clone Someone's WhatsApp
You can use the cloning apps to create a complete replica of someone's WhatsApp on your own phone and simultaneously use your personal and cloned accounts.
However, you'll first need to log into the target's WhatsApp account by providing their phone number and verifying it. After that, you're ready to go.
Below we've shared some of the best WhatsApp clone apps for Android that you can use:
1. FamiGuard for WhatsApp
New users may find it difficult to clone someone's WhatsApp account without being detected, but Famiguard for WhatsApp makes it easy for anyone to do.
FamiGuard for WhatsApp is a powerful tool that allows you to clone someone else's WhatsApp account and keep tabs on their conversations in real time.
This app gives you complete access to the target phone's WhatsApp data. You can use it to remotely track and control SMS messages, calls, voice messages, and much more.
At the top, you don't need any account information or login credentials to monitor a target's WhatsApp activity. Plus, since the app works in complete incognito mode, the target person will never find out that you're spying on them.
How to Use WhatsApp Monitor App to Clone Someone's WhatsApp
FamiGuard for WhatsApp gives you the ability to clone another person's WhatsApp account in just three easy steps. All you have to do is access the target phone for a few minutes and you'll be ready to go.
Here's how to clone WhatsApp without them knowing:
Step 1: First, sign up for a FamiGuard account by providing your email address and password. Then choose a subscription plan that best suits your needs.
Step 2: Now open the "WhatsApp.FamiGuardApp.com" website from the target's phone browser and download the app. Install it, then sign into your account and set up the app.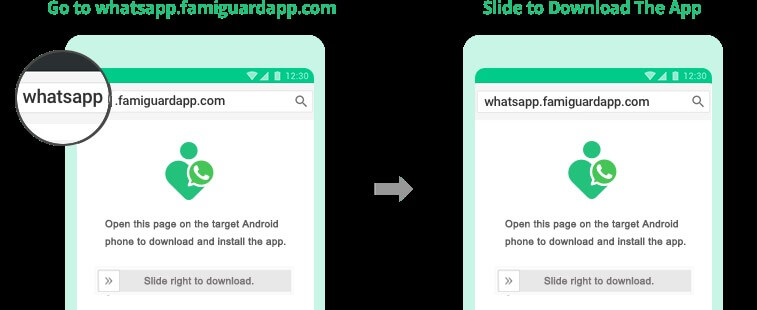 Step 3: Once the app is configured, it will start monitoring the target's WhatsApp activity in real-time. You can view all the cloned WhatsApp data from your FamiGuard account dashboard.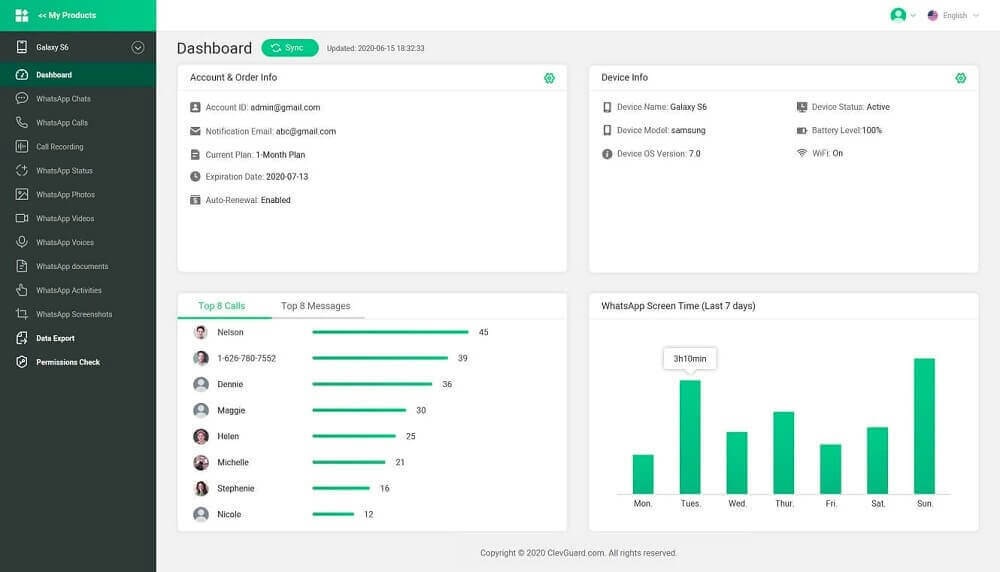 2. Parallel Space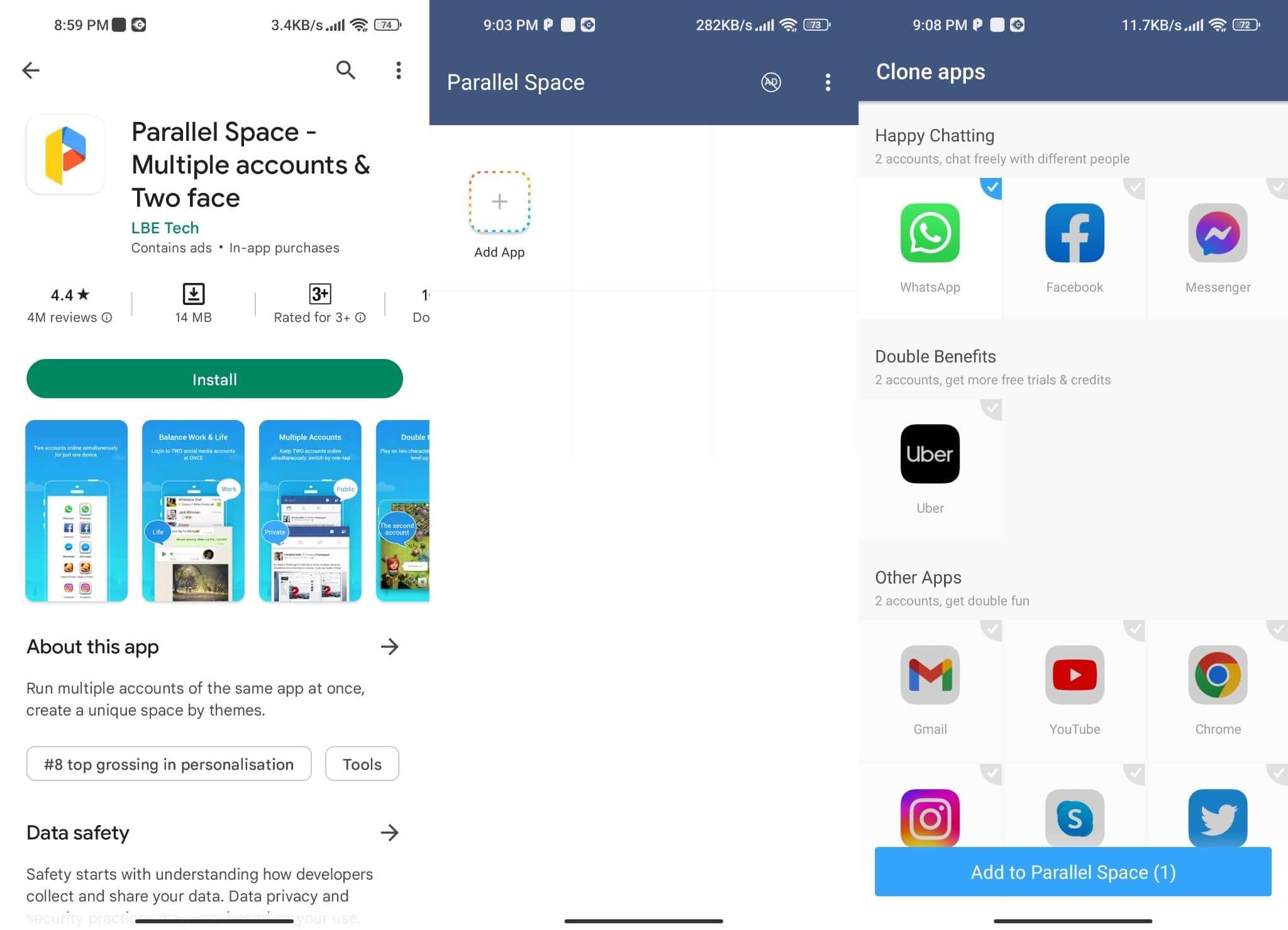 With over 100 million installs, Parallel Space is one of the most trusted cloning apps on Play Store. It creates a separate space on your phone where you can make a clone version of any app and use it with a different account. You can also protect your privacy by making your apps invisible with the Incognito feature.
Here's how to clone WhatsApp using Parallel Space:
Step 1: Install the Parallel Space app from Play Store.
Step 2: Open the app, then tap the "Add App" button.
Step 3: Select the WhatsApp from the list and tap "Add to Parallel Space."
3. 2Accounts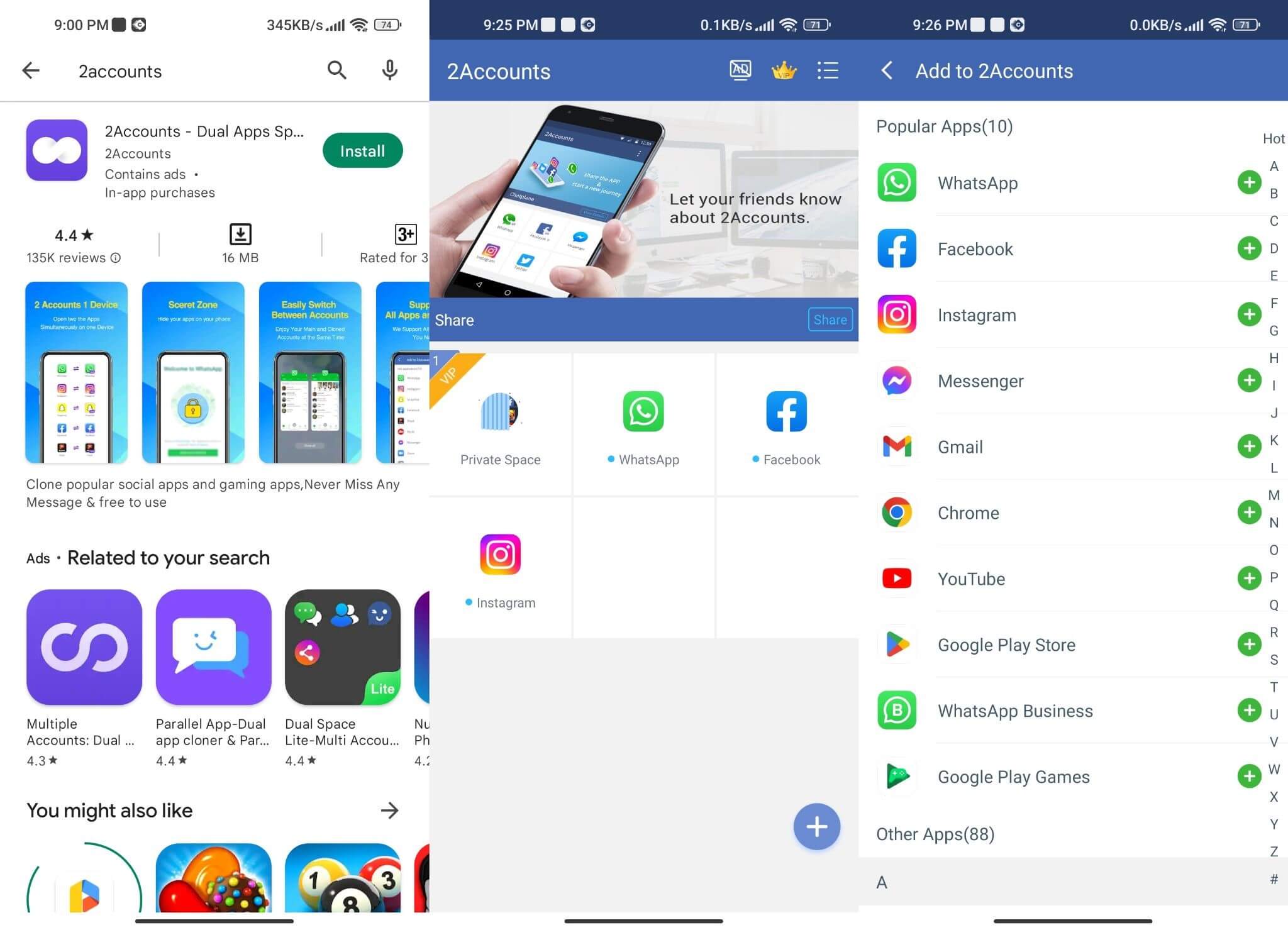 2Accounts make it easy to manage multiple accounts of the same app. It allows you to run two different accounts at once without mixing up their data. It provides you with a secret zone and security lock features to keep your information private.
Here's how to use 2Accounts to clone WhatsApp:
Step 1: Go to the Google Play Store and install 2Accounts.
Step 2: Launch the application, then tap the "+" symbol.
Step 3: Choose WhatsApp, then click "+" to add it to 2Accounts.
4. Multi Parallel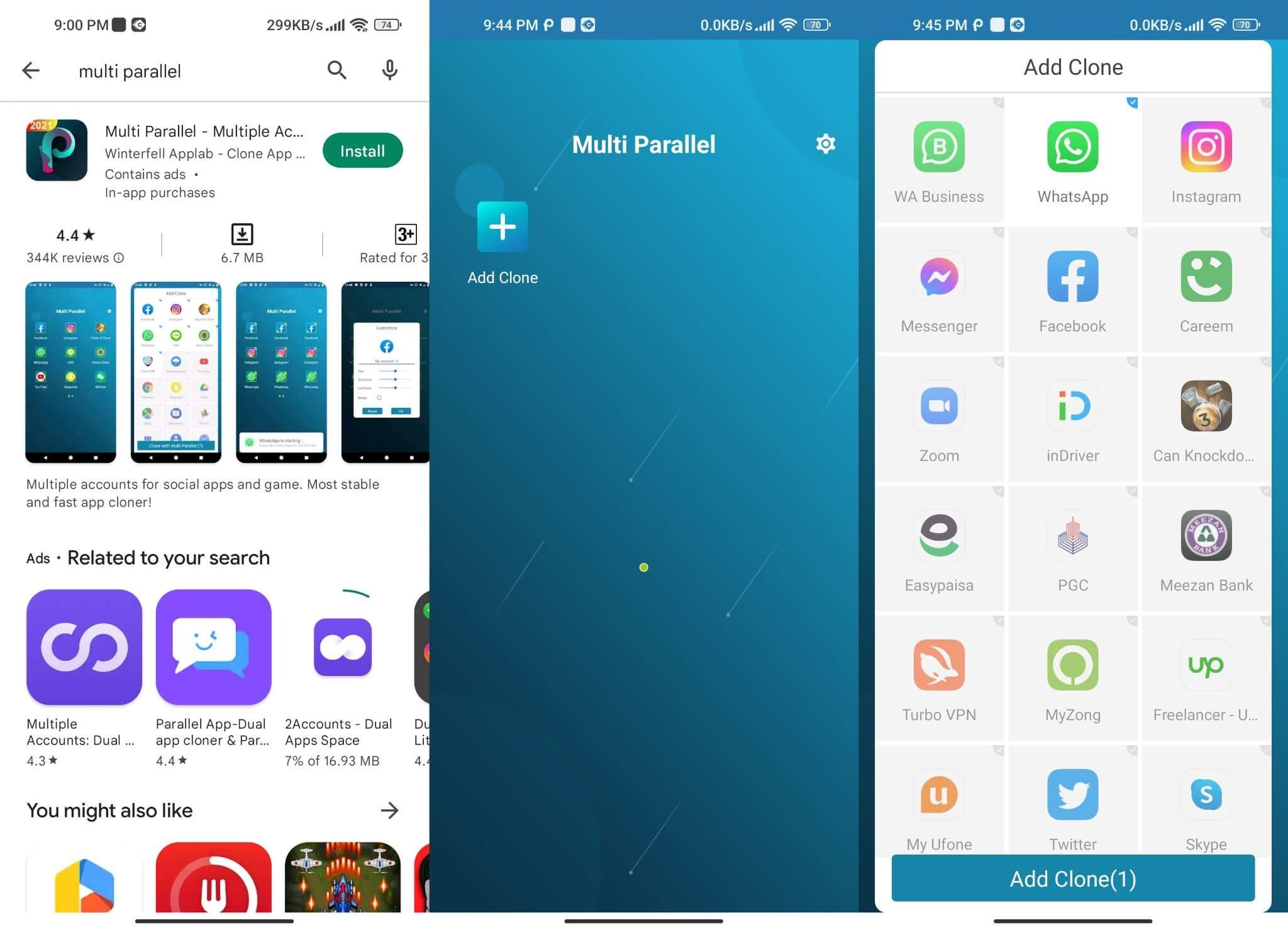 Multi Parallel is another great app for cloning and managing multiple accounts on Android. It's easy to use and intuitive, with a clean interface that guides you through the process of cloning different apps. The password protection feature is great too.
How to clone WhatsApp with Multi Parallel:
Step 1: Install the Multi Parallel app and launch it.
Step 2: Tap on the "Add Clone" and select the WhatsApp.
Step 3: Tap the "Add Clone" to create another WhatsApp account.
5. Dual Space Lite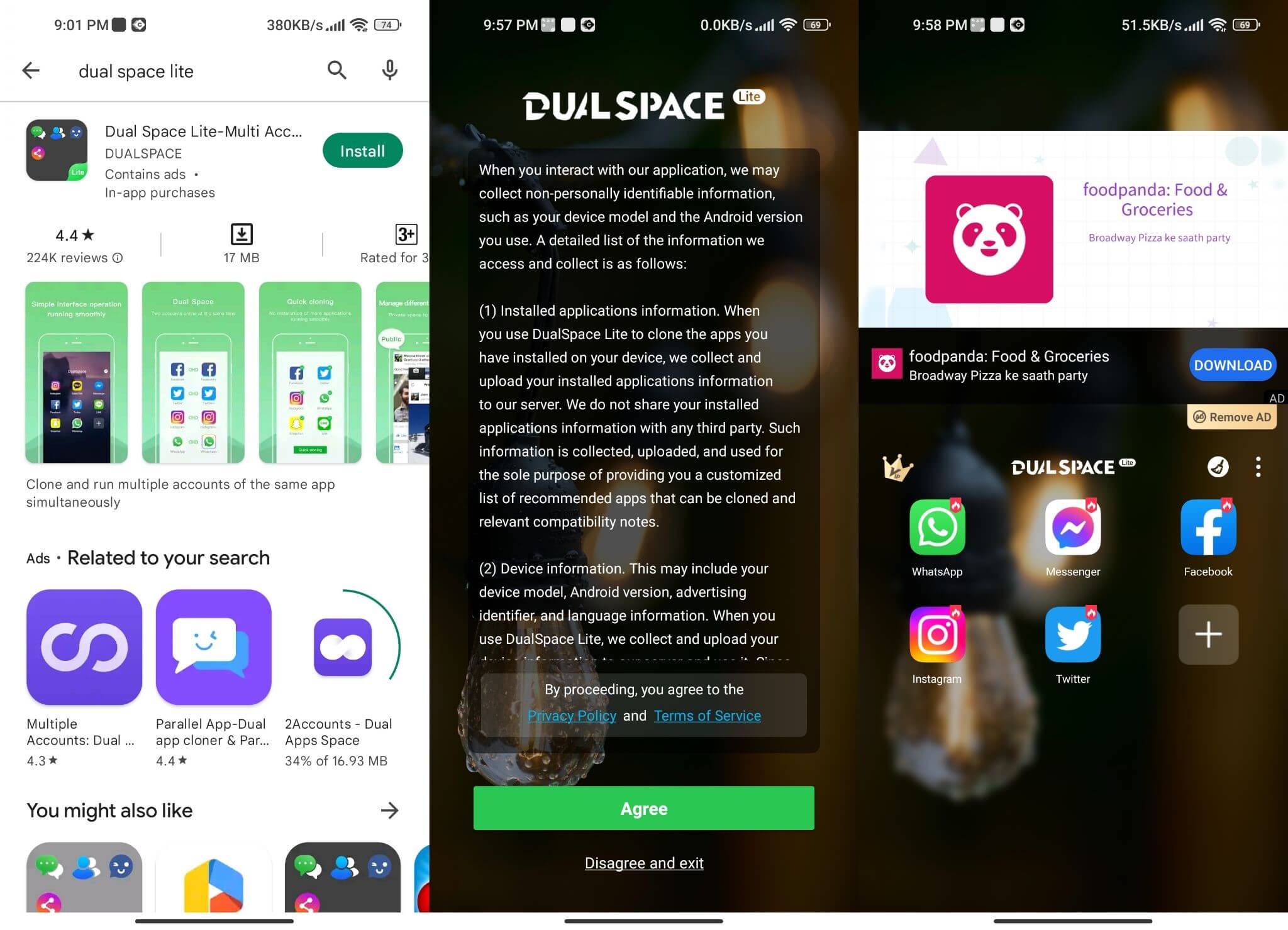 Dual Space Lite is a lightweight clone app that provides the lightest installation, runs faster and doesn't interfere with other accounts. Plus, the privacy zone feature makes your private account protected and hidden from others.
How to clone WhatsApp with Dual Space Lite:
Step 1: Search for "Dual Space Lite" on the Play Store, and install it.
Step 2: Start the app and grant permission when prompted.
Step 3: Tap the "+" icon, then select WhatsApp from the list.
6. Super Clone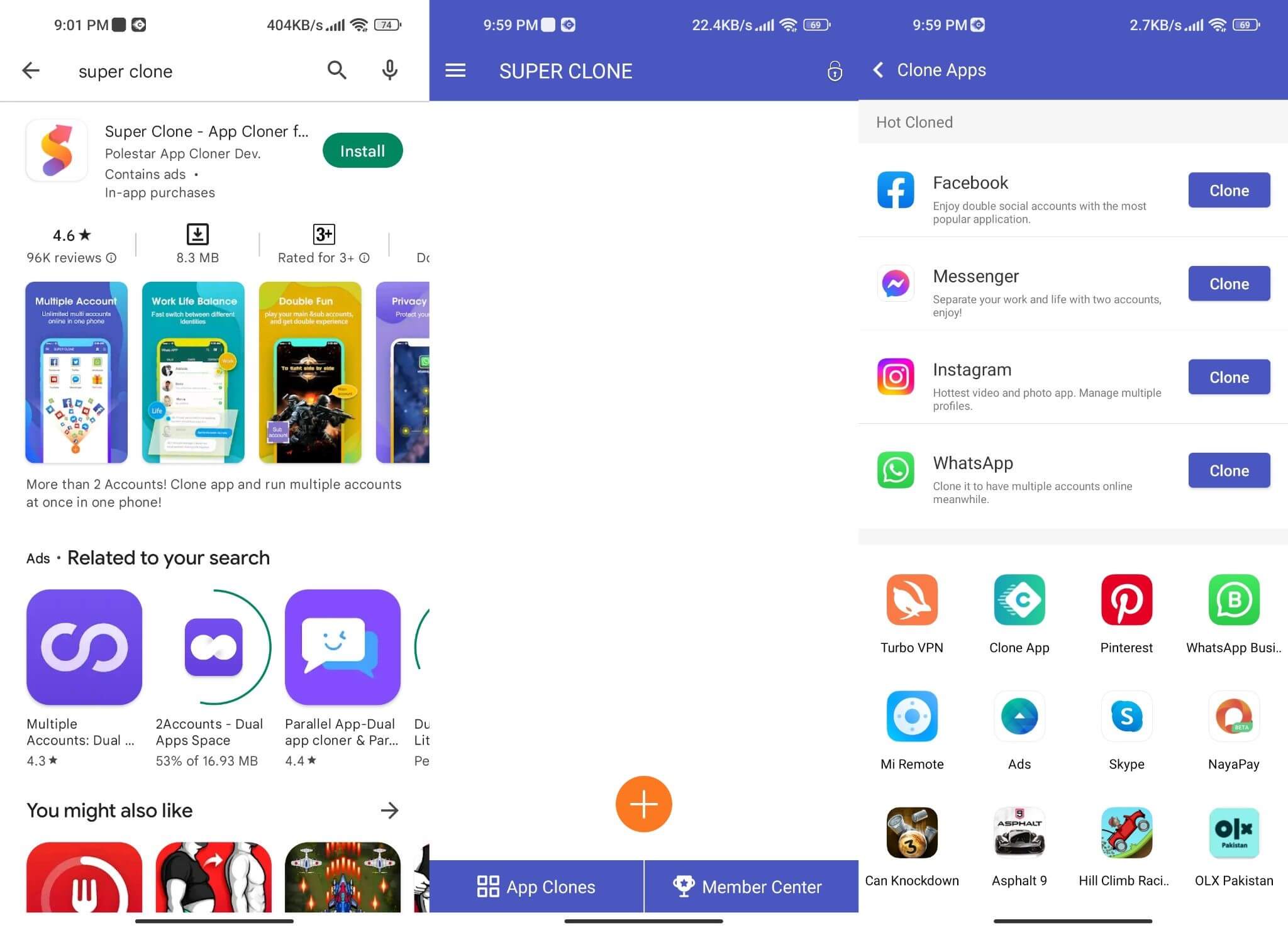 Finally, we have the Super Clone app on our list. It's 100% free to use and is designed for users who want to switch between multiple social and game accounts easily. This app offers one-click cloning for WhatsApp and private access using a privacy locker.
How to clone WhatsApp with Super Clone:
Step 1: After you've installed the app, open it and tap the "+" icon.
Step 2: Tap the "Clone" button next to WhatsApp on the list.
7. WhatsApp Web Cloning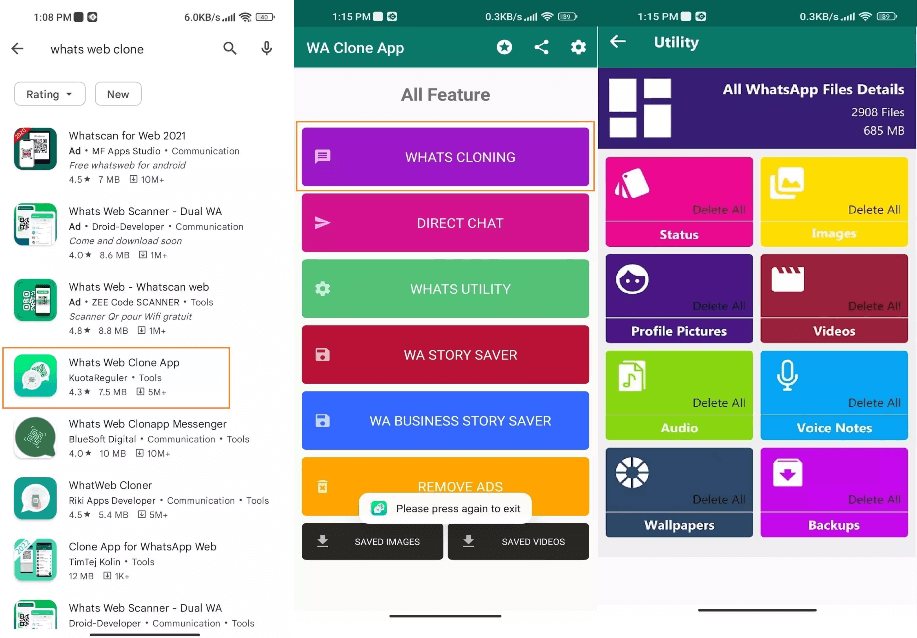 The Whats web clone app offers the simplest way to clone any of your loved ones' WhatsApp accounts and keep up with all of their activities. All you have to do is scan the QR code from their phone and the rest will be handled by this clone app.
Here are the steps to duplicate WhatsApp on another phone using the Whats Web Clone app:
Step 1: Go to the Google Play Store and search for the "Whats web clone" app. Once you've found it, install it on your phone.
Step 2: Open the app and grant it all the necessary permissions. Now tap on the "Whats Cloning" and scan the QR code from the target's phone.
Step 3: After scanning the QR code, you will be taken to the main interface of the app. From here, you can see all the cloned WhatsApp data of the target person.
Part 2. Hot FAQ about How to Clone Someone's WhatsApp
Q 1: Can I clone WhatsApp to another Phone?
Yes. There are mmany ways to clone whatsapp tp another phone.
Method 1: Use WhatsApp web. Open WhatsApp Web on your second phone and use the WhatsApp app from your original phone to scan the QR code on the web page, and your WhatsApp account will be cloned to your second phone.
Method 2: If your original device's WhatsApp account has Google backup enabled, when you install whatsapp on the new device and log in with the same number. WhatsApp will automatically prompt you to restore your backup from Google Drive and your chats will be cloned to the new device.
Method 3: As mentioned about, you can use third-party apps like FamiGuard for WhatsApp that claim to clone WhatsApp to another device.
Q 2: Is it illegal to clone WhatsApp?
Cloning your own WhatsApp is not illegal. If you want to clone someone else's WhatsApp, you'd better get their permission in advance. Also don't do illegal things by cloning someone else's WhatsApp.
Q 3: Can someone see my WhatsApp messages from another phone?
This is generally not possible. Unless someone else has hacked your WhatsApp using a third-party tool.
Conclusion
How to clone someone's WhatsApp account is a question that many people want to be answered. While it may seem like a difficult task at first, it's actually very easy to do with the right tools and methods.
We hope that this article has helped to answer that question for you. We've tried to include all the different methods that could be helpful, so you can find the one that works best for your situation.
Overall, FamiGuard for WhatsApp is a great tool to use if you're looking to monitor WhatsApp activity remotely. It allows you to see all the WhatsApp messages, calls, and multimedia files on the target device from an online dashboard - without them knowing!
You may also be interested in:

By Tata Davis
professional in software and app technology, skilled in blogging on internet
Thank you for your feedback!