Question:
Can you track someone's WhatsApp calls remotely and secretly?
WhatsApp is one of the most used applications worldwide. But we cannot forget that users who are constantly using WhatsApp for a very long time have a curiosity to try different features as well. Likewise, this question popped up to many users.
If you also have the same question, keep on reading. In this article, we will help you to know whether it is possible to track WhatsApp call history or not. Also, if it is possible, how can you do that? Let's have a look!
Table of Contents
Part 1: Best Way to Track WhatsApp Calls Remotely - FamiGuard for WhatsApp
We would not like you to get stuffed with unnecessary information or tools. That's why coming straight to the point, we would like to let you know about FamiGuard for WhatsApp.
Yes, this is one of the safest tools available for users around who wish to remotely track & control 10+ WhatsApp data as real. Users will be able to restore and track the deleted chats and files. They will be able to sync data and calls in real-time which allow users to keep track of things simply.
Track WhatsApp Messages: All sent and received messages can be track, including text/voice messages, emojis, photos, video previews, GIF previews, documents and more.

Monitor WhatsApp Calls: It can accurately monitor the information of WhatsApp call records, including caller name, duration, time, call type, etc. Calls can be recorded and replayed.

View WhatsApp Status: You can check WhatsApp uploaded files, videos and pictures etc. including deleted ones.

Easy to use: Get all the WhatsApp messages & calls you want in just a few simple steps.
You might be getting curious to know about the steps that you need to follow for using it. These are as follows:
Step 1: Sign in and select a subscription plan
Head to FamiGuard official website to create an account. Choose a subscription plan after registering an account.

Step 2: Get the App Setup on Target Device
For 2 minutes, get the target Android phone available for completing the installation and setting it up.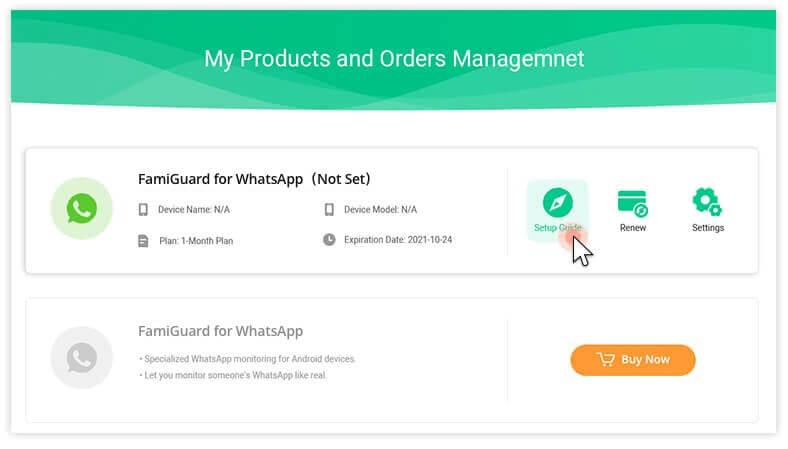 For completing it, the steps are:
Visit whatsapp.famiguardapp.com and slide the slider right to download it for the respective device. After finishing the downloading process, click on the "OK" button to open the APK file from the browser or reach the downloading section on your device. It here suggests deleting the browsing history.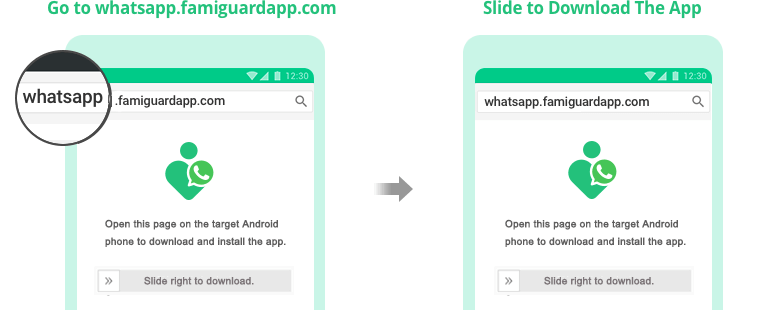 Now install and launch FamiGuard for WhatsApp. Hit on "Start Monitoring". When the configuration process will get completed, you will enter into the WLAN network.

Step 3: Monitor the Activities
Here again, you need to move to the Setup guide page and click on verify setup. After the verification is completed, the targeted device will get bind to the FamiGuard account you have created. It will take you to the web control panel where you can track the activities of WhatsApp easily.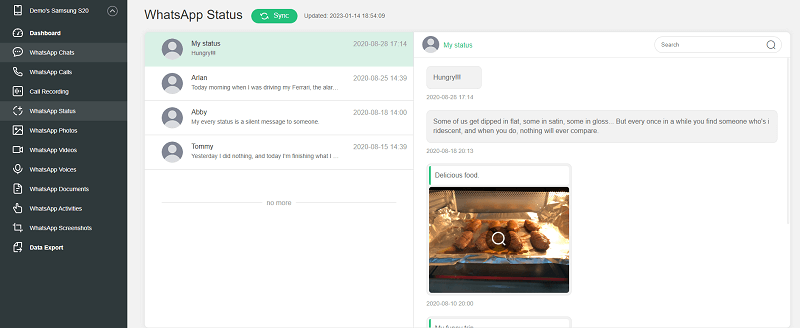 Step 4: Export the Data
If case you are running out of time for some urgent work and cannot check out the entire history, you have the option to download or export it. Just click on the "Data Export" button and get the history with you.
Part 2: Why People Need to Track Someone's WhatsApp Calls?
There are plenty of reasons why people need to track someone's WhatsApp calls. These are:
Some calls are suspicious that are not safe.
In case of emergency as well the recorded calls can help.
If you're worried about them being arrested or kidnapped, you might want to track their WhatsApp calls.
People may need to track someone's WhatsApp calls if they want to know when they will be back in range, or if they want to determine who is calling.
People need to track someone's WhatsApp calls because they could be using the phone without their owner's permission.
Conclusion
In conclusion, WhatsApp is a great platform for communication and its call history feature is a valuable asset. If you want to view WhatsApp call history remotely, FamiGuard for WhatsApp can be a helpful tool in keeping track of conversations and making better decisions about who to talk to.
You may also be interested in:

By Tata Davis
professional in software and app technology, skilled in blogging on internet
Thank you for your feedback!