Using your password every time to access your Gmail account can be very frustrating. It's time-consuming, and it's mentally taxing since you've got to remember the password every time. But not anymore. We will enlighten you on the safest ways to access your Gmail account without a password. With that in mind, here is how to log into your Gmail account without a password
Part One: How to Log into Gmail Account Without Password (4 Answers)
1. Log into Gmail Account with Your Phone instead of Password
Using your phone is one of the safest or fastest ways to sign into your Gmail account without using a password. Google will dispatch a prompt to your phone every time you sign in.
Google prompt in this case refers to push notifications confirming you are the one signing in. When you activate this feature, you will also choose an alternative means to sign in. That option will be handy in case you forget your password or when your phone is not nearby.
Step 1. When signing in to our Gmail account, you'll need to provide your phone number or email address.
Step 2. Thereafter tap "Next".
Step 3. You'll receive a Google reminder to check your device.
Step 4. At this point, unlock the screen of your phone
Step 5. A sign-in prompt will pop up, in this case, choose "Yes"
Step 6. However, if your device is not nearby, you can pick use password as an alternative sign-in method.
How to Activate this Feature:
Note: If you've activated the two steps verification process, then this option will not be available for you. To use this technique, your device must have a screen lock. The steps are as follows:
Step 1. Visit Google Account
Step 2. Go to the navigation panel and look for security.
Step 3. Thereafter, tap it. Under the options available for signing into your account, choose "Use your phone".
Step 4. At this point, you'll have to sign in to activate or set up this feature.
Step 5. Afterward, you can follow the Google steps to enable this function
Step 6. When it comes to iPhone devices, this feature only applies to iPhone 5s and later versions. That's because they have touch ID which is essential in setting up this function.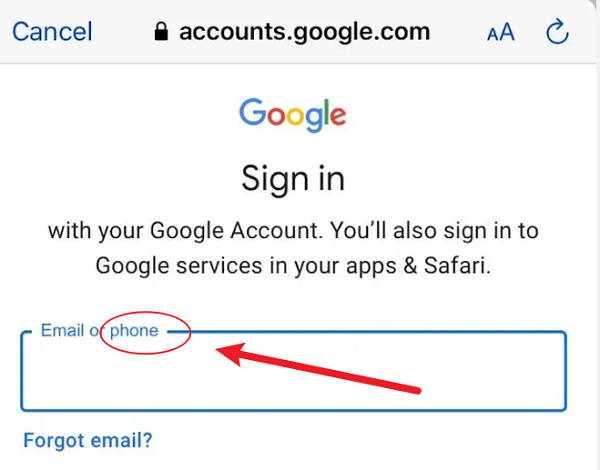 2. Log into Gmail Account through "Forgot Password" instead of Password
If you can't remember your password, you can still access your Gmail account. However, you'll have to follow a series of steps to accomplish this. In this case, consider the following Google techniques to recover your password and access your account:
Go to Google Account Recovery

Enter the recovery email that you have and continue by clicking Next

See the Try Another Way option and click it
Now, you can request a recovery code, but instead of sending it to your phone, you can send it to your recovery email instead.
Enter the code and click Next

Make the new passwords and finalize by clicking Next.
3. Log into Gmail Account with the Browser's Cookie instead of a Password
Cookies refer to the pieces of text a website dispatches to your browser after visiting. Thanks to these texts, the browser can recall the details of the site you've visited. And this makes accessibility easy. Cookies also apply to Gmail sign-in. Without a password, you can sign into your account using Cookies. But for this to happen, you must activate the Cookies on your browser.
The steps are as follows:
Android:
Using your tablet or phone, open your browser, for example, Chrome.
Look for settings – on the right sight side – top corner
Pick site-setting and then tap Cookies
Now activate the cookies
iPhone or iPad:
Activating cookies on your iPhone device is no different from that of Android. However, this time, you'll be activating it on Safari App instead of Chrome. After activating cookies on Chrome or Safari, you can sign into your Gmail account. The browser will save your login details. It will keep you signed in. Therefore, every time you visit your Gmail account, you don't have to use your password.
4. Log into your Gmail Account with a Signed-in Phone, Tablet, or Computer
Thanks to Gmail, you can access both your emails and Google Services like Google Drive, Google Docs, and Google Calendar. However, to access these services, among others, you must log into your account. If you've already signed in whether it's on your computer, tablet, or phone, you'll automatically access your Gmail account. However, if you are logged out, then here is how to log back in:
Open the Gmail app or download it on your Android or iOS.
At the bottom, tap "Sign in"
Choose an existing account
At this point, you can choose to sign in using the following ways: password, phone, cookies, or forgot password.
The same procedures apply when you are using your computer.
Part Two: How to Log into Someone Else's Gmail Account Secretly without Password
In Part one, we introduced you to Four common methods to log into someone else's Gmail Account without Password. To log into your own Gmail Account, those three methods are enough for you. However, if you want to a log into someone else's Gmail Account secretly and know what email he or she has received, you can try some monitoring apps. Here, we will recommend one effective iCloud photo monitoring app to help you log into someone else's Gmail Account secretly.
How to Use FamiGuard Pro for Android to Log into Someone Else's Gmail Account Secretly without Password
Step 1: Create your account for FamiGuard Pro for Android.
Step 2: Download the FamiGuard Pro for Android app from the given address.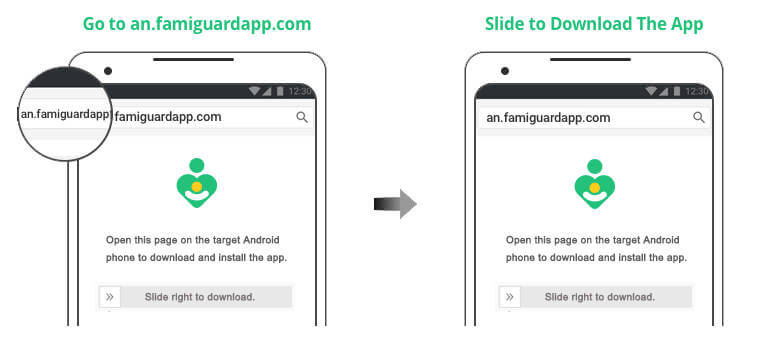 Step 3: Set it up on the target smartphone.

Step 4: Log into FamiGuard Pro for Android online dashboard and Click choose Kelogger and Click Gmail to get into her Gmail .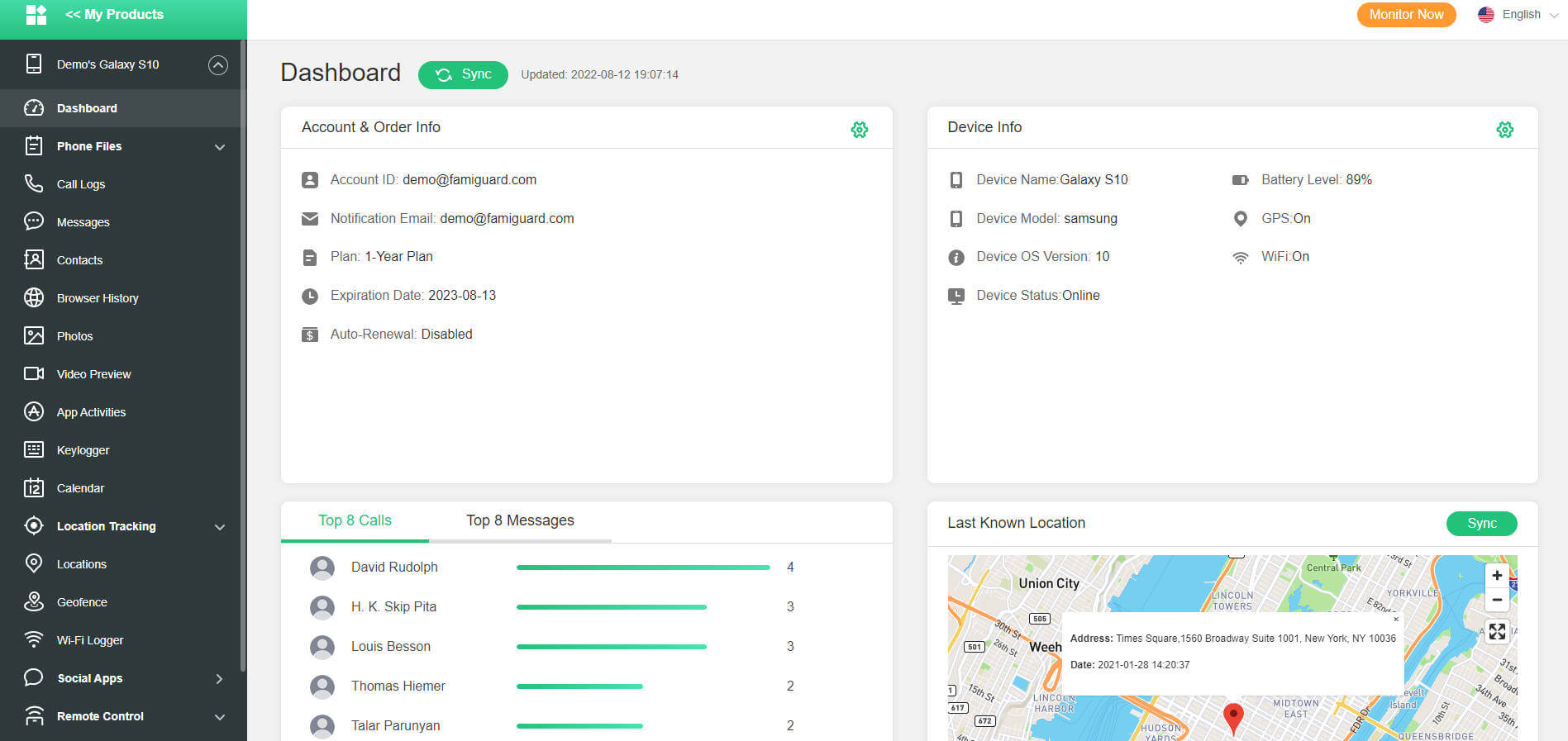 What Else Can FamiGuard Pro for Android Do for You?
Location Tracking: You can track cell phone location in real-time, view location history and can also get alerts?after setting geo-fences

Phone File Viewing: With FamiGuard Pro for Android, you can monitor messages, call logs, contacts, keylogger, photos and browser history on the target phone at any time

Monitoring Social Media Apps: Viewing messages or pictures on WhatsApp, Instagram, Snapchat, Facebook, Viber, WeChat, and more

Remote Control: Recording phone calls, capturing screenshots and taking secret photos in remote control mode
Conclusion
Finally, these steps on how to log into Gmail account without password should help you access your account. They are reliable, if you forget the password of Gmail account. Not to mention, we have also offer you a special method to log into someone else's Gmail Account. Just pick the one you are comfortable with and apply it to log into Gmail Account without password.
You may also be interested in:

By Tata Davis
professional in software and app technology, skilled in blogging on internet
Thank you for your feedback!