Do you want to conceal your identity as the caller and keep your phone number secret when you make phone calls? The good news is that it is simple to conceal your caller ID on an iPhone, and doing so may assist you in avoiding any bothersome spam calls or messages that may come your way.
We will walk you through the steps on how to hide caller id on iPhone in this piece that we have written for our site. This lesson will assist you in accomplishing your objective, whether it is to maintain your privacy or merely to avoid disclosing your telephone number to others. So, let's get started!
Part 1: How to Hide Caller ID on iPhone?
The following ways will allow you to hide caller id, regardless of whether you wish to make use of the functionality permanently or utilize it on a per-call basis.
Way 1: Hide Caller ID with *67
If you aren't seeking an ongoing solution but would nonetheless like to call a particular person without displaying your number, you can hide your caller ID on a per-call basis by using a special code as a prefix to a number you would like to call. This will allow you to keep your number hidden from the person you are calling.
This code is *67 in the United States. This code is #31# in many countries located in Europe.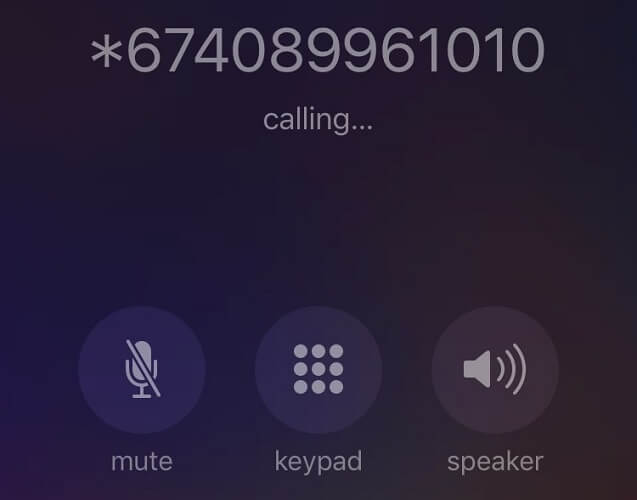 These codes are particular to a certain nation. Hence, before making a direct phone contact, your best chance is to look it up on Google.
It comes in especially handy in situations in which you do not wish to conceal your caller ID on all outgoing calls but rather on a particular call made to a particular recipient.
Way 2: Hide Caller ID by Disabling "Show My Caller ID"
If you have an iPhone and wondering how to hide caller id on iPhone for all calls, you may disable your caller ID by following these steps:
Step 1. Launch the Settings app, keep scrolling until you find the Phone option, and touch on it.
Step 2. To conceal your number, first, tap the Show My Caller ID button, then turn off the toggle that appears.
Way 3: Hide iPhone Caller ID with the Help of a Cell Carrier
At the level of your account, you may or may not have the ability to deactivate your caller ID, based on the carrier you use. To get this information, you can either call your carrier or look it up on their website for learning how to hide caller id iPhone at the carrier level.
Even if your carrier doesn't allow you to block your number via the settings on your smartphone, most of them will let you do it via their application.
Don't forget, however, that by blocking your number in this manner, your caller ID will be hidden for all calls that you make.
Way 4: Hide iPhone Caller ID by Buying a New Phone Number
You can acquire a second phone number in case hiding your first one isn't enough to protect your privacy. So, you can get a secondary phone number for life, which will assist you in hide caller id on iPhone while protecting the main private number.
Part 2: How to Hide Caller ID with Third-party Apps
1. Burner
While making phone calls, the only method to retain your privacy is not hide you hide. Instead, you might use a burner number in its place. Often, this refers to a separate cellphone or SIM card that is exclusively used for calls that fall under a certain category. On the other hand, you may acquire a second number on the same phone by using an application known as a "burner number" nowadays.
2. Google Voice

Before getting started to use Google Voice as a burner app to hide caller id, you should know that:
Google Voice needs users to connect a phone number to utilize the service. This means that it is impossible to get a genuinely untraceable burner number.
A mobile phone number or a landline inside the United States must be connected to your Google Voice number. A new Google Voice number cannot be obtained using a VoIP number.
Download the Google Voice application
Choose a New Phone Number:
When the app has been installed, open it and choose your Google Account from the list that appears at the bottom of your screen.
To go to the screen headed "Pick a Google Voice number," click "Continue." Choose "Search" to start the selection process for a number. Choose a city or desired area code in the search field to find the region from where you want your new number to originate and hence, hide caller id of original number.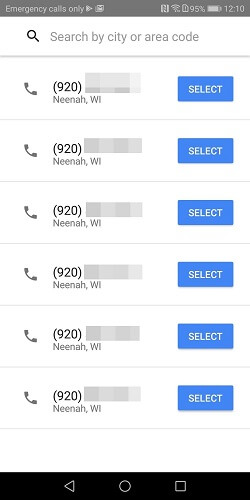 The program will prompt you to attach a mobile number to the Google Voice number once you've selected a number. Calls to your Google Voice line will be forwarded to your phone once the lines are connected. After you provide your mobile number, Google Voice will give you a code through SMS.
FAQs: Hot Questions about Hiding Caller ID on iPhone       
Q1: How do I make my number private on iPhone 11?
Follow these steps to learn how to hide caller id on iPhone 11:
Step 1. Get your iPhone's Settings app open and Click Phone after scrolling down.
Step 2. Now you see the Show ID option, tap and turn it off.
Then, the individual you're phoning won't be able to see your phone number after you've finished these steps.
Q2: Does iPhone 11 have private mode?
The iPhone 11 does not have a "private mode" in the sense of a specific mode that you can activate to keep your data or activity private. However, you can use the Safari browser's private browsing mode to prevent your browsing history and search history from being saved.
Q3: Can No Caller ID be traced?
It is generally difficult to trace a call from a "No Caller ID" number because the caller has intentionally blocked their phone number from being displayed on the recipient's caller ID. This means that the recipient will not be able to see the caller's phone number unless it is necessary for critical situations like law enforcement.
Tips: How to Track Your Girlfriend's Call Logs on iPhone?
Call logs on an iPhone serve as a valuable record of incoming, outgoing, and missed calls. They provide a useful reference for keeping track of contacts, calling habits, and even evidence in legal or personal disputes. With the call log feature, you can view details such as the date and time of calls, the duration of the calls, and the phone numbers or contact names associated with them.
If you want to see call log on your girlfriend's iPhone or monitor all her activity on iPhone, then FamiGuard Pro for iOS is your best choice. It will help you scan the iPhone and iCloud data. In this way, you could easily check her call logs on iPhone without her knowledge.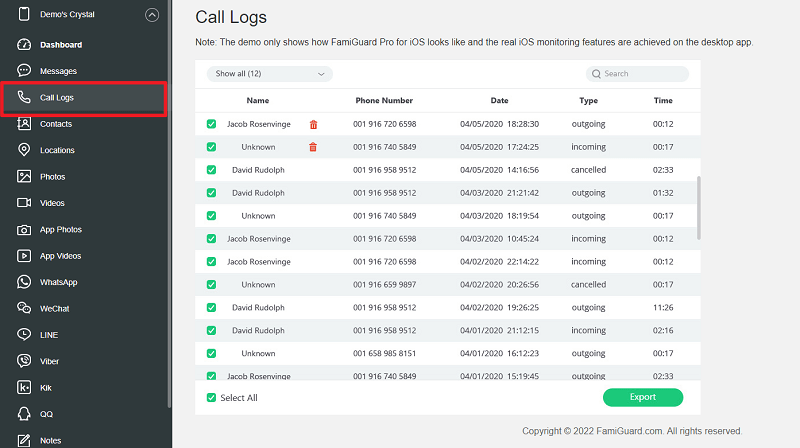 Track Calls: Track all incoming and outgoing calls including the names, timestamps and call duration.

Monitor Message: Monitor all SMS, WhatsApp, LINE, Viber and Kik chat history, as well as exchanged media files, emojis and more, even if they are deleted!

Check Media & Text Files: Check any type of multimedia and text files stored on the target iPhone, including Photos, Videos, Voice memos, Reminders, Calendars, Notes.

Track Locations: Track all locations history including address, longitude, latitude and date.

View Safari History & Bookmarks: Check Safari history and bookmarks to learn what the target user has been visited and what he is interested in.
To track her call logs on iPhone with FamiGuard Pro for iOS, follow these steps:
Step 1: Sign up for a FamiGuard Pro account with a valid email.
Step 2: Purchase a plan and download the app onto your computer, following the setup guide.
Step 3: Use the on-screen instructions to access the target's iPhone data.
You may also be interested in:

By Tata Davis
professional in software and app technology, skilled in blogging on internet
Thank you for your feedback!