Location hiding may be useful in a variety of circumstances on your iPhone.It's possible that you just need some time to yourself away from your friends and family, and you don't want them to be able to track your whereabouts using the Locate My Friends app. In this post, we will demonstrate many different methods for how to hide your location on iPhone.
Part 1: How to Hide My Location on iPhone without Them Knowing?
Way 1: Turn on Airplane Mode
Turning on Airplane mode is one of the easiest methods to conceal your location on your iPhone. Does airplane mode hide your location? Yes, although there are better ways to hide your whereabouts on an iPhone, there are certain situations in which you may find this method useful. Here are the procedures to achieve that, however, before you go.
Step 1. Launch the "Control Center" by swiping up from the "Home" screen on your iPhone.
Step 2. Locate the "Airplane" mode icon in the list of choices. You will just need to active.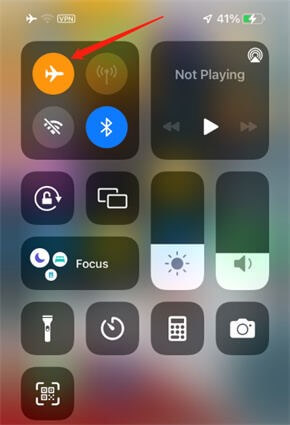 Or, go to setting from the menu and turn off or on Airplane mode over there.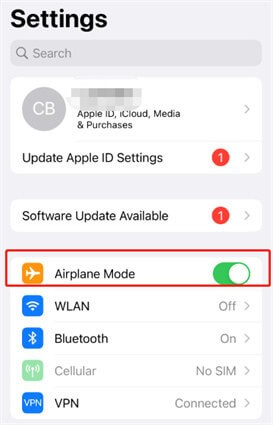 Way 2: Disable "Share My Location"
This is another simple way regarding how to hide location on iphone. However, only Apple smartphones running iOS version 8 or later may use this technique.
Here is the procedure for doing so.
Step 1. On your iPhone, go to "Settings" and choose the "Privacy" tab.
Step 2. Choose "Location Services" from the list of available choices that appears on your screen.
Step 3. If you want to view the status of your device right now, choose the "Share My Location" button.
Step 4. Locate the "My Location" choice underneath the "Share" button. If the status shows otherwise, toggle it off.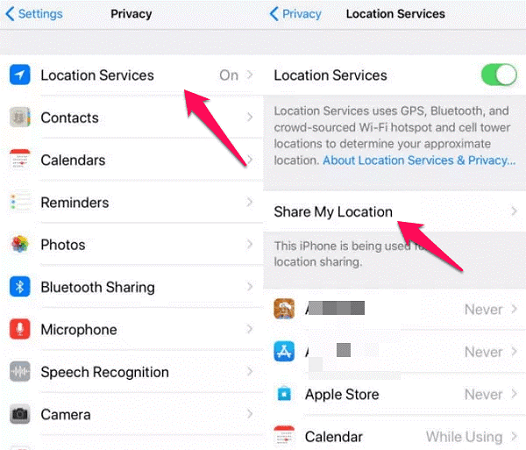 Way 3: Disable "Significant Locations" on System Services
The iPhone's extensive and comprehensive settings choices let you fine-tune your settings. Moreover, you may use System Services to discover and hide locations. Here's how to hide your location without turning it off completely.
Step 1. Find Privacy within the Settings at first.
Step 2. Locate Location Services under Privacy, then choose System Services to access the appropriate options page.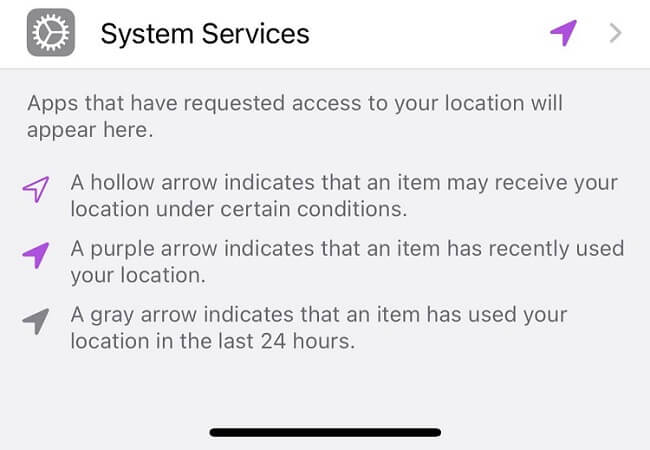 Step 3. You may tap on Significant Locations and move the slider-this leads to your iPhone location history, to completely disable the access.
Step 4. There is a choice to delete already-logged-in places under Significant Locations. To accomplish this, choose Clear History from the menu.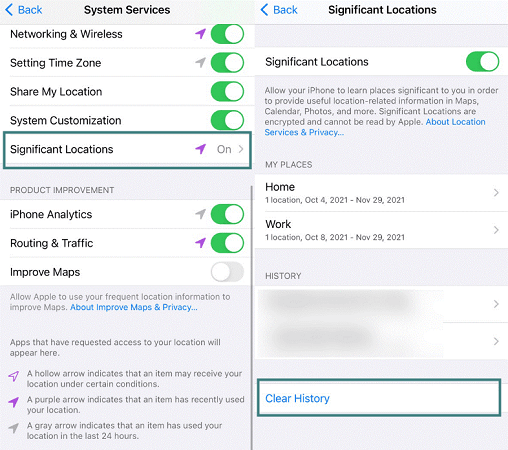 Way 4: Turn Off Precise Location to Hide the Exact Location
In 2020, iOS decided to enable the exact location function as a system-level option. It was released for watchOS 7, iOS 14, along with iPhone, and iPad.
Most mobile devices and applications utilize Wi-Fi, Bluetooth, GPS, or all determine your position. But, you may decide whether an app has access to precise location data or merely approximate location data by using the precise location function.
Step 1. You'll need to go into settings for each program to turn it off for applications like Instagram, Facebook, or any other commonly used app that you haven't just downloaded.
Step 2. Go to Settings and then choose Privacy.
Step 3. After that, turn off Precise Location by selecting the toggle in Location Services, selecting the app's Location settings, and then returning to Location Services.
Way 5: Use Another iOS Device to Disguise Your Location
You may share your location from another iOS device that is in a fixed place to disguise your whereabouts from the Find My app. You may ask, how to hide location on iphone without them knowing, and using this technique will give the impression that you are elsewhere.
Step 1. On the other iOS device, access Settings.
Step 2. Select your name at the top.
Step 3. Choose to Find My.
Step 4. Now, select the option of Use This iPhone as My Location.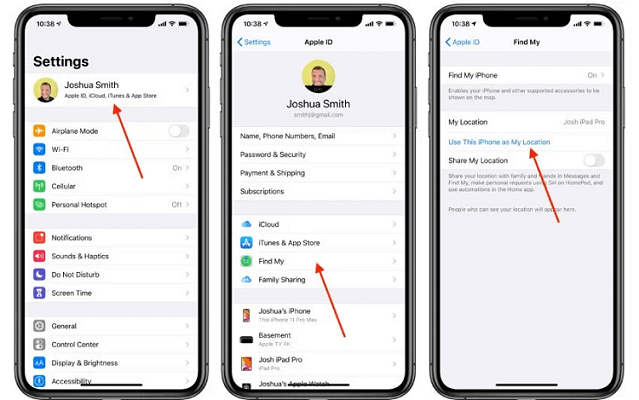 Way 6: Use VPN to Disguise Your Location
A virtual private network, or VPN, will conceal your IP address. Nevertheless, the majority of VPNs just cover your IP address, not your actual location. Pay attention to this function since some VPNs come with a built-in location-changing capability. So, how to hide location on iphone via VPN app?
Step 1. Install the app after selecting your VPN service provider.
Step 2. When VPN asks for permissions after installation, you should grant it. The VPN will then be configured automatically.
Step 3. The Settings app on an iPhone is used for the last stage. Navigate to General and move the slider to allow VPN provider.
Way 7: Deny Every App's Access to Your Location
Turning off location access for certain applications is another technique to hide your location on iPhone.
Step 1. Get your iPhone's Settings app open.
Step 2. Click on "Privacy".
Step 3. Go to Location Services and turn on.
Step 4. Choose the app whose access to your location data you want to restrict from the list of applications you may find by scrolling down.
Step 5. Next, you'll see four choices: Never, Always ask the next time you use the software. Depending on your demands, choose any one of these.
Part 2: How to Hide Your Location on Find My Friends?
You can trace the position of your Apple device with the Find My app. You may prevent location sharing on the Find My app by following the steps below if you don't want to share your location with other users.
So, how to hide your location on find my friends?
Step 1. Go to iPhone's Find My app.
Step 2. At the bottom, click the "Me" icon.
Step 3. Turn off "Share My Location".
Step 4. By hitting the "People" tab, choosing the individual whose access you want to restrict, and then selecting "Stop Sharing My Location," you may also prohibit them from seeing your
FAQs: Hot Questions About Hiding Location On iPhone
Q1. Can someone track my phone if my location is off?
If the location services on your phone are turned off, it is generally more difficult for someone to track your phone. However, there are still other ways that someone might be able to track your phone even if the location services are disabled.
For example, they could track your phone using GPS data from any photos or videos you have taken and shared online, or through your phone's Bluetooth or Wi-Fi connections.
Q2. How do I make my iPhone impossible to track?
There are some ways you can take to make it more difficult for someone to track your iPhone:
Turn off location services: Go to Settings > Privacy > Location Services and toggle the switch to off.
Disable Share My Location: Go to Settings > Privacy > Location Services > Share My Location and toggle the switch to off.
Avoid connecting to public Wi-Fi networks: When you connect to a public Wi-Fi network, someone can track your location through the network.
Use a virtual private network (VPN) instead of public Wi-Fi to protect your privacy.
Q3. Can someone still see your location in Airplane mode?
No, usually when you enable Airplane mode on your device, all wireless communication functions are disabled which includes cellular, Wi-Fi, and Bluetooth. This means that your phone cannot emit or receive signals and hence your location cannot be determined by any third-party service while Airplane mode is turned on.
However, it is important to note that there may be some exceptions where your location can still be tracked such as when you are connected to a Wi-Fi network in Airplane mode or have enabled GPS location services before turning on Airplane mode.
Tips: How to See Hidden Location on iPhone?
If you want to see hidden Location or the whole location history on iPhone, then FamiGuard Pro for iOS is your best choice. It will help you scan the iPhone and iCloud data. In this way, you could easily get into someone's iPhone without password.
Track Locations: Track all locations history including address, longitude, latitude and date.

Check Media & Text Files: Check any type of multimedia and text files stored on the target iPhone, including Photos, Videos, Voice memos, Reminders, Calendars, Notes.

Monitor Message: Monitor all SMS, WhatsApp, LINE, Viber and Kik chat history, as well as exchanged media files, emojis and more, even if they are deleted!

View Safari History & Bookmarks: Check Safari history and bookmarks to learn what the target user has been visited and what he is interested in.
To See Hidden Location on iPhone with FamiGuard Pro for iOS, follow these steps:
Step 1: Sign up for a FamiGuard Pro account with a valid email.
Step 2: Purchase a plan and download the app onto your computer, following the setup guide.
Step 3: Use the on-screen instructions to access the target's iPhone data.
You may also be interested in:

By Tata Davis
professional in software and app technology, skilled in blogging on internet
Thank you for your feedback!