Handling kids is quite a task. Especially when they are of this age, driven with the core principals of technology, computers and internet. In no time, kids can fall prey to unsuitable things, stuff that is not healthy for them at all. As the vast pool of Internet not only features Entertaining material or games, there are several wicked things, ill temptations elements that can majorly affect a child's growth. Mainly the adult web content, pornographies can create an indelible mark on a kid's psyche and may push them to a dark world. Ergo, as a concerned parent, you should know some of the handy knacks useful in blocking porn sites on your kid's Samsung device easily. Discover them right in the upcoming session.
Table of Contents
Part1. FamiGuard to Block Porn Sites on Samsung
While, we've discovered some of the hit and trial methods of keeping your child safe, no doubt, these may restrict the inappropriate stuff to some extent. But if you wish to have a full control over your kid's phone, using FamiGuard is the ultimate solution for you. It is one of the trusted parental controlling applications that allow you to have a firm control over your kid's phone. Parents can remotely set rules to block porn sites and other high-risk websites by category. What's more, parents can create blaklist or whitelist for spcific websites. Besides the web filterfing feature, FamiGuard can monitor the location of where their kids are and set suitable geofences as well. In addition to this, parents gets a comprehensive reports on the usage of websites, apps etc.
Main Features:
Block porn sites in category: Add inappropriate websites as blacklist & Create whitelist for those websites you think good for children.

Good monitoring features: Provides parent with the in-depth reports of the amount of time a child uses over internet.

Remotely control: Remotely block applications that are disruptive in nature or not suitable for children.

Track GPS location: Parents can keep an eye over the real time locations over your kid's location.
The Guide to Learn How to Use FamiGuard Web Filter to Block Porn Sites
Step 1. Create An account and download FamiGuard app.
You can go to Famiguad web page or download from Google Play on both your and your child's device, them sign uo an account for continue.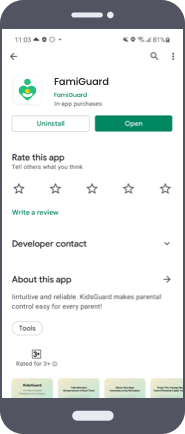 Step 2. Sign in with the account and configure child's device.
Now, you can sign in with the account you've created just now. Then configure child's device by following the on screen instructions, and verify on your own device.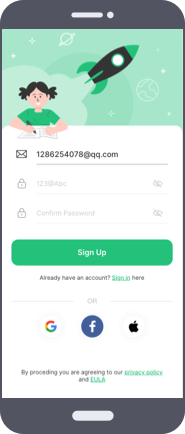 Step 3. Set rules for web filtering.
After configuring the child's device, you can go to Set Rules and block Porn websites.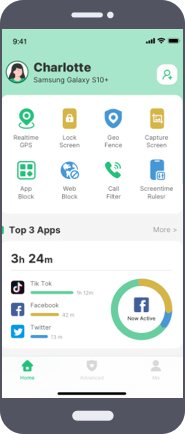 Part2. Block Porn Sites by Restricting Google Play (Lollipop/Marshmallow)
Manipulators knows no bounds. They find every possible way to bring ruins to your loved ones. One of the organic means is by putting an app over Google Play store- a native store for fetching all kinds of applications for phone. The best way to cut it out is blocking the porn apps from the store itself. This can be easily achieved as Google Play store has an inbuilt parental control option that allows them to set content restrictions. So a parent can opt for a desired number of rating that they feel is suitable and save the changes.
Enable the same by using the following guide:
Get hold of your kid's phone and launch the home screen and select "Play Store" icon.

From its main page, tap over the three parallel lines located over the upper left corner and then opt for "Settings".

Open "Settings" panel and opt for "Parent Controls" option.

Once selected, you'll be asked to create a PIN code. Duly create one as this will be needed in the future course.

Enable the service and under the "Set Content Restrictions" option, select the desired rating followed by "Save".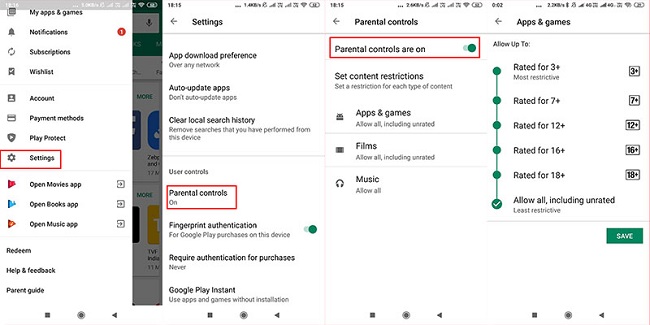 Part3. Enable Safe Browsing in Chrome (Lollipop) to Block Porn Websites on Samsung
Not many people know, Google has an exemplary "Safe Browsing" feature that maintains record of the threats indexed in the search engine of Google. By enabling this feature, parents can benefit quite some comfort as safe browsing will restrict the usage of illegal websites or the ones that has nefarious schemes. Here is the comprehensive set of guide on must abide to block porn websites on your kid's Samsung phone.
Start by launching Google Chrome from your home screen.

Press on the three dots placed over the upper-right section.

Click on "Settings" followed by "Privacy" option.

From here-on, tick-mark "Safe Browsing" to enable it.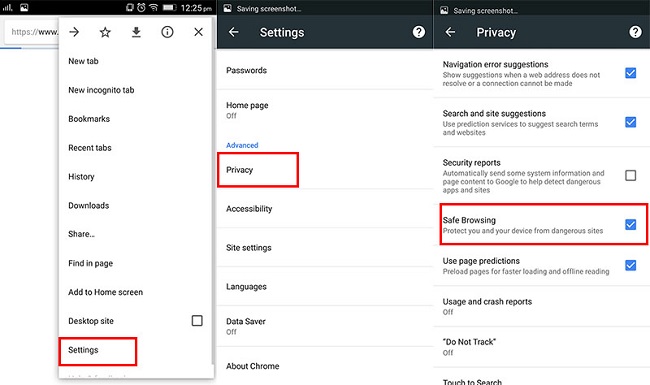 Part4. Enable Safe Browsing in Chrome (Marshmallow)
Note: It's not necessary that different Android versions may change the overall settings of Google Chrome. Thus, the steps used above is exactly the same in Marshmallow Android versions.
Conclusion
Monitoring kids is very much important in today's time. As there are several unfit stuff that can disturb the healthy growth of your child. To cater that, we've found some of the essential tips and tricks that can safeguard your kids wholly. But to keep a stern check on your kid's components, FamiGuard is the best option you can ask for. It fetches the detailed analysis of the child's phone and allows you to exercise some stern scheduling as well! Let us know in the comments section which method you found most suitable.
You may also be interested in:

By Tata Davis
professional in software and app technology, skilled in blogging on internet
Thank you for your feedback!