Parents are worried about their children addicted to online games. Now, all those parents can be relieved as here we are going to know about the ways to block games online in Android, iPhone, and Web browser. In this way, you can block the games and can create certain restrictions on them instead of saying them repeatedly.
As we all know that todays generation is so fast paced and they are not listening to parents words except few. Some parents are trying to punish them, but thats not the correct way to keep your kids away from online games. You can not only block the games online but also distract your kids to outdoor games which are healthy and divert them to their studies to make efficient use of the time.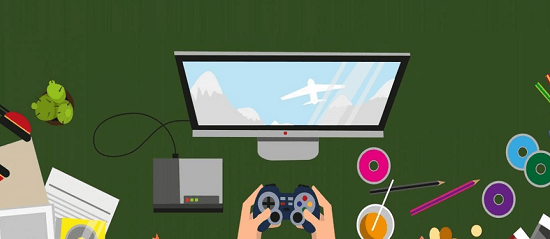 Part 1: Should Parents Block Games?
Most of the parents face the same question whether they should block games online or not? The answer is definitely YES. If you dont block online games, kids play them continuously. That will surely affect your kid's study as well as their health.
You may get a doubt, how games affect your kids? On having access to games, kids play them restlessly; it will affect their physical and mental health. We all know the high usage of mobile and computers have side effects to adults, so kids are no exception to it. If we go into detail, the electronic devices cause much more damage to the kids as they are still in the growing stage.
According to online statistics, the games designed for adults are not safe for kids. But, kids are playing them as there are no restrictions on accessing them. All these factors are causing damage to kids study and health.
Parents must keep an eye on their kids activities on devices like mobile and computer. Its better to block games for kids due to the following reasons.
Parents should block games online to avoid kids getting addicted to them by controlling the total time spent on devices by blocking online games. It will help them to utilize that time to study or to play games outdoors.

Blocked games at school to avoid students distracting from studies and wasting a lot of time playing games. If parents dont block games, the kids will not complete their homework or spend time with family.

There are many inappropriate content in games as well like violence, abuse, and blood-shed etc that needs the parents guidance. So, it is very essential to block shooting games or any type of games that practices violence etc.

Children will stress themselves unknowing spending a lot of time in front of devices and missing a lot of good habits.

Children wont get into a system of time management because digital games always make adults to skip time and kids are no exception to this. For example, kids say that "I will play for one hour, and I will do my work." The time crosses, but digital games make them addicted to it. In this way, they will not learn time management in their life, which is a major effect on kids.
We know you are waiting for the process to block games online to safeguard your kids. No more waiting, we will know the clear steps to block shootings games, and take care of all the things that can affect your child while gaming.
Part 2: How to Block Online Games on Cell Phone
Games are the main reason for the usage of cell phones by kids. If you can block games, you are doing a great job of keeping them away from your kids. The cell phone is an easy access device, as well as it has high radiation, which affects your growing kids health. Parents must lock the phone with a password to make them inaccessible to your kids.
You can know how to block games for kids in detail here just follow the steps provided below.
2.1 For Android:
FamiGuard is the best way to control games usage on your childrens phone. With the help of this stellar parental control tool, you can activate a screen time limit on the target device, so that your kids access to games is limited and you can control them appropriately on using FamiGuard! With FamiGuard, you can set a time to access games. When the time is up, your child cannot access the games. It will help your kid to gain concentrate their studies instead of spending much time with their mobiles.
It can pause the mobile game usage immediately.
Parents can also set a time limit daily to control their kids addiction to games.
You can control app usage and make your own categories like games and others. Each category is customizable and can be controlled by you.
Help to prevent your kids from games addictions, helps your kid from distraction, and maintain a regular schedule.
Follow the steps below to start using FamiGuard to control and stop the gaming habit.
Step 1: Initially, open the FamiGuard website and install the software on your device.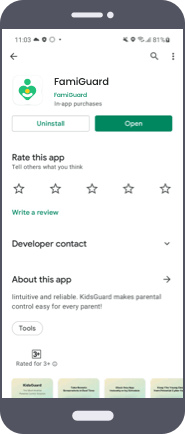 Step 2: Register a new account on FamiGuard then logged into.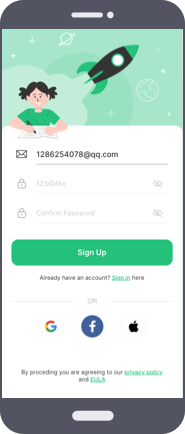 Step 3: Install FamiGuard on your kids device.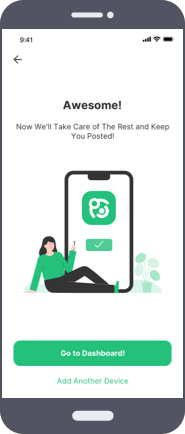 Step 4: Now you can start to monitor your kids device. You can set up the screen time to restrict your kids access time to games.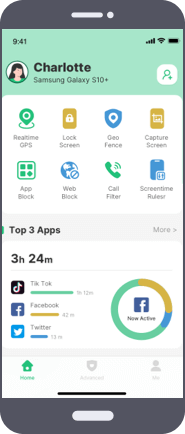 Moreover, you can restrict for specific days or all days. You can also restrict the usage instantly to stop the habit and in turn stop addiction to online gaming!
2.2 For iPhone:
The iPhone screen time has many features like there is an option to restrict certain apps. You can restrict the ratings and content types. Using the restrictions in the iPhone settings, you can control the device functions like apps deletion. You can restrict usage of cellular data; can control privacy settings and many others.
Follow the below steps to enable restrictions in your iPad or iPhone devices.
Step 1: You have to choose the Settings option from the home screen.
Step 2: Scroll down and tap on Screen Time and turn on the Screen Time.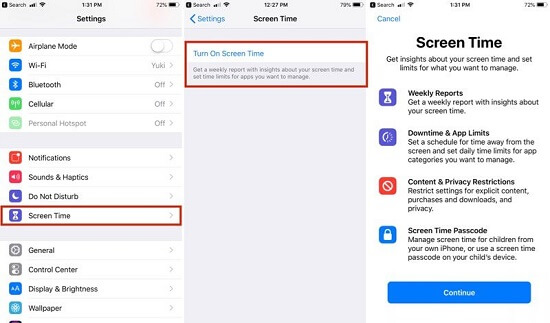 Step 3: Next, click on Privacy and Content Restrictions.
Step 4: Set 4 digit passcode.
On the next screen, you can choose the settings accordingly to block games.
Part 3: How to Block Online Games Websites on Computer
On computer, children access game websites to play as we already know the side effects of games. Its not good on a computer with a big screen too as it affects childs study and health. It may affect the kids because their brain is still young and will be in the process of development.
You have to follow the below ways to block games online and offline.
3.1 Using System Settings
You can apply system settings for Windows 10 on the below procedure.
Step 1: Navigate to https://account.microsoft.com/family and login with your (parents) Microsoft account.
Step 2: You have to choose your kids name
Step 3: Choose the content restrictions
Step 4: Go to the games, apps and media section and enable block inappropriate games, apps, and media.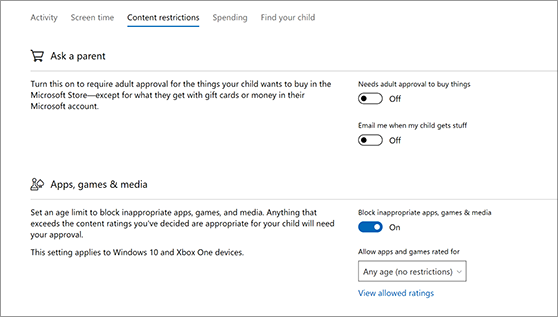 Step 5: Under allow games and app section, you need to give age limit to your kid. It allows your kid to access the websites that suit your kids age.
Step 6: You can apply these settings to restrict your kid from using unwanted games.
3.2 Using Extensions and Add-ons
Simple blocker is an extension or Add-on in Google Chrome which helps you to block game websites. You can block the entire websites or sub-domains using this extension. There is a sleep timer option to block websites for a specific time. You can lock the simple blocker menu with a passcode to avoid others to make changes to it. You can block unlimited pages, sub-domains, and websites using this simple interface extension.
Step 1: Click here to navigate to the extension.
Step 2: You have to install and follow on-screen instructions to complete the procedure.
Step 3: Now, you can see the extension next to address bar. Click on it, set a passcode, and follow instructions to restrict websites.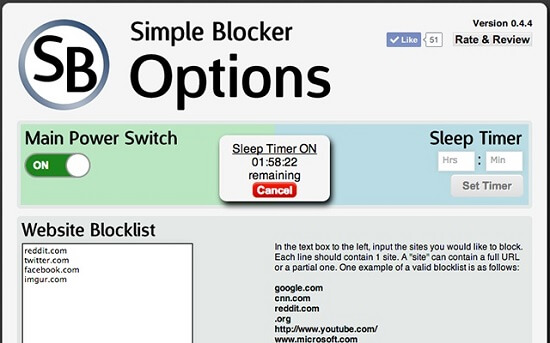 3.3 Using a Third-party Application
HT Parental Controls is a proper 3rd part application that can help you to keep a bar on online games and other contents. It is one of the easiest ways to block games and it has many other features.
Step 1: You have to download HT parent controls using this link.
Step 2: Next, click on the app blocking or website blocking.
Step 3: You have to tap on Add button and choose game or website that you want to block.
Step 4: Finally, click on Apply, and Ok buttons to disable games.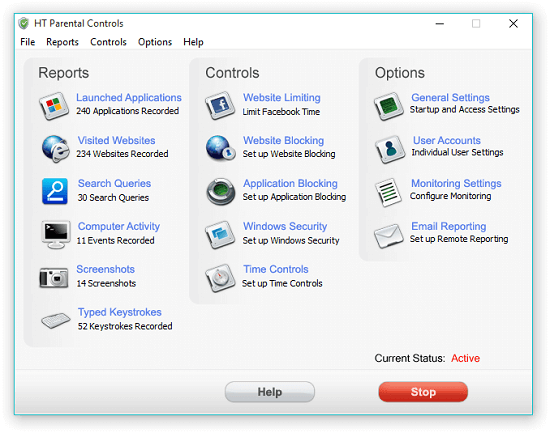 Tip:
When talking to blocking game websites on computer, FamiGuard also does well. Its web filter features can block any specific websites just type the URL.
Conclusion:
Hope the information provided here helped you to block games. Use FamiGuard to get the best control over your kids using games. However, to block online games and to help your kids to focus more on studies and other physical activities you need total protection from everywhere and that includes the computer as well. Apart from block games on your kids phone, you also need to know about the current popular games, click the link below if you want to know more!
Related Read: 6 Inappropriate Roblox Games Parents Should Know About
You may also be interested in:

By Tata Davis
professional in software and app technology, skilled in blogging on internet
Thank you for your feedback!