Facebook, without a doubt one of the most popular social media platforms where people share numerous information, keep in touch with their friends, family, and colleagues. It is quite an advanced platform! Facebook has even launched a messenger app which is very effective for chatting on mobile phones.
Even though Facebook has helped us in multiple ways, children these days are getting access to such platforms at an early age and they without knowing its value and the responsibilities that come with it. Which making it not a very safe platform for under-aged kids. So, Facebook parental controls are important for the parents to keep track of their kid's activities but it is more important for the kids for their safety.
Next, we are going to learn where the Facebook parental control should be placed and the detailed process. We will also introduce a better third-party way in Facebook parental control. Let's have a look.
Table of Contents
Part 1: Know Where to Place Facebook Parental Controls
So, one of the frequently asked questions we have seen on several forums: Are there parental controls on Facebook? Well, there is definitely a dedicated parental control option integrated with Facebook but setting it up is not easy.
Facebook website, the Facebook app, and Messenger for kids are the 3 aspects of the same social media platform. You can setup any of them to protect your kids and control their online activity.
1. Set Parental Control on Facebook Website
This is a fairly simple procedure, let's have a look at the guide below:
Step 1: You have to access the Facebook page of your kid and navigate to the saved privacy settings. You will find 3 dots on top of the page of your kid's Facebook profile. Click on it and select "View Privacy Shortcuts".
Step 2: After that, you need to click on "Review a few important privacy settings" and new windows will pop-up. Click "Next" on that pop-up window.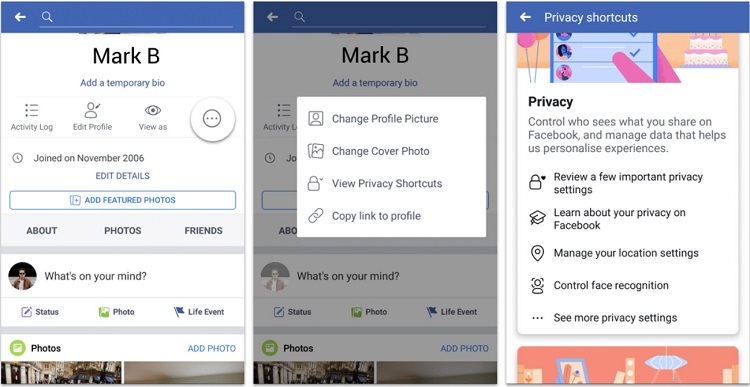 Step 3: Then, you have to choose the type of audiences who will be capable of viewing your kid's posts. If you choose "Friends" that will mean that only the trusted people will be able to view videos, photos, and other data posted by your kid on Facebook.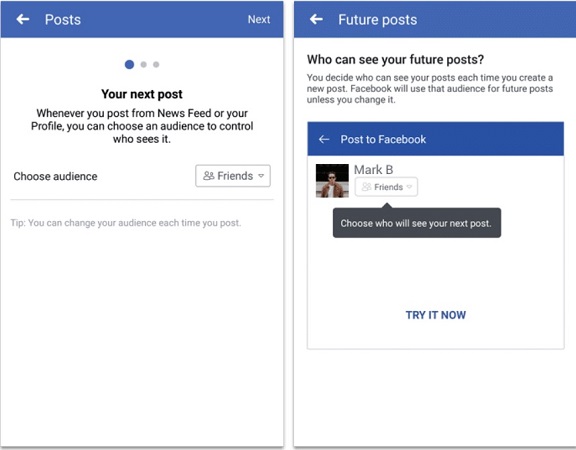 Step 4: So, choose "Friends" for all the other options under the "Profile" tab.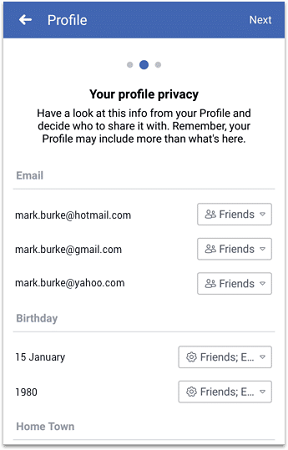 Step 5: Now, you have to navigate to "Apps & Websites" and you must choose "Only Me". If you choose "Only Me" option, then no one will be able to post anything on your kid's profile without his or her permission.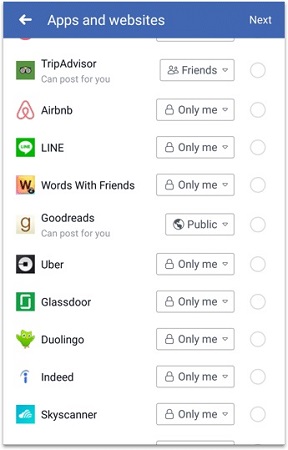 Step 6: Finally, from "Privacy Settings" tab choose "How People Can Find And Contact You"; you will see the option "Who can send you friend requests", click on it. After that click on "Friends of Friends". This will basically ensure that any unknown person will not be able to contact you in any way.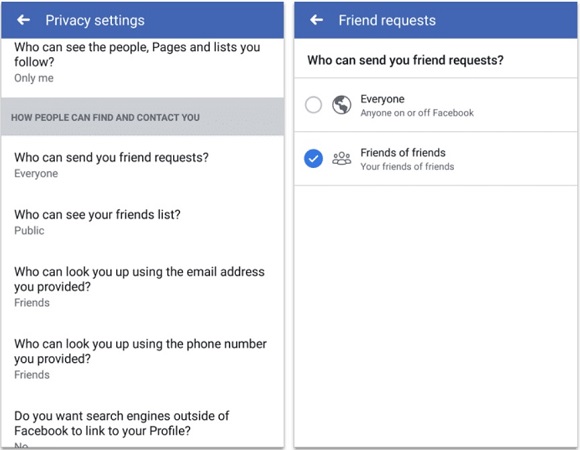 Step 7: But if there is anyone who is bothering your kid on Facebook, you will be able to effectively block that person by visiting "Main Menu". Go and click on "Settings" and click on "Blocking" and add that person profile name.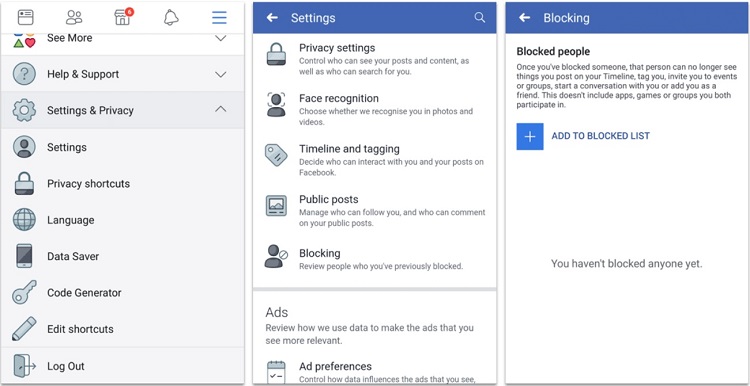 Step 8: Finally, if you wish to view your kid's Facebook activity, then go to "Privacy Shortcuts" and click on "See Your Activity Log".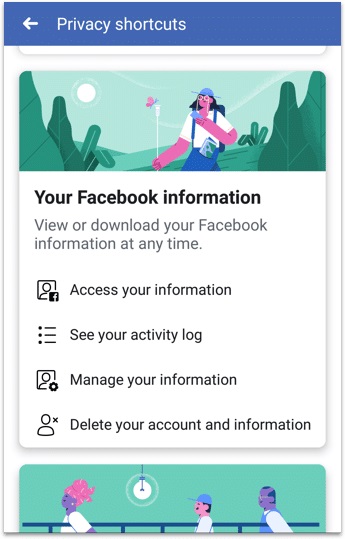 If you follow these steps, you will be able to protect your kid on Facebook and effectively keep them away from dangerous people.
2. Set Parental Control on Messenger for Kids
The Facebook Messenger parental control is quite different. Besides the regular Messenger app, there is a Messenger for kids which is a completely independent application. It is a safe and completely secure platform for your kids. They will be able to connect to their friends, families and even make video calls.
So, here's how to set up Facebook parental controls on it:
Step 1: Access your kid's phone, then login into it and verify it.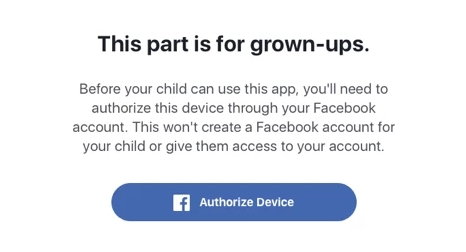 Step 2: Then, provide your kid's name and create an account for them.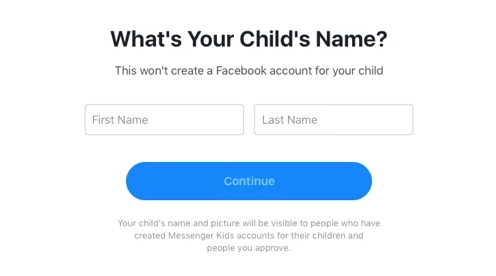 Step 3: Finally, you need to add the name of their friends and family and approve the contact list or you can also set time for Facebook.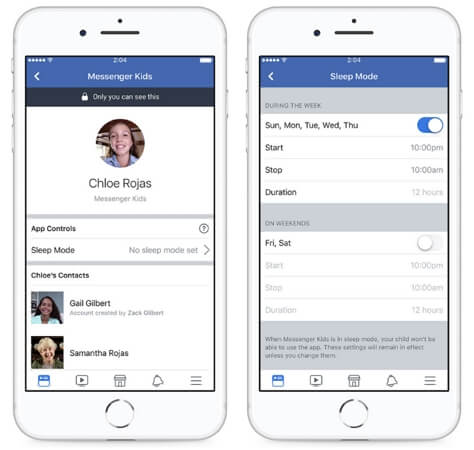 This is the most effective way to use the Facebook Messenger in order to keep your kid's safe from any dubious online problems.
Unfortunately, these official ways to implement parental controls over Facebook application are relatively complex and they cannot control the usage from your kids' end. Don't be upset, you can use 3rd party parental control apps to do so. There are many effective such apps available on the internet but our pick for the best parental control app is FamiGuard, the details can be found below.
Part 2: Set Facebook Parental Controls with a Third-party App
Although you are able to set parental controls on the Facebook website or even setup Messenger for kids for the protection of your child, all these actions can only protect your children from external damage. If you also want to control the usage time completely, then you should focus on the following part. Here we will introduce the best one - FamiGuard to all. It can help parents to control the time usage of Facebook, Facebook Messenger, or block the Facebook website. What's more, parents can monitor all the Facebook activity. Now, let's have a further understanding of these features and know how to do.
1. Set Time Limit for Facebook
One of the top featured function of FamiGuard is its powerful App Time Control. It can set different period time limits for Facebook. The children cannot access the app unless parents agree. Let's have a look:
The App Time Control feature of FamiGuard is capable of setting time control period for both single app or a category

It can manage apps by category. There are two default app categories: games and social media. It is also possible to create and customize your own category and to systematically manage the apps
It is very easy to setup FamiGuard Screen Time:
Step 1: You have to register an account with FamiGuard.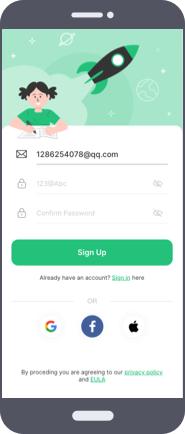 Step 2: Then download the app on your kid's device and configure it. Instructions will be available on the screen.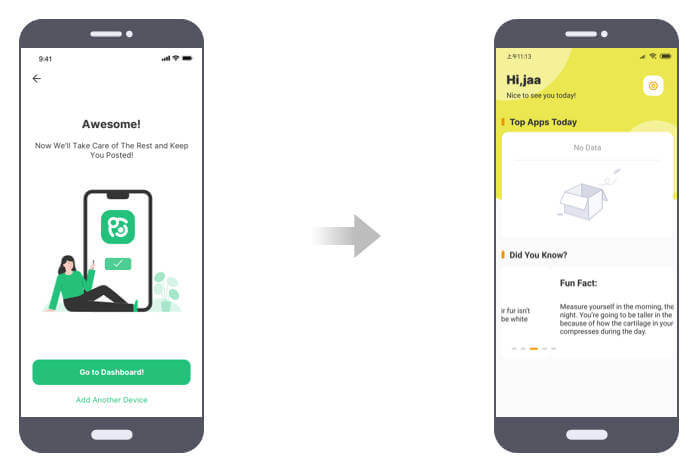 Step 3: After configuring the app, choose the Screen Time option from the dashboard and set the time restrictions. You can also pause the phone usage feature in order to lock the device immediately.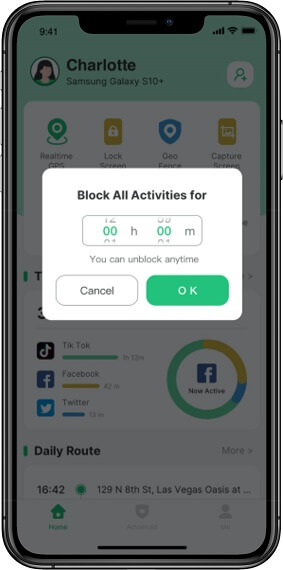 This is the effective use of FamiGuard's Screen Time feature to control the usage of the Facebook app on your kid's device.
2. Monitor Facebook's Activity
But if you also want to monitor Facebook's activity so that to control the usage of your Kid's Facebook well, then you can use the App Usage feature of FamiGuard.
The App Usage feature actually summarizes all the app usage on the device. You will also get a list of all the visited websites and geofence reports as well.
It is very easy to setup this feature. Go to the Dashboard from your device and with a single click you will be able to view all your kid's online activities in detail.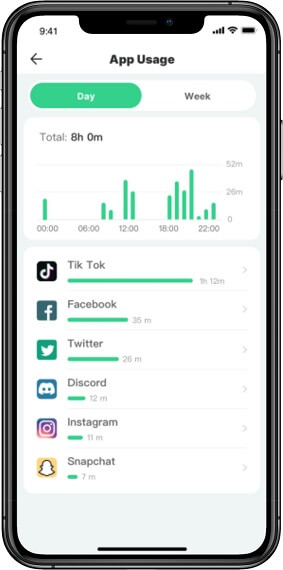 These are the most effective ways to use FamiGuard app to monitor and supervise your kid's Facebook usage.
Summary
Therefore, you can easily enforce parental controls on Facebook. There is no doubt, FamiGuard is an effective and the most comprehensive parental control tool for Facebook.
You may also be interested in:

By Tata Davis
professional in software and app technology, skilled in blogging on internet
Thank you for your feedback!