Did you just discover a video on your favourite YouTuber's channel that is private and unaccessible to watch?
Well, It's not unusual for people to choose to set their videos to the private mode, but that doesn't mean you can't watch them.
In this article, we'll show you how to view private YouTube videos with the help of a few simple methods. So, let's get started!
Table of Contents
Part 1: How to View Private YouTube Videos
Below are three ways you can try to view a private video on YouTube that we found to be most effective:
1. Request Permission
The simplest way to view a private video on YouTube is to contact the person who uploaded it. You can contact them either directly via YouTube or other social media platforms.
Here are the steps you need to take:
Step 1: Send the creator an email to request access.
Step 2: Tell him why you'd want video access.
Step 3: YouTube will email you an access link once access has been approved.

Nevertheless, there are instances when obtaining the link is not sufficient for viewing private videos. This can occur due to the following factors:
Ensure your YouTube account is valid and authentic.

Possessing multiple YouTube accounts.

The video might require a specific link shared exclusively by the owner.
2. Without Permission
Another way for you to solve the problem "how to see hidden videos on YouTube" without permission is by using a simple trick. While this doesn't guarantee you access to the video, it's still worth a try.
Here's how you can do it:
Step 1: Open the private video you want to access.
Step 2: Remove the "watch" from the URL.
Step 3: Click the Enter button.

3. Check Youtube Watch History
YouTube history records the title of a YouTube video and the time it was watched, so if you can get access to someone's YouTube history, you can find out the content of their private YouTube videos! Here, we recommend you an all-in-one Youtube videos monitoring app. With it, you can easily find out the content someone's private or unlisted videos on Youtube!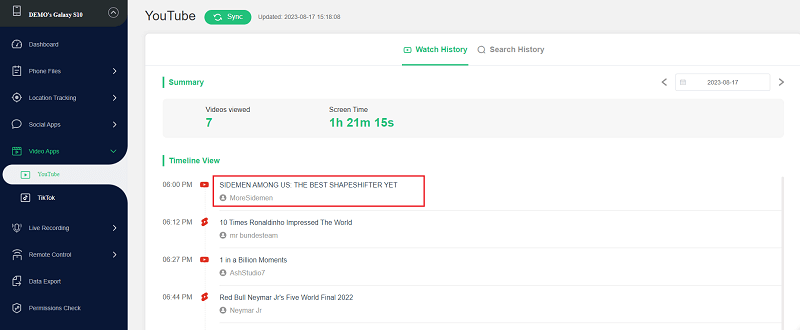 Part 2: Hot FAQs About How To View Private Youtube Videos
Q1: What Is a Private Youtube Video?
A private YouTube video is viewable only to individuals invited by the uploader, ensuring controlled access for a select audience while keeping the video hidden from the public and search results.
Q2: What Is an Unlisted Video On Youtube?
An unlisted video on YouTube is accessible via direct link, bypassing public search and recommendations, allowing for sharing with specific viewers without being fully publicized.
Q3: How to Share a Private YouTube Video?
Step 1: Go to the "Content" section & click "Private" next to video.
Step 2: Select the "Share Privately" & enter the user's email. Save it.
Q4: Why Can't You Watch Private Videos On Youtube?
Private YouTube videos require permission to watch, safeguarding privacy and content integrity, and ensuring they're limited to the intended audience.
Conclusion
Now that you know how to view private YouTube videos, you can easily watch any content you want without having to worry about restrictions.
If you have a better way to watch such videos, let us know about it in the comments section below.
You may also be interested in:

By Tata Davis
professional in software and app technology, skilled in blogging on internet
Thank you for your feedback!