Let's be real here, what's your most used app? Some people might say it's a game app, but most would answer social media or chatting apps. As human beings, we always have the need to communicate with others. Thanks to advanced technology, saying something to somebody can be done in many ways and mediums.
Stickers, emoticons, or GIF pictures are the elements people most use. But when something more serious comes to mind, the text is the only way to go. We know that some people might've been wondering about how to tell if someone read your text on iPhone. And here's the answer:
Part One: Why You Want to Know If a Text Has Been Read on iPhone
Surely, the reason why people are wondering about how to tell if a text has been read iPhone is that they really care about the message. They wouldn't be so thankful if the message wasn't important enough to them.
By knowing that the other person has received the message, the sender may rest assured, knowing that their message has been delivered properly.
If you want to find a way to know whether somebody has received your text or not, there are several ways you can do it if you use an iPhone. Let us jump straight to the first method.
Part Two: How to Tell If Someone Read Your Text in Different Situations
The main option people should enable is the Read Receipt option, which is available on most social media or networking apps.
Situation One: Using iMessage on iPhone
The first solution to know if someone read your text on iPhone you can try is by using iMessage. This default text message service app is available on all iPhones.
If you're sending texts to someone through iMessage, there's a way to know whether they have received your messages or not. Before you can actually see the details about the delivery status, you need to enable the receipt option first.
Step 1: First, you need to open your iPhone's settings and Pick Messages
Step 2: Then, adjust the Send Read Receipt option to ON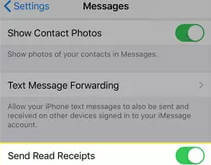 This way, the person you're chatting with can always see whether you read the message or not. So, in order for you to know if someone read your message, they need to turn the feature on as well.
Situation Two: Using WhatsApp on iPhone
Interestingly enough, you can also check the message delivery status on Whatsapp. However, the option is enabled by default, so you don't have to adjust anything.
Upon sending a message, you'll see either one gray checkmark, two gray check marks, or two blue check marks. Double gray check marks mean that your message has been sent but not yet received, and double blue check marks mean someone has read the message.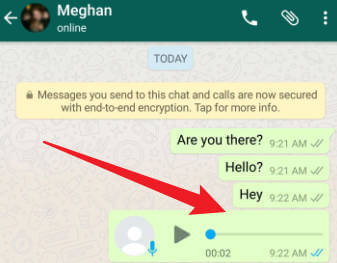 Situation Three: Using Facebook Messenger on iPhone
Another solution to how to know if someone read your text on iPhone you may consider is by checking Facebook Messenger. The way it works is similar to Whatsapp. You'll be given icons as an indicator of the delivery status.
For Facebook Messenger, you can see a miniature of the person you're chatting with if the message has been sent and read. If they haven't read it, you'll see the white checkmark icon instead.
Situation Four: Using Telegram on iPhone
Telegram also has similar icons to Whatsapp, with the only difference being the delivered status. Telegram doesn't have it. Instead, when your message is sent to somebody, it'll show one gray check mark. If the message was seen, the icon will turn into two gray marks.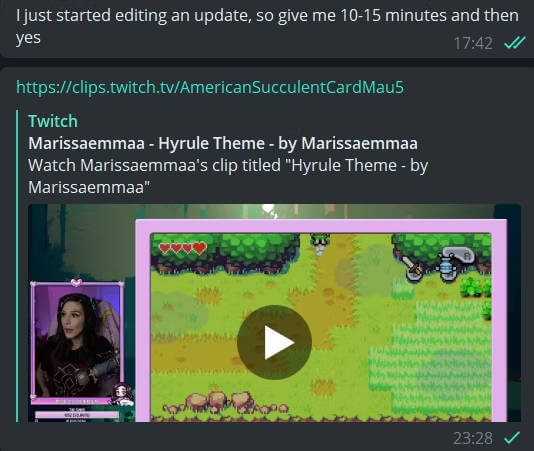 Part Three: How to Read Someone's Text on iPhone without Them Knowing
Sometimes, people want to stay discreet when reading someone's chat. There are plenty of reasons for this, but the main one is because they need to think about what kind of reply should be sent to the sender.
Here's how you can turn off the read receipts on different platforms:
Solution One: Turning off the Read Receipts on iMessage
The first method is by turning the read receipts on iMessage. In order to hide the delivery status on the sender's screen, you can deactivate the read receipts.
Step 1: To do so, click the sender's profile on the top
Step 2: Then, turn the read receipts to Off.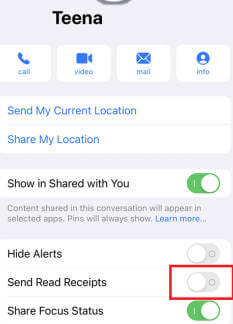 Solution Two: Turning off the Read Receipts on WhatsApp
To turn the read receipts off on Whatsapp, follow the tutorials below:
Step 1: First, open the Whatsapp app on your phone
Step 2: Choose Settings and Click Account
Step 3: Select Privacy, Then, toggle the Read Receipts option off.
Solution Three: Turning off the Read Receipts on Facebook Messenger
After knowing how to know if someone read your text iPhone, you can now turn your status off. Since there's no way to disable the Read Receipts, this is the only option you have.
Step 1: First, open the Facebook Messenger app installed on your phone
Step 2: Then, select your profile and Click the Active status
Step 3: Simply slide the button to Off, and then confirm the change in the settings.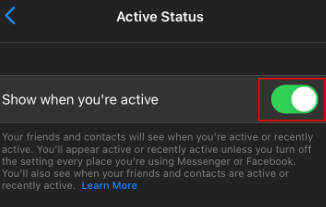 Solution Four: Turning off the Last Seen on Telegram
We've already mentioned how to tell if someone read your text iPhone through Telegram above. So, if you're now wondering about how to read someone's message without letting them know, we have the best solution you can try.
Similar to Facebook Messenger, Telegram doesn't have the option to enable or disable read receipts. The only thing you can do is to turn your status off temporarily. To do so, you need to:
Step 1: Open the Telegram app and Navigate to the Settings
Step 2: Scroll down until you can find the Privacy and Security option
Step 3: Select Last Seen and Online and Turn the option to Nobody.
Solution Five: Use Phone Monitor Apps to Read Someone's Text on iPhone without Them Knowing
There are a number of phone monitor apps that you can use to read someone's text on iPhone without them knowing. The most popular ones include FamiGuard Pro for iOS. These apps work by monitoring the all activities happened on the target phone. They will record all these useful data and present for you in a direct way.
To use these apps, you first need to install them on the target iPhone. Once they are installed, you will need to create an account and log in. After that, you can start monitoring the iPhone and check their texts without them knowing.
One of the benefits of using these apps is that they can monitor the target phone in a stealth mode. You will not be detected even if iPhone user is using his phone.
Hot FAQs about How to Tell If Someone Read Your Text on iPhone?
Question: Can I Turn on Reading Receipts for a Certain Individual on iPhone?
Yes, besides turning the option for all the contacts, you can also enable the option for individual persons. To do that, you can just click the Contact >>Info >> Enable the Send Read Receipts option
Question: How can I See What Time a Friend actually Read My Text Message to Them?
Usually, some apps will tell you about the time when the message was sent to the receiver. If the app doesn't show this info, you can see their last seen status instead.
Question: Does Delivered Mean Read?
Not necessarily. Delivered means that your message has been successfully sent and not yet read by the receiver. When someone reads your text, the status will change to "Seen".
You may also be interested in:

By Tata Davis
professional in software and app technology, skilled in blogging on internet
Thank you for your feedback!