Recording phone conversations can be useful for a variety of reasons, whether it's for work, personal use, or legal purposes. While some countries have strict laws regarding phone call recording, there are still ways to record phone calls on your iPhone. In this post, we'll explore different methods on how to record phone calls on iPhone. Keep in mind that it's important to respect the privacy of the other party and check the laws in your area before recording any phone calls.
Part 1: How to Record Voice Call on iPhone with Google Voice App?
Google Voice is a free phone service that provides users with a phone number that can be used for calling and texting. One of the features of Google Voice is the ability to record phone calls. This feature can be useful for various reasons, such as recording important conversations or interviews.
Here's how to record a phone call on iPhone with Google Voice App:
Get the Google Voice app from the App Store and sign in with your Google account.
Tap on the three horizontal lines in the top-left corner of the screen to open the menu.
Select "Settings" from the menu. Then, scroll down and enable the "Incoming call options" setting.
Make a phone call using the Google Voice app. During the call, tap "4" on the keypad to start recording.
You will hear a message that the call is being recorded. To stop recording, tap "4" again on the keypad.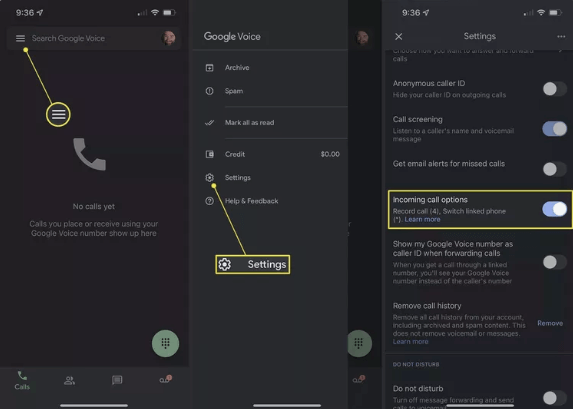 After the call, the recording will be saved in your Google Voice account and can be accessed from the app or from the web.
Part 2: How to Record a Call with iPhone Built-in Screen-Recording Feature?
Recording phone calls on iPhone has always been a tricky task for many users. However, with the latest iOS update, Apple introduced the built-in screen-recording feature that makes it easy to record phone calls on iPhone. In this guide, we will show you how to record a phone call on iPhone using the built-in screen-recording feature.
To utilize this feature, simply follow these steps:
Step 1: Start a WhatsApp video call with the person you want to record.
Step 2: Swipe up from the bottom of the screen to access the Control Center, then tap the Screen Recording icon.
Step 3: A three-second countdown will begin, and then your iPhone will start recording the screen and audio.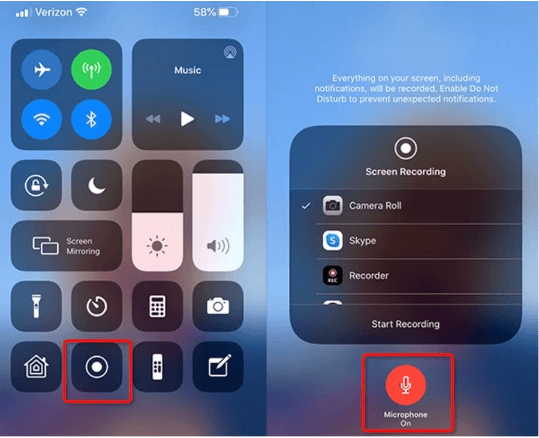 Part 3: How to Record a Call on iPhone with Voice Memos
Recording a phone call on an iPhone can be effortlessly done through the Voice Memos, which allows you to record any audio, including phone calls. This app is pre-installed on Apple devices and permits audio recording through the iPhone's microphone without the need for additional equipment or cords. Therefore, it is a great option for those who do not want to use third-party apps or purchase additional equipment. In this guide, we will walk you through the steps to record a phone call on an iPhone using the Voice Memos app.
Open the Voice Memos app on a second phone  
Start recording when you make a call on your own iPhone
When the call is finished, end the recording by tapping the Stop button in the Voice Memos app.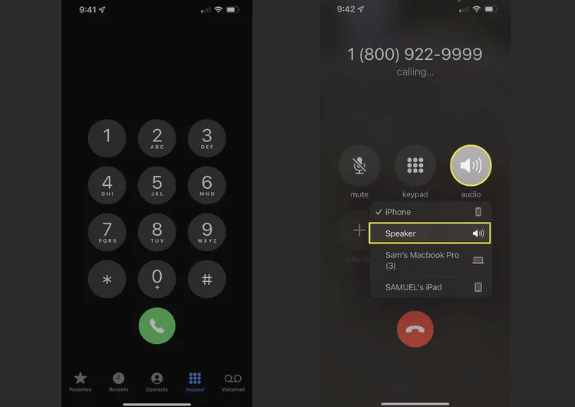 Give your recording a name and save it. To access your recorded phone call, go to the Voice Memos app and find the recording you just made.
Question: Does iPhone's Voice Memos have a time limit?
As long as you have sufficient storage, the Voice Memos app has the capability to record for an indefinite period.
Part 4: How to Record a Call on iPhone with External Recorder?
Recording phone calls can be useful in many situations, such as conducting interviews, taking notes, or for legal reasons. While the iPhone does not have a built-in feature for recording phone calls, there are several external recorder devices that you can use to record phone calls on your iPhone.
Purchase an external recorder device that is compatible with your iPhone.
Connect the external recorder device to your iPhone according to the manufacturer's instructions. This may involve plugging the device into the headphone jack or connecting it via Bluetooth.
Make a phone call as you normally would.
Press the record button on the external recorder device to start recording the call.
After the call has ended, stop the recording on the external recorder device.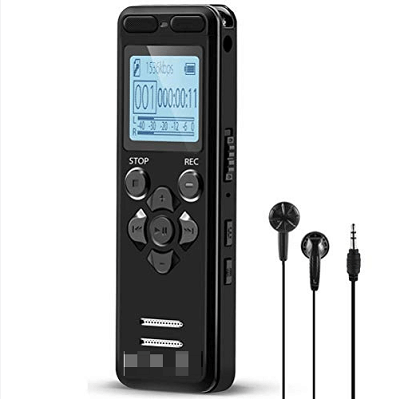 Finally, you can transfer the recorded audio file to your iPhone using a USB cable or Bluetooth. And you can open the audio file in the media player app on your iPhone to listen to the recorded phone call.
Part 5: How to Record Conversation on iPhone with Voice Mail?
Did you configure voicemail on your iPhone? There's a neat trick to save phone conversations to your voicemail.
By using the voicemail feature, you can essentially create a recording of your phone conversation without having to use any third-party apps or hardware. This method is especially useful if you're on a call and need to start recording quickly, without having to navigate through settings or apps.
During your phone call, tap the "Add Call" button on your iPhone screen.
Dial your own phone number and hit the call button. This will send you directly to voicemail.
When prompted, leave a voicemail message, but don't hang up the phone yet.
On the screen, tap the "Merge Calls" button to add the other person back into the call.
Once the call has ended, navigate to your voicemail and find the message you just left. The recording of your conversation will be included in the voicemail message.
Tips: How to Record Phone Calls on Android Phone without Knowing?
Have you ever wanted to record someone's phone call? For example, you want to know who your kids or your girlfriend called and what they said on the phone. If you have, then we suggest you try the Android phone recording app!
Here we recommend FamiGuard Pro. With this Phone calls recording tool, you will be able to capture and record all calls automatically without fear of being discovered as it runs invisibly!

Here is how to use it recording phone calls:
Step 1: Create your account for FamiGuard Pro
Step 2: Download the Phone-calls monitoring App from the given address
Step 3: Set it up on the target smartphone.
Step 4: Log into the online dashboard, then choose "Remote Control" and "Record Calls" to record someone's phone calls on Android without knowing!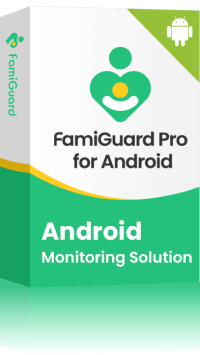 Amazing Features of FamiGuard Pro for Android
Monitoring Social Media Apps: Viewing messages or pictures on WhatsApp, Tiktok, Facebook, Snapchat, Instagram, Viber, WeChat, and more

Keylogger Feature: It has a keylogger feature that records everything typed on the keyboard.

Stealth Mode: No app icon appears on the target phone and the monitored person will not detect that you are spying on his phone

Remote Control: You can record calls, take pictures and screenshots remotely, without touching the target phone
FAQs: Hot Questions about Recording Phone CallS on iPhone
Q1: How do I Record a FaceTime call on my iPhone?
Actually,you have many choices like iOS Built-in Screen Recorder, QuickTime Player and so on. To learn more, you can read How to Record a Facetime Call on Any Devices.
Q2: How do you record phone call on iPhone without an app?
It is not possible to natively record a phone call on an iPhone without a third-party app. The built-in voice memo app does not allow recording calls. The best way for you to record phonw calls is Voice mail, which mentioned in Part 5
Q3: Can iPhone screen record audio?
Yes, iPhone screen recording can record audio from the device's built-in microphone or an external microphone connected to the device. All of these two methods are mentioned in Part 2 and Part 4 respectively!
You may also be interested in:

By Tata Davis
professional in software and app technology, skilled in blogging on internet
Thank you for your feedback!