Have you ever wondered how you can save your memorable events in one folder and view them with a click of a button on your PC? Well, iCloud is here to save you the agony of searching for your photos across your PC without tracing them.
In this article, you will get to know the steps of how to access iCloud photos on your PC. First of all, we will introduce you to two common methods to access iCloud photos on your PC. And then, a special way of accessing someone else's iCloud Photos Secretly on PC will also be presented.
Table of Contents
Part One: How to Access iCloud Photos on a PC without iPhone
1. Use the iCloud for Website
iCloud Drive, Pages, Numbers, Keynote, Contacts, and Notes can be found directly from iCloud.com. This is for web-only access to iCloud.
The iCloud for Website allows you to share and unite with more people concurrently on documents, spreadsheets, and presentations on their PC. This means you can send an invite to anyone to share a file. This will in turn allow them to use their website account to access the file and edit if they so wish without exiting the iCloud.
To do that, you should follow these steps:
Open iCloud.com in a web browser.
Sign in with your Apple ID if it is required.
Select the app or service you require to use on your PC
To convert your iCloud settings or check on your remaining iCloud storage space, click "Account Settings" under your account avatar.
The diagram shows what an iCloud website looks like in a Windows PC.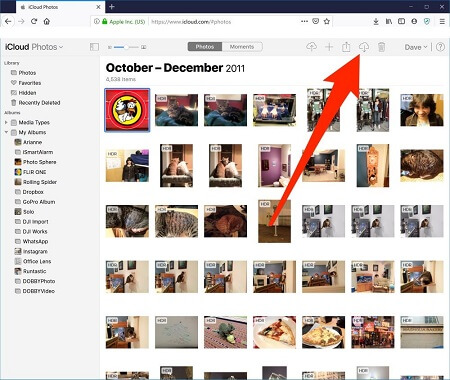 2. Use the iCloud for Windows
Access iCloud Photos on PC is actually so easy. To do that, you should follow these steps:
Download iCloud service for your Windows
Open iCloud for Windows

Snap on Options just next to your Photos
Pick iCloud Photos as shown below

Then snap on done, and then Apply.
Part Two: How to Access Someone Else's iCloud Photos Secretly on PC (Even Deleted Photos)
In Part one, we introduced you to two common methods to view iCloud photos on PC. If you only want to access your own iCloud Photos on PC, those two methods are enough for you. However, if you want to access or view someone else's iCloud Photos secretly and know what photos he or she has saved on iCloud, you can try some iCloud photo checking software. Here, we will recommend one proven and effective iCloud photo checking software and two alternatives for you.
1. FamiGuard Pro for iOS
Do you want to know what your boyfriend or girlfriend had uploaded on his iCloud Photo?  Have you ever considered accessing or viewing your boyfriend's or girlfriend's iCloud Photo? If you do have these questions, you come to the right place!
Don't be worried, in this situation, FamiGuard Pro for iOS can do you a favor. This expert software for iCloud Photo viewing is designed to help you stay ahead of your boyfriend's or girlfriend's iCloud data, including iCloud Photos (even the deleted photos).
With this tool, you can easily access his or her iCloud Photo and export all iCloud Photos to your PC! More importantly, the process of accessing and exporting iCloud Photo is totally in stealthy mode. So, you are free from the awkwardness of being caught. In addition to iCloud Photo viewing, you can also use this software to view someone's Text Messages, Call Logs, Social Apps and Browser History on his iPhone secretly with only a click. So, hurry up and use this software to access your boyfriend's or girlfriend's iCloud Photos.

2. Other Apps to Access Someone Else's iCloud Photos on PC (Unproven)
CopyTrans Cloudly
This app assists you in the management of your iCloud photo gallery. It enables you to upload, download, rescue, or erase your iCloud photos from the PC. CopyTrans Cloudly enables you to;
Backup all iCloud photos to your computer, external drive or NAS
It allows you to download all iCloud photos at once to a chosen folder on your PC. It preserves the album structure of your iCloud Photo Library. The photos will be downloaded in folders same as you have them on iCloud. It is super-fast.
Upload all kinds of images to iCloud from your PC
It is very simple to upload your photos and videos to iCloud from the PC and keep an updated photos on all your devices.
Restore permanently deleted photos from your iCloud
Recovery of permanently deleted photos from iCloud is possible. This is due to the fact that the photos are still available on Apple servers for some time. All these is thanks to the rescue feature.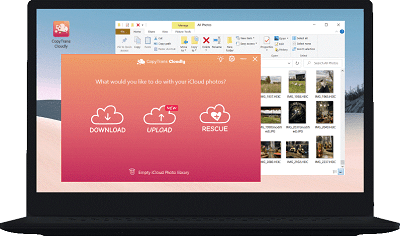 EaseUS MobiMover
EaseUS MobiMover is an adaptable iPhone transfer software for IOS devices. It operates as a professional iPhone manager that can help transfer and add your photos to your PC. It has four features which includes;
Upper-level iPhone data shift
This is the very first free iPhone data transfer software in the world, EaseUS MobiMover Free can back up your iPhone or iPad, share files between iOS devices, and sync computer data to your iPhone or iPad for absolutely free. It could help you transfer photos, contacts, music, books, and notes, from or to the devices with iOS 8/9/10/11/12/13/14/15/16.
One-touch, shift from iPhone to computer
Are you worried about losing photos on your device? This tool assists you to back up your iPhone or iPad data to a computer to mitigate accidental data loss. Use 1-click transfer to transfer multiple images, videos, music, and other files from an iOS device to a computer at the same time.
Tips: How to Download or Delete iCloud Photos on PC
Yeah, to download or delete iCloud Photos on PC is not so difficult, just follow these steps
Open File Explorer
Go to iCloud photos in the navigation pane (if not present, go to pictures in the navigation pane and click on iCloud photos twice.
Chose the photos you want to erase, then click the delete key.
FAQs about How to Access iCloud Photos on PC
Q1: How to Access iCloud Photos on Mac?
On your Mac, select Apple Menu
Go to system settings or select the Apple menu
Go to system preferences
Click Apple ID
Go to iCloud on the sidebar
Chose photos
Q2: Why Can't I see my iCloud Photos on PC?
If your iCloud Photos feature is not enabled, you will not see your photos. Make sure it is enabled before uploading the photos by downloading, installing, and launching for windows and then signing in with your Apple Id credentials.
Q3: Can You Search iCloud Photos by Date?
Yes. You can search for your iCloud photos by date. This is by searching on the search box at the top of your screen by entering the date.
You may also be interested in:

By Tata Davis
professional in software and app technology, skilled in blogging on internet
Thank you for your feedback!