Have you ever used iCloud? Surely, many Apple users are using this feature frequently to store their images, videos, or other kinds of files. Seeing how useful and versatile it is, many people surely want to know how to access iCloud photos on Android.
The thing is, iCloud only available exclusively to iOS-based devices, like iPad, iPhones, or Macs. With that in mind, Android users can never access it directly. They need some ways to be able to take at least some photos or videos from it. So. if you're looking for a way to answer how to view iCloud photos on Android, we have the answer for it.
Table of Contents
Part One: How to Access iCloud Photos on Android
So, how to access shared iCloud photos on Android? There are three ways to do that; for now, let us go straight to number one.
1: Access iCloud Photos on Android with Computer
The first method you can try is accessing iCloud using a computer. That means you'll need a browser and an internet connection, a decent one at that. To access your photos that were stored on iCloud, you need to open the iCloud for Windows, which is available for both Windows 10 and 11.
First, you need to download iCloud for Windows

Open it and check the Photos tab. Then, select Options.
After that, simply pick the iCloud Photo Library to access the stored photos.
Next, download all those iCloud photos to your computer.
Then, use USB, Lightning or Type-C cable to transfer these downloaded photos from computer to android phone.
Finally, you can access iCloud Photos on your android phone.
2: View iCloud Photos on Android with iPhone
Of course, one way you can do to access the images is through an iPhone. As mentioned above, most Apple devices usually have this feature installed. So, all you need is to find the feature and then open it to access any stored media files.
To see the images inside the iCloud, you need to download it first on your iPhone and then reshare the image to an Android phone. So, you have to prepare two phones to do this step.
You can reshare the image by opening the Gallery, selecting the image you want to share, and finally clicking Share on social media, chatting apps, or via Bluetooth.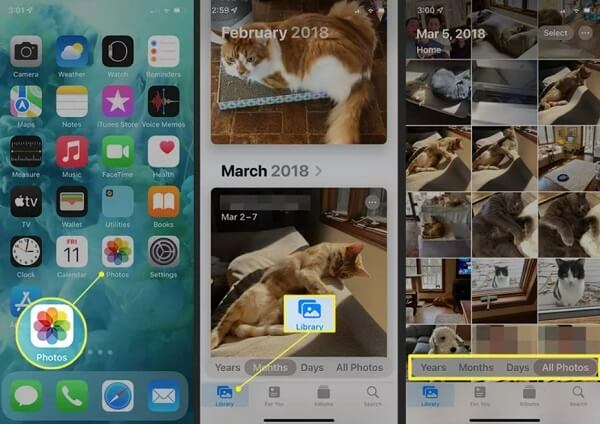 3: Access iCloud photos on Android with iCloud for Website
So, how to see iCloud photos on Android? One way to do so is by opening the website version of iCloud.
Yes, besides the app, you can also open iCloud on its official website at iCloud.com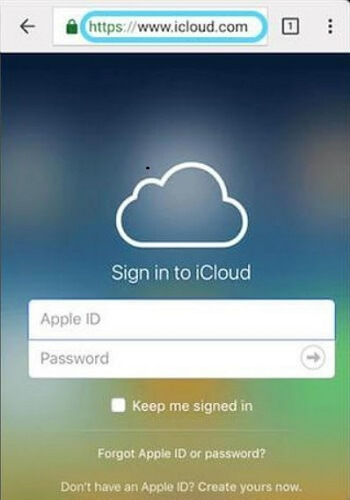 So, start by opening a browser on your Android and then enter the address. Login using your credentials, and finally, you can access all the media stored there. Feel free to download any images or videos you want to save.
Now, if you can't open the page, change the orientation to a Desktop view first. To do so, open your browser, go to Settings, and then click the Desktop Site option to see the desktop version of the page.
Bonus Tips: How to Access Someone Else's iCloud Photos Secretly on Android
In Part one, we introduced you three common methods to view iCloud photos on Android. If you only want to access your own iCloud photos on Android, those two methods are enough for you. However, if you want to access or view someone else's iCloud photos secretly and know what photos he or she has saved on iCloud, you can try some iCloud photo monitoring software. Here, we will recommend one proven and effective iCloud photo monitoring software and two alternatives for you.
1. FamiGuard Pro for iOS
Do you want to know what your boyfriend or girlfriend had uploaded on his iCloud Photo?  Have you ever considered accessing or viewing your boyfriend's or girlfriend's iCloud Photo? If you do have these questions, you come to the right place!
Don't be worried, in this situation, FamiGuard Pro for iOS can do you a favor. This expert software for iCloud Photo viewing is designed to help you stay ahead of your boyfriend's or girlfriend's iCloud data, including iCloud Photos.
With this tool, you can easily access his or her iCloud Photo and export all iCloud Photos to Android phones or other devices! More importantly, the process of accessing and exporting iCloud Photo is totally in stealthy mode. So, you are free from the awkwardness of being caught. In addition to iCloud Photo viewing, you can also use this app to view someone's Text Messages, Call Logs, Social Apps and Browser History on his iPhone secretly with only a click. So, hurry up and use this software to access your boyfriend's or girlfriend's iCloud Photos.

2. Other Apps to Access Someone Else's iCloud Photos on Android (Unproven)
1. MobileTrans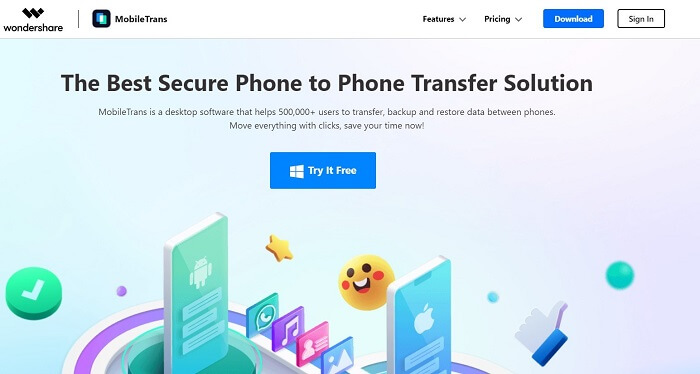 The first app we want to introduce to you is MobileTrans. This software, also available for both PC and Mac, is a wonderful tool to connect your iCloud account on multiple devices. The app also works wonders for file transferring between devices and is an excellent idea if you're looking for a solution on how to see iCloud photos on Android.
The app has a free trial, which all of you may check out before committing to a certain plan, and it has a bunch of useful features that can make the job less tiring. For example, it has easy file transfer between phones, which can always be done regardless of the phone brand and system, and the app even works for older devices.
2. FonePaw DoTrans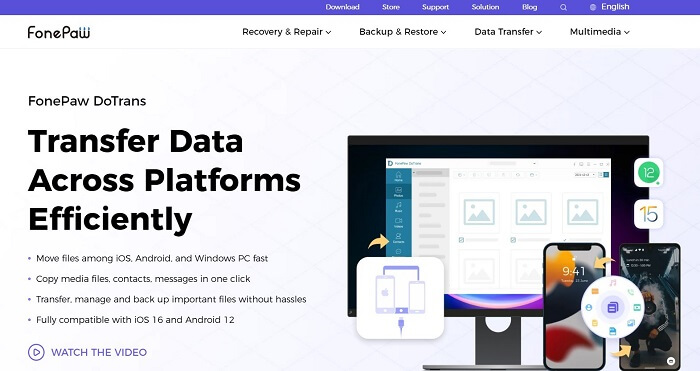 The next option you can try is an app called FonePaw DoTrans. People always use the app for the same reason: file transfer. DoTrans allows users to do an easy process of file transferring with a simple mechanism. After selecting the devices, you can pick any files you wish to transfer.
And then, the app will do its job to send the files as quickly and safely as possible. Since the transfer will be done with a USB connection, users don't have to rely on any internet connection to do so.
Hot FAQs about How to Access iCloud Photos on Android
Now that you've finally learned about how to view iCloud photos on Android, here are some answers that may give you solutions for the existing problems:
Q1: How to Access iCloud Photos on Android without iPhone?
If you currently don't have an iPhone that you can work with, you can always access iCloud by either using the Windows app for it or the iCloud web, which is accessible on all kinds of devices.
Q2: How do I get stuff from iCloud to Android?
Of course, you'll need access first to your iCloud. You can try the methods we've just explained above and pick the one you think is the quickest and easiest.
Q3: How do I retrieve photos from iCloud on Android?
As mentioned above, you need to enter iCloud first, which is only possible after you enter the web version or use the Windows app for iCloud. Enter using your credentials, and finally, you can retrieve photos, videos, documents, PDFs, or other things stored within.
You may also be interested in:

By Tata Davis
professional in software and app technology, skilled in blogging on internet
Thank you for your feedback!