As a parent, you may be concerned about your child's online activities. You might worry about who they are talking to, what they are doing online, and whether they are safe.
Although you can take their phone and look through it, your child may not be too happy about that. Or maybe they'll even refuse to let you have access to their device at all.
Thankfully, there are many SMS tracking apps that you can use to remotely monitor your child's phone usage. In this article, we'll introduce you to five of the most reliable apps that parents can use to keep track of their kids' phone calls, text messages and more without them knowing.
Table of Contents
Top 5 SMS Tracker Without Target Phone
In the following section, we'll share with you a detailed overview of each of our five recommended apps. We'll explain what they have to offer and tell you if they're worth trying. So, let's get to it!
1. FamiGuard Pro (Android & iOS)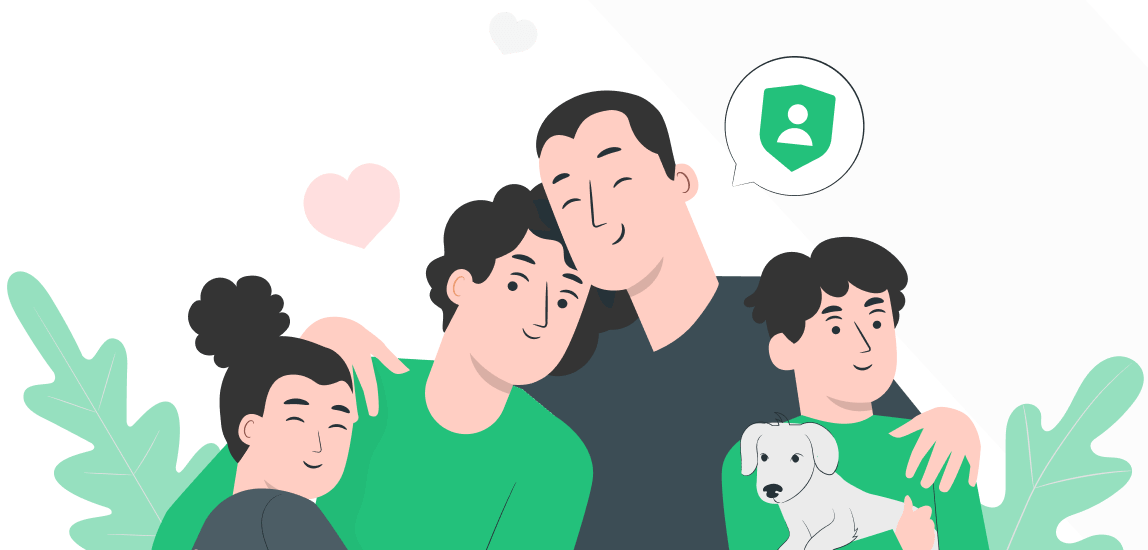 FamiGuard Pro is an excellent tool for parents to keep their children safe while they're on their smartphones. This powerful parental control app gives you complete access to your child's Android or iOS device, and it allows you to monitor their real-time activity with ease.
Adding to that, FamiGuard Pro provides you access to a user-friendly online dashboard where you can track all the activities taking place on the target device remotely, including calls and text messages. It even shows text messages that have been deleted by the user.
But that's not all! You can also use this app to monitor your children's social media activity and discover what they're talking about, who they're talking to online, and the things they're sharing on all platforms including WhatsApp, Snapchat, and Instagram.
The most notable feature of FamiGuard Pro is its Stealth Mode, which keeps the app hidden from the target user while it records their phone activities. That means you can easily sneak into the target user's phone activities without them ever finding out about it. And even better - no jailbreaking or rooting is necessary to use this app.
Pros

100% safe & very straightforward to use

Monitor the activity of 30+ social apps

View the deleted chats or text messages

Capture every keystroke with accuracy

Remotely capture real-time screenshots

Track the current or past location history
Cons

No free trial version is currently available
2. mSpy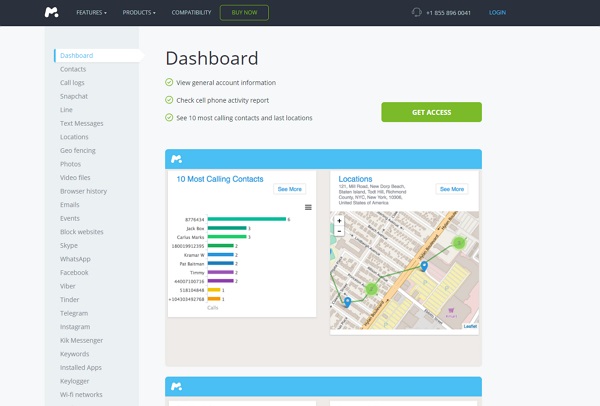 mSpy, gives you the power to see and record everything that's going on with your target phone. It tracks both online and offline activity, so you know exactly what your target is up to. Just a single installation is all it takes to monitor anyone's cell phone remotely - whether it's to protect your children or monitor employee performance.
Every family is different, and mSpy understands that. It is designed to work with all operating systems and its discreet process keeps it from being detected. Even if you don't have physical access to the target device, no problem; with just iCloud credentials of that device, you'll have full remote access to the target's device.
MSpy is an unbeatable sms tracker for monitoring your loved one's activities on all of the messaging apps and platforms including WhatsApp, Skype, and Viber. This app also records contact information in addition to the content and date associated with each conversation.
A handy online dashboard provides a bird's-eye view of all the action. The Activity graph presents a visual snapshot of any discussions, showing both the number of chats and texts over time. This is perfect for spotting spikes in activity at a glance.
Pros

Complete data encryption and 2FA

Apps, calls, and websites blocking

Runs invisibly in the background

SMS & instant messages monitoring

Data syncing every every 5 minutes
Cons

High price than other options

No call recording is available
3. eyeZy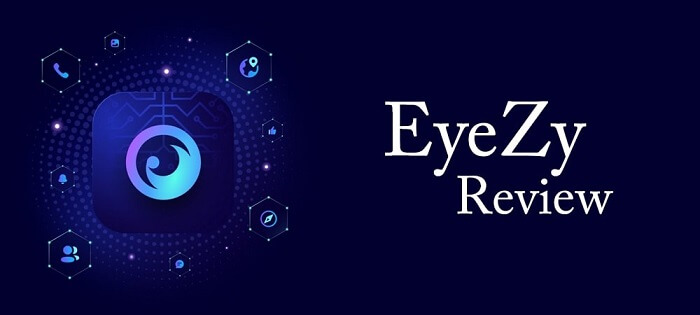 eyeZy is an easy-to-use, all-inclusive phone monitoring app designed to help today's parents and guardians stay connected with their children. With its intuitive online dashboard, you can keep tabs on your children's smartphone activities and get valuable insights into what they're up to. But that's not all - you can also utilise this useful tool for tracking the devices of employees, partners, or even friends.
With eyeZy, sms tracker, you can also keep a close watch on your child's digital conversations and protect them from potential hazards. Not only can you view text messages and call logs in real-time, but the app also includes a Connection Blocker feature. This feature gives parents ultimate control by allowing them to block inappropriate websites or apps.
One of the more interesting features of this app is Social Spotlight, which gives you a real-time look at what your kids are saying on social media, who they're texting or calling, and their sent and received emails. Even if the target user has deleted any text messages or chats on their devices, you can still access those records on eyeZy's online dashboard.
Pros

Live compatibility checker for devices

Keylogger and live screen recording

Instant alerts for prohibited keywords

View installed apps and stored files

Free live demo is available for testing
Cons

Lacks a free trial version

Some features not work properly
4. Xnspy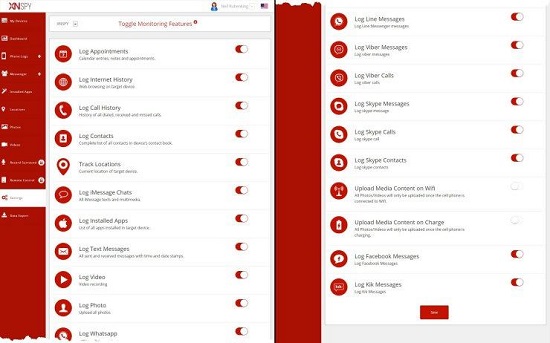 XNSPY brings convenience and assurance to parents and employers alike, granting them the ability to discreetly monitor the smartphones of those they care about. This sophisticated app provides detailed insights into call logs, messages exchanged, contacts saved; emails sent & received; social media usage & messaging apps such as WhatsApp, and more - plus you can even track connected Wi-Fi networks and current location.
You don't need to spend hours checking every single call log or test message – the app gives you the flexibility to customise your list of places, words, and people that are most important for monitoring. Receive instant alerts about any activity related to that list. You can also remotely keep an eye out for text messages and chats across popular apps such as WhatsApp, Snapchat, Instagram, and more.
Using Xnspy, you can remotely control your target's mobile device using a plethora of remote commands. Lock the phone, quickly erase data or enable call recording all with one click - the power is truly in your hands. Plus, enjoy complete invisibility for extra discretion and keep tabs without being detected.
Pros

Excellent features for remote device control

Run in the background through stealth mode

Remote installation for iPhone is available

Phone calls & surrounding sound recording

Check the device model compatibility online
Cons

Many features require rooting/jailbreaking

No free trial and only a few refund options
5. CallSMSTracker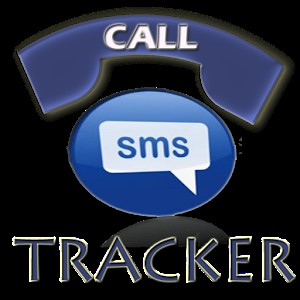 The Call and Message Tracker app provides an easy way to keep track of your children's SMS activities. To use the app, simply launch it and press the "View" button to see a complete list of all incoming and outgoing calls and SMS messages. No GPS is required to function. You can also use Google Maps to see the specific locations where each event took place in real-time.
This amazing app gives you accurate location data without draining your target's battery or using GPS. Plus, it's totally free! No extra fees or charges so you can focus on enjoying the convenience it brings to your life without any worries.
To see the tracked data online rather than within the app, go to "http://callsmstracker.com/cst" and enter your email address and password. Then click "Get Details" to retrieve information from your target's mobile device. This information will be securely stored on a server located in the United States, and you can view it from anywhere via this simple website interface.
However, It is important to note that the app will notify your child's mobile device whenever a call, SMS, or location is tracked. While it may be tempting to use this app as a way to secretly monitor your child's activities, it is not intended for this purpose as the app's icon is visible on the device.
Pros

Free of charge

Easy to use

No GPS needed

Minimal battery drain

Exporting of records
Cons

Only text and call monitoring

Not intuitive and user friendly

The target user will find it easily
Conclusion
In conclusion, there are a lot of apps available for monitoring text messages. But the ones listed above are among the most reliable and feature-rich options available. Any of these apps can be a good option if you want to keep track of your child's phone activities.
Though all of the apps are good in their own ways, FamiGuard Pro is our favourite. With this app, you can make sure your kids stay safe and sound online with advanced call and SMS monitoring features. Your target users won't even know they've been tracked.
Give it a shot today!
You may also be interested in:

By Tata Davis
professional in software and app technology, skilled in blogging on internet
Thank you for your feedback!