Question:
How to Track Vivo Phone?
This is a question that many people have asked, especially since there are so many different ways to lose your device. Thankfully, there are several ways to track your phone Vivo, and in this guide, we will show you how to find your Vivo phone easily.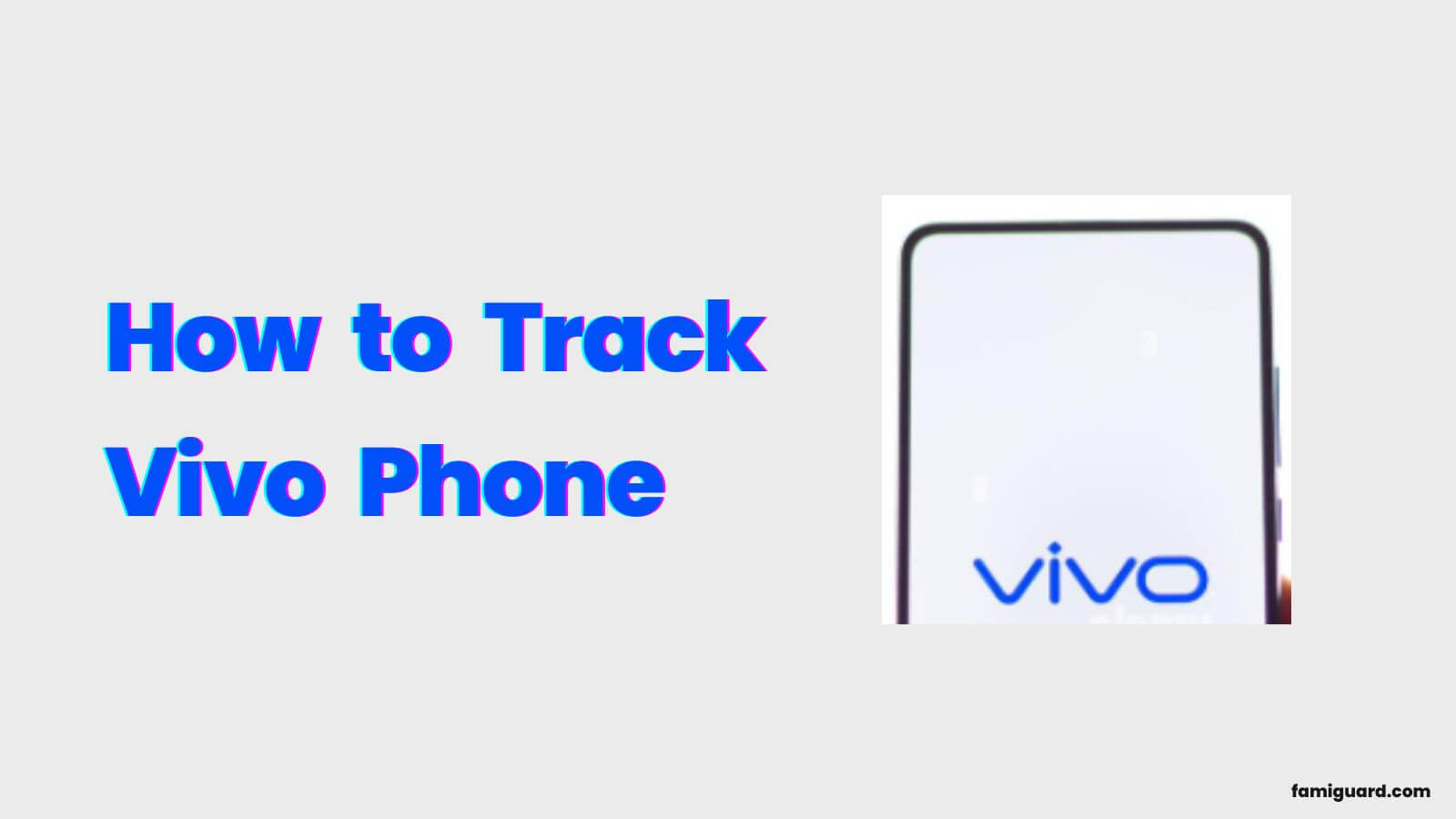 Table of Contents
Part 1: Track Vivo Phone with Best Mobile Tracker - FamiGuard Pro for Android
FamiGuard Pro for Android is an All-In-One Android monitoring and tracking app that can be used to track your Vivo device. It's a great option if you don't have a Google account or if you want more features than what the "Find My Device" feature offers. With FamiGuard Pro, you can track your device's location, view its location history and check the real-time location of your phone at any time. It is very useful whether it is used to find a lost Vivo phone or to see the trail of a target device.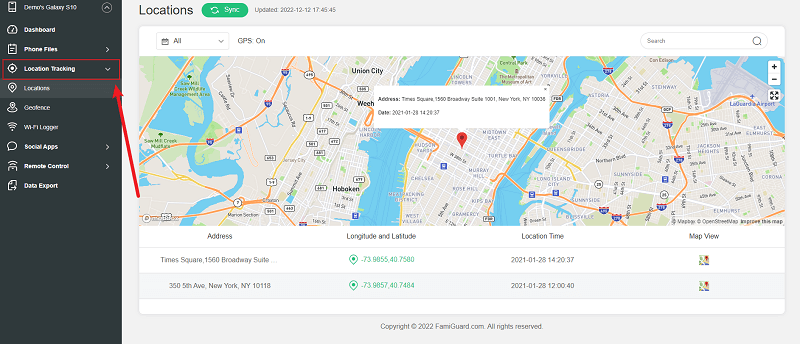 Features of the Best Vivo Phone Tracker
Track GPS Location: Track cell phone location in real time and view location history.

Clone All Files: In addition to recording the location, it can also record all the files in the phone (even deleted) including the chat history of the app, photo albums, call history, contacts, etc.

Geo-fenceable: With FamiGuard Pro you can set a geofence and you will get an alert once your Vivo phone is out of the set location.
Whether it is used to find Vivo phones, track the GPS location of Vivo phones, retrieve lost phone files or monitor children's activities, FamiGuard Pro for Android is a very good choice.
Four Steps to Track your Vivo Phone with FamiGuard Pro for Android:
Step 1: Create your account for FamiGuard Pro for Android.
Step 2: Download the FamiGuard Pro for Android app from the given address and set it up on the target smartphone.
Step 3: Log into FamiGuard Pro for Android online dashboard.
Step 4: Click "Location Tracking" and then choose "location" to track your phone's location.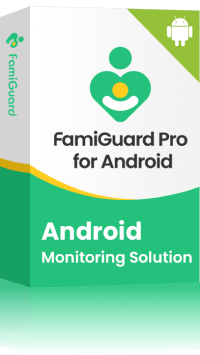 Part 2: Track My Device Vivo with Google Account
If you have a Google account associated with your Vivo phone, then you can easily find it using the "Find my device" feature. This is a service that is provided by Google, and it will allow you to track and remotely control your Android devices.
Before We Start:
Your lost Vivo phone must be turned on.

GPS on your lost Vivo phone can work normally.

The Google Account ID & Password should be logged in your lost Vivo phone.

Your lost Vivo device should be connected to mobile data or Wi-Fi.

The "Find my device" app or settings should be turned on (Go to Settings > Security > and tap Find My Device to turn it on.
The following part is how to find your Vivo Phone with Google account:
Step 1: Go to android.com and sign in via Google Account ID & Password.
Step 2: Select the device you want to locate and then you are able to check the location of the lost phone.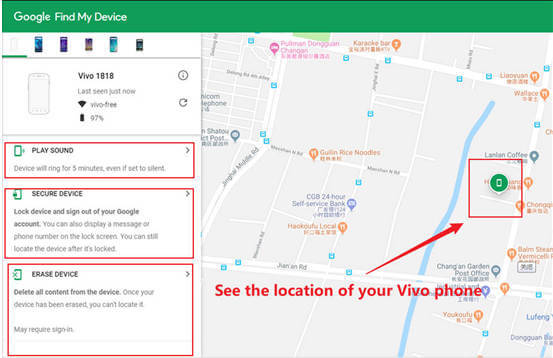 Step 3: Or you can download "Find My Device" app on Google Play, install it on another Android phone and log in with Google Account ID & Password to track your lost phone!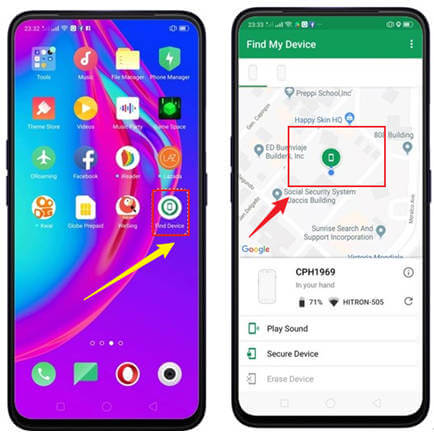 In addition to location, "Google Find My Device" offer other great options for you to find your Vivo phone and control it remotely.
For example, if the distance between you and your Vivo Phone isn't too long, you can "play sound". It will make your phone ring for 5 minutes even if it's set to silent or vibrate.
For example, if you still can't locate your after many tries, you can use "secure device" to display a message or phone number on the lock screen, telling someone who finds your phone to contact you.
For another example, if you are worried about the leak of your personal information or data on your Vivo phone, you can lock your device or erase data through remote control.
Part 3: Find My Phone Vivo with Google Maps
Another great way to find your lost Vivo phone is using Google Maps. This method is especially useful if you remember where you last had your device.
The following part is the detailed steps of using Google Maps to track your Vivo phone:
Step 1: To use this method, simply go to the Google Maps website and log in with your Google credentials.
Step 2: Once you're logged in, click on the "Timeline" icon and enable the "Location History" layer. This will show you a history of everywhere that your Vivo phone has been. Simply find the location where you think your phone is and click on it.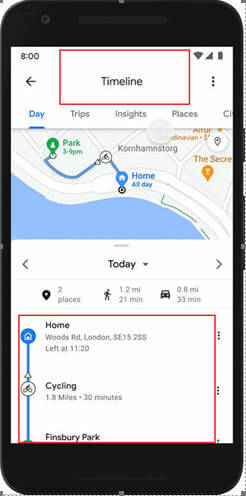 Part 4: How to Track Vivo Phone with IMEI Number
This method involves using your device's IMEI number to track lost phones. The IMEI number is a unique identifier for every mobile device, so it can be used to track your Vivo phone.
To find the IMEI number on your Vivo phone, you can follow these steps:
Go to Settings > Tap on About Phone > Scroll down to check IMEI information.
Besides, there is another way to see or check your IMEI number:
Click on the phone icon of your Vivo phone > Tap the numeric keyboard > Type *#06# (asterisk, hash, zero, six, hash).
After knowing your phone's IMEI number, you can then contact your network operator and give them the IMEI number. They should be able to help you track down your device.
Attention:
Vivo official said that "their phones cannot be located through IMEI code". They suggest that you can report loss of the SIM card at the operator and change the password of your accounts to avoid more losses.
However, some users successfully locate their Vivo through this method. Therefore, it is worth a try if you don't have other good methods.
Conclusion:
There are several other methods you can use to find your Vivo phone, but these are four of the most effective ones. So if you're ever in a situation where you need to track your phone, make sure to try one of these methods. Hopefully, one of them will help you find your device. Apart from tracking Vivo phones, if you want to view other files and activities of target phone in real time, then you should definitely try FamiGuard Pro for Android.
You may also be interested in:

By Tata Davis
professional in software and app technology, skilled in blogging on internet
Thank you for your feedback!