There comes some time when you might feel the need to track your phone for various reasons. May be to track a lost phone, or to keep an eye on your child for her/his safety. It is not always possible to contact the police, once you feel the need to track a phone. However, no need to worry, as there are ways to track a phone without involving the police all the time.
There are apps that can be installed on cell phones and track location via cellphone tower or GPS. These phone tracker apps can pin-point your location exactly, and also show you the location history of the phone. There are hundreds of such apps available on the internet for free, which makes choosing the best among them even harder. So, we've listed 10 such free phone tracker apps below, so that you can take a wise decision while choosing one.
Table of Contents
Comparison Tablet of 10 Best and Free Phone Tracking Apps
| | FamiGuard | Mobistealth | KidsGuard | Highster Mobile | Phone Sheriff | Life 360 | GPS Phone Tracker | Where's My Droid | Glympse | Safe 365 |
| --- | --- | --- | --- | --- | --- | --- | --- | --- | --- | --- |
| Compatibility | Both | Both | Both | Both | Android | Both | Both | Both | Both | Both |
| Price | $29.95 | $39.95 | $39.95 | $69.95 | $37.95 | $39.95 | Free | $39.95 | Free | Free |
| Pros | Robust feature set | Excellent live monitoring | Powerful Features | One-time payment | Advanced features | Easy to use | Easy to use | Remote control | Location sharing | Easy to use |
| Cons | No free trial | Expensive subscription | Expensive subscription | Outdated user interface | Only for Android | Inaccurate location tracking | Limited tracking features | Limited tracking features | Free with ads | Free with ads |
| Rating | | | | | | | | | | |
1. FamiGuard Pro - The Best Android & iOS Phone Tracker App
Android Phone Tracking App - FamiGuard Pro for Android
FamiGuard Pro for Android is the best phone tracker app free of any hassles. It allows you to track the cell phone's real-time location remotely. This feature may come handy if you have lost your phone, or you want to track your child's current location. By using the Location Tracking feature, you can exactly know where s/he is right at any moment and can take necessary actions immediately, if needed. It gives a sense of security to, both, the parents and the children.
Key Features of FamiGuard Pro for Android
Track Phones' Real-time Location: With this Phone Tracker App, you can view phones' real-time location on the map anytime you want!

Record Phones' Location History: The app can reacord Phones' Location History, showing you where phones have benn taken to!

Geo-Fence and Location Alert: With this app, you can set Geo-Fences for your phones. Once they are taken away from your selected area, you will immediately get a notification!

Wi-Fi Logger: It can show you the place and time your phones are connected to Wi-Fi, which is also helpful for trcaking phones.
Three Steps to Have FamiGaurd Pro for Android
Below is a step-by-step guide on how to use the FamiGaurd Pro for Android.
Step 1: First, create your account on the website and then select a plan (one month, three months, one year) based on your preferences.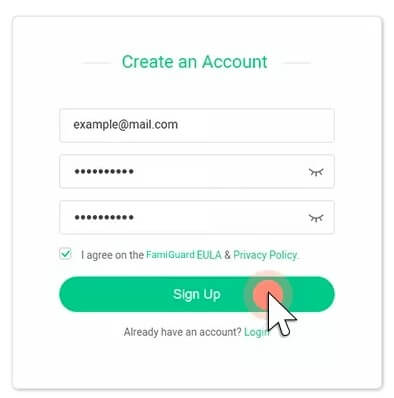 Step 2: Download and Install the app on the target Android device.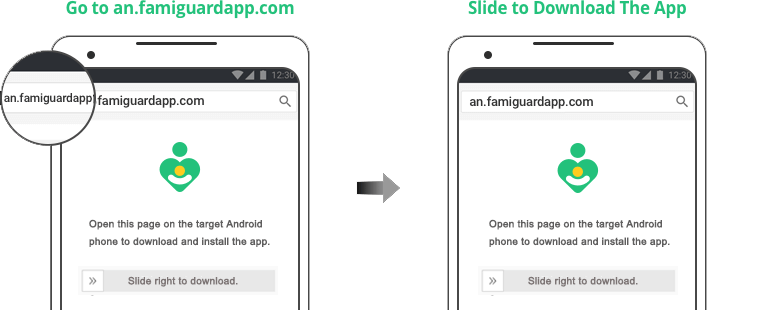 Step 3: Log in to your account on FamiGuard Pro and start tracking phones' real-time location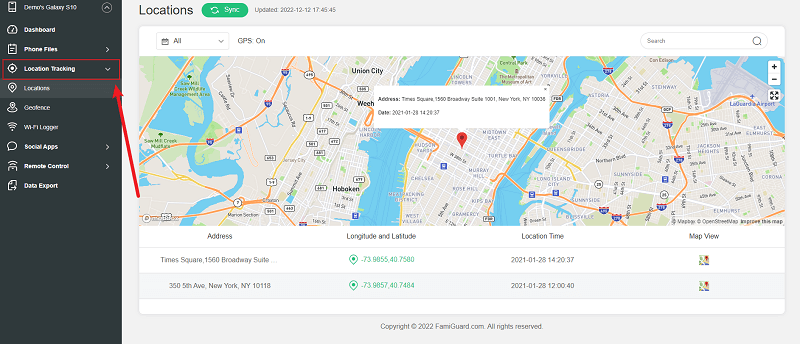 iOS Phone Tracking App - FamiGuard Pro for iOS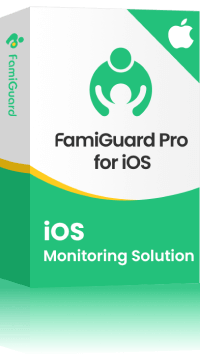 Amazing Features of FamiGuard Pro for iOS
GPS Tracking: Monitor location history with address, longitude, latitude, and date.

Call Tracking: Track all incoming and outgoing calls including the names, timestamps and call duration.

Safari History & Bookmarks Monitoring: View browser history and bookmarks to track target user interests.

Social App Monitoring: Monitor WhatsApp, LINE, Viber, Kik Chat History, Emojis and more.
2. Mobistealth
Mobistealth is one of the best phone trackers that can be used to access your cellphone data remotely. The best thing about it is that it can track your device real-time. In case your cellphone is stolen, you can easily log in to your account from any internet connected device and track your lost phone.
Other than location tracking, it can track messages, photos, videos, browsing history and call history, which can be useful while tracing your lost phone, or to monitor your kid's activity. The app can even record calls and listen to the phone's surroundings. Moreover, you can customize the app to be tamper-proof and undetectable.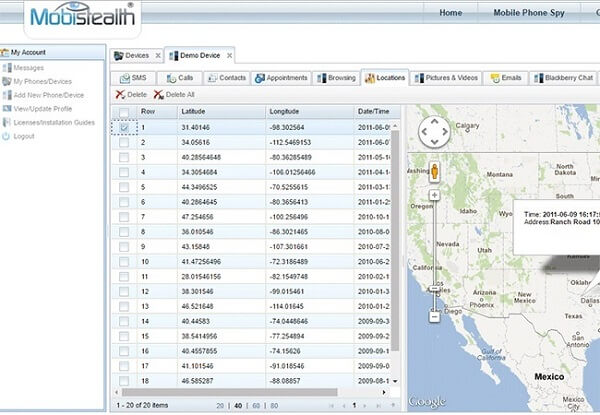 Price: The Pro version for Android starts from $59.99/month to $12.5/month if registered for a year. The Pro-X starts from $69.99/month to $15/month if registered for a year. The Premium Plus version for iPhone starts from $69.99/month to $15/month if registered for a year. The Pro version for PC and Mac devices starts from $19.99/month if registered for 3 months to $8.33/month if registered for a year.
3. KidsGuard Pro
Tracking your kid's phone becomes necessary at times for their safety. With KidsGuard Pro, you can exactly do that. It not only allows you to track the location of a mobile device, but also can track call history, browser history, photos, social media messages, and app activities.
KidsGuard Pro has a special feature with which you can track the location via Wi-Fi. When the target device is connect to Wi-Fi network, it can also locate the Wi-Fi logger and provide the location info. Plus you get to check the major features of the app for a 3-day trial period without spending a penny. You don't even need to root our device to use the app.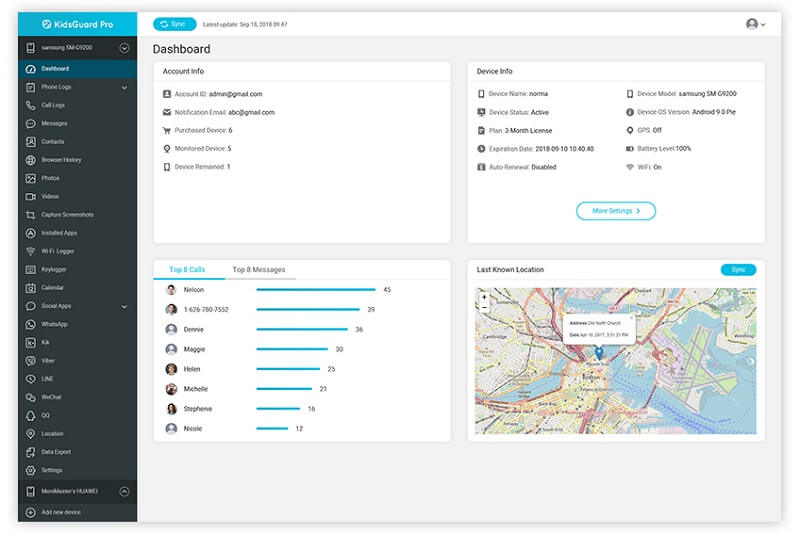 Price: A 3-day trial, after which, the Premium version starts from $29.95/month to $8.33/month if registered for a year.
4. Highster Mobile
Highster Mobile allows you to monitor your mobile devices remotely. It works both on Android and iOS devices and is very easy to set up. The app updates location at an interval of 5 minutes and can be accessed from any devices with an active internet connectivity. Other than tracking locations, the app not only can track activities like viewing text messages, call history, photos, videos, and Facebook messages, but also can trigger the camera stealthily to take secret pictures and videos of the surroundings at your command.
Overall, it is an app that can solve most of your tracking problems that other apps can't. It can be used to find a lost phone, monitor children, and even track company devices when used by employees outside the company. Moreover, the Live Control Panel is very user friendly and allow users to find text messages, photos, and other documents without any effort.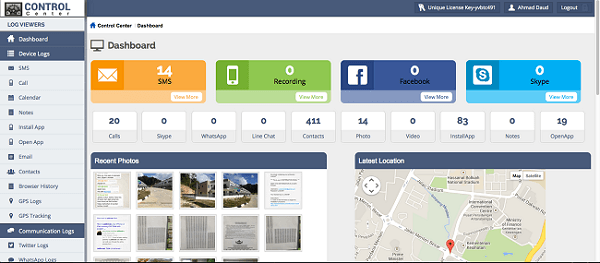 Price: 1-day free trial ($3.95 USD setup fee) and premium version from $69.99 USD to $159.96.
5. Phone Sheriff
Phone Sheriff is one of the best phone tracker app available right now. It is very easy to set up, as well as, to use, with its simple user interface. Phone Sheriff sends instant alerts and notifications to your phone via SMS, to notify you about geofencing, opening a particular contact, using profanities in text messages, or any other custom events set by you.
Other basic features include web logger, call logger, text logger, app blocking, and locking out a specific feature or the whole phone.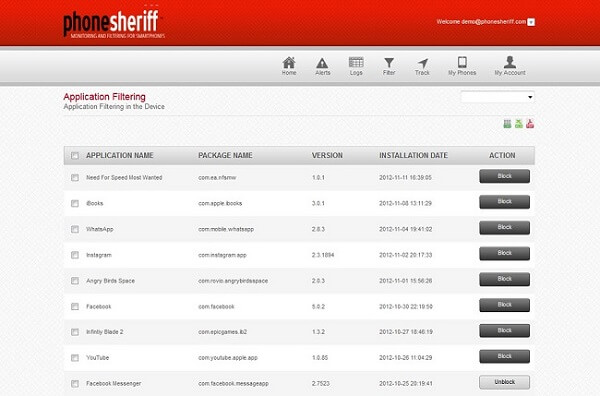 Price: Starting from $8.17/month for 6 months to $7.42/month if registered for a year (Licensed for 3 devices).
6. Life 360
Unlike all the previous options, Life 360 is a free cell phone tracker app that does its job very well. It also has premium versions with added features but at a very low monthly subscription cost. It is probably the cheapest option available in the market with all the tracking features that it offers. You can create a private circle with your family and closed ones, all of whom can share real-time locations and text messages among each other. In case of a lost phone, any of the other members can track the real-time location of the phone.
The premium versions even have a crash detection feature, that notifies all the users in a circle if someone goes through an accident, with the crash GPS location, so that they can send immediate emergency support. Daily activities become a lot easier if you have a knowledge of the current location of every family member. For example, you can ask your brother to buy some chips from a grocery store when your app notifies that he is in a grocery store right now.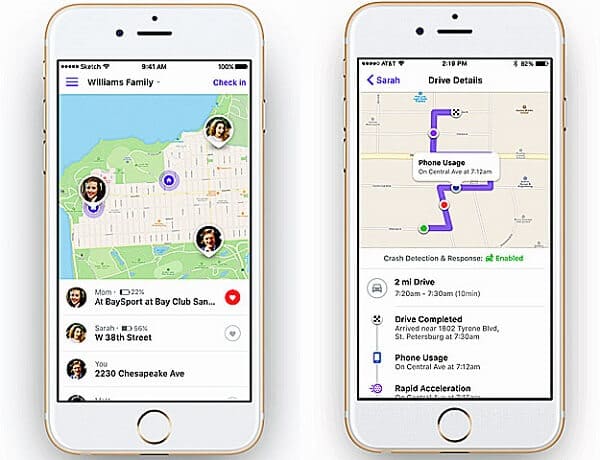 Price: Free with limited features, Plus version at $2.99/month, Driver Protect version at $7.99/month
7. GPS Phone Tracker
GPS Phone Tracker is one of the oldest GPS tracking apps, but is still effective and in demand by Android users. The only thing this app does is track the location of your family members, and that too, free of cost. You can add multiple devices to track at a time, and can also send emergency alerts in case of an emergency to your close ones. The app uses a very little battery when running on background, thus, saving your battery life.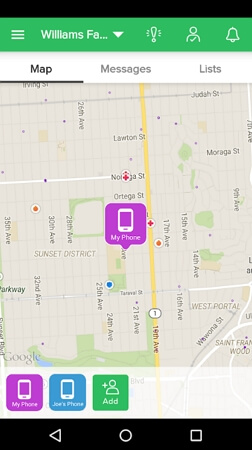 Price: Free.
8. Where's My Droid
The free and simple phone tracker, Where's My Droid has won a lot of hearts of Android owners because of its simplicity. Install this app to protect your phone and data from theft. You can track the GPS location of your phone if lost, and even lock it and wipe all the data if necessary. The SIM Monitor feature alerts the user in case of a SIM card replacement. The Elite version has a Theft Protection feature that alerts the user if it detects any suspicious activity like SIM card change, failed unlock attempts, attempts to delete the app, attempts to connect a USB device, etc. This version can also take photos of the surroundings when triggered remotely.
The app can also be used in cases when one cannot find his phone in the house and it's in silent mode. It can be triggered to force ring the phone, and even customized to play a siren instead of the ringtone to locate the device better. The phone can be armed with an alarm, so that it will trigger the alarm if someone picks the phone up.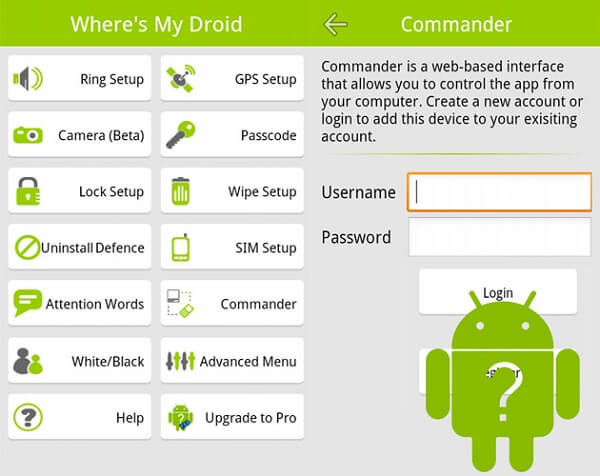 Price: A Free version, and an Elite version at $0.99/month or $0.75/ month for a year.
9. Glympse
Glympse is a simple and free way to track any device real-time. The app can be used to track multiple devices and can be used in applications like delivery tracking, tracking real-time location of employees, friends, and family members, and can be integrated with devices like smart watches and other wearables. The settings can be customized to for personalized tracking. It also comes handy for tracking in case of a theft.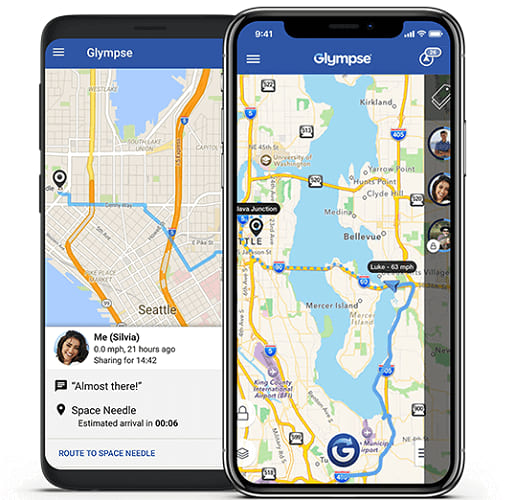 Price: Free.
10. Safe 365
Safe 365 is a GPS tracking app that helps the family members to stay connected even when far away from each other. It helps families to track its members with real-time location sharing, route sharing, and sending battery warnings. It has a panic button to share emergency signal when in any emergency situation.
Overall, it is easy to use thanks to a easy to use interface and the accuracy is commendable and that is why it is in our list.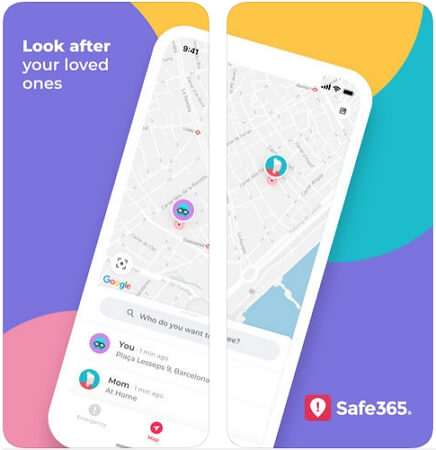 Price: Free.
Conclusion
So, here are the 10 best phone tracker apps of 2023 that you may study carefully before making an educated choice. There are two categories of apps, free and paid, and the paid versions obviously have some premium features that the free versions lack. It is up to you to decide if the features in the free version are enough for you. Overall, FamiGuard Pro has all the features that one may need. It tracks your phone real-time and is the best option for monitoring your kids, or in case of a theft. Before taking a decision, give this app a try!
Android
iOS
You may also be interested in:

By Tata Davis
professional in software and app technology, skilled in blogging on internet
Thank you for your feedback!