For various reasons, we hide messages on iphone. It can be that your company strongly disapproves of sending messages during working hours, or it might be that you don't want your spouse to see them since it would spoil the perfectly wonderful surprise you've prepared for them. Whatever the motivation, hiding your communications merely requires a little amount of work.
Table of Contents
Part 1: Is There a Way to Hide Messages On iPhone Without Deleting?
Apple provides a hidden album that may be used to hide photographs; however, the company has not yet developed a specific folder that can be used to conceal texts on an iPhone. But can you hide messages on iPhone? Yes indeed!
On the other hand, you may make use of a variety of simple methods that are still quite effective to conceal text messages on your iPhone. The following is a list of some of the methods on how to hide text messages on iPhone without deleting them. Even if you may have completed one of the choices shown here, you have the option to add another layer of anonymity to make your message safer.
Part 2: How to Hide Messages on iPhone from Girlfriend?
Way 1: Disable Notifications and Alerts on iPhone
Step 1. To turn off notifications for incoming messages, go to "Notifications"
Step 2. choose "Message" and then toggle the "Allow Notifications" switch to the off position

Way 2: Disable Message Previews on iPhone
If you want still receiving lock screen alerts for new texts but learn how to hide messages on iphone, try the below steps:
Step 1. Launch the Settings app
Step 2. Choose Show Previews under "Notifications" and then choose "Messages"
Step 3. To turn off message previews, choose Never or Off
"When Unlocked" is the option to choose whether you only want to see message previews while using your phone (when the passcode is entered).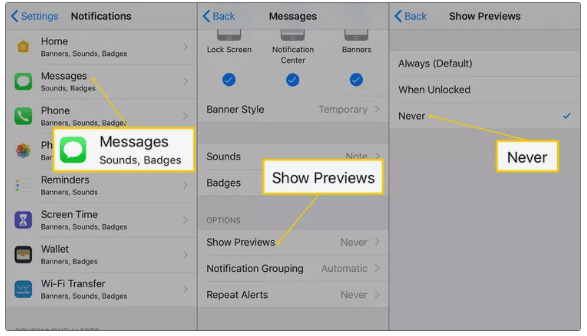 Way 3: Disable Lock Screen Message Notification
You can prevent the lock screen from showing a message preview. Follow these easy steps to learn how to disable message preview on an iPhone:
Step 1. Open the "Notifications" option by tapping the settings app on your iPhone and Choose "Messages" from the menu there
Step 2. then, disable the "Show on Lock Screen" option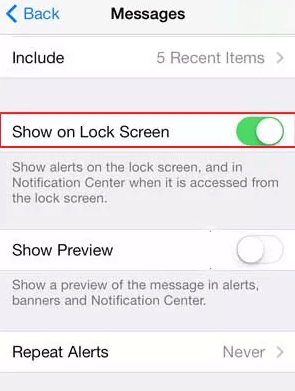 Way 4: Turn off Text Message Forward on iPhone
You can keep track of all of your text exchanges by forwarding messages from your iPhone to other devices linked to your Apple account. But, if you value your privacy, this functionality won't be useful to you. But you can learn how to hide messages on iPhone without deleting.
Step 1. Go to Settings, and then, "Messages", "Text Message Forwarding" option.
Step 2. You will see the devices enabled for receiving text messages from your primal device- usually iPhone.
Step 3. Among the devices enables, locate your iPad or device you want to be private, then turn off.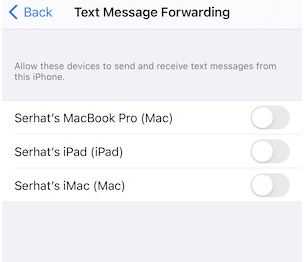 Way 5: Hide Messages with iMessage's Invisible Ink
With an internet connection, iMessage enables message sending between Apple devices. But how to hide imessages on iphone with easy methods? Here, you may apply the iMessage effect Invisible Ink to your talks. When you touch on it, it transforms your words into hazy particles that only appear for a brief period (around five seconds).
Step 1. Type your text and long-press the blue Send symbol to apply Invisible Ink.
Step 2. You will see the Invisible Ink option that is adjacent to a gray dot; tap it.
Step 3. Then, click the Send button.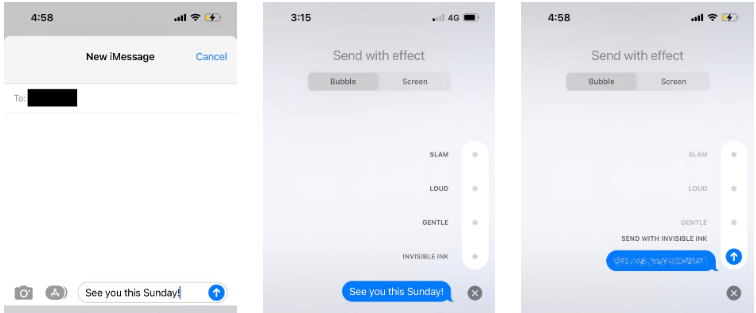 Way 6: Lock Down Messages with Screen Time
As a matter of time, you can't lock native Apple apps like Messages using Face ID or Touch ID. But if you want to hide messages on iphone anyways, use your Screen Time passcode as a workaround instead.
Step 1. Go to Settings > Screen Time and Turn it on if this is your first time using Screen Time.
To configure it, adhere to the on-screen directions. The passcode may then be activated by tapping Use Screen Time Passcode. Unlike the password used to open your iPhone, this Screen Time passcode is different.
Step 2. Then, go to App Limits > Add Limit and then Social to lock the Messages app.
Step 3. Go to the list and choose Messages.
Step 4. Next, scroll to the 1-minute setting, then hit Add.
After a daily minute of use, your Messages app will now lock with your Screen Time passcode.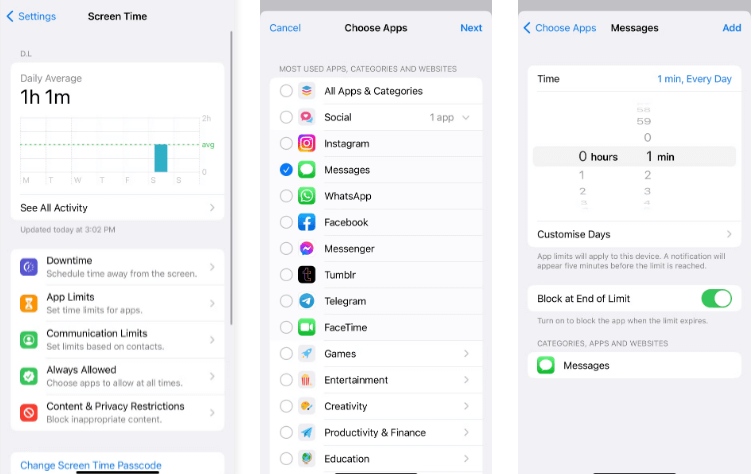 Part 3: How to Hide Messages from a Specific Person on iPhone?
If you want to learn how to hide specific text messages on iPhone, check out below methods.
1. Put Specific Contacts into Unknown Senders
To begin, you will need to go over to Contacts and remove the contact, or contacts, that you do not want to have the ability to send you messages. Following that:
Step 1. Launch the Settings app, and then go to the Messages section.
Step 2. Keep scrolling until you find the Message Filtering option.
Step 3. You will find a button here that says Filter Unknown Senders. Click it. To activate this feature, make sure the switch is in the "on" position.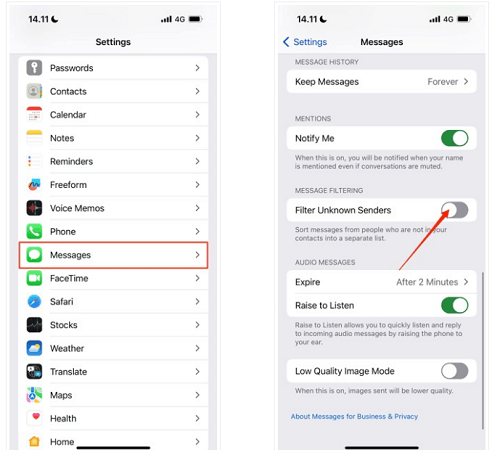 2. Hide Message Alerts
Hiding alerts is an additional way that may be used to conceal communications from a certain individual.
Step 1. Launch the Messaging application.
Step 2. You need to open the message (or messages) that you don't want to be seen as the cycle continues.
Step 3. Touch the symbol that looks like a face (or the photo of the individual).
Step 4. Use the pop-toggle up's to show or hide the alerts.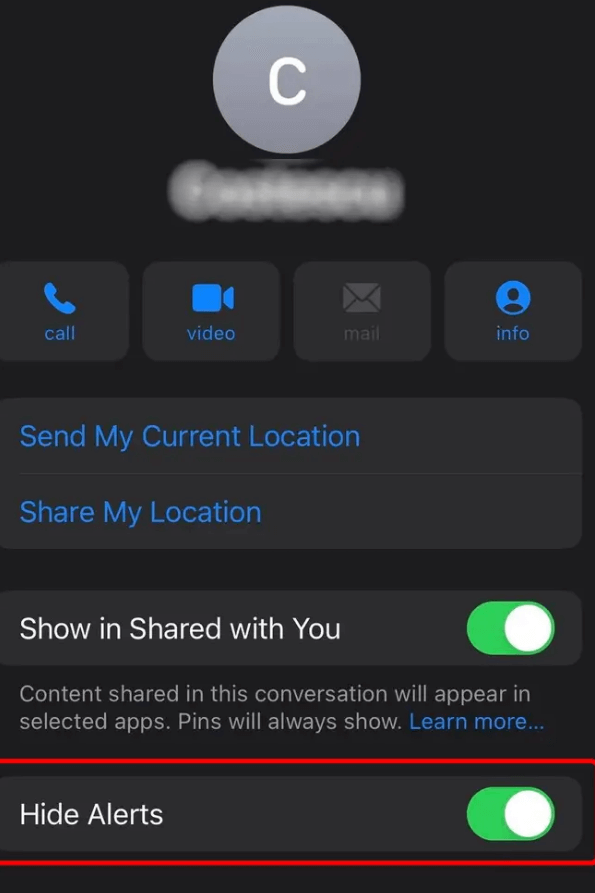 Part 4: How to Hide Messages on iPhone with Third-Party Apps?
The last piece of advice we have is to make use of third-party applications that were built specifically for the aim of holding secret discussions.
1. Signal
Using Signal, you may send messages that, after a certain time, vanish from both your smartphone and the user's phone. If you often send private text messages to certain contacts or Signal groups.
While using an iPhone:
Step 1. To start a discussion, open the Signal app and touch on it.
Step 2. To access Conversation Settings, tap the person's name at the top of the screen who you are now speaking with.
Step 3. Activate "Disappearing Messages," then choose how long the message will be visible before disappearing.
2. AnyTalk
One of the most popular iPhone applications for concealing texts is this one. This program enables users to conceal their messages on tablets, iPhones, and Macs. The user and the recipient are the only ones who can see the messages even after sync since this software syncs the messages across the devices without loading them to the server.
3. Calculator Pro+
Calculator Pro+ app contains a hidden function that allows users to save and conceal private messages, images, videos, and other items while still having the appearance of a standard calculator. Users must input a special passcode or password to access the hidden function.
While it first seems to be an innocuous calculator software, the app may help conceal messages or private data because it reduces the likelihood that people would guess that it could contain secret information.
Tips: How to See Hidden Messages on iPhone?
If you want to see hidden messages on iPhone, then FamiGuard Pro for iOS is your best choice. It will help you scan the iPhone and iCloud data. In this way, you could easily get into someone's iPhone without password.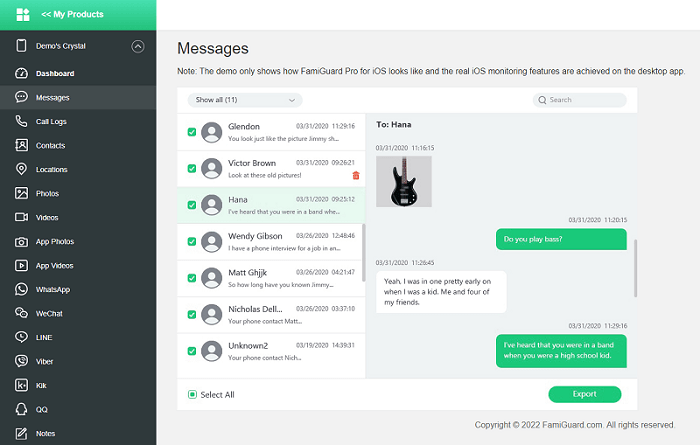 View iCloud Data: View someone's iCloud data without the target's iOS device.

Monitor Message: Monitor all SMS, WhatsApp, LINE, Viber and Kik chat history, as well as exchanged media files, emojis and more, even if they are deleted!

View Safari History & Bookmarks: Check Safari history and bookmarks to learn what the target user has been visited and what he is interested in.
To See Hidden Messages on iPhone with FamiGuard Pro for iOS, follow these steps:
Step 1: Sign up for a FamiGuard Pro account with a valid email.
Step 2: Purchase a plan and download the app onto your computer, following the setup guide.
Step 3: Use the on-screen instructions to access the target's iPhone data.
You may also be interested in:

By Tata Davis
professional in software and app technology, skilled in blogging on internet
Thank you for your feedback!