Snapchat is especially famous for its disappearing messages feature, which means you can send anyone a message and it will disappear automatically after they have viewed or expired.
While it's great to have disappearing messages, there are times when you want to manually delete a message before it expires or is viewed by another person. Maybe you sent the wrong message or maybe you regret sending something.
Luckily, there are several ways to delete messages on Snapchat - and we'll tell you all about them in this post. We'll also answer your most commonly asked questions about Snapchat messages and how to delete them.
Part 1: How to Delete a Snapchat Message
If you no longer want a specific message to appear in your chat, you can easily delete it. The process for deleting messages on Snapchat is almost the same on both iOS and Android devices.
Step 1. Open the chat where you wish to delete the message.
Step 2. Tap and hold on the message you wish to delete until a pop-up shows up.
Step 3. Select the "Delete" in the pop-up menu that appears.
Step 4. Tap "Delete" again to confirm that you're ready to delete the message.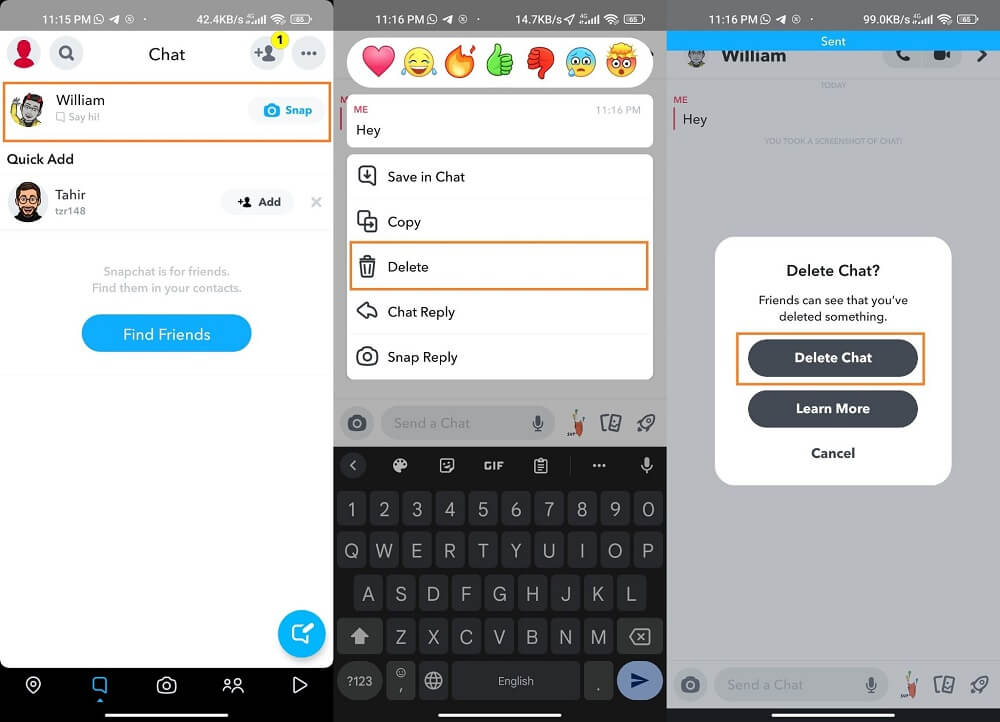 Part 2: How to Delete Snapchat Messages Saved by the Other Party
Sometimes you'll want to delete a message, but the person you sent it to might have saved it before you had a chance. So, how do you delete them? Well, the process is very easy.
Follow the steps below:
Step 1. Open the chat with the other person whose message you want to delete.
Step 2. Tap and hold on the message you wish to delete until a pop-up shows up.
Step 3. Select the "Delete" option from the menu, and then tap on "Okay".
Step 4. Tap the "Delete" button again to delete the message from both sides.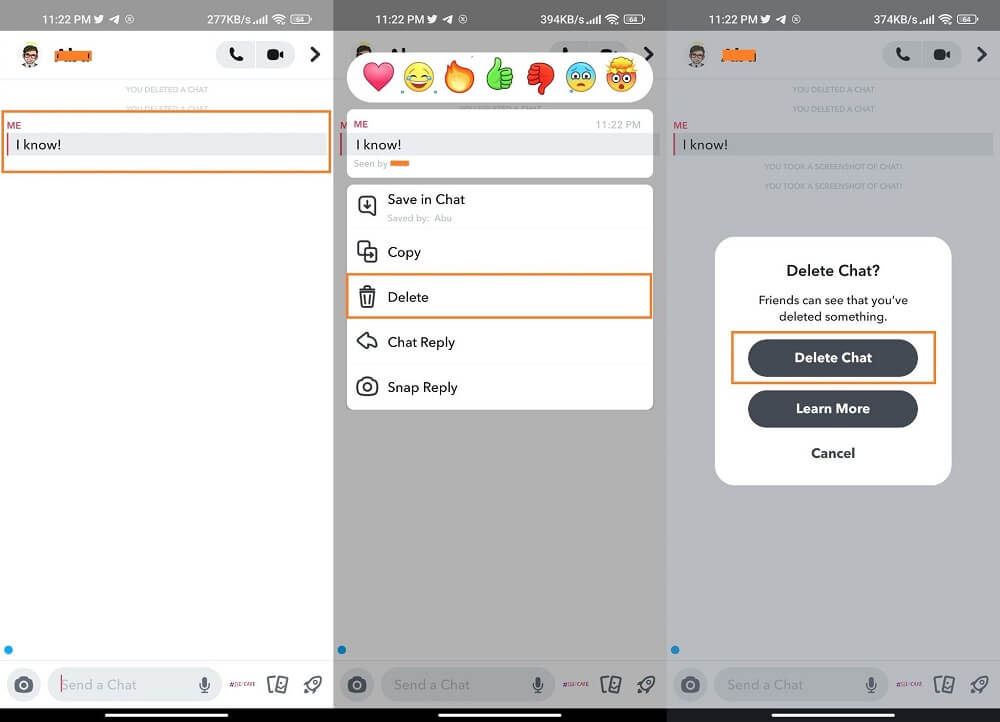 Part 3: How to Delete a Snapchat Conversation
If you want to delete an entire conversation, rather than just individual messages from it, you can do that too. However, it won't delete sent or saved messages - only the conversation will be removed from your Chat screen.
Here's how to do it:
Step 1. Open your Snapchat app and swipe from left to right to access the Chat screen.
Step 2. Tap and hold on the conversation you wish to delete until a pop-up shows up.
Step 3. Select the "Chat Settings" from the pop-up and tap "Clear from Chat Feed".
Step 4. Confirm that you want to delete the conversation by tapping "Clear".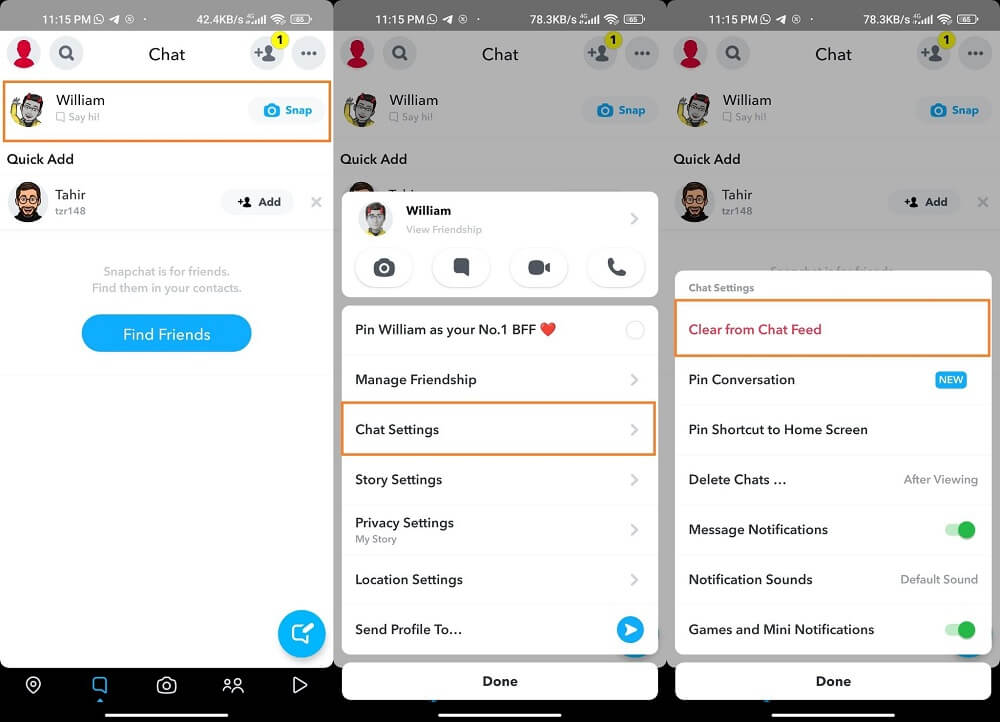 Part 4: How to Clear All Snapchat Conversations
Deleting the conversations manually one-by-one by following the steps described in the previous section can be tedious and time-consuming. To make this process easier, Snapchat has an "Clear Conversations" option in settings.
Here's how to clear all Snapchat conversations easily:
Step 1. Open Snapchat on your phone and tap the profile icon in the top left corner.
Step 2. Tap the "Settings" icon at the top right corner of your phone screen.
Step 3. Go to the "Clear Conversations" tab found under the "Account Actions" heading.
Step 4. Here you can see a list of all conversations. Tap the "X" next to the name to clear it.
Step 5. Finally, tap "Clear" to confirm that you want to delete the conversations.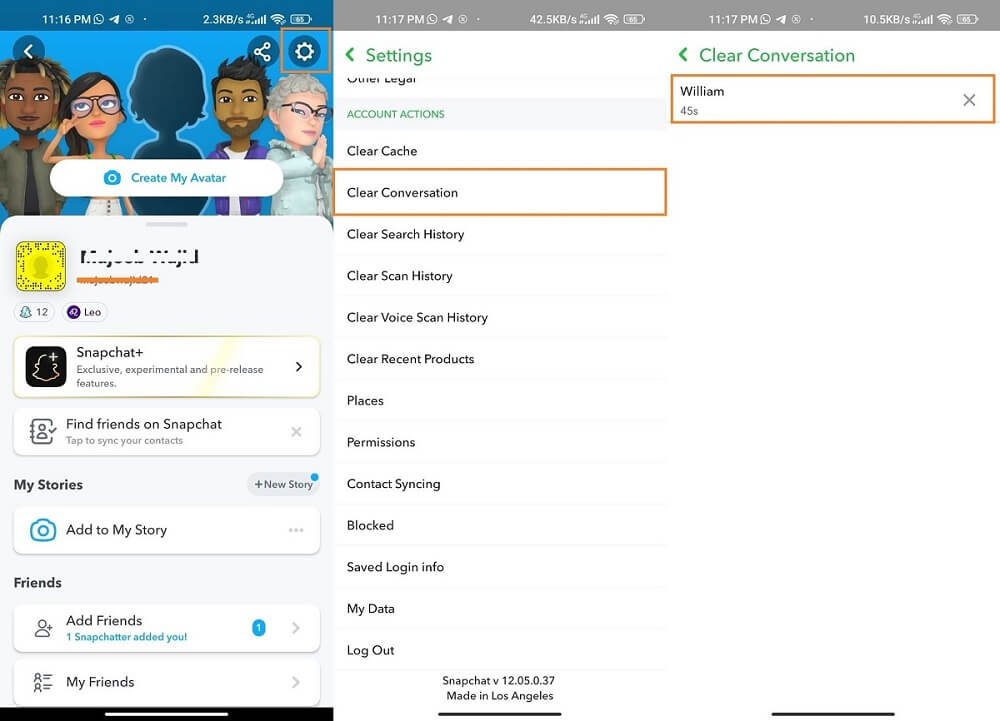 Part 5: How to Set Snapchat to Automatically Delete Messages
Snapchat provides two different options for users to delete messages: either after they are viewed by the recipient, or after a 24-hour period.
To set Snapchat to automatically delete messages, follow the steps below:
Step 1. Go to the Chat screen. Tap and hold on any of the conversation.
Step 2. From the menu, select "Chat Settings" and tap "Delete Chats".
Step 3. You can select to delete chats "After Viewed" or "After 24 Hours" from here.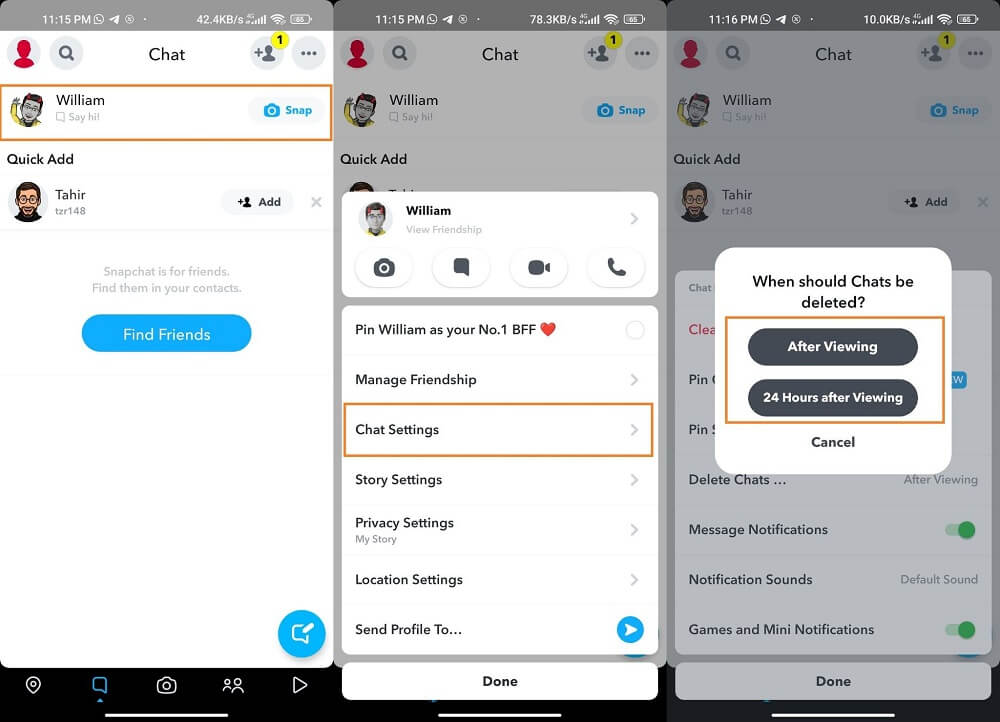 Part 6: Hot FAQs About How to Delete Snapchat Messages
Q1: How to delete saved messages on Snapchat?
Messages you've saved don't expire, so you can delete them manually. Just tap and hold the message you want to unsave, and a pop-up appears. Just select "Unsave in chat". You can now delete the message manually as described above, or leave it to delete automatically based on your settings.
Q2: How to recover deleted Snapchat messages?
Though Snapchat will delete the messages after a certain period of time, you can get a copy of them if they are important to you. To do that:
1) Go to your Snapchat profile and open the settings menu.
2) Tap the "My Data" tab, then log in to your account.
3) Next, scroll down a bit and click on "Submit Request".
4) Once your request is approved, you will get your messages back.
Q3: How to delete Snapchat messages without them knowing?
Snapchat takes the privacy of its users seriously. You can't delete messages without the other person knowing - even if you try to secretly take a screenshot or save a message, the other person will be notified immediately.
Q4: If I delete my Snapchat account, will it remove my messages?
Deleting your Snapchat account doesn't mean all of your messages or snaps will be deleted. It will only remove your profile and personal information from Snapchat's servers. It is also important to remember that Snapchat won't delete any snap sent until the recipient opens it or it expires.
Q5: If I block someone on Snapchat, will it delete our conversation history?
Blocking someone on Snapchat won't delete your conversation history, but it will only prevent that person from sending you messages or snaps. All previous saved messages or snaps will remain intact.
Q6: How to see deleted messages on Snapchat?
The best and most effective way to see deleted messages on Snapchat is to use a professional monitoring tool like FamiGuard Pro for Android. It lets you track Snapchat messages sent and received by your target, even if they've been deleted. The app works in completely stealth mode, so the person being monitored won't know that you're keeping an eye on their activities.
Conclusion
Deleting Snapchat messages is a fairly simple process. Whether you want to delete a single message from one person or clear an entire conversation thread, the above steps will help you do that with ease.
However, If you want to keep an eye on your loved one's Snapchat activities, then FamiGuard Pro for Android might be the solution you need. It enables you to see deleted Snapchat messages and monitor their conversations.
So, why not give it a try today?
You may also be interested in:

By Tata Davis
professional in software and app technology, skilled in blogging on internet
Thank you for your feedback!