Kik allows users to enjoy a more private and anonymous experience than other similar apps like WhatsApp. This has made the app very popular among teenagers.
But the same privacy and anonymity can also be a double-edged sword for parents, who may find Kik's privacy features to be a cause for concern.
If you're also worried about your child's Kik use, you may be wondering how to delete Kik account. Here, we'll show you step-by-step how to do just that.
Table of Contents
Part 1: How to Delete Kik Account Permanently
Deleting a Kik account permanently means you will no longer be able to log in or use the app again in the future. Doing that will also stop you from getting Kik messages or emails and your username/profile will not be accessible by anyone.
Follow these steps to permanently delete a Kik account:
Step 1: Go to the Kik account deletion portal by using any browser.
Step 2: Enter the Kik username & email in the fields provided.
Step 3: Give a reason for leaving Kik and tick the box. Click "Go."
Step 4: Click "Permanently Deactivate" in the email you received.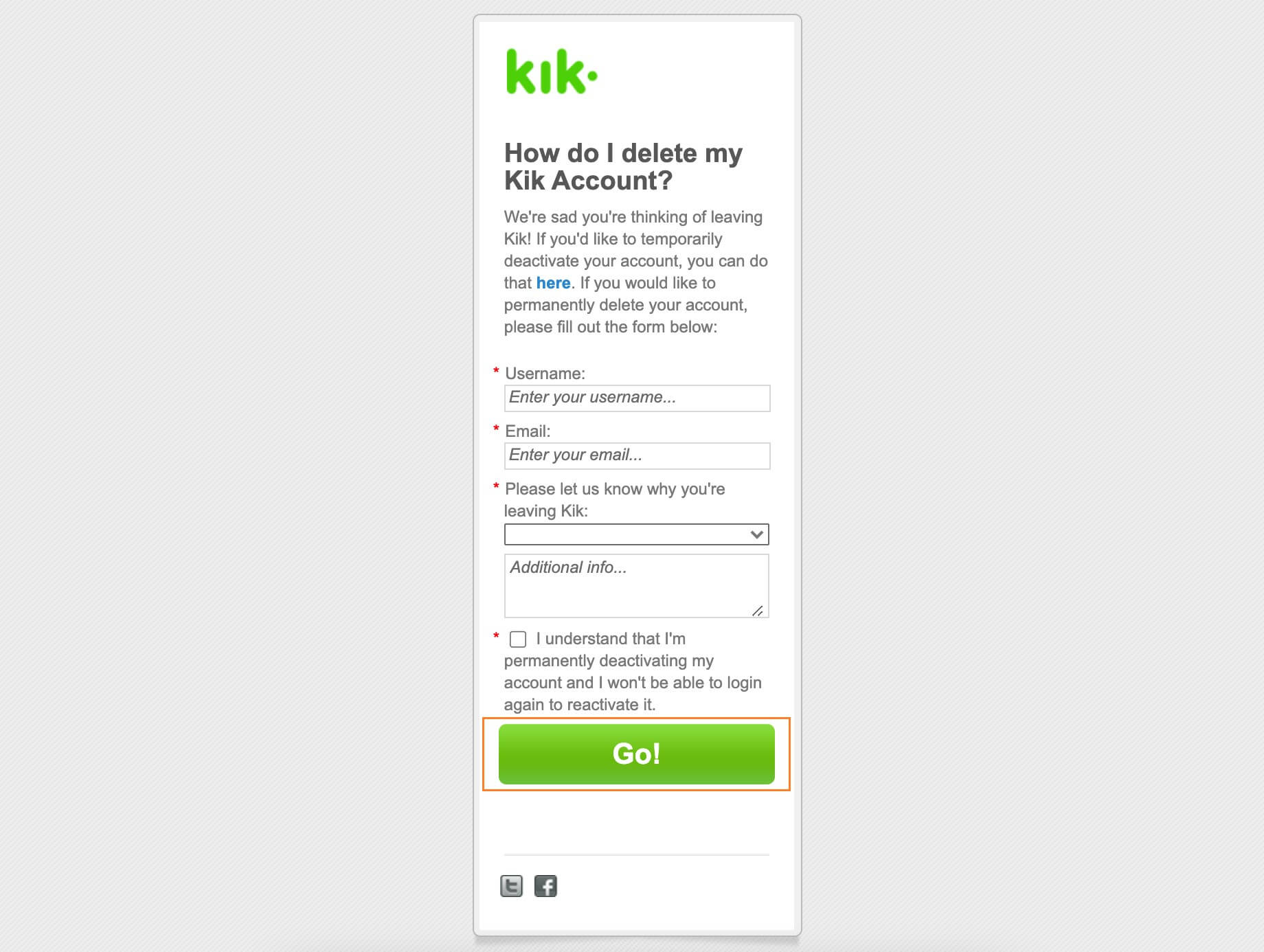 Part 2: How to Deactivate Kik Account
Sometimes, users may want to take a break from Kik without deleting their account permanently. Deactivating the Kik account will make it inaccessible for a period of time, but it can be easily reactivated by logging back in with the same username and password.
Here's how to deactivate Kik account:
Step 1: Go to theKik account deactivation portal.
Step 2: Enter the email associated with Kik account.
Step 3: Click "Go" and check the inbox for an email from Kik.
Step 4: Click the link in the email to deactivate Kik account.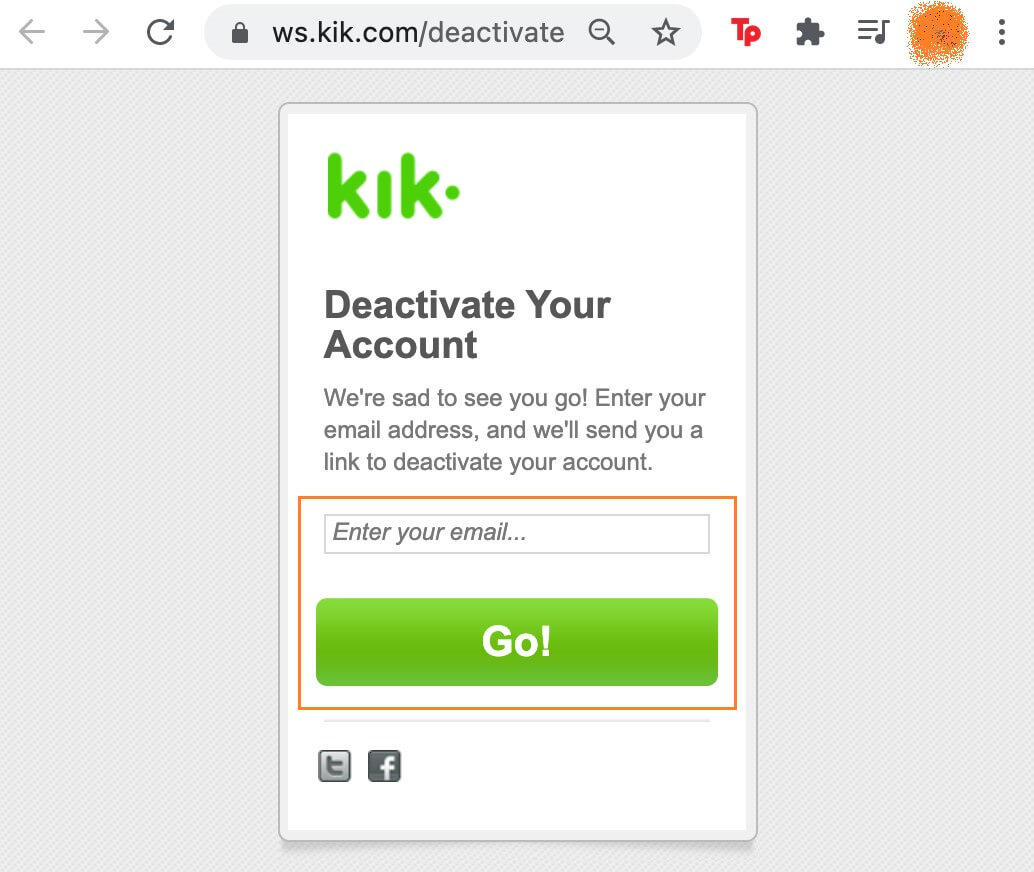 Part 3: How to Deactivate or Delete your Kik Account Without Email
If you don't have access to your child's email account to verify the deactivation or deletion process, then you can contact Kik support to request account deletion.
Simply send an email to Kik's safety department at safety@kik.com with "Parent Inquiry" in the subject line. The email should include your child's Kik username, age, and explanation of why you're requesting account deletion.
Kik customer support will then get back to you with further instructions on how to proceed.
Part 4: How Can I Delete Kik Messages?
While Kik automatically deletes old messages after you reach the maximum limit, but there may be some messages you want to delete manually before that happens.
Deleting Kik messages is a simple process. Just follow these steps:
Step 1: Open the chat. Select which messages to delete.
Step 2: Long press on it and then tap the "Delete" button.
Step 3: To delete an entire chat, tap on the person's username and hit "Delete Chat."
Part 5: How to Monitor my Child's Kik Account?
If you're concerned about your child's use of Kik, a better alternative than just deleting the account is to monitor their activities with a parental control app like FamiGuard Pro.
FamiGuard Pro for Android lets you keep a close eye on your child's Kik activity, including who they're texting and when, what kind of messages they're sending, and all the exchanged media files.
To monitor your child's Kik account, follow these steps:
Step 1: Sign up for a FamiGuard Pro account and go to the "Setup Guide" page.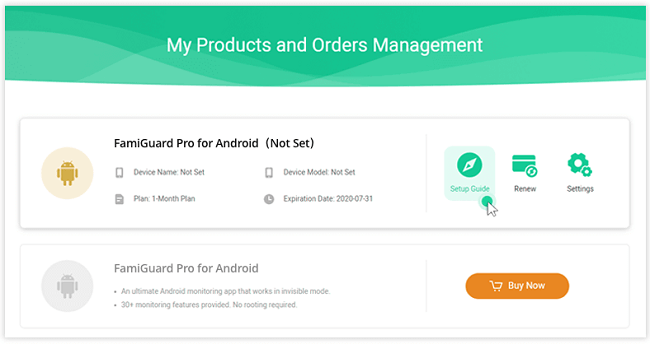 Step 2: Follow the instructions to get the app installed on your child's device.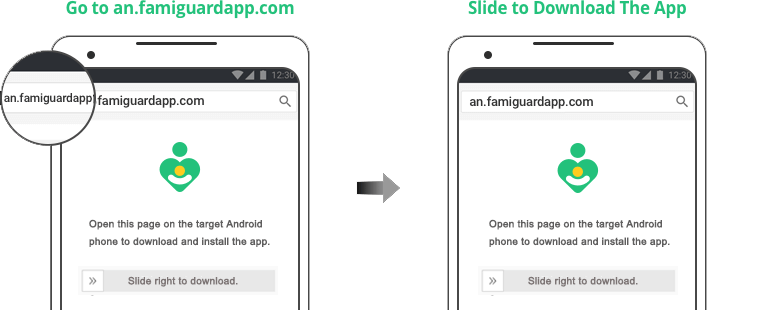 Step 3: Log in to your FamiGuard Pro online dashboard and start monitoring.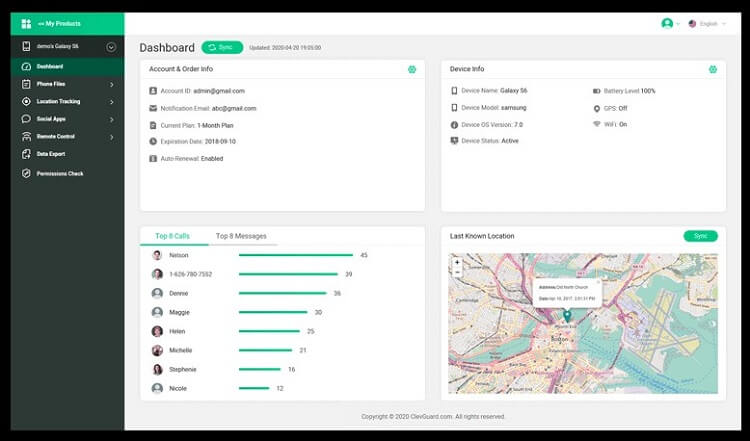 Conclusion
To wrap up, if you have followed the steps mentioned above correctly, both deactivating and deleting a Kik account is very easy to carry out.
However, if you want to keep an eye on your child's Kik activity without having to delete the account, we recommend using FamiGuard Pro for Android. It makes it very easy for parents to monitor their child's activity and view all Kik messages remotely - without them knowing.
Try it Now!
You may also be interested in:

By Tata Davis
professional in software and app technology, skilled in blogging on internet
Thank you for your feedback!