Instagram is more than a photo-sharing app - it's also become a go-to platform for instant messaging. Every day, millions of Instagram users exchange messages through the app - whether it's between friends, family or business contacts.
However, as with any messaging service, you may want to delete certain messages at some point. Maybe you sent them to the wrong person or they're no longer relevant. Whatever the reason, deleting Instagram messages is simple.
In this article, we'll show you how to delete Instagram messages individually or entire chat conversations in a step-by-step (and easy) way.
Table of Contents
Part 1: How to Delete Entire Conversations on Instagram
You can delete an entire conversation with a particular person on Instagram - meaning you don't have to delete each message individually. Deleting the entire conversation will remove all of your and your friend's messages from your side.
Beware, though: Messages history won't be deleted from the other user's side. But if you're looking to clear your chats screen, this method may work for you.
1. For Mobile
The procedure for deleting a conversation on Instagram on both Android and iOS devices is the same, although the screenshots below come from the Android version.
Step 1: Tap the Direct Message icon (airplane) in the top right corner of your Instagram feed.
Step 2: Tap on the conversation you'd like to delete and hold it until a pop-up menu appears.
Step 3: Select "Delete" from the menu and the conversation will be deleted immediately.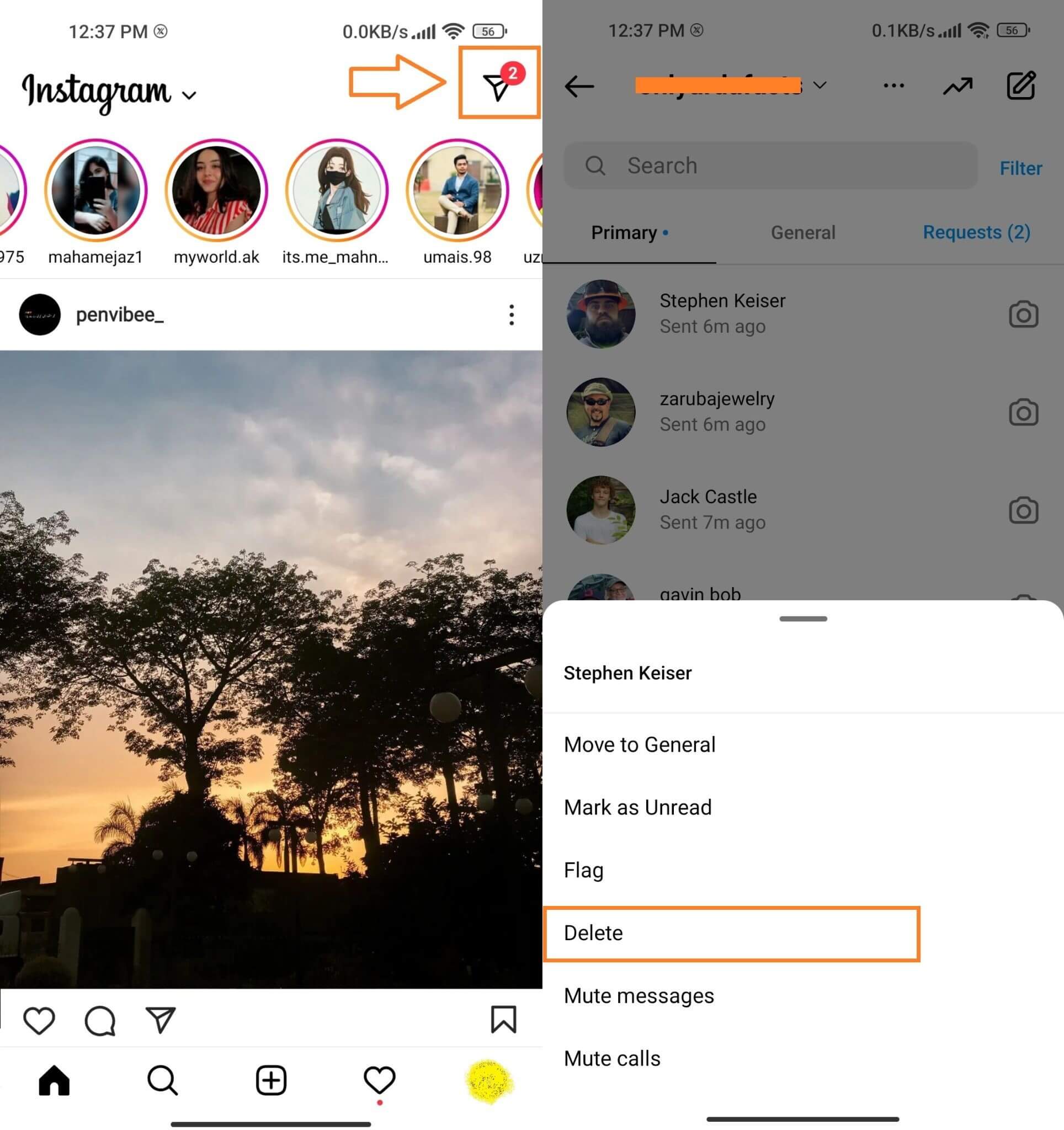 2. For PC
For those using Instagram on PC, the steps are the same for all operating systems. Whether you're using Windows, Mac, or Linux, you can delete an entire conversation on Instagram with these steps.
Step 1: Log in to your Instagram account at Instagram.com.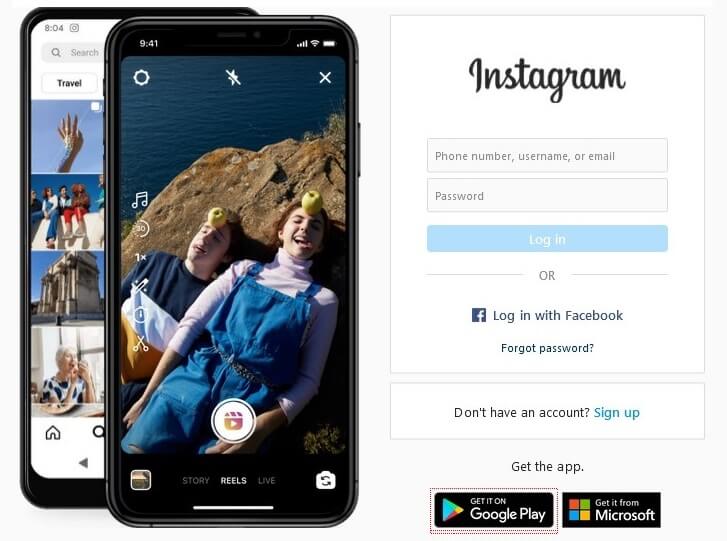 Step 2: From the left menu, click on the "Messages" option.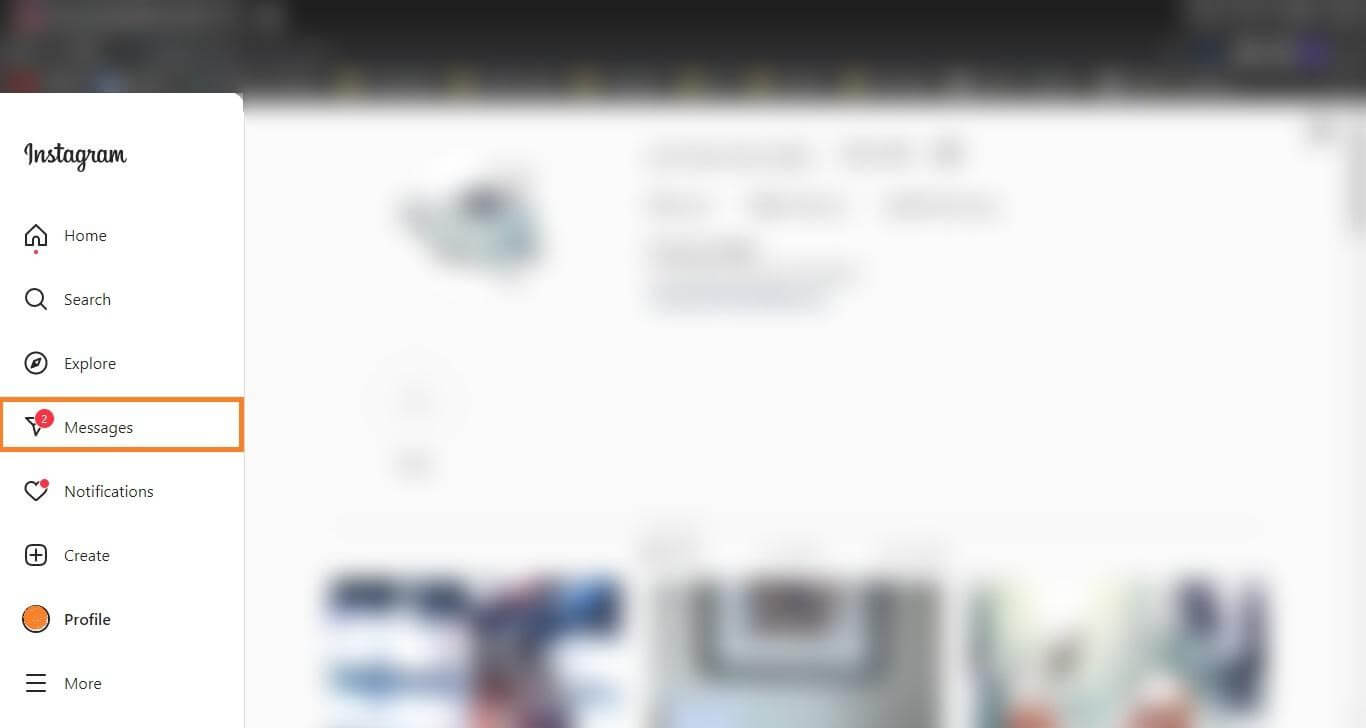 Step 3: Go to the conversation and click the Information(i) icon.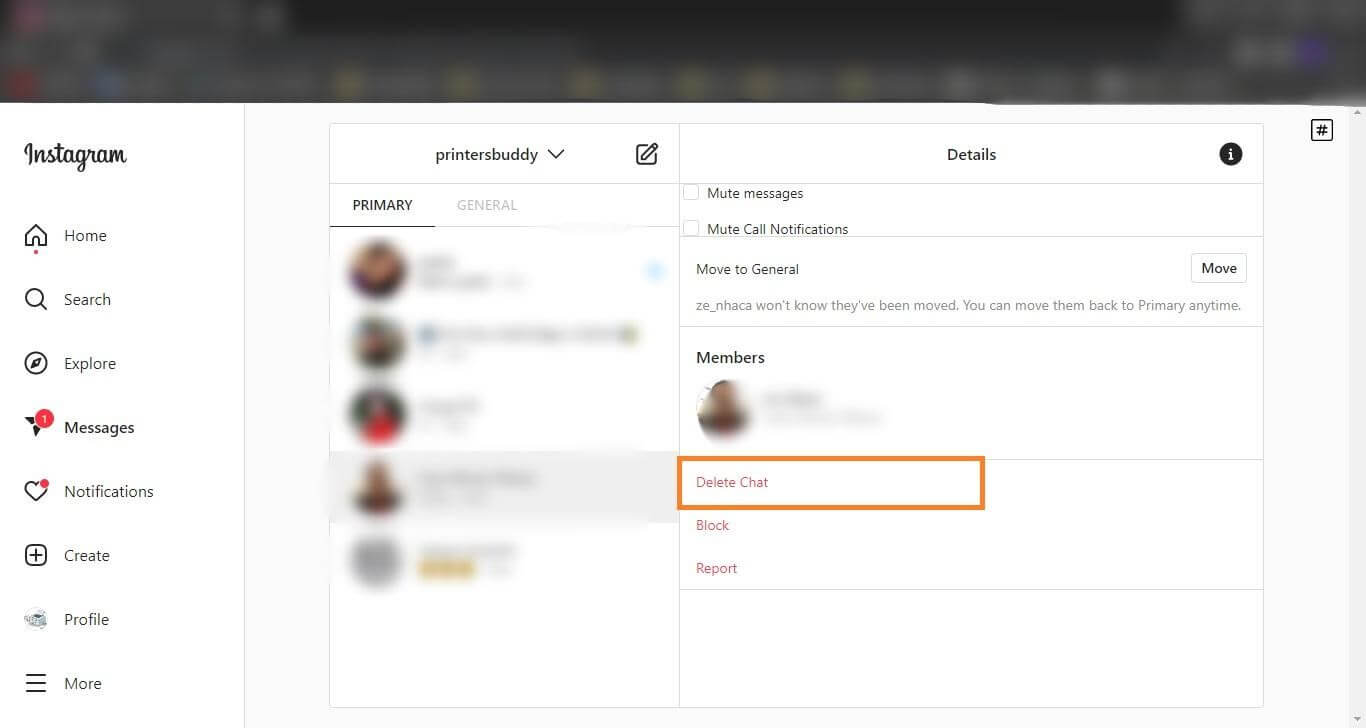 Step 4: Select the "Delete Chat" option and confirm your action.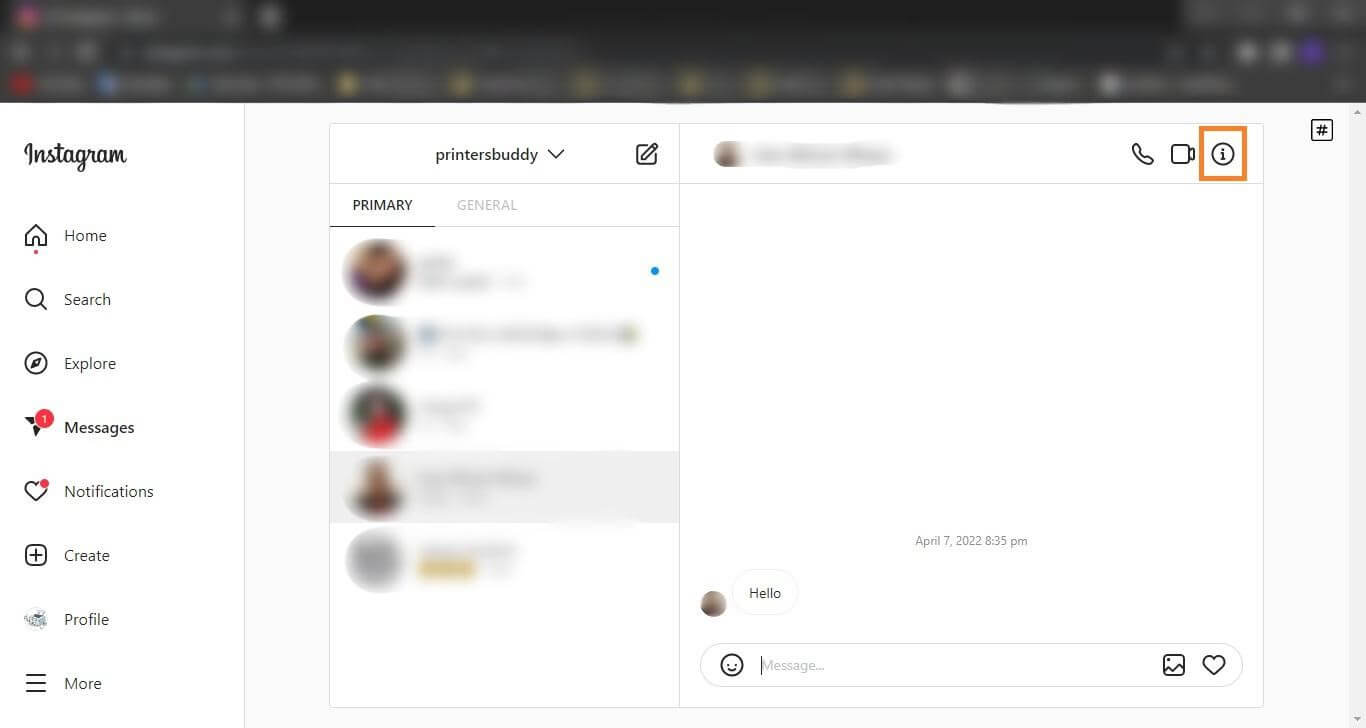 Part 2: How to Delete Messages on Instagram from Both Sides
Sometimes we want to remove a particular message from a conversation and not the entire thread. Fortunately, you can do this using the "Unsend" option. This will delete the message from your side and also remove it from the other user's chat.
However, this option will only delete the messages you have sent, not the ones received. For that you will have to ask the other user to unsend it.
Step 1: Go to the conversation from which you want to delete a message.
Step 2: Tap & hold the message you want to unsend until a pop-up appears.
Step 3: From the pop-up window, select "Unsend" to remove the message from both sides.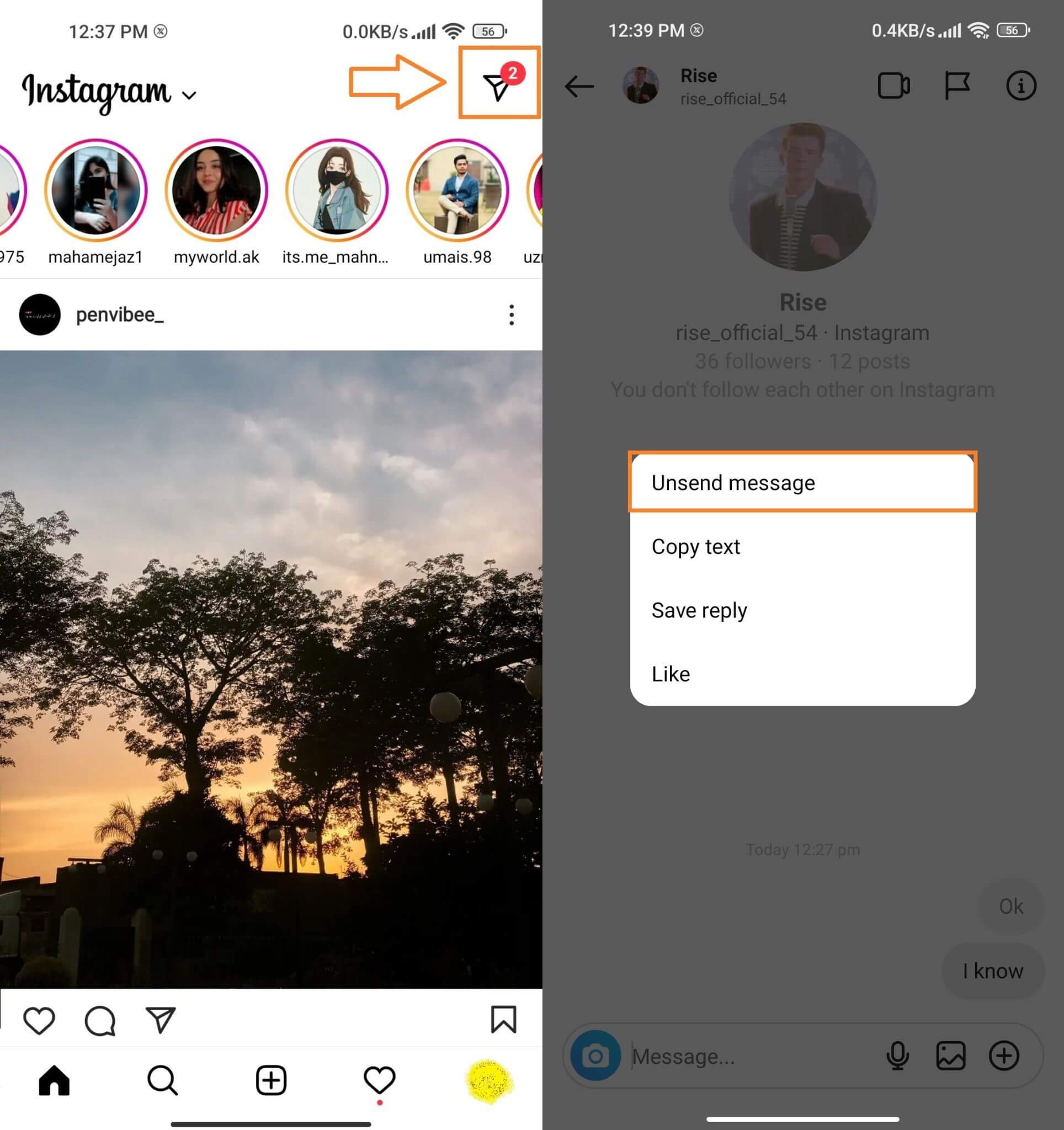 Part 3: How to View Deleted Messages on Instagram?
Deleting a message on Instagram is as simple as sending one, but you can't get those deleted messages back. There's no built-in feature in the app that allows you to view deleted messages.
So if you want to clear the Instagram messages in your phone to free up storage, but also want to keep some precious conversations. Using FamiGuard Pro for Android is the best solution.
What is FamiGuard Pro for Android
FamiGuard Pro is a mobile monitoring and back up solution that lets you keep track of your target phone social media usage. What's more, you can view deleted messages from social media apps, like Instagram, Whatsapp, Snapchat, Facebook as well as monitor calls, texts, and web history.
The app can be installed on almost any Android device and bulit in Kyelogger features. It helps you record everything from your phone's keypad, including those messages you delete. That way, you can view the delete instagram message easily.
How to Use FamiGuard Pro for Android to View Deleted Instagram Messages
Here's what you need to do:
Step 1: Visit the FamiGuard Pro website and sign up for an account. Choose from a monthly or annual subscription plan.

Step 2: On the Orders page, click "Setup Guide". Follow the instructions to install and setup the app on targets's phone.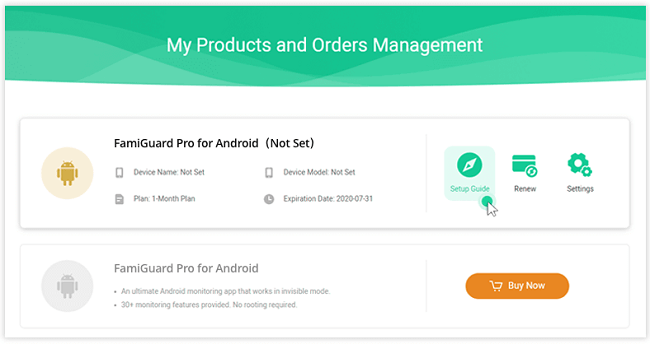 Step 3: Visit the FamiGuard Pro online dashboard from any computer. Select Instagram from the "Social Apps" tab. Start monitoring!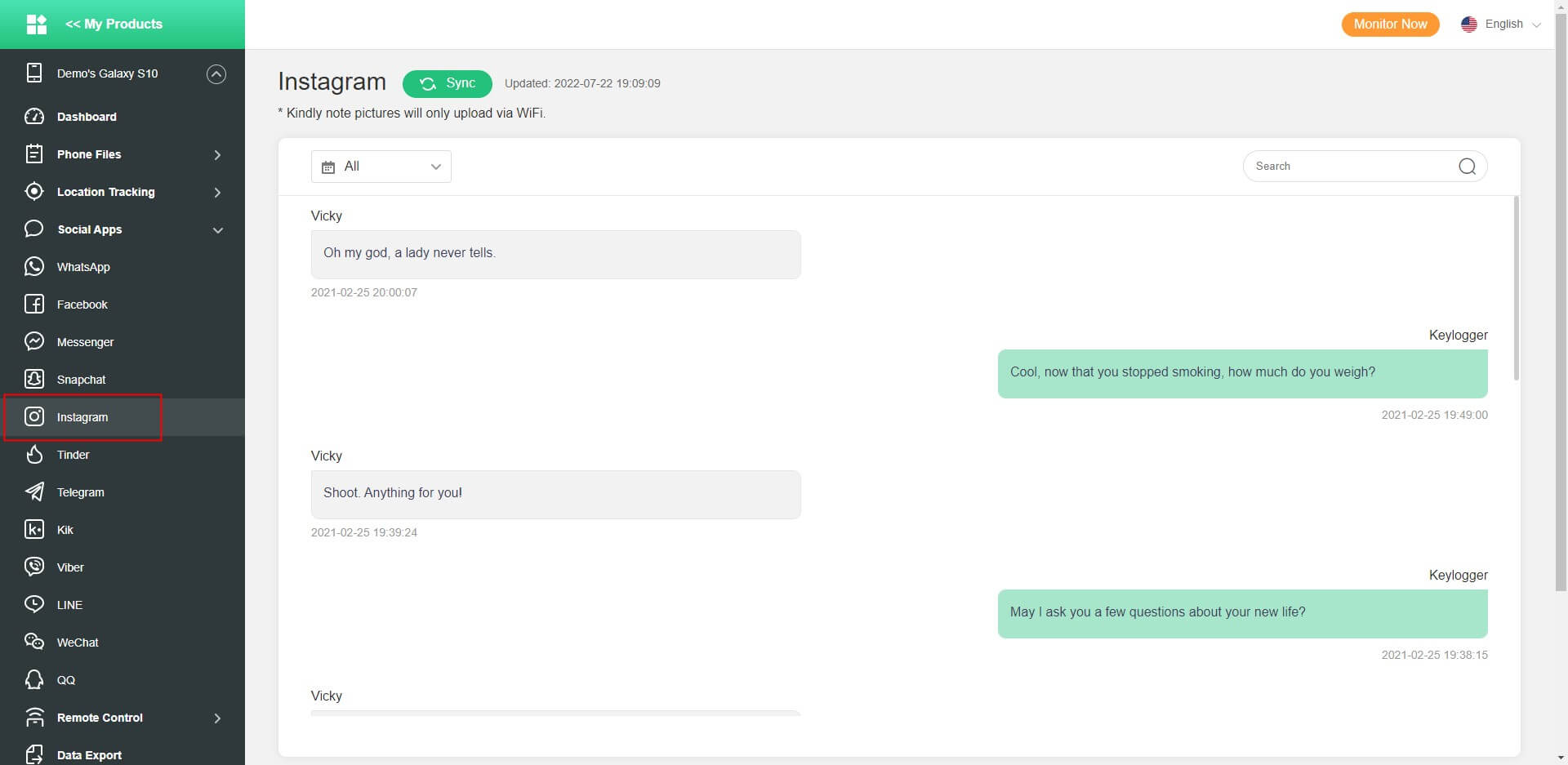 Part 4: Hot FAQs About How to Delete Instagram Messages
Q1: Can you delete all messages on Instagram once?
Unfortunately, there is currently no way to delete all of your Instagram messages at once. However, you can delete individual messages by using the "Unsend" option or you can choose to delete the entire conversation altogether. Additionally, you have the option to choose multiple conversations to delete them all at once.
Q2: Can the sender unsend others' messages on Instagram?
You can't unsend a message you have sent. This feature only works for messages that you sent yourself, not messages you received from someone else. However, if the person who sent the original message wants to unsend it, they can do so at any time.
Q3: How to delete your own individual messages on Instagram?
Deleting individual messages on Instagram is straightforward. Just go to the conversation and tap & hold the message until a pop-up menu appears. From there, select the "Unsend" option and the message will be deleted from both sides instantly.
Q4: Does blocking someone on Instagram delete messages?
Blocking someone on Instagram will not delete any messages in your conversation with that person. You can still see their old messages in the inbox, but you won't be able to send them any new messages nor will they be able to send any more messages to you.
Conclusion
How to delete Instagram messages is pretty simple. You can either use the "Unsend" option to delete a particular message or remove the entire conversation.
You can also give FamiGuard Pro for Android a try. It's a reliable phone tracking solution that will allow you to monitor your loved ones' social media usage, view any deleted messages on Instagram, and a whole lot more.
Give it a try and see the power of this amazing app!
You may also be interested in:

By Tata Davis
professional in software and app technology, skilled in blogging on internet
Thank you for your feedback!