Nowadays our day to day lives are mostly dependent on the internet but getting access to internet will also mean access to some very distracting contents that may or may not be directly responsible for distracting you from your wok or studies. But such problems are growing day by day affecting the lives of the children who are mostly focused on social media sites, or downloading movies from proxy sites or worse visiting adult sites. So, if you are going through such turmoil you can get professional help to calm you mind and focus on your studies
But if you have the dedication, you can do it all by yourself with the help of specifically designed programs. These are website blocker for studying, upon activation they block the distracting content or the websites themselves and lets you focus on your work. We have compiled a list of such website blockers, they are detailed below.
1. FamiGuard
FamiGuard gets the top place as one of the best website blockers we have ever encountered. This one is very suitable for kids if you are looking for a website blocker for studying. Introduced as a parental control app this app comes with many respectable features which are loved by both parents and their kids.
Pros

Blocking regulations are very strict and effective, fit for students.

Blocking web pages that distract you from your studies.

Blocking apps other than those used for study.

Set the time to lock your screen to prevent you from using your phone during your studies.

Real time location tracking and geofencing are also available.

Get reports of web browsing history of target device.

A 3-day trial period is available where all the features are included.
Cons

This app is only available for Android devices.
Price
You can spent only $4.16 monthly for 1-year plan with unlimited parent devices, then you can enjoy all premium features to parental control your child's device.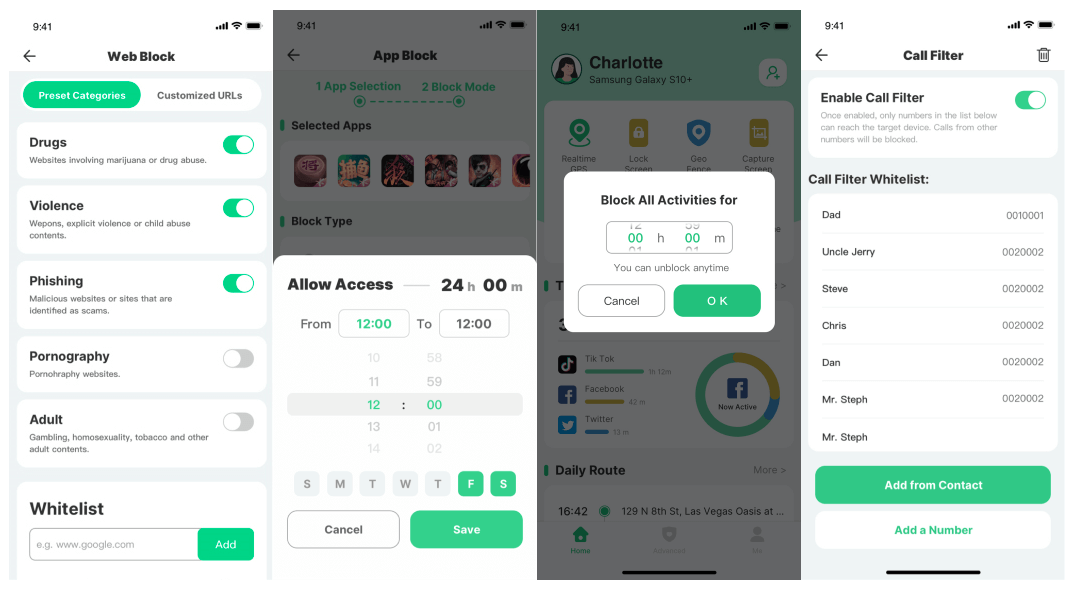 2. Cold Turkey Blocker
Among other things Cold Turkey Blocker is an ideal best website blocker that is easy to use and provides utmost support for your dedication to your studies. This is also a cross-browser website blocker that is available on both MacOS and Windows.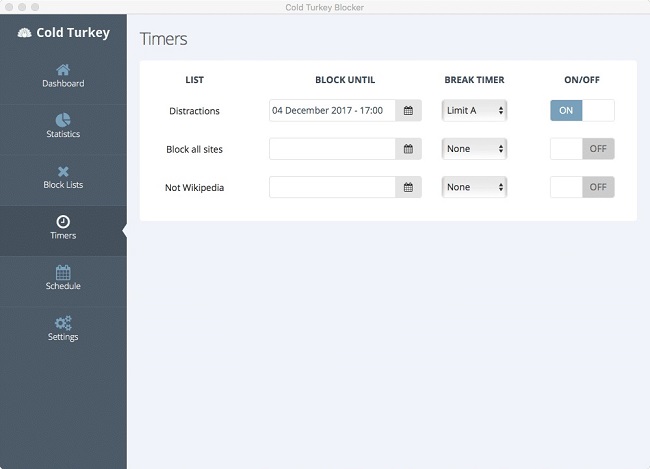 There is a free version of this blocker available which will let you to add multiple websites to the block list and then you will be able to use the timer to get started. After the timer gets started you won't be able to go back even if you want to.
Pros

It can lock and block various contents.

You won't be able to uninstall the blocker after the timer is on.

You can add 3 block lists with the 3 other predefined lists that are already available. Which are distractions, adult sites and proxy sites.

If you apply a block it will be applied to all your browsers including Chrome, Safari, Firefox etc.

A statistic will also be provided where you can watch all your major time wasting interests like apps and games.
Cons

This blocker can't be used on iOS devices.

There is a version available for Android devices but that is pretty basic, blocks everything.
Price
There is a basic version available for free but the pro version will cost you $25 (CAD).
3. Block Site
Another excellent website blocker is Block Site. This one is available on Android and on Windows but only as an extension to Chrome and Firefox. You can use this blocker to block websites with its Work Timer.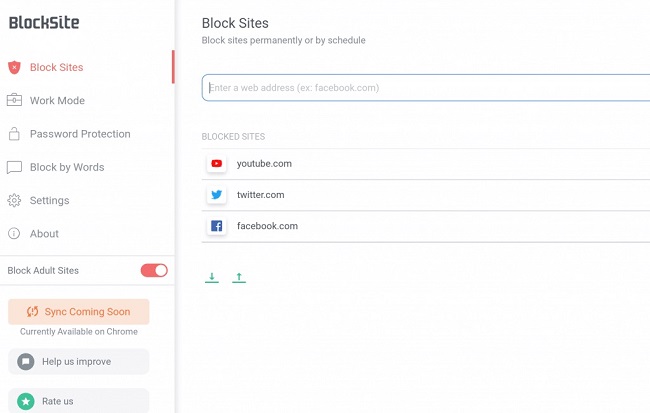 One of the most efficient and unique feature is its ability to block Adult Websites with just a click. Still, its protocols can be easily circumvented as it is only an extension on Windows.
Pros

You can easily schedule website blocks to focus on your study.

Adding a password, making a white-list or block certain contents are also available for free.

You are also capable blocking adult websites with just a click. This is its most unique feature.
Cons

The Windows version only comes as an extension to Chrome and Firefox so it can be easily bypassed.

No statistics are provided to show you where you spend time the most.
Price
A free version is available but purchasing the Silver version with $12 will be most suitable.
4. SelfControl
The website blocker known as SelfControl is only available for MacOS. But it is a very simple website blocker, easily operable. Most of the blockers blocks websites using the extensions but this one uses the host files to block them which is very effective.

Using the host file also means that the block is related to the system and it will affect all the applications on your computer.
Pros

This is a very simple user-friendly website blocker.

It provides a system level block which works on most of the browsers.
Cons

Only available for MacOS.

Unfortunately, getting around the block is pretty easy, just change the time or restart the Mac.

There are any advanced features available like statistics or password.
Price
Available for free but only on Mac.
5. StayFocused
StayFocused may not be the most popular website blocker extension but no one can deny its effectiveness. It has several features and you can even apply the Nuclear Option. Using this option will mean a complete block on the internet but not permanently.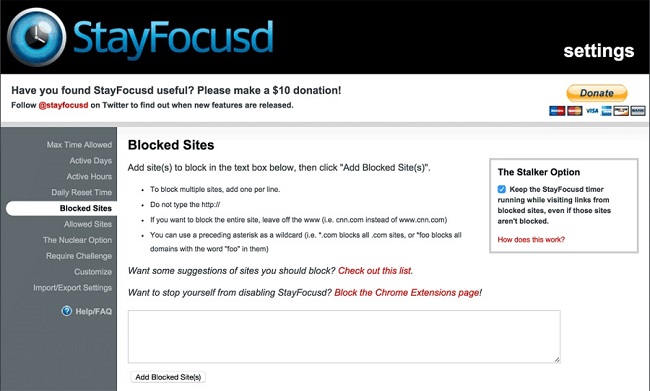 During the Nuclear Option you can also provide a list of exceptions and those websites will not be blocked. Its next unique feature is visiting the blocked websites if there is an emergency but you have to write a long paragraph for that.
Pros

You can use this blocker to schedule blocks.

There is a daily time limit feature and you already know about the Nuclear Option.

You can also block the Chrome extension page to make bypassing the block even harder.

Finally, you can get around the block in case of any emergency by writing a paragraph.
Cons

You will be able to use it only on Chrome, which means getting around is pretty easy.

No mobile version available.

There is no statistical page to provide insight on you usage.
Price
Available for free on Google Chrome.
6. FamiSafe
FamiSafe is another great website blocker with a lot of potential. It is also a parental control application packed with features. It is capable of blocking websites and other distracting contents on the internet to keep you focused on your studies.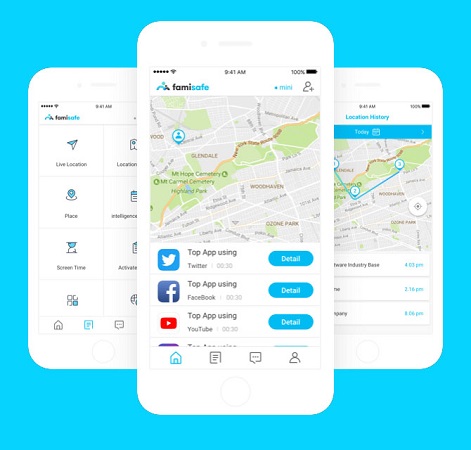 Simply, install and run this app and it will keep away all the distractions and let you focus on your work.
Pros

It helps you concentrate on your studies by blocking distracting websites.

Prevents cyber-bullying.

Also capable of monitoring other mobile devices.

Works on both Android and iOS devices.
Cons

A 3-day trial period is available but features are limited.
Price
You can purchase it with $9.99 for a month, there is 12 month package where you only have to pay $4.99 for each month and the 3 month package will cost you $6.66 each month.
7. LeechBlock NG
The LeechBlock NG works as a Firefox add-on and Chrome extension; so, it is a good news for Firefox and Chrome users. Its working principle is very similar to StayFocused. Still, it is full of features, the user-interface can be a bit intimidating but it is very useful as a website blocker for studying.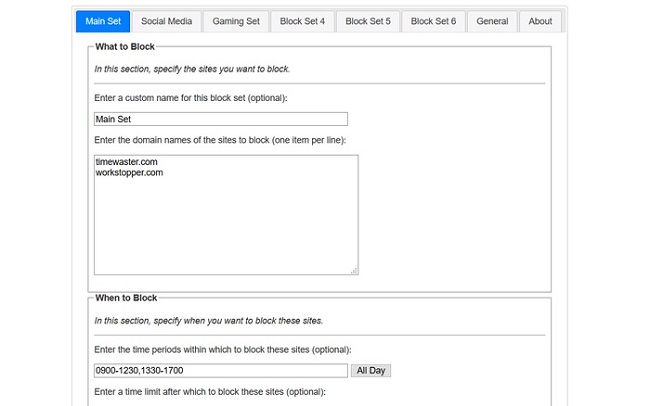 The developer stuffed this blocker with a lot of features that can effectively block websites so that you can focus on your studies.
Pros

Unlike other blockers, the free version of this blocker is packed full of features. You will be able to create multiple block lists, daily time limits, scheduling etc.

You can also block the add-on page in order to make to harder to circumvent the block when you are using Firefox.

Override is available. You just have to type long complicated code to access the block site temporarily in case of emergency.
Cons

It is unfortunate that LeechBlock NG is only capable of running on Chrome and Firefox if you are using Windows. Basically, it makes avoiding the block easier.

There is no statistical page to show you how much time you spend on which websites.
Price
Available for free on Mozilla.
8. FocalFilter
FocalFilter works similarly to SelfControl but only for Windows computers. The working principle is very similar, a simple and user-friendly interface that can be easily be operated. This blocker also uses host files to block the websites.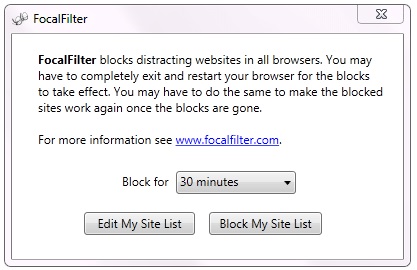 Just like the previous blocker before, using the host files means a system-wide block effective on all the applications on your computer.
Pros

A very simple interface and minimalistic design that is easy to use.

Creates a system wide block that works with all type of browsers.
Cons

This blocker only works on Windows.

It is possible that you might run into some type of issues while blocking websites on Windows 8 and Windows 10.

You can easily bypass the block by editing the host file.

No advance functions like statistics, white-list or scheduling are available.
Price
Free for Windows.
9. Zero Willpower
Zero Willpower is a potent website blocker for studying. This is a very effective website blocker that helps you to concentrate on your studies but only available on iOS devices.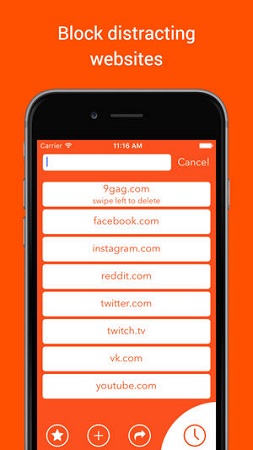 Any user can get this app from the App Store, install it and then create a list of distracting websites and set a time limit.
Pros

A very effective website blocker.

The simple interface makes it easier for the users to operate.
Cons

It blocks only websites not the apps.

Only compatible with Safari browser.
Price
This app is available for $1.99 at the App Store.
10. WasteNo Time
WasteNoTime is actually a browser extension that is available for free. This extension is compatible with both Safari and Chrome browser.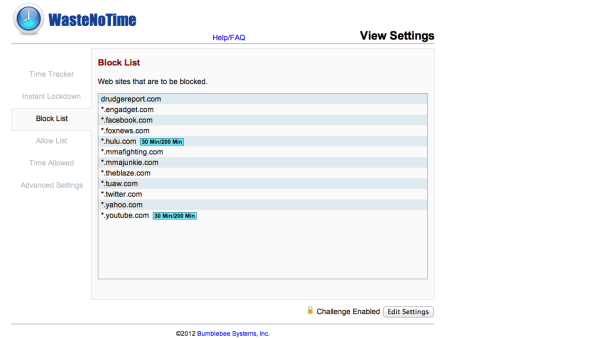 Simply, stating using this extension you can easily block any distracting websites form your browsers.
Pros

This is available for free.

Capable foe tracking online time of the users.
Cons

As a browser extension it does not run by default.

As it is an extension, the block protocols can be easily bypassed.
Price
This is available for free to all the users.
Conclusion
This is our complete list of effective website blocker for studying. Yes, you will find lots of other blockers on the internet but they won't be as effective as these 10. But we are not claiming that these ten are perfect, they have their strengths and loop holes which makes the blocking protocols ineffective from time to time but we would recommended you look into the FamiGuard website blocker. It is one of the best and has an exclusive follower base. Go for it!
You may also be interested in:

By Tata Davis
professional in software and app technology, skilled in blogging on internet
Thank you for your feedback!