The smartphones have made our lives much easier, from paying bills to booking a restaurant to choosing your favourite apartment; anything can be done with it. But it also made us too dependent on that particular gadget. Now, like adding fuel in the fire, the addition of numerous apps made things even worse. We are completely dependent on it and literally addicted! And that is something which needs to be controlled and practiced differently. And in this article we are here to curb that by introducing various time lock apps and why you need it.
Table of Contents
Why We Need Time Lock Apps
Smartphone addition is very serious, it can damage your personal and even professional live. And these days kids are also getting introduced to this at a very early age so that will definitely need well-balanced supervision to shape their future properly. Too much screen time can have harmful effects on us and our children. Here are some detrimental effects:
During the stage of growth which is effectively 2 to 5 years from birth, a child's brain and body experiences exponential development and too much exposure to screen time can cause distraction and ultimately your kid can detract from important social interactions.

With continuous exposure, it can cause language delays, obesity, attention problems and even sudden unwanted aggressive behaviour, if the content is violent in nature

Sleep disruption, poor attention, and other health problems can pick up pace. Other than that, continuous blue light consumption from screen time can also damage eye-sight if not reduced right now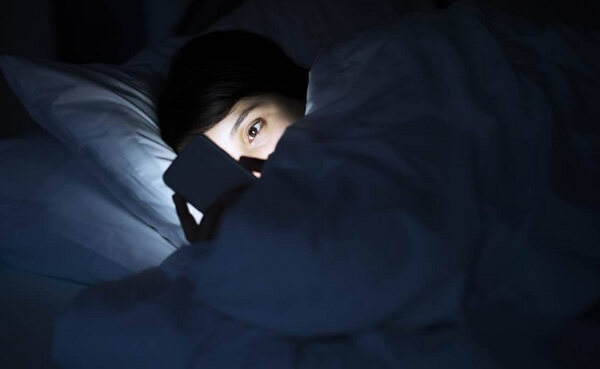 So, may it be your smartphone addiction or to stop your child misusing the smartphone altogether, time lock apps will make a great difference.
These great apps are very strict and they will not let you use the entire device or specific apps that you are addicted for the set amount of time. There are so many apps available and we took the privilege of making a list of our top picks for a good time lock app. Here are our recommendations;
7 Time Lock Apps to Curb Screen Addiction
1. FamiGuard
FamiGuard is a genuine parental control app packed with powerful features and the most important one is the timer lock. It is a feature of screen time limiter and in this field FamiGuard does a great job as well.
FamiGuard allows you to set screen time, pause phone usage, limit app usage and more. Here is a closer look at its screen time limiting feature:
FamiGuard is capable of controlling the app usage time. Just set a fix time for apps and games to be used and once this time limit is passed the app will be disabled. You don't even have to touch the device to do it. In addition, rarely apps are equipped with app management features. This is a very simple but effective feature. There are actually two basic app categories; games and social media. But with app management feature you will be able to make your own category and manage them systematically.
FamiGuard has the capability to instantly pause phone usage and lock the device in order to prevent any further usage. It can also help setting a fixed screen time limit, that will help prevent any form of excessive screen time consumption. Once the limit is crossed, it will automatically prevent your kid from using the device.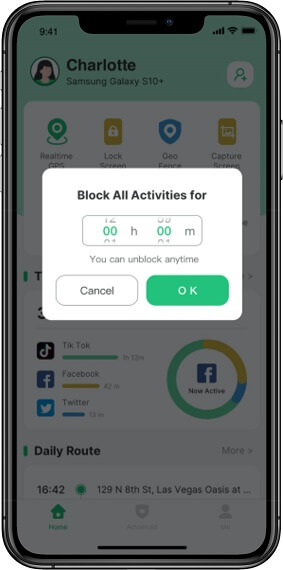 There are several benefits of using FamiGuard as your go to time control app. Let's have a look;
1. Stay Focused
First of all, this specific feature of this app will help you to stay focused on your work or studies. Unnecessary distractions like apps and games will be blocked by this app for that duration.
2. Healthy Life
With the help of FamiGuard, your kids will have limited screen time usage and thus they can concentrate on other important things like outdoor games, social family functions and gatherings etc.
3. Education
After controlling app usage time, you can encourage your kids with fun educational apps. These apps will be great for their up-bringing.
Price
ScreenTime will cost you $9.99 each month.
Support
Supports both Android and iOS devices.
2. AppDetox
AppDetox is very a unique time lock app for Android. It lets you to set up restriction on certain apps. You will be notified if the set time limit has reached, and you can do whatever is necessary after that. It also comes with a very plush and simple interface, which provides a very satisfying experience.
Features include:
Detailed information on your usage of apps

App limiter is obviously available, including an app activity tracker

Provides a detailed report and log all the usage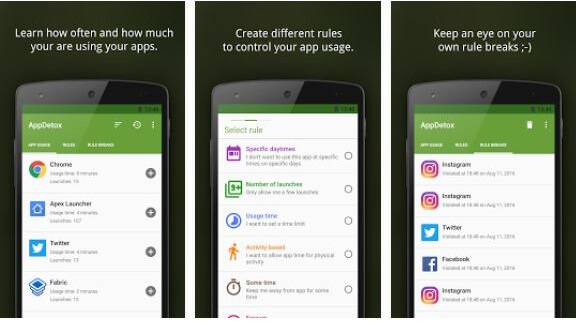 Price
AppDetox is available for free.
Support
Supports only Android OS.
3. OurPact
One of the most effective screen time lock apps of all time is OurPact. Considering its Price, it provides great support as the app is capable of tracking not only App usage but also keeping you informed with frequent notifications about the target device.
Here are its features:
The web access can be blocked or it can be time restricted

Remote granting feature available for children

You can customize the app restriction times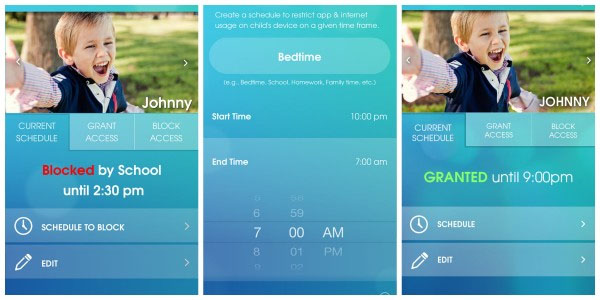 Price
OurPact will cost you $6.99 each month of use but a free version is available which doesn't come with screen time feature.
Support
Supports both Android and iOS devices.
4. FlipD
FlipD is a proper distraction blocker that can prevent your kid from excessive phone usage. It can help to stay focussed and attentive. Its other features involve restricting the mobile usage by remotely shutting it down.
This app has other features as well:
Comes with an auto-reply setup

It is possible to turn off mobile remotely

You will be able to control your kid's phone by this single app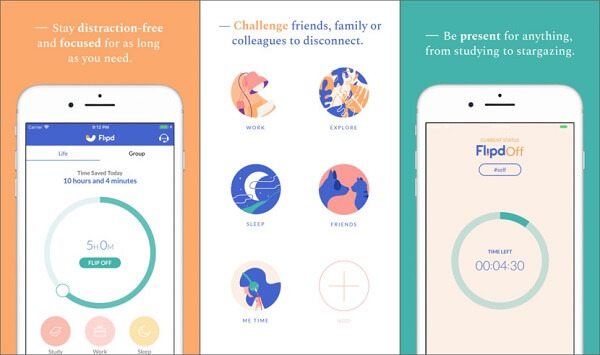 Price
FlipD is available for free.
Support
Supports only Android devices.
5. Moment
You must not be surprised to see Moment on this list; it is one of the most popular screen time apps. You can use it track the usage of the entire device daily; all the detailed logs are listed and provided to you. You also have the capability to add a family member or a friend and track their device usage.
Let's have a look at its features:
You can set a customize time blocking routine

Your app usage report will be provided in details

Several other type of time restrictions are available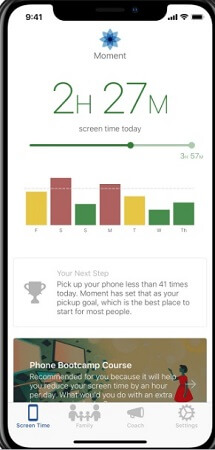 Price
Moment won't cost you anything.
Support
Supports Android and iOS devices
6. ScreenTime
ScreenTime is another good example of an exceptional time limiter app.
This app is ideal for users of different age groups. As the name suggests, this app can track app activity and mainly emphasizes on minimising the screen time by setting time limits, instantly pausing activities, setting schedules, and controlling app usage etc.
Here are its features:
Exceptional time management settings

You can stop phone activity any time you wish

There is a task and reward feature

The time limiter can be customized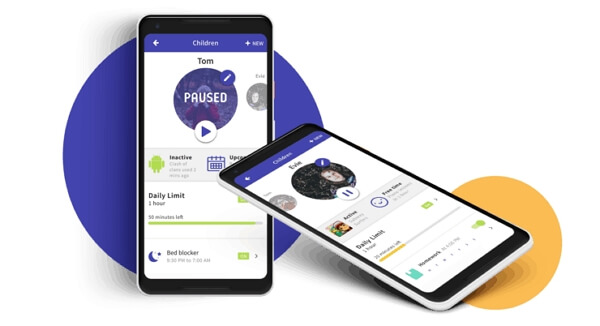 Price
ScreenTime will cost you $4.99 each month.
Support
Supports both Android and iOS devices.
7. Famisafe
Famisafe is an exceptional parental control app. Among its other capabilities, applying a screen time lock on target device is one of the best. When it first came to the market, Famisafe awed the users with its world-class monitoring and tracking features. Exceptional, accurate and extremely easy to use. Famisafe even has the capability to restrict access to specific apps with one-click.
Its features include:
Tracking of social media and other general apps

Detailed activity tracking like how long the device is used

Time based restriction feature

Block access to any or all on the device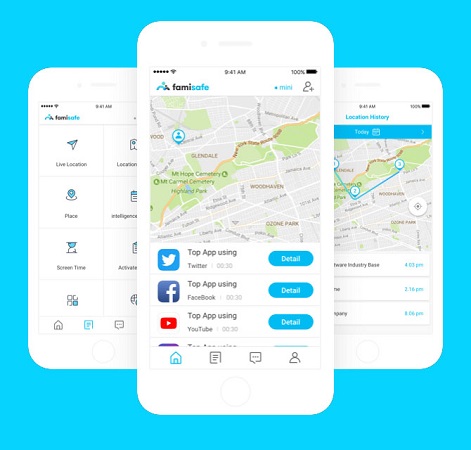 Price
The service of Famisafe will cost you $13.99 for one month.
Support
Screen Time feature only works on Android.
Write in the End
These days a time limit app is very important. A major portion of the population is struggling with smartphone addiction and these apps will help them to get in track effectively. We have provided our recommendations and these all are highly capable apps and approved a number of users but as you can see we placed FamiGuard screen time lock app on the first position. As per our experience it is the best there is.
You may also be interested in:

By Tata Davis
professional in software and app technology, skilled in blogging on internet
Thank you for your feedback!