In the 21st century staying focused on your work or studies has become a very difficult chore. It might seem very sad but it is the truth. There is actually too much stuff going on online, the social media sites or the app, online gaming apps, etc. etc. These things are very enjoyable and perfect for relaxing at the day's end.
But we made the critical mistake of making them our habit that took a toll on our productivity. Social media or mobile game addiction has become a major issue and it is a problem of every household. Not only the young kids are suffering from it even the older men and women are facing the same issue too. So, in order to eliminate all these online distractions, apps or add-ons were designed with specific criteria. These programs block online distractions and increase productivity. There are actually several such programs available on the internet but we have chosen the StayFocusd extention for discussion. It is not an app but an add-on for the most popular browser in the world, Google Chrome.
Table of Contents
Part 1: Know About StayFocusd Chrome
StayFocusd is a simple Google Chrome extension. The installation is very simple and it consumes just a tiny bit of space of your hard drive.
Its working principle is quite different from the other web blocker apps. Such apps generally block the listed websites but StayFocusd Chrome is different here. You put a time limit of your listed websites. Like you want to block GameSpot after 15 minutes. So, type 15 beside the name of the website and after 15 minutes, your connection with that specific website will be turned off.
It can be used on unlimited number of websites but you have to enter the name of the website and the timing in the extension. Have a look at some of its exclusive features;
It is capable of blocking on an hourly or daily basis. After you have completed your allowed time, StayFocusd will block the website and applications and you won't be able to use it.

Blocking can be customized at specified time intervals. You can block specific pages, paths, and in-page content like images, videos, texts etc.

You can track the time you have spent on the website. Shows the remaining time while you are using a blocked site.

A quick play and pause feature is available. It makes things easier.

Block notifications.

You can view your app usage history to keep track.

The Strict Mode keeps you from changing the settings.

The Lock Mode is excellent. You will need a password if you want to change the settings.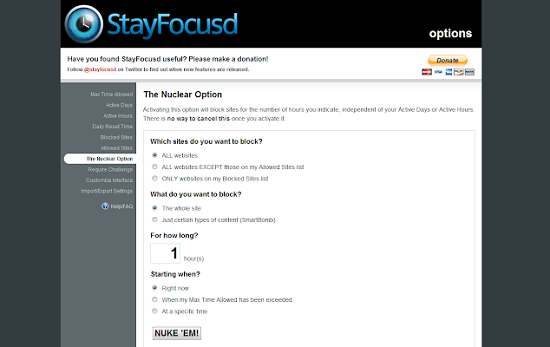 Part 2: The Benefits of Using StayFocusd
Overall, StayFocusd extention is excellent. Provides users with amazing performance and regulating features are very impressive. Here is the list of advantages you will get using this extension;
It stops you from getting distracted.

The limited use of apps and websites keep you focused on your work.

Shows how much time you have left while you are using a blocked app or a website.

The app history helps you to keep track of your device usage.

The Strict Mode is designed so that you can't give in to your addiction. It won't let you change the settings till the next day.

You can also implement the Lock Mode, it requires a password to change the settings.

The exclusive Scree Time settings limit the overall usage of your device, eliminating the addiction from the root.
Part 3: The Disadvantages of StayFocusd Chrome
Although, it is an excellent extension for Google Chrome and helped a lot of users from Social Media, smartphone or app addition; it still has some limitations. These limitations are mainly notified by the users. Here, have a look of them and the reviews of the users:
It shows Javascript error in the console window.

If you restart the Chrome, the times get reset.

Sometimes it blocks unrelated websites.

The timer clearly works but sometimes it confuses between AM and PM.

Whitelist is not working.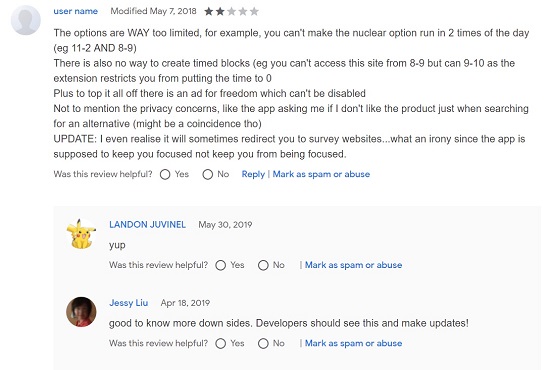 Find Its Competitors
Well, StayFocusd is a great extension for Google Chrome but it is not the only one. There are also several other similar websites available online but the most significant ones are MinutesPlease and KeepMeOut. 
These two extensions are direct competitors of StayFocusd and they also perform very well with their long list of features.
| | | | |
| --- | --- | --- | --- |
| | StayFocused | MinutesPlease | KeepMeOut |
| Type | Extension | Website | Website |
| Blocking Mechanism | Can websites, URLs etc | Can control web time on websites | Block access to URLs. |
| Time Limit | Can put time limit on apps and websites | Can put time limit on websites | Can put time limit on websites and URLs. |
| Warning | No | No | Yes |
| Ease of Use | Easy | Easy | Complicated |
Part 4: You Also Should Know The Best App to Block Websites on All Mobile Browsers
These days the market is filled with numerous smartphones, each better than its previous model, bringing along several exciting new features. All these things attract users to get new smartphones every year and the endless online contents make people more and more addicted. Especially, we should be worried about our children and their future.
Children are getting unwarranted access to the internet at a very young age but they don't have the maturity to differentiate between bad or good content. So, constant supervision is necessary. There are apps available for that particular purpose and among a few dozens, we agree with FamiGuard's vision and its capability to block and filter websites. The web-filtering procedure is very simple, have a look:
Step 1: You need to download the FamiGuard app on your  device and register an account using your email ID.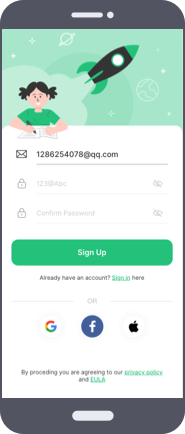 Step 2: Now, download the app on your kid's device and sign in via that account. Provide the necessary details and set it up by following the instructions visible on the screen.
Step 3: Now, you will have access to the "Web Block" module and from there you can filter the recommended categories reach more than 30.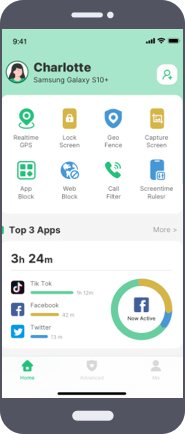 Or you can also create a blacklist or a whitelist for the specific website, you can achieve this just type in the URL. It is a simple but very effective procedure that helps you to set up the web filter easily.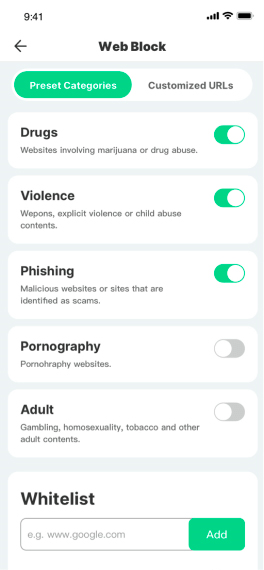 Conclusion
In the end, we conclude that StayFocusd is one of the best options if you want to focus on your work and get rid of your social media and games addiction. But it is very important to filter the websites if your kid also uses the internet and for that particular purpose, FamiGuard is the best app available.  We highly recommend the 3 day free trial so that you can try it out completely free!
You may also be interested in:

By Tata Davis
professional in software and app technology, skilled in blogging on internet
Thank you for your feedback!