These days every individual is completely dependent on electronic gadgets, cell phone being one of them. Gradually, this is leading to a concerning problem as more number of people, including the young children as well as adults are getting locked on their phone screen for a major part of their day.
You will need to immediately put a stop to this if you want you and your loved ones to lead a happy and healthy life. You can do this by opting to download any of the screen time tracker apps which are readily available online.
These screen time tracker apps work to track the phone usage and alert you whenever you or your loved one is accessing their phones for more than the required amount of time. This way you can control the time spent on the phone to a large extent. You can try out these top 10 screen time tracker apps for this.
Top 5 Paid Screen Time Tracker Applications
In this category we will discuss our top 5 recommendations for screen time tracker applications that are not available for free, which means in order to get their services you have to pay for their license. But you may ask, why go for paid apps when there are apps that are available for free?
The free screen time tracker applications are without a doubt very convenient. But there are certain advanced features that are only accessible with the paid apps and not with the free ones. Also the overall service and support is far better on paid apps. This is the reason, some users prefer the paid apps but they also have to be affordable. So, the list below consists of such 5 applications that may not be available for free but considering their cheap price, you can still go for them.
FamiGuard is one of the best parental control apps which can be used to check and even limit the screen time usage of your kids on an everyday basis. Not just this, but FamiGuard also offers several other advanced features through which you can ensure the safety of your children in the online world and keep them away from predators lurking in the virtual world.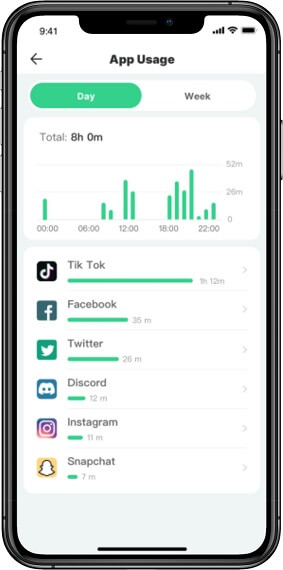 Features:
With this screen time tracker app, you can check the activity in individual apps on the target cell phone. As soon as your child opens an app on their phone, you would get notified and also their entire usage details of that particular app can be checked from the dashboard.

You can even check the types of websites your kid is surfing and can also know how much time they spend on each website. All the web activity gets recorded by this app which can be accessed anytime.

If you feel that your kid is spending way too much time on their phone, you can make use of the screen time control feature of this app to regulate the time they spend on their phone. Not only will this reduce their phone addiction but will also reduce the chances of them getting any sort of health issues due to the over usage of phone

You can also limit the amount of time on certain apps and games without affecting normal device usage

It has been tested and recommended by parents all over the world
Apart from this, FamiGuard has several other advanced features which include real-time location tracking, Geofencing and web content filtering among others.
Price:$9.99 for each month.
This is a great app for tracking screen time. It is equipped with the most advanced screen time control features along with numerous state of the art parental control features. This is a stand out app, equipped with the most advanced and also the most basic features in order to monitor your children's phone usage and even limit it so that they can lead a healthy life. Every activity of your child on their cell phone can be checked with the help of this app.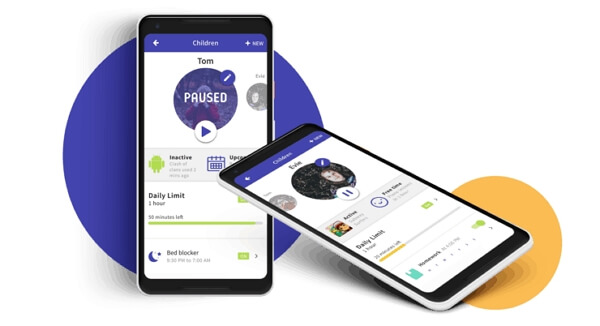 Features:
You can easily set up regular screen time limits.

You have to ability to reward when specific deeds are accomplished.

You can also schedule specific timings

Grants you the capability to check which applications are used the most
Price: The Basic version of Screen Time is available for free and this version is designed only for device monitoring. Now, there is a Premium version designed for managing, but it will cost you $4.99 per month.
This is another application which is pretty popular among several users and can be used to limit the screen time usage of your child in a highly effective way. The main aim of designing this app is to help parents in having full control of their child's cell phone activities in order to keep them away from any kind of unwanted scenarios.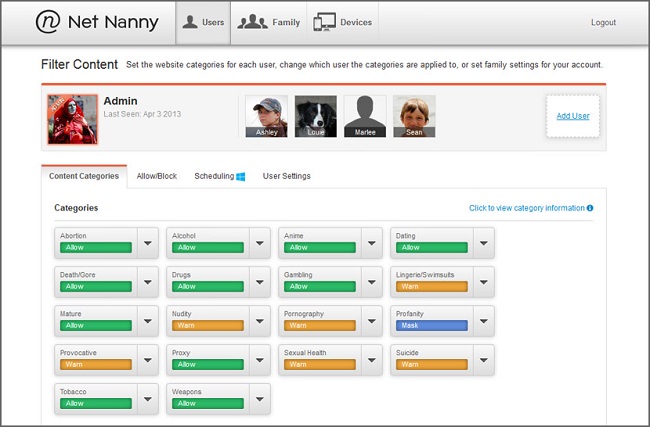 Features:
Net Nanny provides perfect management for screen time.

Create a curfew and make adjustments related to screen time allowance.

Remotely access your device along with advanced features for parental control

Internet blocking and filtering is available

Customized reports and statistics of device usage

Compatible with iOS, Android, Mac, Windows and Amazon Fire TV
Price: For 1 PC $39.99/year, for PC and Mobile upto 5 devices $54.99/year and for upto 20 devices $89.99/year.
As its name suggests, UnGlue app helps its users to get away from their mobile screens and spend their time doing something useful instead. It is basically an app which has been designed to control the screen time usage of kids but it can very well be used by adults as well. You can monitor and track the activities of your kids on their phones with the help of this app.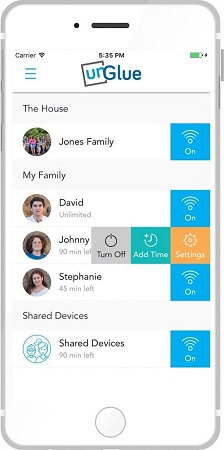 Features:
Time bank which features the amount of time left for phone usage.

Restriction on internet access.

App usage limiter

Multiple devices can be managed in this single app

Compatible with phones and tablets of Android or iOS built
Price: Free version with limited features, Premium version at $6.99/month.
With the help of OurPact app, the users can easily monitor the activities and screen time on mobile phone. Sadly, this app is not available to track the activities on tablets. With this app, you can keep track of phone usage, calls, messages and almost everything else on your phone. You would also get notified on every activity on the phone.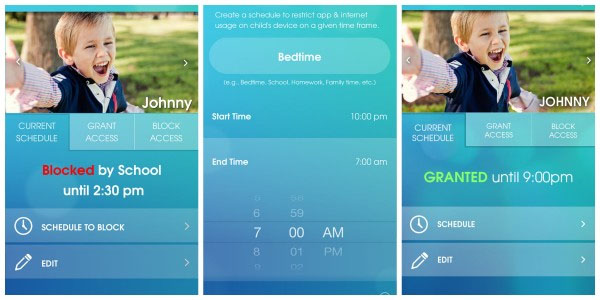 Features:
Internet access blocking.

Customization of app restriction feature.

20 devices can be managed with one app

Set screen time allowance
Price: Free version with limited features, Plus version at $1.99/month and Premium version at $6.99/month.
Top 5 Free Screen Time Tracker Applications
Although, it is quite clear that the paid apps provide a wide variety of features but many users are still not prepared to even spend a single penny. For such users, these 5 free applications will be appropriate. These apps offer limited features but works perfectly. Let's have a look at the list;
If you think that you or any of your family members are spending a lot of time on their phones, this app to track screen time can help you in bringing the situation under control. You can start your digital diet with some helpful aid by this app. This app can monitor your phone usage and alert you when you have crossed the limits set by you.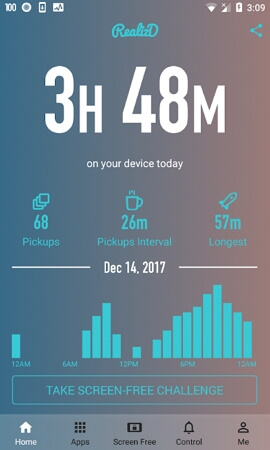 Features:
Customize usage controls.

Get alerts about phone usage.

Shows individual app usage frequency

Compatible with iOS and Android devices

Presents graphical insights

Statistical reports about phone usage
Price: Free initially but comes with in-app purchases.
Moment app helps you get the time in your life back to indulge in other important activities rather than just being addicted to the phone all the time. This app offers a few daily exercises through which you can practice and slowly detach yourself away from your phone. This way your phone will only be there with you when it is actually required. The simple strategies by this app go a long way in helping you curb the phone addiction.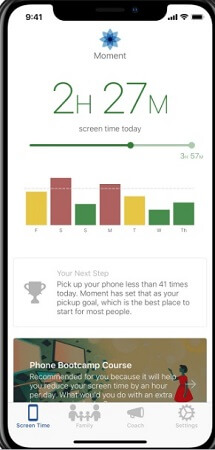 Features:
Measure the amount of time spent on phone.

Guided coaching sessions every day.

Check your family's cell phone usage

Establish screen time for yourself and your family members
Price: Free initially but has a few in-app purchases after installing.
This is one of the most potent screen time tracker apps which limit your cell phone usage to a healthy window. Once you download this app you can set up some custom replies. You can even hide certain apps which you feel you are the most addicted to and make a schedule on your own for your phone usage.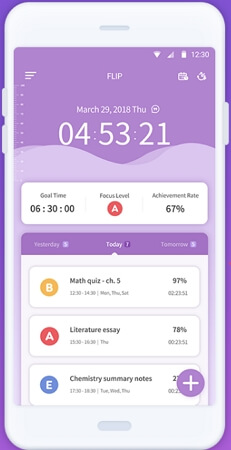 Features:
Comes with a full lock feature to help you stay focused.

Join family and friends groups to stay motivated.

A histogram to track phone usage

Set a schedule which suits you
Price: Free with in-app purchases.
This app has some of the most brilliant features to limit phone usage which is why it is counted among the best apps to limit screen time. The usage of several third-party apps and gaming apps can be restricted with the help of this tool. You can set a daily limit for the phone usage and when you are about to reach the limit, you will get a notification. Sadly, this application is available only for Android device users.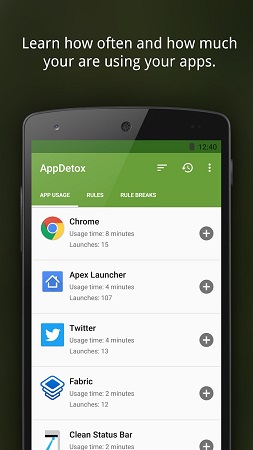 Features:
App usage notification.

Time limit on app usage.

Track cell phone activities

Logs and reports of phone usage
Price: Free
This screen time tracker app can be conveniently used by you to ensure that you do not spend more than the required amount of time on your phone. You can help your kids limit the time they spend on their phones and go on a digital diet with the help of this app. This app is packed with advanced features which can help you instill healthy habits in your kids.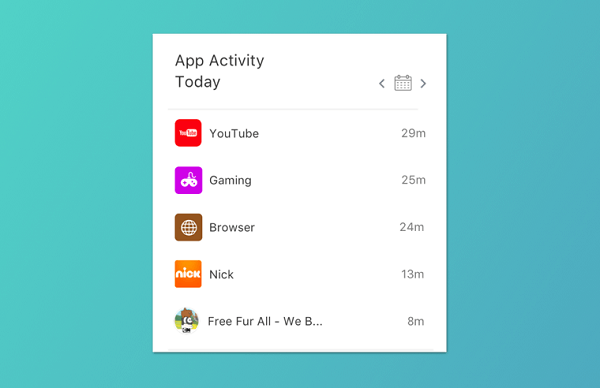 Features:
App usage details

Break down apps into categories to monitor.

Tips from digital assistant to improve healthy phone usage habits

Smart morning feature where you can use the phone for only 10 minutes and then get locked out of it

Set a time to sleep and all the apps will get locked automatically at that time

Zen breaks feature to take a break from social media
Price: Free
Conclusion
Although we have divided the list into top 5 paid and top 5 applications, you can be sure that all these apps are somewhat the best available screen time tracker apps which can be effectively used to track and even control the screen time of yourself as well as your family members.
The users opinion varies as some users look for the best free app and some looks for the best app that is available at an affordable price. So, even after considering various opinions, we have concluded FamiGuard to be the best among them. The overall price is really affordable, and those who are not willing to spend any dough. You should try it, as it may change your opinion about paid apps.
You may also be interested in:

By Tata Davis
professional in software and app technology, skilled in blogging on internet
Thank you for your feedback!