Android devices give you the freedom to change just about anything on the device. If you don't like the color on your homescreen, you can change it instantly. Don't like the icons, you can change it too! It is all about the freedom the user gets while using it.
Similarly, if you ever feel bored with your lock screen, there are unique screen locker apps available that will completely change the look of your lock screen. The lock screen apps have evolved over the years. You can do a lot of stuff with these apps now like you can take over screen functions, receive and reply to notifications, safeguard your mobile and can basically do multiple tasks.
There are a significant number of screen lock applications available online but it will be very hard for you to choose the right one for your mobile. So, we took the privilege and compiled a list for you. Here, have a look
LokLok is a beta screen locker app for Android devices. It is more of a fun type of app. You can leave a note, draw and can share photos with your friends as well. It is more like a whiteboard that is shared. You can share your lock screen with a group of people that you can create. Once you draw something, it will be visible to all those people's lock screen.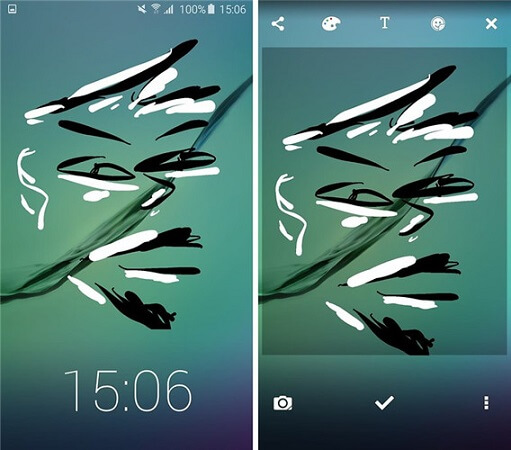 Even your friends can modify your drawing and share them too. As the app is still in beta stage, LokLok asks all its users to provide them with feedback so that they can improve the app even more. LokLok supports Android 4.0 and any upper version of the OS.
Hi Locker is one of the best lock screen apps for Android. This app provided 3 styles of unlocking namely Classic, Lollipop, and iOS. For the Android users, they have fingerprint unlocking, only on selective Samsung and Marshmallow devices.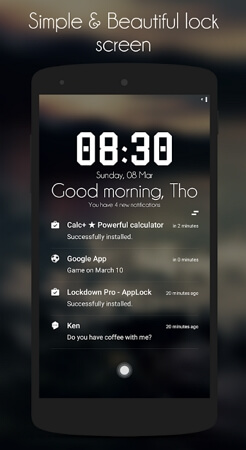 The Android screen also becomes customizable and you can choose to show or hide notifications. You can also add weather prediction to the lock screen. Hi Locker app is compatible with Android 4.1 or any upper version.
Screen Lock is a stylish and secure screen lock app for Android. It provides users with password and pattern lock modes. It is useful, funny and its main features include a lock screen and a customized design.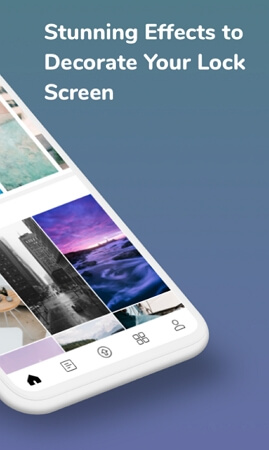 You can also set Diamond & Zipper lock screen and a feature to take a selfie of the intruder is also available. Screen Lock is compatible with Android 4.4 and up.
AcDisplay is a great lock screen app with a very simple design. The app is capable of handling notification and you will be able to access them directly from the lock screen.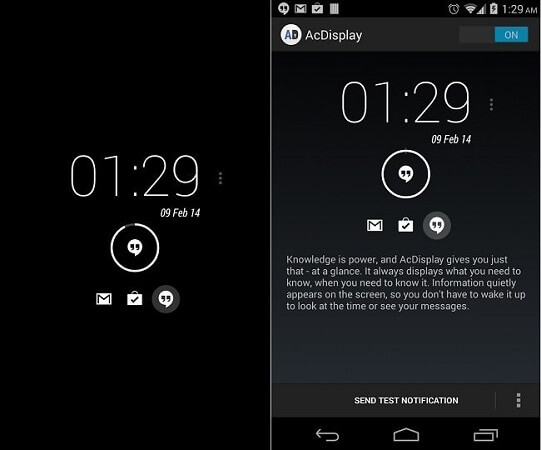 This app is also equipped with an active mode, designed to wake up the device with the help of the built-in sensors. AcDisplay is compatible with Android 4.1 or any upper version of the OS.
Canyon is a beautifully customizable and functional lock screen app that can easily replace your in-built phone's one. This particular lock screen can work with Smart Launcher and you can also use it in the standalone mode.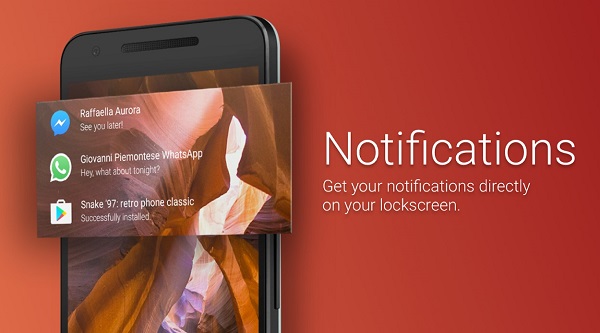 You can set pin and pattern locks to safeguard your phone. You can also get quick access features like torch, camera etc and it is customizable. Notifications are also available on the lock screen.
Ava Lockscreen provides professional-grade notification themes, custom wallpapers, blurred wallpapers, and live wallpapers for Android devices. Coming with PIN, pattern and fingerprint security options, it is also capable of making customizable shortcuts. The screen locker app is equipped with a smart wake up screen, the moment you pick up your mobile the screen will wake up.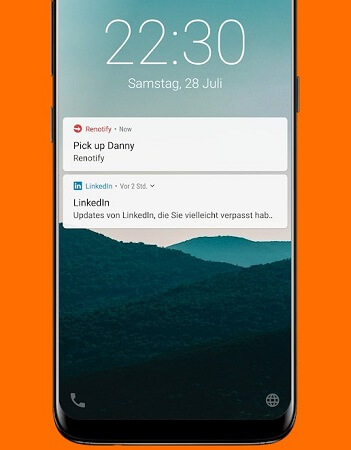 You can add widgets of your choice and it is customizable. Ava Lockscreen runs on Android 4.1 and upper version of the OS and there are no ads!
CM Locker is a popular lock screen app for Android devices. It is good and very attractive. The app has a new feature that takes a selfie of anyone who is trying to access the device with a wrong password.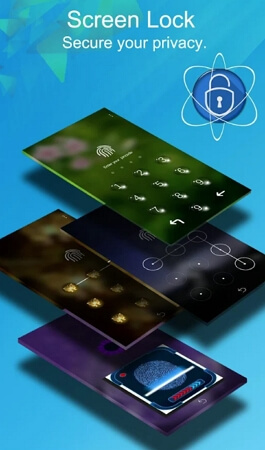 The app is also equipped with anti-theft protection. CM Locker works on Android devices but its compatibility varies depending on the device.
C-Locker is one of the potent lock screen apps for Android. Much like other lock screen apps here, C-Locker is capable of doing the same. It is packed with awesome HD wallpapers, themes and password modes, where you can mix and match to create your unique lock screen.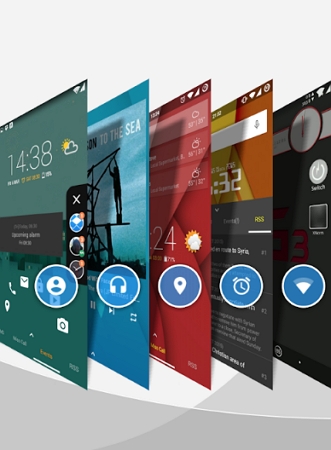 You can add widgets; get notifications from social media apps like Facebook, WhatsApp, calendar, and events etc. The app also lets you take security selfies in case someone tries to unlock your phone.
Super Locker is an exclusive tool that allows you to change the lock screen of your Android. It is capable of locking apps like WhatsApp, Facebook etc. to protect privacy.It also comes with an exclusive memory cleaner on the lock screen itself to boost device performance.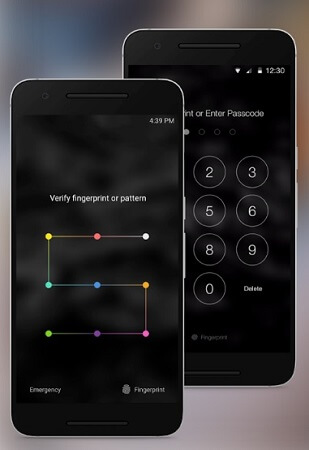 You can choose different lock screens with distinct themes, wallpapers and configure various important parameters like the date and time on the screen. It is a very interesting tool which comes with various customization and preferences. Overall, a very effective app compatible with any Android version!
This is a very simple and clean lock screen app with various notification features. It promises that you will never miss your notifications on your Android. Swiping can lock and unlock your device and it also comes with a swiping mechanism to open the camera. Just for your information, Solo locker was previously known as DIY locker.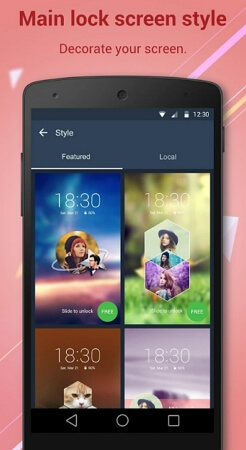 You can customize settings and get time and location reminders along with a pin or pattern security.
These screen locker apps are very effective if the in-built Android lock screen is just too boring for you. 10 of the best screen locker apps for Android are discussed in the article and they are equipped with some very surprising and effective features as well.
Don't Miss: 2022's Best Screen Time Lock App - FamiGuard
Unlike the above mentioned screen lock apps; FamiGuard is used for screen time lock. It is probably one of the best apps for limiting screen time. Introduced as a parental control app, FamiGuard is packed with features and one of the most effective features is screen time lock. This feature is used to limit the smartphone usage of your kid.
Here are some of the features of FamiGuard app:
You will be able to stop the cell phone usage directly. As soon as you do that, a pop-up window will appear on the target device. This window can't be bypassed and the device will be blocked

You can set screen time for the whole device. After the allocated times is passed the device will be blocked automatically

You can customize the app usage time on the target device. Basically, you can control the amount of time an app should be used. Once the stipulated time is reached, the app will not allow access
All these rules can be reset and renewed the following day. Or you can cancel the lock controls manually.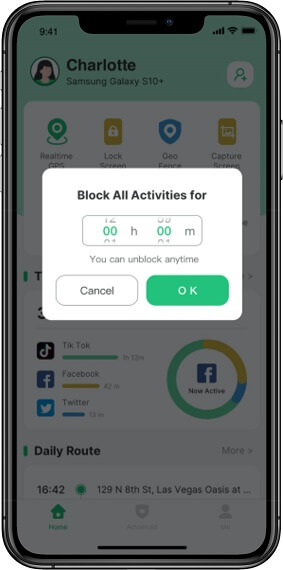 As you can see, screen time limit and app time control are very effective to control overall smartphone usage. It can help to improve efficiency and get rid of screen addiction. We highly recommend using FamiGuard here as it is very effective and come with a 3-day free trial that you can opt for to check out its features.
You may also be interested in:

By Tata Davis
professional in software and app technology, skilled in blogging on internet
Thank you for your feedback!