The Samsung devices are praised for their flexibility and introducing a few outstanding features on their flagship devices. One of the most significant of the bunch is the Samsung parental control. It is good, comes with some key features. It is available on Samsung Galaxy S6 to the latest S10 and even available on the Note Series. But if you really want to get into how to properly implement such feature into parental control, you must read the article below. It has everything from the best way of implementation to alternate apps suitable for similar purpose.
Table of Contents
Official Way to Set Parental Control on Samsung Tablets and Phones
If you are using a Samsung device like smartphone or tablet then you already have access to a very effective mode of parental control. All Samsung devices are equipped with parental control features and it is called the Kids Mode. If your device is running on Android 9 OS then the Kids Mode will be designated as Kids Home.
This Samsung Galaxy parental controls or Samsung Galaxy S6 parental controls or the Kids Home is easily accessible from the drop down menu. It has several powerful features and it is quite effective. Let's have a look;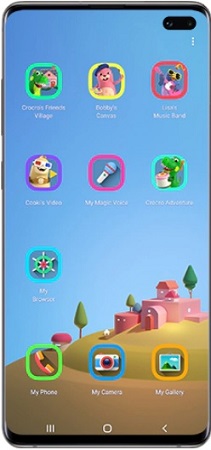 Its key features include;
● My Phone
Here, kids can call anyone but only from a particular list which is proofed by the parents.
● My Camera
Kid's camera will take pictures, and sticker are also available.
● My Gallery
In the gallery, they can only store pictures of drawing allowed by their parents.
● My Browser
Safe browsing mode gets activated. Only the selected websites can be browsed which are pre-determined by the parents
Here's how to set parental controls on Samsung tablet;
Step 1: The use of Samsung tablet parental controls is very simple. Just pull down the notification panel and slide left.
Step 2: You will see the name "Kids Home" there. Just, tap on it in order to run the setup. Then, tap "Start" to download.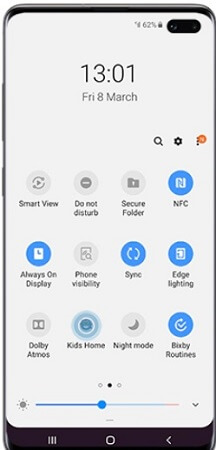 Step 3: Afterward, tap "Next" to set the PIN. The default one is "0000".
Step 4: This PIN will allow you to check the usage summary and your kids won't be able to exit the Kids Home panel without typing the PIN.
Step 5: After the setup is complete, the main interface of Kids Home will be displayed. As you are using it for the first time, you may have to download al the apps on the Home screen again.
Step 6: Now, after you set up the PIN code and enter Kids Home, tap Settings from home screen and you will see the "Parental control" option. Here you can set further rules like setting daily playtime, viewing app activity & daily usage, allowing or blocking content etc.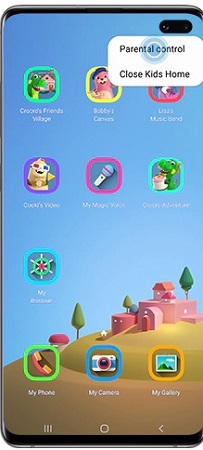 As you can see, the Samsung parental control is a free and kid-friendly method. But it offers limited features and it is primarily used on the parent's smartphone or tablets which is not very suitable as nowadays many kids have their own personal devices. So, if you are looking for better programs with accessible parental control features that can run on a target device silently, then you can try out the 3rd party professional parental control apps for Android devices.
Top 5 Parental Control Apps for Samsung Devices
Well, we have established that the Kids Mode on Samsung devices is good but limited parental control support and the operation is technically very straightforward. But this limited parental control features does not sit well with the parents.
They are looking for something more powerful, with lots of features that will be easily operable and will provide 24-hour support.
Fortunately, these requirements can be fulfilled only by using professional programs that were designed for such laborious purpose. These parental control programs are technically equipped with such valuable features which make parenting easier and more effective.
Here's the list of 5 such programs available online. After due research we selected these names among hundreds of such programs. All 5 of these programs are great, each with their strength making parental control more effective. But we have placed FamiGuard at the first position as it is our best choice for parental control programs.
1. FamiGuard
One of the most informative and well-designed programs on 2022 is FamiGuard. It is easy to use, and you will feel secure after using this parental control app on child's Samsung devices. This app has quite a few abilities like, you can track the location of your kid, set geofence, limit screen time, control app usage, view their apps and internet activities etc. So, let's have a look at its features in details;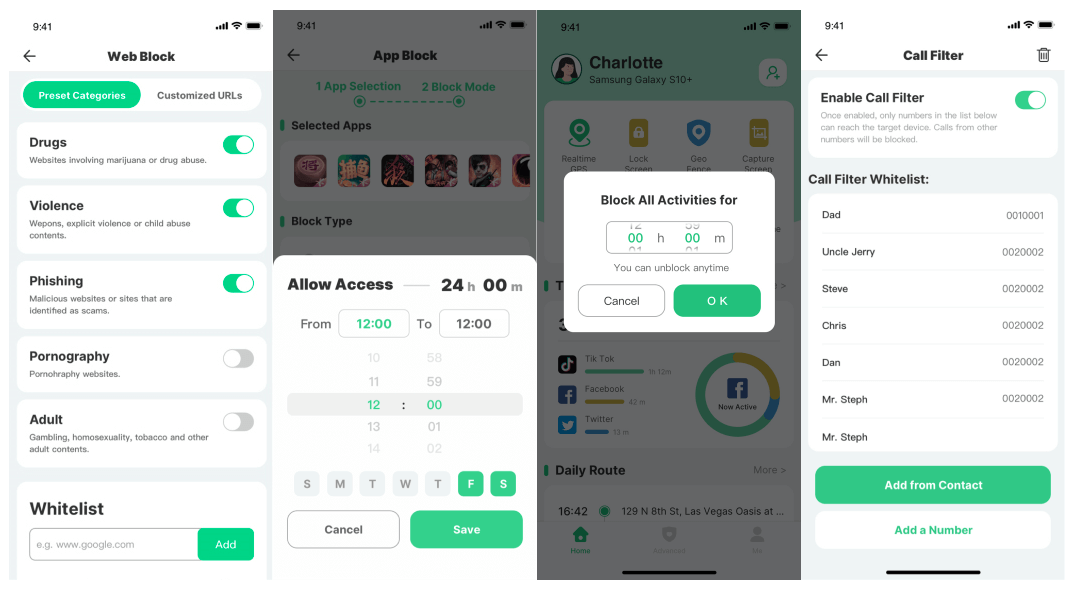 Limit Screen Time: This app is capable of pausing phone usage immediately or setting daily time limit to guide the children to use mobile phones properly.

Games & App Blocking: There are several apps & games available on the internet that are not even remotely appropriate for under-aged kids, you can block them instantly.

Website Content Filtering: If any website is showing inappropriate content, then you will be to block it immediately. And you can even prevent accessing such vulgar websites but putting them blacklist. Creating a white is also possible.

Location Tracking: Being one of the best apps for location tracking, it takes advantage of the inbuilt GPS to provide real-time location of your kid's device within the interval of a few minutes.

Location History: You can also check the location history, just to be sure of your kid's hangouts.

Geofence& Alerts: This is one of the essential features for parental control. You will be able to create safe zone for kids and receive alerts via email or notification

App Activity: The app activity shows the apps that are very frequently used by your kids. It also comes with details like how much time they spend on those apps.

Internet Activity: The web activity and browsing history are also viewable. You will be able to get their visit time and the amount of time they spent there.
2. FamilyTime
FamilyTime is also a significant parental control app, focused on a clean interface and user-friendly operation. It is very easy to use for any parent regardless of their experience with smartphone and apps. It has several powerful monitoring features and you will also have access to a detailed report system.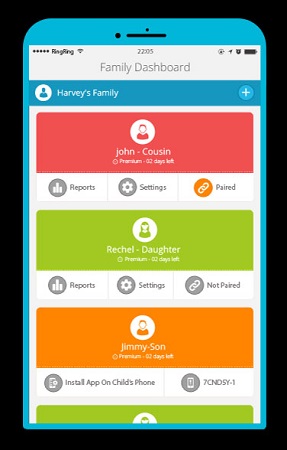 Let's find out some of its features;
The real-time location tracking via GPS is available. It also has geofence capabilities.

All the calls and SMS sent and received by the target device can be tracked

Available screen time is capable of stopping the device usage immediately

Pause device usage with Family pause feature

SOS and panic button for emergencies
3. Net Nanny
Net Nanny is a famous parental control application retrofitted with a full range of features that are completely based on web management and web filtering. The operation of this app is very simple and parents are really awed by its grasp over the internet content. The initial exe file will cost you nothing but depending on the type or number it is going to be used will determine the price.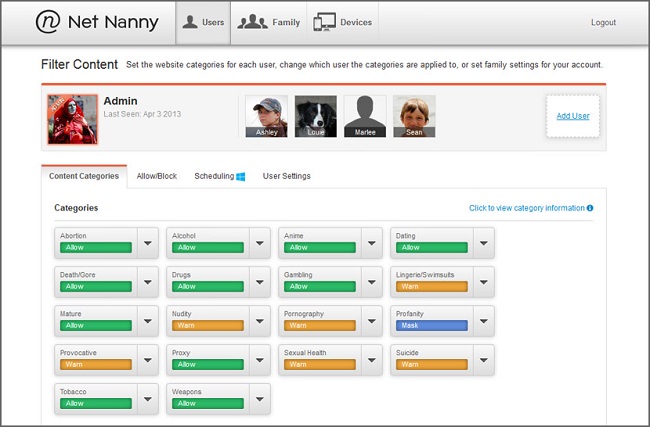 Have a look at the feature of Net Nanny;
Any inappropriate contents will get blocked automatically.

Screen time and features like app management are available as well

You can customize alerts and notifications

You will have the control over the target remotely

A complete web filter with customized options
4. Kaspersky Safe Kids
Kaspersky is a giant name when comes to anti-virus program but recently they have dabbled into the parental control programs. The result is Kaspersky Safe Kids, this app has already received really well by the parents. It is a very powerful app with well-designed features dedicated to the safety of your kids.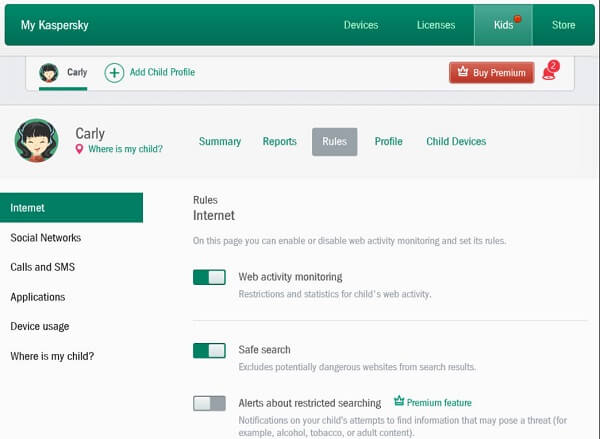 Attractive features of Kaspersky Safe Kids;
The real-time location of the target is available any time of the day.

Detailed device usage times and device blocks are there

The inappropriate internet contents are blocked automatically, but you can also customize the settings
5. Famisafe
FamiSafe is another giant in the list of parental control apps. It is a great app for parenting, has all the right features. Although, it is significantly new to the parental control market, it was received very well. It already has a huge dedicated user base and considered one of the most powerful app in the service. A trial version is available, equipped with all the features and service, also available for free.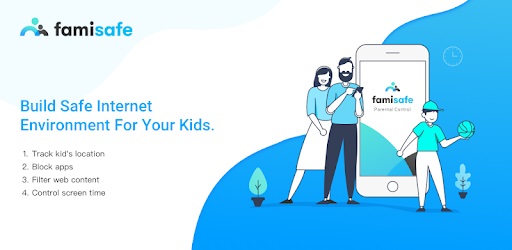 Let's take a look at some it features;
FamiSafe provides real-time GPS tracking capabilities to the users.

Custom Geofencing services are also available

You can monitor the browser history and the overall web usage remotely

The app blocker feature will help you to block unwanted apps, immediately
These are out top 5 picks for a better and safe parental control experience on Samsung devices. The best part is, unlike Samsung's Kids Mode, these apps haveto be installed on your kid's device, which takes the control of the device and access to the relevant details to the next level.
Conclusion
Well, Samsung tried hard to implement an effective mode of parental control. But it has a few flaws. If your kid is using your phone, then Kids Mode is the best idea. But at this day and age, kids have their own smartphone, which simply makes the Samsung's idea ineffective. But using a third-party app is the next best idea, a lot of developers are designing such apps and most of them are very effective. We have introduced our top 5 picks for the best parental control apps but we do recommend using the FamiGuard, it is the best of the bunch.
You may also be interested in:

By Tata Davis
professional in software and app technology, skilled in blogging on internet
Thank you for your feedback!