Cell phones have made our lives a lot easier. However, it has also opened the doors to several problems. The young children are more prone being subjected to dangerous scenarios. With so much content available online and with so many predators lurking in the online world, it has created an alarming state for the safety of the children. Parents often worry about this as they cannot completely strip their children off their phones and they cannot even be at peace knowing that there is a lot of danger in the online world.
This puts the parents in a state of constant worry. You can easily avoid this by making use of the parental control apps which aims making the lives of parents easier by ensuring the safety of their kids to some extent. MMGuardian parent app is one such popular parental control app which is being widely used by several people worldwide. Know more about this app and its best alternative by reading on.
Table of Contents
Part1. Overview of MMGuardian Parental App
MMGuardian app is a highly popular parental control app which is used by several iOS as well as Android devices worldwide. It comes at a competitive price and has a very friendly user interface which makes it one of the favorites among the parents. If you are looking for the reviews of this app prior to your download, you have landed at the right place. Here, you would get to know the features of this app along with its positives and negatives in detail.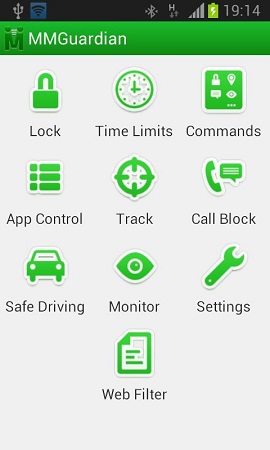 Features:
With the help of this app you can easily locate your child remotely.

Any sort of explicit content online can be easily blocked by you through this app.

If you feel that a certain person shouldn't not be in contact with your child, you can block calls and messages from that person.

To avoid your kids getting addicted to their cell phones you can set screen time limits and encourage them to involve themselves in other useful activities.

You can even remotely block any app which you may feel is unsuitable for your child.

The dashboard of this app features in-depth and comprehensive reports regarding the cell phone usage of your child.
Pros:
MMGuardian app is very easy to install, setup and use.

Remote access to all its functionalities is possible.

Jailbreaking or rooting the device is not required.
Cons:
The features for both the Android as well as iOS versions vary and the features in iOS version are less advanced.

There are a very few time based restrictions.

The call and SMS blocking feature is available only in the Android version.

Customer support for this app is very poor.
Compatibility: Android and iOS phones and tablets.
Part2. FamiGuard - The Best Alternative to MMGuardian Parental App
As you can see from the above points, MMGuardian app lacks several features which are necessary for the parental control functions. This is the reason several users tend to look out for alternatives after they are not satisfied with the performance of MMGuardian app. Instead of downloading the app and regretting later it is highly recommended that you opt for FamiGuard app which is much better as a parental control app. FamiGuard is the best alternative MMGuardian since it makes up for all the features which are absent in MMGuardian app.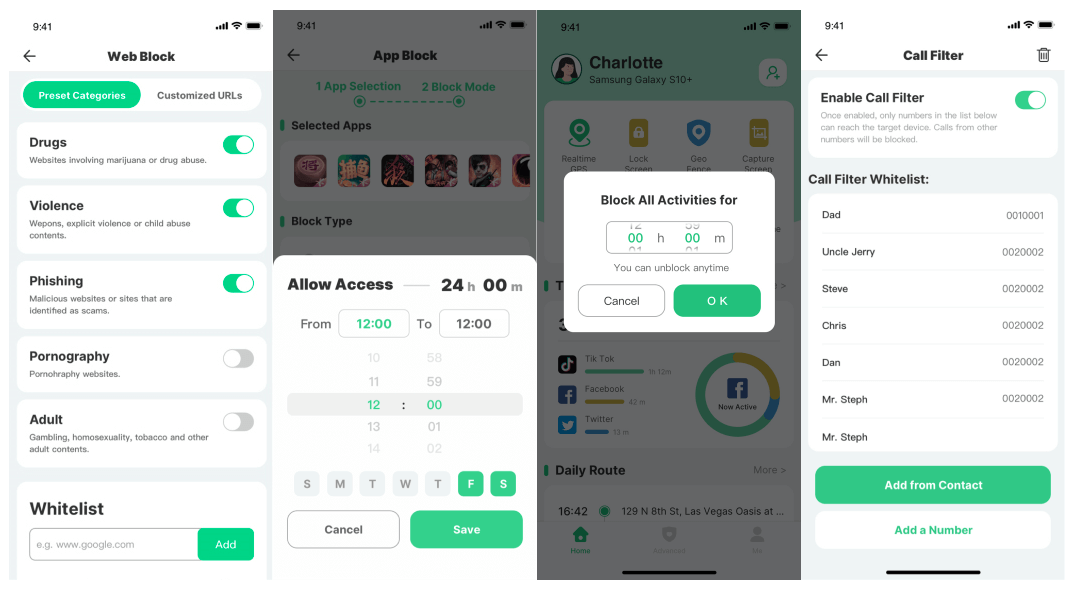 Features:
Screen Time Restrictions
It might be a common sight for parents these days that their kid is busy fidgeting with their cell phone and forgets to finish their homework and other tasks around the house. The addiction to cell phone can even cause insomnia and obesity in children. You can avoid this easily through setting screen time restrictions on their phones. The feature of  Pause Phone Usage instantly is very wonderful to remotely lock child's device immediately.
Activity Summary
FamiGuard features an attractive dashboard which can be accessed remotely to get all the information relating to the activities of your child. The entire day's activity summary would be displayed comprehensively on this easy to navigate dashboard. Including app activity, web activity, location history even the geofence reports.
Real-time Location Tracking
Are you worried about why your child isn't answering your calls or replying to your messages? Well, you would no longer have to worry once you download FamiGuard since it gives out a detailed report about the location of your child. It also gives out the location history of the places wherever your child has been to. This way you can ensure the safety of your child at all times.
Geofencing
FamiGuard also comes with the geofencing feature through which you can set certain boundary restrictions for your child and get alerted if in case your child crosses those boundary limits.
App Blocker
If you feel that there is a set of certain apps which are not at all suitable to be used by your child, you can block that app completely with the help of FamiGuard app. This way your child would no longer have access to that particular app. Also you can set time control limits to restrict the usage of apps.
Web Filter
There is a lot of explicit content floating around on web. Some pop ups with inappropriate content may even flash on their device screens while they are busy surfing the net. It is even possible that teenagers try to access these sites and pages. You can avoid this by making use of the web filtering feature provided by FamiGuard where you can filter out such web pages and block them.
Part3. Why Choose FamiGuard?
Several parents are now looking out for parental control apps to protect their children. MMGuardian app is an excellent application for the same. However, it also does lacks in certain areas. If you are thinking of investing in a parental control app, it is better you invest in a good one.
FamiGuard is a better app when compared to MMGuardian as its features function much more efficiently when compared to MMGuardian app. Performance of MMGuardian parental control app for iOS devices is not good at all and when it comes to the Android version, FamiGuard excels due to its effective features.
With an online world filled with dangers, parental control apps go a long way in helping out the parents to establish good parenting. Many harmful scenarios can be easily avoided by making use of a parental control app. Since it has so much significance, choosing the right parental control app is very essential. FamiGuard is the best choice for parental control as its features and functionality are extremely good and hence it is highly recommended.
You may also be interested in:

By Tata Davis
professional in software and app technology, skilled in blogging on internet
Thank you for your feedback!