In this modern competitive world, our kids go through a lot to stay at par with other children. Not just in academics, they need to stay ahead in other extra-curricular activities to make sure they do not stay behind.With the rise in diversity of activities, therefore, arises the need for additional security. And, as a parent, it isvery important to monitor your kids' daily activities, and make sure they stay safe.
Moreover, kids are so busy building their future that they forget about their physical health. Luckily, modern technology has the perfect solution. There are activity trackers built for kids, so that, parents can monitor their activities all the time. These trackers are like smart watches, or a pedometerattachedto your kid's clothing that can be paired with your smartphoneto give you all the information about your kids at your palm. They also help the kids stay fit and healthy in a fun and interactive way. Below are listed, the top 10 kids activity trackers, so that, you can make a wise decision while purchasing one for your kid.
Table of Contents
Don't Miss: The Best Activity Tracker App for Children
Nowadays, with the widespread use of mobile phones, you don't actually need to buy additional tracking devices as the mobile devices are already the best. By taking advantage of proper tracking apps like FamiGuard Pro for Android app, you can keep track of children's online and offline activities.
FamiGuard Pro for Android, as one of the best activity trackers for kids, is highly rated for its rich features and ease of use. It allows parents to track the real-time location and daily movements on the digital map. If in case you worry about the child goes to some dangerous places after school, you can set up a geofence and receive notification about every enter and exit events.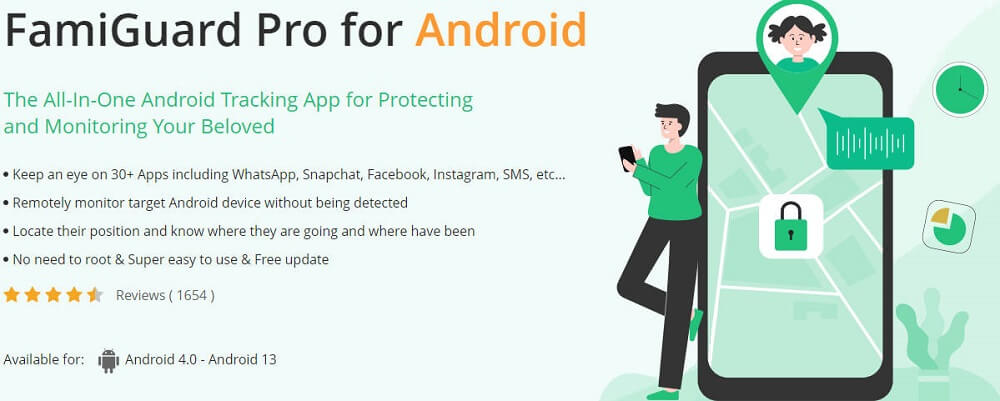 In terms of online activity, FamiGuard Pro for Android allows parents to check the app usage and browser history in detail. If you find that your child is addictive to certain apps or browsing some unhealthy websites, you can take action like setting up screen time limits or blocking access to these websites. In a word, this app has almost all the features that parents might need to track on their kid.
Price: $29.95 per month for a month, $16.65 per month for 3 months, and $8.32 per month for a year.
Pros

Can be monitored from your mobile phone or PC.

Has a very simple user interface.

No bands required.

Multiple parental control and tracking features
Top 10 Kids Activity Tracker Watches
1. Garmin VívofitJr 2
The Garmin VívofitJr 2 is an upgrade from the VívofitJr, with added features like more games, RGB display, Disney themes, parental personal assistant, and many more. If your kid is a Disney fan, this activity tracker is the perfect one for her/him. It has a lot of exciting themes to choose from including Disney, Star Wars, and Marvel and is perfect for a little older kids. Moreover, you have the option to swap out bands when you want, thus, making it appealing for all your kids if they have a different taste. Parents can create tasks for kids to complete and get coins, which they can use to purchase rewards. The bands also feature exciting games and can be synced with nearby bands to play together. Other features include, sleep monitoring, step counter, move bar (reminds you to move after a certain period of inactivity), 60-minutes activity goal, chores, task timers, and lots more. It can store 4 weeks of activity data at a time, until cleared. So, if fitness is the priority, Garmin VívofitJr 2 is one of the best fitness tracker for kids.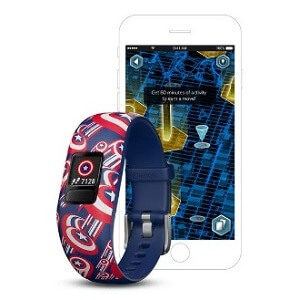 Price: $69.99 USD.
Pros

Available in a lot of themes..

Compatible with both Android and iOS devices.

Customizable reward system

Multiple bands can be connected together.
Cons

A bit expensive.

The display is a bit small.
2. Fitbit Ace 2
Like the Garmin VívofitJr 2, theFitbit Ace 2 is also a fitness based band, and prioritize fitness. It comes in different vibrant colors that will attract your kids. With different activities and reward systems, it maintains interest in your kids to stay active and healthy all the time. The Steps Tracking and Active Minutes Tracking features ensure that your kids go through all the necessary physical activities to stay fit. It offers badges and cool cartoon characters as incentives for completing tasks, encouraging children to stay active. The display can be customized easily and with a single button to navigate between screens, the Ace 2 is very easy to use.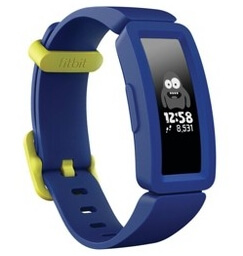 Price: $69.95.
Pros

Very well priced, even cheaper than its predecessor Fitbit Ace.

Available in different vibrant colors.

Waterproof and durable
Cons

Needs to be charged every 5 days.

Doesn't have games like Garmin VívofitJr 2.
3. Kurio Watch 2.0
The Kurio Watch 2.0 is a kids' smart watch and an activity tracker at the same time. The watch comes with two interchangeable colorful bands to suit different styles. One of them is a standard colored band and the other one is a thermal strap that changes color according to the kid's body temperature. There are tons of activity-based games to choose from, which includes a dance game. The watch supports messaging between other Kurio Watches via bluetooth. It can send photos, texts, emojis, voice messages, and doodles to other Kurios. The watch comes handy during a medical emergency, as you can input your child's medical conditions, blood group, and emergency contacts for need in case of an emergency.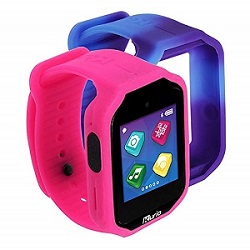 Price: The blue and the pink versions are priced at $35.99 and the blue-pink version is $36.99.
Pros

Can take photos and videos.

Interchangeable bands with cool color options.

Can work without a smartphone.
Cons

More games than actual exercise-based activities.

As it uses Bluetooth 3.0, the connection range is limited..
4. Leapfrog LeapBand
The Leapfrog LeapBand is favorite among parents as it is cheaper than most other kids activity tracker watches and, at the same time, is cool and colorful. The Leapfrog has a reward system that is a little different from other fitness bands. It offers "jewels" on the successful completion of a task. The jewels can be used to take care of a virtual pet that your kid can choose, by feeding, cleaning, and clothing the pet. The band teaches children about healthy and nutritious foods and the benefits of eating healthy. There are different modes, including the "Move Mode" that tracks the kid's motion and notifies her/him to move after a certain time of inactivity. Parents can select games that will be available for their kids according to their age level.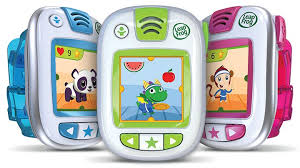 Price: $29.99
Pros

Cheaper than other fitness bands

Very interactive for kids.

Games available for different age groups.
Cons

No volume control. Can be loud at times.

Bulky and uncomfortable for longer use.
5. Nabi Compete
Unlike other kids fitness trackers, Nabi Compete doesn't come with a display. It must be connected to a smartphone via the NabiKonnect app to be able to track. The package comes with two identical colorful bands and there are multiple colors to choose from. There are a number of games to choose from and all of them are based on physical activities that ensure the kids stay fit and healthy. The app keeps a track of the steps walked, calories burnt and the best days of activities. Kids earn points on completing tasks, which can be used to buy virtual pets and look after them. Parents can integrate their own rewards like a toy, a gift, a video game, or a family trip. It is a fun way to encourage kids to involve in physical activities, rather than spending time on the internet and video games.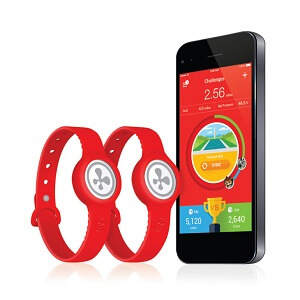 Price: A pack of two bands is available at $39.99.
Pros

Multiple color options.

Compact.

Battery lasts for 3 months.
Cons

No display.

Only 30m range.

The battery is very tight and hard to replace.
6. The Sqord Pod
Like Nabi Compete, the Sqord Pod is a display-less colorful wristband that connects with the free Sqord app and brings tons of fun to the kids. Available in different colors, the tracker pod is extremely durable and waterproof, and it is lightweight and comfortable at the same time. Sqord promotes fun and play rather than activities and steps. Sqord converts physical activities like steps walked and tasks completed into points that convert into awards in the app. It uses a standard watch battery and can last as long as 9 months.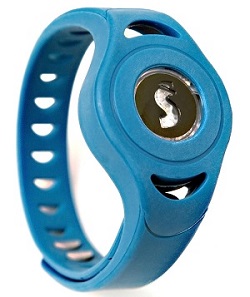 Price: $59.99.
Pros

Kid-proof.

Long battery life.
Cons

A little high priced.

No display.
7. X-DoriaKidfit
The X-Doria motivates your kid to work on her/his fitness by consistently encouraging through challenging goals and rewards. It has fun games that inject interest on children to work on their fitness goals. Setting up the band is extremely easy. You just have to press one button at the band and answer a few questions in the app. The app will automatically set the sleep goals and daily activities for you, which you can customize later. Its rechargeable battery lasts as long as a week, and its water resistant feature make it the perfectchildren's fitness tracker.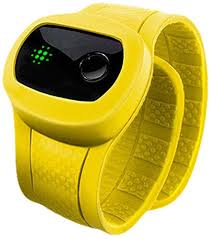 Price: $49.99.
Pros

Supports both Android and iOS devices..

Easy setup.
Cons

A little costly compared to other similar trackers.

It is IPX3 water resistant, which means it is just splash-proof, and not waterproof.
8. iBitz Kids Activity Tracker
Unlike the previous activity trackers, iBitz is a pedometer that clips to your kid's clothing and monitors daily activities up to 30 days. The device connects with the iBitz Kids iOS app, where the child is given a character that explores the galaxy. Parents can set their own goals and rewards corresponding to real-life gifts, like an ice cream, or a toy. The tracker comes in 7 vibrant and kid-friendly colors, and is robust enough to withstand heavy activities by kids.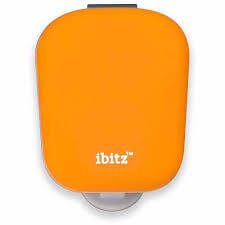 Price: The red variant comes at $34.99 and all other colors are available at $24.99.
Pros

Interactive experience that encourages kids to stay active.

Good looking and sturdy.
Cons

No Android device support yet.

Doesn't work without app.
9. VTechKidizoom DX2
This is counted as one of the best kids' smart watches that doubles as an activity tracker. It offers a very sleek and stylish design and has a lot of analog and digital customizable faces to choose from. The device features two cameras that can take a wide range of photos and videos including selfies and action videos. Along with the basic features like alarm, stopwatch, and calculator, the Kidizoom also tracks steps and use the camera and motion sensors for challenges that require active gameplay.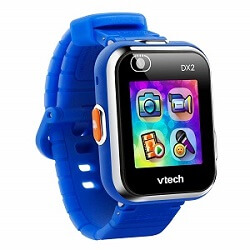 Price: $47.99.
Pros

Has a customizable display face.

Build quality is good.
Cons

It's more of a smart watch than an activity tracker
10. UNICEF Kid Power Band
This band is a bit different from other bands, as it has been designed with a purpose to eradicate world hunger. For every activity your kid makes, UNICEF will donate food packets to children around the world. So, it is something more than just a tracker band. It is a piece of humanity, a piece of love. Although it doesn't have all the features like the other bands, it tracks your kid's daily activities very well.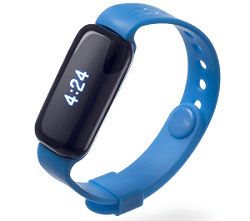 Price: $39.99.
Pros

Your kid's activities can give food to hungry children somewhere..

Comes in Star Wars theme.
Cons

It doesn't have all the features as other bands.
Conclusion
These are the top 10 kids activity trackers for parents to choose from. This list will act as a guideline for choosing the right tracker, may it be a smart watch, a pedometer, or a wristband. Analyzing all the features, pros and cons, it is clear that all the ten options are equal competitors of each other.
However, FamiGuard Pro for Android is a bit different from all of them. It doesn't require a wristband, a smart watch, or a pedometer for its working. You just need to have a smartphone and you are ready to go.
In this busy world there are more work than there are hours in a day and FamiGuard Pro for Android is an app that does most of your work. You just need to install it, set it up once, and forget. The user interface is so simple that you don't have to spend time finding what you are looking for. It is an option that you might consider for once before making a definite choice.
You may also be interested in:

By Tata Davis
professional in software and app technology, skilled in blogging on internet
Thank you for your feedback!