It is said that children are gifts from God. So, God's gifts must be dealt with carefully. It is very important to keep track of them all the time, what they are eating, where they are going, whom they are talking to online, etc. It is easier for parents to do so when they are at home, but, what if they aren't? A kid tracker app does exactly that. It tracks the daily activities of your kid, 24x7, including their location, browser history, calls, chat logs, app usage, etc. Here are the 8 best kid tracker apps listed for you to make an educated choice.
Table of Contents
When it comes to location tracking, FamiGuard comes at the top of the list due to its accuracy and rich features. It is the best app to track kids' phone due to the features like real-time GPS tracking, geofencing, and location history. And all these activities can also be accessed through your mobile phone or PC. Moreover, it comes at a very attractive price. And, you can cancel your subscription whenever you want. All these rich features give a sense of security to the parents, especially to the working parents, who don't get enough time to be with their kids physically.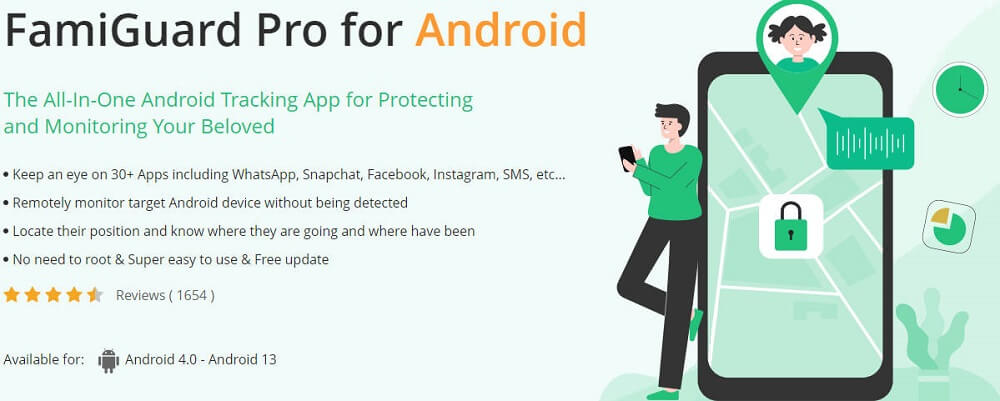 Price: $8.32 per month for a year.
Pros

Has a very simple user interface.

Real-time location tracking.

Advanced geofencing feature which allows you to set online boundaries.

Provide children's online activities tracking.

You can check the activity from PC or smartphone.
Cons

Only supported on Android devices.
As a responsible parent, one must want to track their kid's activity all the time. KidsGuard Pro allows you to do just that. It is one of the best child tracking apps that can track the location of a mobile device at real-time, and can also track call history, browser history, photos, social media messages, and app activities. The app uses both GPS and Wi-Fi logger to track locations accurately. KidsGuard Pro also has the ability to track keystrokes, to monitor what kids are typing, and even capture a real-time screenshot of the phone. It also monitors chats on social media platforms like WhatsApp, Snapchat, Viber, Line, WeChat, etc. to protect the kids from any cyber issues. Plus all these major features are available for you to try for a 3-day trial period without spending anything. Moreover, the app doesn't need your device to be rooted for being installed.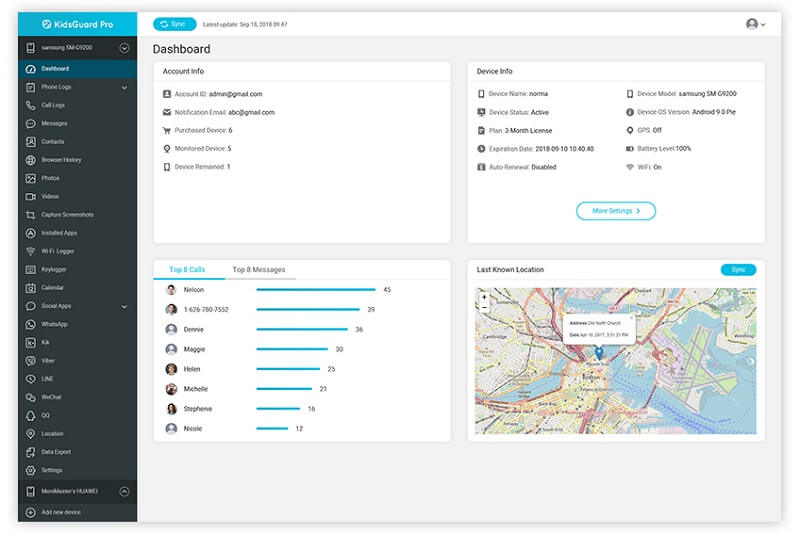 Price: A 3-day free trial, after which, the Premium version starts from $29.95/month to $8.33/month if registered for a year.
Pros

Can track 20+ file types, like calls, messages, contacts, keystrokes and more.

Accurate location tracking using GPS and Wi-Fi logger.

Record and provide all the location history.

Can capture real-time screenshots.
Cons

Doesn't support iOS devices yet
ESET is famous for its antivirus software, and like other famous antivirus companies, it has also spread its wings on parental control, and launched a child tracker app for Android devices. The free version includes basic features like app guard, time limits, and basic activity reports. The application guard flags an app as allowed, blocked, or as "Fun & Games". You can then set time limits for the apps marked "Fun & Games" from 30 minutes to 8 hours per day. The premium features include location tracking, web guard, parental message, and viewing a full activity report. The parental message feature allows the parents to send a message to the kid, which is displayed at the center of the screen and won't allow to unlock the screen until read. There's an SOS button that, when tapped, sends a message, saying "SOS!" to all the contacts listed in the emergency contact list.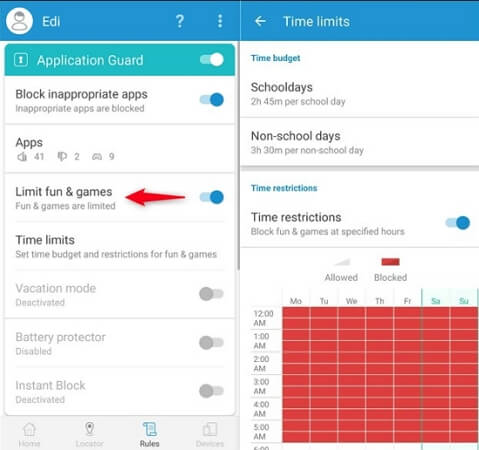 Price: A free version and a premium version at $29.99/year with a 30-day free trial.
Pros

Well priced. Free version also available.

Unlimited devices supported.

Parental Message feature.

Location tracking and SOS alerts.
Cons

The Time Management feature is a bit complicated.

Call or text logs not available.
Unlike most of the other kid tracking phone apps, Find My Kids is free and extremely simple to use. The app can share your kid's real-time location remotely and accurately. It can set a geofence, so that when you get a notification whenever your kid enters or leaves that area. With the Sound Around feature, you can listen to the surrounding sounds to guess if your kid is in a safe environment. In case s/he leaves the phone silent, or in a bag, or in any inaccessible location, you can force a loud signal, so that s/he can hear the call. You can even find out which apps your kid has been using over the day, and also can notify her/him to charge the phone when the battery is about to die.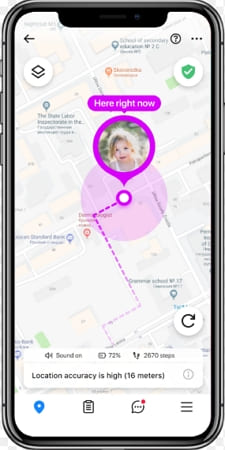 Price: Free.
Pros

Free of cost.

Listen to surrounding sounds and track movements.

Force ring if silent.

Supports with GPS watches.
Cons

Doesn't track online activities.
Kaspersky has the perfect app to track kid's phone at the perfect cost point. It can do almost everything that a parental control app should be able to do. The free version has most of the important features like web filtering, screen time control, app management, and it can do so in both PCs and mobile devices. If you want to find out where the kid is, you will need to upgrade to Premium plans to check the location on a map. It supports all the Windows, Android, iOS and Mac devices, although the iOS devices have limited feature sets available due to their high security.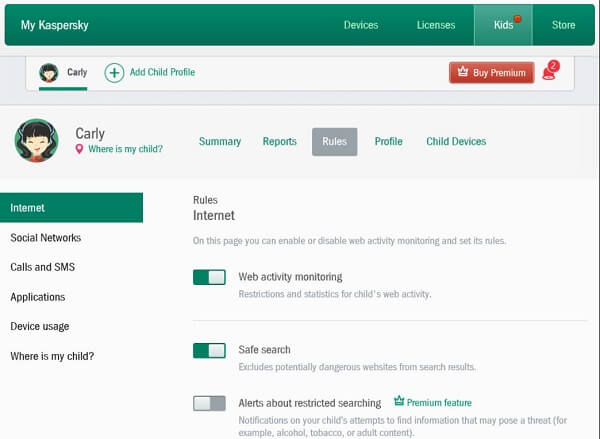 Price: Free for a single user, Premium version at $14.99/year for unlimited users.
Pros

The free version has most of the features available.

Can monitor both PCs and mobiles.

Premium version can locate children, set a safe area and get real-time alerts.
Cons

Not many features on iOS devices.

User interface of the parental control web portal not so simple.
As Norton is a big name in PC and web security, it is quite natural for them to also rule the market in parental control. It is quite good at web filtering, as is expected, and can do that in both PC and mobile platforms. Mobile applications can be blocked individually and device usage time can be regulated easily through Norton Family Premier. Although the user interface is not the best, all the features can be easily located and tweaked from both the mobile app and the web platform. However Mac OS is not supported at all, and can only be used to access the parental control web interface. Other features include location tracking, text management, video monitoring, and contact management.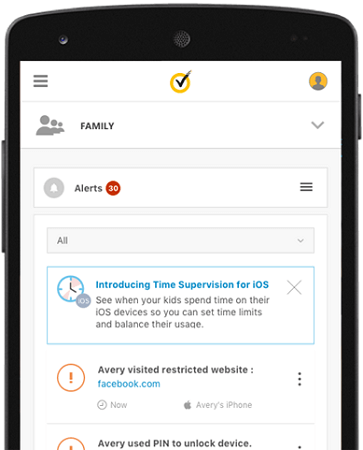 Price: Free for a single user, Premium version at $49.99/year for unlimited users.
Pros

Unlimited device support.

Location supervision and 30-day history.

Very strong web filter.

Social media tracking.
Cons

Does not support Mac platforms.

Costly for small families.
SecureTeen does everything from tracking the location to blocking apps, managing screen time, monitoring calls and texts, tracking locations, logging keystrokes, monitoring pictures, and monitoring contacts. It also has the ability to monitor Gmail activities, and other social media messaging activities like WhatsApp, Viber, Snapchat, Facebook, Skype, Line, etc., thus, protecting your kids from cyber bullying or harassment. Moreover, it does all of these by remaining undetected. The app lets you to completely customize app usage times that tailor to your kid's needs.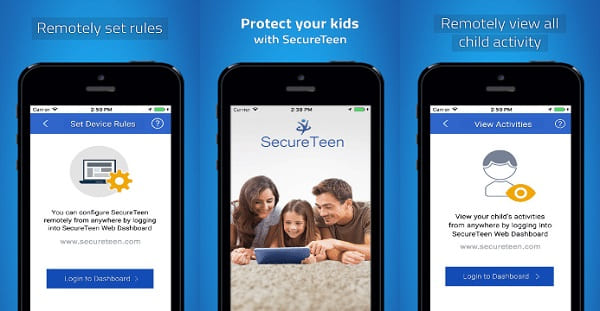 Price: A 15-day free trial. Premium version at $39.99/year for Android, iOS, and Windows platforms. Premium Plus version at $69.99/year. Both versions limit usage to 3 devices.
Pros

Very good for Android devices.

Tracks most of the social media platforms.

Undetectable tracking.

Supports Android, iOS, and Windows platforms.
Cons

A lot of features are available only for Android devices.
The MM Guardian Parental Control app has all of the extensive features that a parent may need. The app can do everything from location tracking, time management, app blocking, web filtering, call and text monitoring, and locking/unlocking the device. It has a support for both Android and iOS devices, with different sets of features for Android phones, Android tablets, and iOS devices, which also leads to different prices for all these devices. Although it can do almost everything that a parental control app should, the user interface is not very appealing, and is quite complex for web platforms, which is the reason, most of the users prefers the app platform.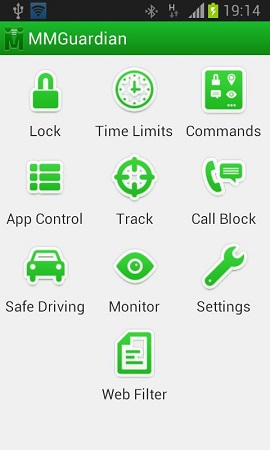 Price: A 30-day free trial. Single user Android phones: $3.99/month for a month, $2.92/month for a year, and $1.33/month for 5 years. Single user iOS devices: $1.99/month for a month, $1.67/month for a year, and $1.33/month for 5 years. Different pricing for family plans.
Pros

Offers a 30-day free trial.

Extremely simple.
Cons

Not a good user interface.

Costly for multiple devices.

Different features for different devices.
Conclusion
So, here are the top 8 kid tracker apps shortlisted from the millions of choices on the Internet. It is evident that all of the parental control apps mentioned here are quite good at their work, and have most of the features that are necessary, but FamiGuard Pro for Android is the best one among them according to the features and the price point.
From real-time location tracking to geofencing, web filter, app time control, and screen time management, FamiGuard performs all the tasks with great precision. It is preferred by most of the parents for monitoring their kids.
You may also be interested in:

By Tata Davis
professional in software and app technology, skilled in blogging on internet
Thank you for your feedback!