YouTube is one of the most popular sites which showcase videos from different genres. Several people worldwide use this site on a daily basis to enjoy the many videos uploaded on it. While some of the videos are informative, some of them are not at all suitable to be viewed by the young children. This is the reason why parents should take certain measures in order to monitor the type of videos which are being viewed by their children. There might be some potential risk in viewing such videos which you as a parent may not be aware of.
YouTube has itself recognized this concern and has introduced several features in it through which parental control has been made possible. Also, there are some great third party apps which can be used to aid the parents in effective parental control and helps them in keeping their children safe. Find out more about how to put parental control on YouTube app by reading on.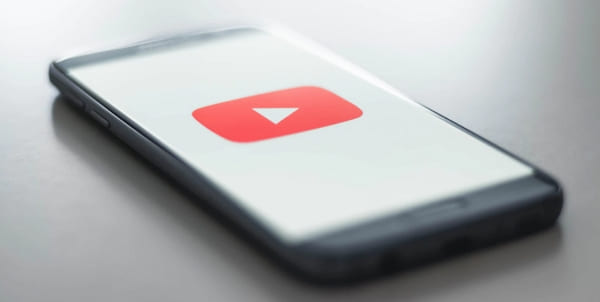 Table of Contents
Part 1: The Urgency of YouTube Parental Controls
YouTube introduced YouTube Kids which showcased only the videos which were appropriate to be viewed by children. However, there were many contents on this portal as well which were not at all suitable for viewing by young children. Here are some potential dangers of YouTube and why there is an urgent need for YouTube Parental controls:
Children getting addicted to viewing videos on YouTube which would harm their mental as well as physical well being and development. There needs to be some control or limit so that kids can or should give time to other activities like going out for outdoor games, studying, spending time with family etc.

Violence, blood-shed, suicides, killings and anything related to crimes can cause detrimental effects on young minds. You Tube has a lot of violence related videos and content that needs to be monitored

With so much of adult content on the site, children would be subjected to some topics which are not at all suitable for their age

Due to the inappropriate content, your children may learn some bad values which would have a negative impact on their mental growth

Use of obscene languages, drug and alcohol usage is also a part of some videos online. This can be very emotionally upsetting for a child
This is exactly why YouTube parental controls is a necessity for parents of young children.
Part 2: How to Put Parental Controls on YouTube
Unfortunately, even though YouTube has several parental control features, it does not allow the parents to set an appropriate screen time during which the children can access this site. In terms of how to put parental control on YouTube, parents can make use of the following methods.
For Android Devices
For all the Android phones and tablets, parents can download a third party parental control YouTube app like FamiGuard. This parental control app which specifically provides all the necessary features to parents to effectively control their child's screen time on their phones. The App Time Parental Control feature of FamiGuard is excellent. You can basically set a stipulated timeline for your kid to use specific apps like video streaming apps such as YouTube or simple gaming apps, so that your kids don't get distracted from their daily routine of studying, playing outdoor games, meeting friends etc. The chosen apps will be completely blocked, once the screen time limit is reached. Also, you choose the apps by two main categories namely, social media and games. You can also customize your own unique category and manage apps easily.
Thus, this app is highly recommended as it is very helpful to maintain a healthy life of kids. You can install this app and use it to know how to set parental controls on YouTube app by following the steps below.
Step 1: Register for a FamiGuard account on the website or on the target device.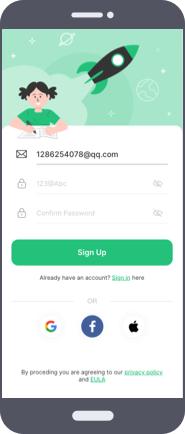 Step 2: Download FamiGuard app from Google Play on your child's phone and then log in to the account. Now, configure the device following the clear on-screen instructions.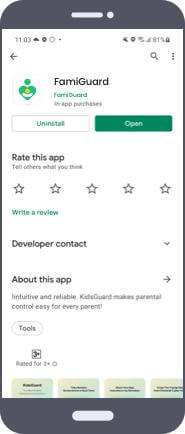 Step 3: Now, carefully choose the "App Time Control" option, and then choose the apps you want to set screen time on.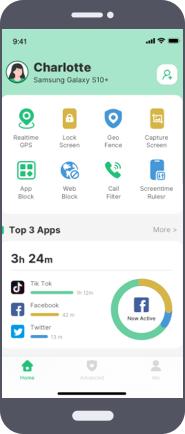 This way you can set up FamiGuard and use it to put parental controls on YouTube for your child.
For iPhone:
iPhone devices come with an inbuilt feature of setting parental controls on the usage of the phone by your children. You can use this feature to know how to put parental controls on YouTube in the following way to set the require screen time for YouTube.
Step 1: From the "Screen Time" option, tap on "App Limits".
Step 2: Select "Entertainment" as YouTube would be under this category.
Step 3: Set the screen time for this according to your preference.
By doing this you can set a certain time limit during which your child would be able to access all the apps included under "Entertainment" section including YouTube.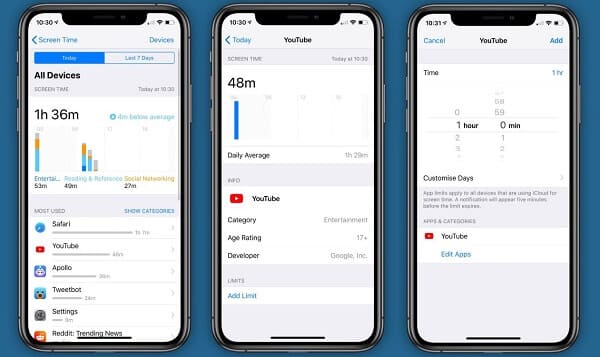 Part 3: How to Restrict Content on YouTube for Children
There are some other ways as well through which you can restrict the type of content being viewed by your child on YouTube. Some of these methods are mentioned below.
Way 1: Enable Restricted Mode
You can create a restricted profile on your device and set the restrictions on the apps and features which you feel is inappropriate, which can also be regarded as a kind of parental control on Youtube for your kids. Keep in mind, the steps vary with different devices and here is the detailed guide of the same.
For Computers:
In case you are using a computer, you will have to go with the browser based approach.
Step 1: Open your browser and go to YouTube.com.
Step 2: Now, simply Sign In to your Google account and you will be greeted with the home page of YouTube.
Step 3: Go to your profile photo on the right hand-side corner and click it.
Step 4: Tap Restricted Mode and turn it on.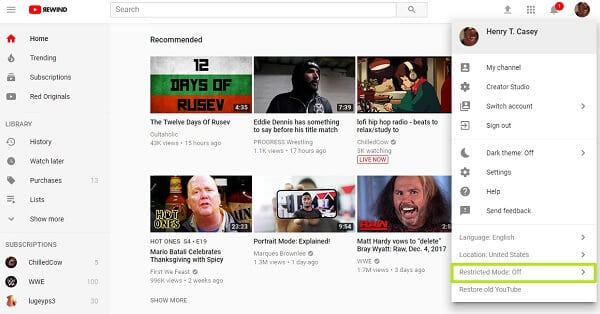 Step 5: Now, close the opened window and reopen YouTube.The content will be totally revised
For Mobile Devices:
Use the steps below to create a restricted profile for your child for YouTube parental controls from the YouTube app on your phone.
Step 1: Open YouTube app on your phone and sign in.
Step 2: Similar to the web browser method, click the profile icon at the top-right corner of your screen.
Step 3: Tap on Settings.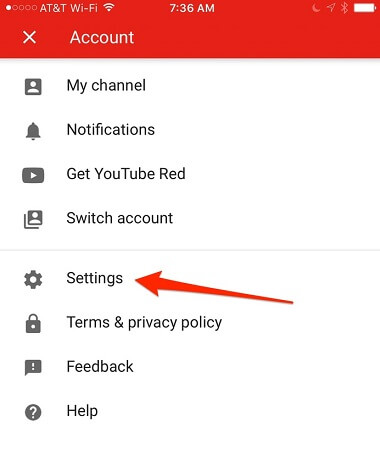 Step 4: Then choose and turn on Restricted Mode.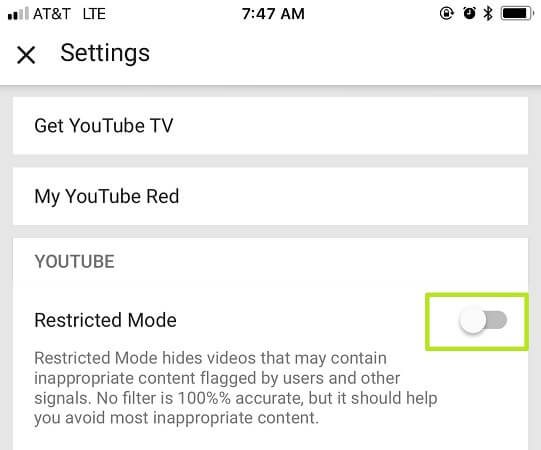 Step 5: Tap close to confirm
Step 6: Simply pull down or swipe down the video list to refresh.
This way you can easily restrict the usage of YouTube content by your children.
Way 2: Use YouTube App for Kids
YouTube has introduced YouTube Kids app which can be downloaded on your child's device. All you have to do is install this app on your child's device and let them use this instead of the regular YouTube app. This app contains only those videos which are suitable to be viewed by children. This way you can keep you kids away from the explicit content on the regular YouTube app. Besides, it can also help you achieve the goal of setting parental controls on Youtube.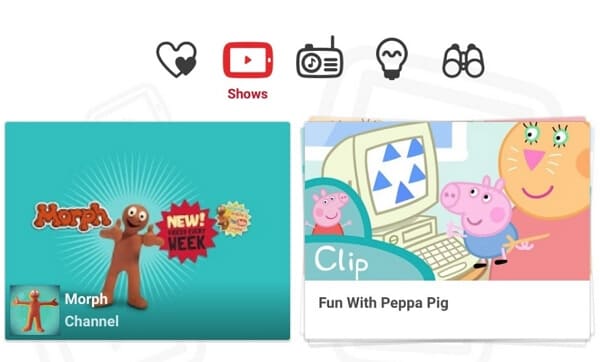 Conclusion
Parents need to be aware of the dangerous scenarios which can negatively impact the growth and development of their child. Appropriate measures would have to be taken by the parents in order to ensure that their kid is safe online. Although there are parental settings on YouTube that can restrict the type of content, you can't restrict screen time with it. So, the best way to limit screen or place parental controls on Youtube is to download the highly recommended FamiGuard app and use it to its full potential.
You may also be interested in:

By Tata Davis
professional in software and app technology, skilled in blogging on internet
Thank you for your feedback!