YouTube is one of the biggest video sharing social media platforms that a lot of people use in their daily life. From business to personal use, YouTube has reached to a position where no other video sharing platform could reach. As technology is improving day by day, kids are also using smartphones and high quality gadgets now. They can access the internet and watch YouTube videos anytime they want.
As a parent, you should be cautious of what your kids are watching on the internet and save them from the bad side of it. So if you want your kids to be safe from the bad contents of YouTube but you don't know how to block YouTube on Android, then you need to read this article. You will learn about the best parental control app that can help you to block it. Also you will get other suggestions on YouTube parental controls and how to block YouTube app on Android easily in no time.

Table of Contents
Part 1: How to Restrict YouTube Contents with FamiGuard Web Filter
YouTube is not a bad influence to anyone if it's used for good purpose. Kids can learn a great deal of things from YouTube everyday as there are millions of good content that can help them grow up learning all the good things from around the world. But it's the kids we are talking about and we can never be sure about their mind. They don't know how to differentiate between right and wrong, so it's our duty to show them the way. If you want to know how to block YouTube on Android then the best way to do it is by using FamiGuard - Web Filter.
This is one of the most reliable and protective parental control apps that can filter web, block unwanted apps, control the screen time, prevent cyberbullying, track location, use the Geo-fencing technology that will allow you to know your kids real time location all the time. In web contents filtering, it can help you monitor your kid's activity online and block certain apps and websites that you don't want them to visit. It will allow you to sort good websites and risky websites by using the web filtering option. This app can help you keep an eye on your children even if you are not around them all the time so that you and your kids feel safe. It has all the advanced features that can save your kids from cyberbullying, inappropriate adult content, harassment etc.
Here is how to block YouTube app on Android by using FamiGuard:
Step 1: First you need to create an account on your own phone which installed FamiGuard or on official web page. Then download and launch FamiGuard app on your kids Android and go to the "Web Filter" option.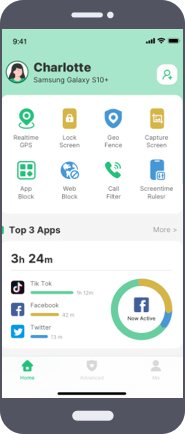 Step 2: Then you will get a screen where you can choose as many types of website as you want to block. Choose whatever type you feel necessary from here.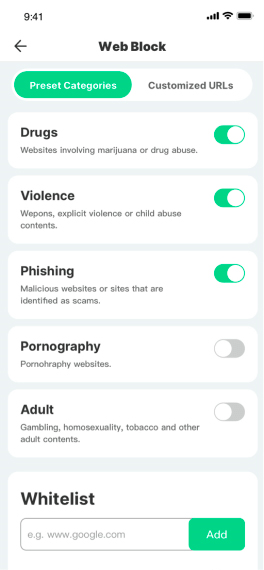 Step 3: Then you can go to the "Customized URLs" tab to type in any website link that you want to block. As you want to block YouTube, just type in - https://www.youtube.com and tap on done. This is how easily you can block YouTube on Android by using FamiGuard.
Part 2: How to Filter YouTube Contents on Android
The most basic way to filter YouTube content on Android is by blocking it from YouTube. You can do it from YouTube app. Here is how you can do it -
First you need to start the YouTube app on your Android phone and sign in by using your account credentials.

Then you need to tap on the "Account" icon on the top right side of the YouTube app and select "Settings" option.

From the "Settings" menu you need to select "General". Then, when you proceed to the next page, turn the "Restricted Mode" on by sliding the toggle on the other side.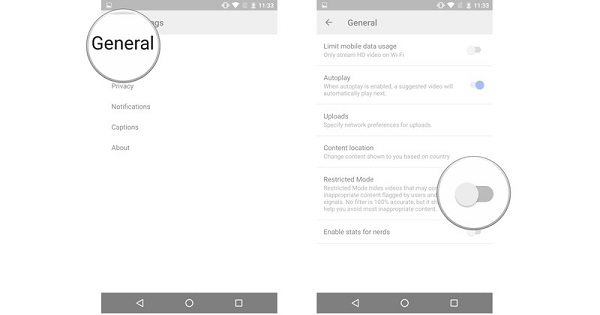 Part 3: How to Set YouTube Parental Controls On Android for Contents Blocking
There are various other ways of doing parental control on YouTube. These ways will allow you to keep your kids safe from any bad content that is totally inappropriate from them. These methods do not guarantee any hard protection. So we strongly suggest you to use FamiGuard for parental controlling YouTube easily and safely. Still if you want to try some light solutions follow below methods -
1. Turning off Auto Play:
If you turn off auto play, this will allow YouTube algorithm to stop playing inappropriate videos automatically for your kid. Though this is not an effective solution but you can try this method when your kid is watching YouTube videos under your supervision.
Launch the YouTube app on your phone. If you are logged in, tap on your account on the top right side of your screen.

Then select "Settings" option and tap on "Autoplay".

Finally select "Autoplay on Home" option and select "Off" to turn it off.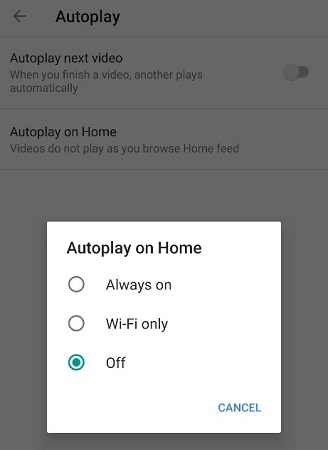 2. Try Signing Out of Google Account:
If you are using YouTube official app on your phone then you can easily log out of your Google account. This will stop anyone from playing certain age restricted videos on your phone. If anyone uploads an NSFW video containing any kind of inappropriate things, they have to check the 18+ age consent. So if your kid or anyone tries to play that video, YouTube will ask to login first instead of playing it. Age restricted contents needs your age confirmed in order to be played on YouTube.
Part 4: How to Block YouTube App By Resitricting Time Limits on Android
You can easily block YouTube app on Android by using FamiGuard parental control app. FamiGuard App Time Control feature can block the YouTube App by setting the allowed time as zero. In this way, your children connot access to YouTube unless you change the time settings. Here is how you can do it -
Step 1: First you need to download the FamiGuard app on your device. And create a new account for FamiGuard.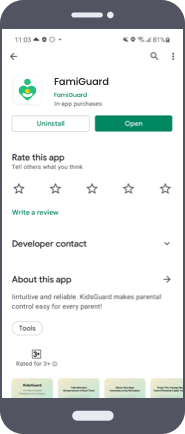 Step 2: Then you need to download and install FamiGuard app on your kid's Android phone from Google Play Store.
Step 3: Next you need to configure your kid's device by logging in to your new FamiGuard account. You need to set up the app on your kid's Android, choose who uses the phone, fill up the information of your kid's name and age etc. Then follow the setup wizard to set everything properly. After setting up everything connect your kid's Android by verifying from your device.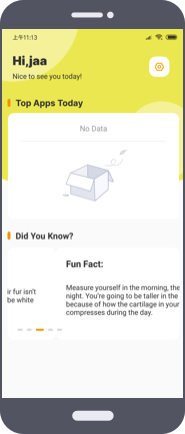 Step 4: Finally, you will be redirected to the "App Block" of FamiGuard on your device and you need to select the "Block Mode" option. After that you can set time limits and restrict the usage of YouTube app on your kid's Android easily.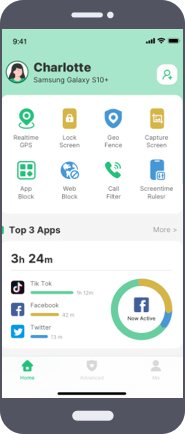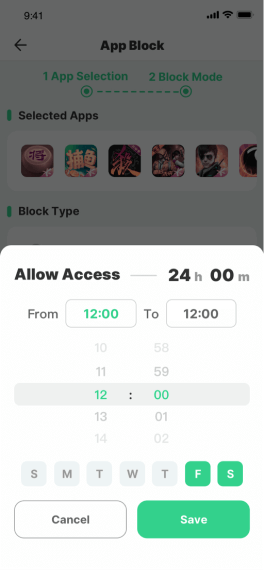 Summary
After reading this article, you already know how to block YouTube app on Android. The best way to block YouTube app on Android is by using FamiGuard parental control app. This will guarantee you safe browsing and using the internet for your kids anytime. You can monitor everything they are doing on their phone online. You can keep tabs on them and know where they are going. This will help you to be a better parent without breaking a sweat. You can use any methods for YouTube parental control but FamiGuard will ensure guaranteed safety for your kids. So stop wasting your time on any other ways and start using FamiGuard now.
You may also be interested in:

By Tata Davis
professional in software and app technology, skilled in blogging on internet
Thank you for your feedback!