Routers are used widely in our daily life because Wi-Fi connection is like a daily companion for almost everyone. It's really hard to find someone who don't use Wi-Fi or don't know anything about a router or how it works. Many people have wanted to know if it's possible to block websites in router or not. The answer lies in this article and you will find everything about it in here. This article is about giving you a lot of information about how to block websites in router from various brands. Also, it will teach you the limitations of blocking website on router and how to block websites easily by using a user friendly and advanced tool.
Will It Be Effective to Block Websites in Router?
With a decent Wi-Fi router, there are a few different ways to control web access, both at home and at the workplace. Not exclusively would you be able to control who can get to the web from your router, you can likewise block sites, limit the long periods of access, throttle transfer speed. In spite of the fact that the authoritative choices on a switch change with various models and makers, for the most part, the best spot to begin is to search for the router's parental controls. At the end of this article, you will know how to block websites on Wi-Fi router.
Table of Contents
Part 1: Steps of How to Setting Top 5 Brand Routers to Block Websites
Most Famous Router Brands are - D-Link, Linksys, Netgear, Comcast and Belkin.
1. D-link
Paste http://dlinkrouter.local or http://192.168.0.1 into the search bar and login with user id and passcode.

Click web filter in the feature tab and go to the box.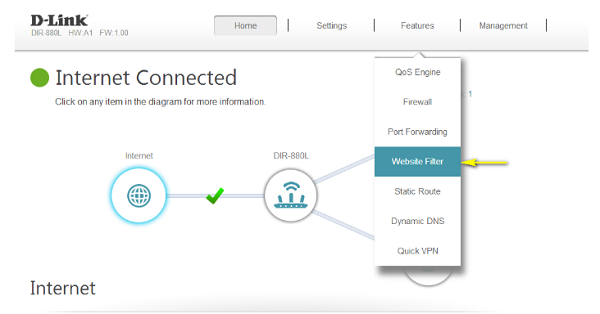 Add the sites you want to be blocked and click save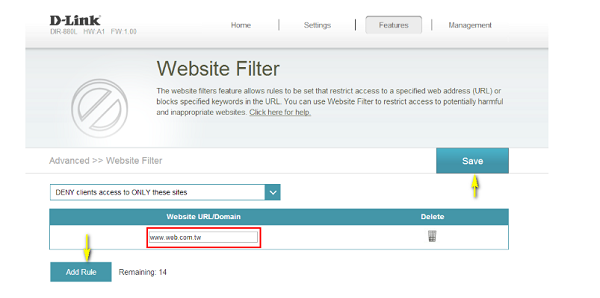 2. Linksys:
Go to the site https://192.168.1.1 and login with the router user id.

Enable parental control on

Click on Block internet access and add in the websites or URL of those websites which you need to be blocked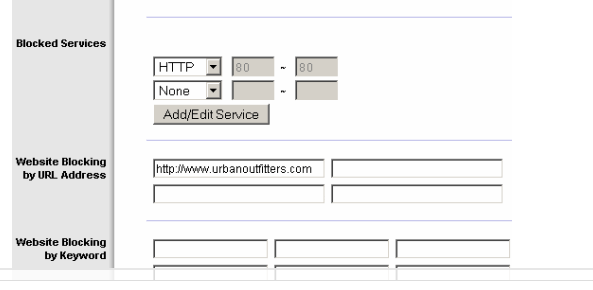 3. Netgear
Paste http://www.routerlogin.com in the search bar and log in using the user id and password

Click Advanced > Security > Schedule

Select the time schedule and keywords to be blocked

Hit the Apply Button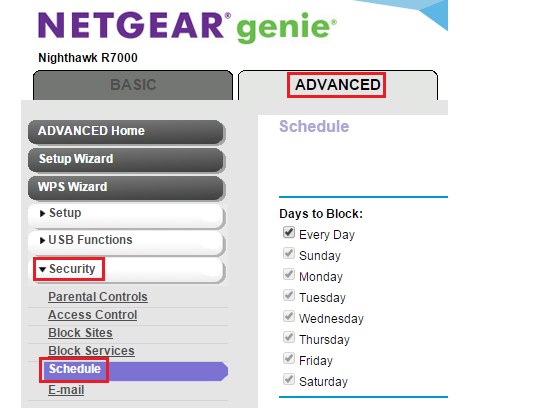 4. Comcast
Press the Xfinity button on your remote control.

Utilizing the correct arrow button, look over to feature Settings.

Utilize the down arrow button to feature Parental Controls.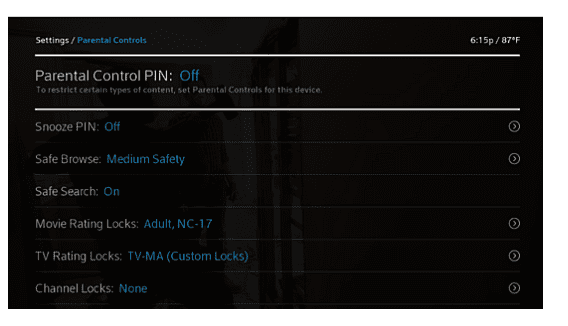 Utilize the down arrow button to feature a Parental Control PIN.

Enter a four-digit Locks PIN based on your personal preference.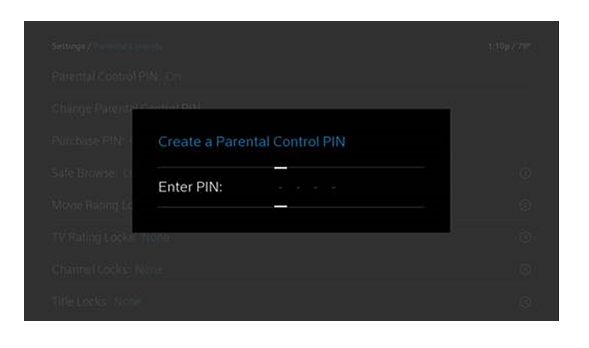 5. Belkin
Visit the switch's IP address (http://192.168.2.1) in another program window.

Click on DNS under Internet WAN.

Enter the switch's passcode word and click Submit.

Uncheck Automatic from ISP and type in OpenDNS addresses in DNS Address and Secondary DNS Address.

Click Apply Changes.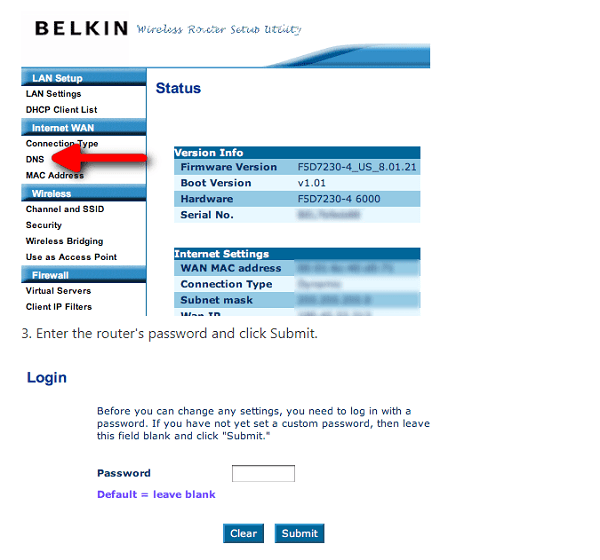 Part 2: Using OpenDNS to Block Specific Website on Router
OpenDNS is a free service that can be utilized to block individual sites on the home Wi-Fi. The setup is really simple, and you can get a free record to redo the separating on sites and classifications. We have effectively guided to how to block websites on your router. There are some simple steps to use OpenDNS -
Supplant Router DNS with OpenDNS.

Enter Static IP Adress in OpenDNS Account

Enter Dynamic IP in OpenDNS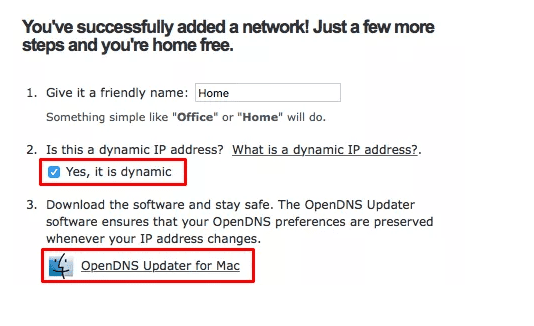 Set Website Content Filtering with OpenDNS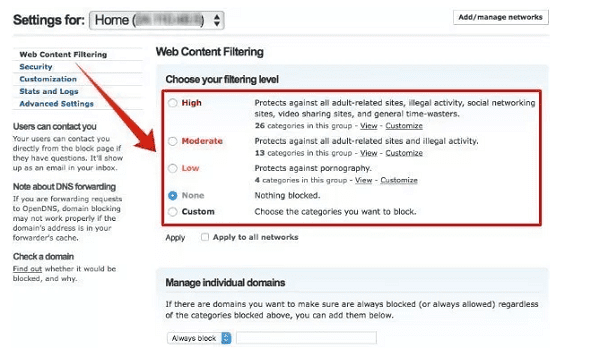 The Limitations of Blocking Websites in Router
This method has both policies as well as technical limitations as some websites might not be blocked in some regions of the world. On the other hand, it is not simple to use Open DNS. You need administrative rights to the Hosts document. You may need to put various lines in to speak to represent pages being gotten to in the area. For instance, if somebody needs to achieve a particular profile page or subspace, you'll need to include these squares also. You can't accept individuals will dependably begin at the landing page for a site. A few destinations additionally have canonicalization issues and can be achieved utilizing "www." or without. The block will work for this one PC.
Part 3: A Way to Easily Block Websites Permanently Without Requiring Expertise
The five solutions mentioned before aren't the main choices for website blocking or access restriction. You may discover the best way to block the websites permanently by using FamiGuard. It really play's an important role in parental control. It can block over 30 categories of the websites for children, such as gambling, pornography, violence, etc.
FamiGuard is the ultimate solution for blocking websites without any doubt. The web filter feature of FamiGuard will help you to block websites by using category method and also create your own white list and blacklist for websites that you don't want anyone to visit. You can easily decide which websites are harmful for your kids and which websites can help them learn something. Using FamiGuard will guarantee you the protection that no other parental control app can provide. Here is how to use the web filter feature of FamiGuard:
Step 1: Register a FamiGuard Account
Please register an account either on the website or at device which has downloaded the FamiGuard app.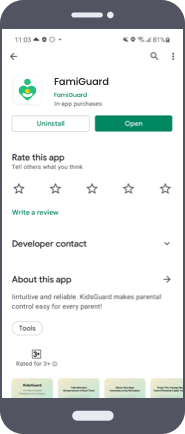 Step 2: Configure the Child's Device
Download the FamiGuard app from the Google Play store to your child's device and log in the account. Then configure your child's device by following the onscreen instructions.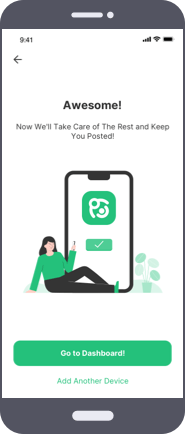 Step 3: Set up Web Filter
Now, you can choose Web Filter on the web dashboard or with the app to block websites or set blacklist & whitelist of websites.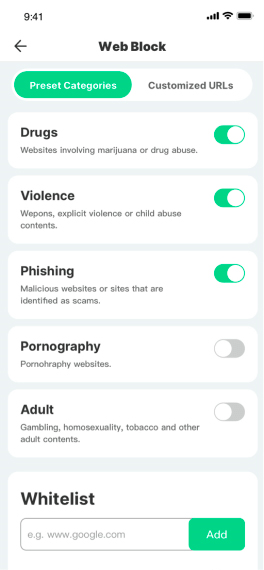 Advantages of FamiGuard When Compare to Router
FamiGuard is standout amongst the best parental control application available out there to block unwanted websites, and it has many advantages over the routers. Some of them are described as follows:
FamiGuard can block multiple websites at a time, more than as compared to that of a router

It is easy to set and use while you need to be an expert if you want to use a router to Block websites.

It allow yous to block websites in multiple Android devices while Router can block websites in only one PC at a time.

FamiGuard also provides the ability to screen time application usage, unlike the Router.
Conclusion:
This article is a den of information for anyone who wants to know about router and how to block websites on Wi-Fi router. You can easily follow the guideline from here and solve any confusion related to this topic. You already know that, using a router for blocking website is not a guaranteed solution as it can be bypassed easily. But FamiGuard can help you block any website by using its web filter feature. You can use it to block the inappropriate websites on your kid's phone and they will never be able to access it without your permission. If you want to block websites permanently without requiring any expertise, then FamiGuard can be your ultimate solution.
You may also be interested in:

By Tata Davis
professional in software and app technology, skilled in blogging on internet
Thank you for your feedback!