People think social handles like Facebook, WhatsApp staggers to be the most addictive websites. Or others confines to the belief of Netflix to be the eater of child's time. But the truth is the young adolescences grasps pornographic elements much faster than any other information or material. About 30-35% pron sites are accessed by the kids aged between 13-17 years group. If you too have a kid of that age, then it's a great worry for you. As, their chances of falling prey to this ill temptation manifolds. So if you're struggling out with some of the reliable means that can curb down adult content and filter the porn sites on Android then this article will help you out. Simply discover the reliable methods essential in blocking such websites with much ease!
Table of Contents
Part1. How to Block Porn Sites on Android with FamiGuard Adult Filter
There are ample numbers of methods that may just block porn sites on Android. But they do not have any mechanism of providing the provision of giving you the mirror view of your kid's phone. To get a detailed structure of activities performed on the latter's device, FamiGuard proves to be the number one solution for you. This parental controlling app is equipped with the latest technology of controlling the activities of your kid's phone on your phone directly. Parents can control what content should the child see through its web filter feature.
Simple Guide to Use FamiGuard Web Filter:
Step 1. Download & install the App and Setup the device.
Download FamiGuard App from Google Play and install it on both parent's and child's phone.
Step 2. Go to Web Block and set rules.
After downloading, you can go to Set Rules on both child's and parent's device, then you can set rules for web filtering. And you can choose which websites should be blocked or which can be add to backlist.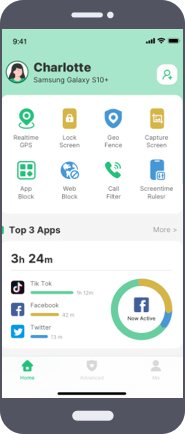 Step 3. Automatically block the inappropriate websites with FamiGuard.
After the device is setup and the rules are set, then FamiGuard can work automatically to protect your children from unhealthy online contents.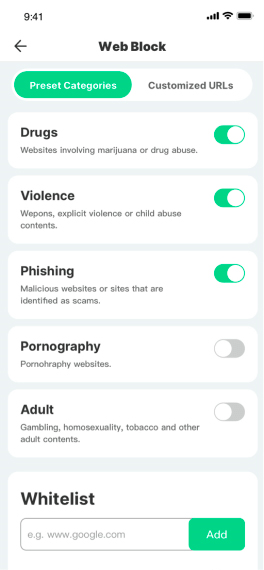 Part2. Enable Safe Search to Block Porn Sites
The scope of your kid slipping into bad temptation increases when a child is handed over with the cellphone. So, to curb out that entire section from their phone our most used search engine, Google is a good adult content filter. One such great feature is of blocking adult content websites. Once activated, the Safe Search feature allows users to terminate all kinds of porn sites used in that particular device. Parents or guardians can ensure to be relaxed by making use of this feature. Just follow down the step by step guide to understand how to block porn sites on Android.
Grab your child's Android phone and open the "Google Search" App placed in the "Google" folder.

From the main page, surf and select "More" menu located at the bottom right screen.

Once opened, tap on "Settings" option.

In the Settings window, click on "Accounts & Privacy" option.

Now, look out for "SafeSearch filter" and slide right the bar to activate the feature.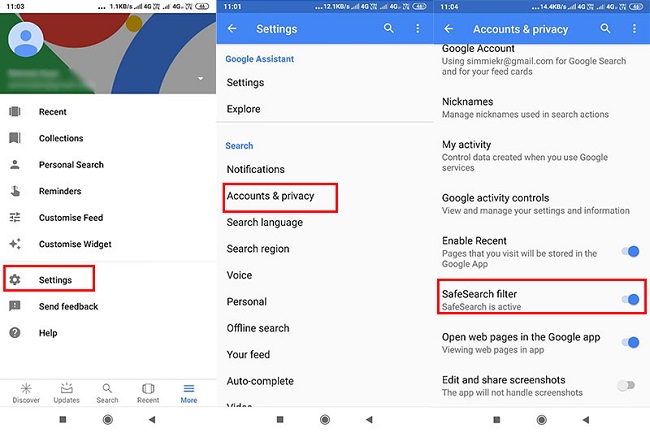 Part3. Use OpenDNS to Block Porn Sites
Blocking adult content using OpenDNS is well cherished by the tech savvies. Using OpenDNS methods is helpful in blocking any kind of inappropriate website. Parents too can make use of this method so as to limit porn/adult websites. In this method, one just has to switch the default DNS settings to OpenDNS. It then filters out passage of any unsuitable request sent from your kid's phone.
Note: It must be noted that Open DNS may fail to work if the data saver is enabled in one's device:
Here is how you enable Open DNS service and accordingly and filter out the adult content.
From your kid's phone, visit "Settings" app and then lookout for "WiFi" section. Now, you need to opt for the preferred "WiFi" network connection that is used to surf the internet.

Then, tap on "Advance" option and select the "Change DNS" followed punching the desired DNS values.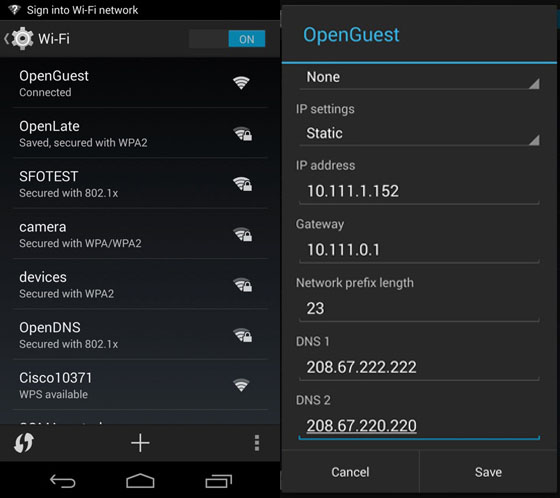 Part4. Bonus: Additional Features of FamiGuard
Are you wondering as to why FamiGuard is just the right option for you? Well, in that case, you must look at some amazing streak of features it offers:
Features of FamiGuard
Enables you to remotely block applications unfit for your kids.

Parents can enjoy the leverage of executing web filtering to control the browsing of kid's phone.

Monitor down the exact locations of your kids as well as maintain geofence for them, i.e., fetch information of kids going beyond the boundary set by you.

FamiGuard provides a detailed summary of activities, data usage, websites visited of your child's Android phone.

Incorporates a smart feature of filtering out inappropriate contents in a much hassle-free manner.

Parents can accordingly schedule a suitable screen time for their kid's phone.
Conclusion
As a concerned parent, the need of monitoring your kids' activities is extremely crucial. Hence, we've discovered some great solutions that are ideally made to filter adult content effectively. Enabling safe search or OpenDNS may just block the apps or unsuitable websites but fails to give you the right picture going behind the back. Moreover, they can't even fetch you the minutest locations of kid's phone either. Which is why FamiGuard is the most viable option for you. Parents or guardians can fetch timely updates of activities used in their kid's phone. Easily block down unsuitable website or application. Moreover, it has the provision of filtering what content the kid can see. This is certainly not possible in DNS or with Safe Search feature.
You may also be interested in:

By Tata Davis
professional in software and app technology, skilled in blogging on internet
Thank you for your feedback!