Are you planning to gift your kid an iPhone and they are unable to contain the excitement? As, getting a new phone opens the pathways of enjoying freedom to do whatever they want to. No doubt, your child's smile brings you happiness. But little do one know that the world of internet is not limited to all informative, fun like stuff. There are certainly some of the knavish websites that may threaten your kid. Moreover, pornographic elements and sites are easily available on internet that kids can easily access to. In order to shield your child from it, there are some of the useful ways to block inappropriate websites on their iPhone. This article, will completely guide for the same.
Table of Contents
Part1. Block Website on iPhone with iPhone Restrictions
iPhone running on iOS 11 or above have a useful feature of directly restricting inappropriate websites from one's phone. Hence, parents can make good use of this and ensure to block specific kinds of adult content sites in an effortless manner. Before you jump on this step, ensure to get hold of your kid's phone and then start.
From your kid's iPhone, launch "Settings" from app drawer or home page.

Surf and opt for "Screen Time" option. Then, select the "Content & Privacy Restrictions" menu followed by "Content Restrictions".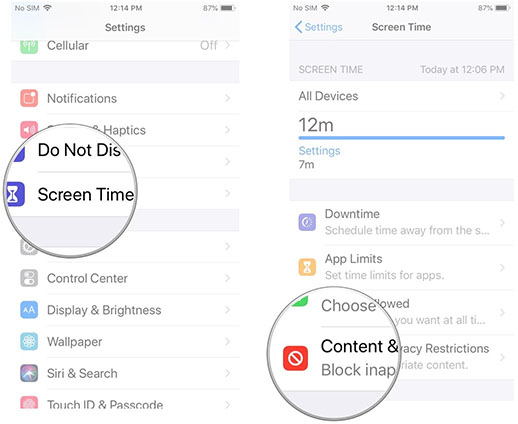 In the "Content Restriction" window you'll notice a "Web Content" menu, just press it.

Now, on this window, just tap on "Limit Adult Websites" and enter the desired link(s) on "Add Website" placed under "Never Allow" section.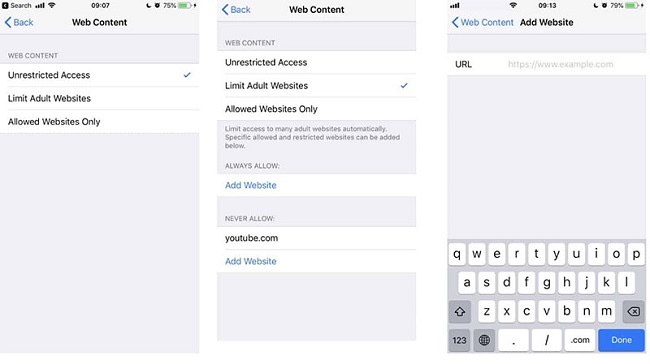 Part2. How to Block Websites on iPhone Using OpenDNS
Domain Name Server service can also be a great practice to block websites on your iPhone. It's a bit tricky to use but we've eased out the operations for you. Just follow the step by step guide to understand the functionality of OpenDNS to block porn websites on your kid's iPhone.
Begin with, going to the Settings of your child's iPhone.

Now, click on "i" button appearing right next to WiFi name you're connected with.

Surf and select "Configure DNS" under the DNS heading and then click on Configure DNS.

Then manually add in the "OpenDNS server IP" carefully. (Key in 208.67.222.222 and 208.67.220.220).

Remove the default IP address by tapping the "-"of 192.168.1.1 IP address.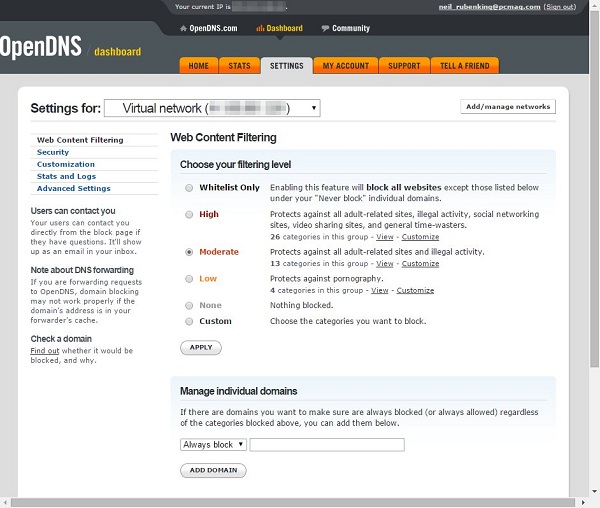 Now visit https://www.opendns.com/ and sign up for an account. From there on, maintain the dashboard of the sites you've blocked over your kid's phone.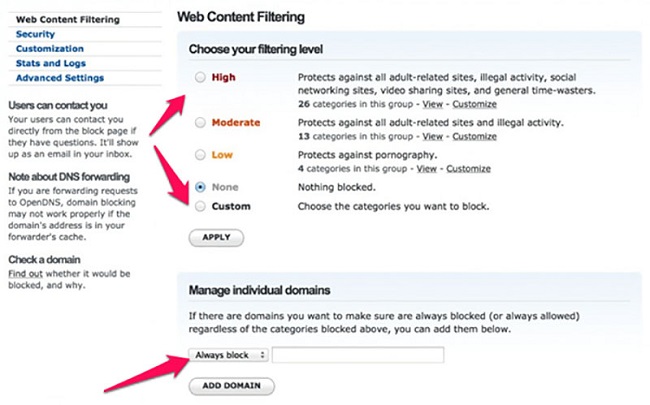 Part3. Refrain to Block Websites on iPhone
One of the applications that parents can considerably use for blocking inappropriate adult content is by using Refrain application. This app ensures to completely halt any kind of website, app to curb its use over the device. So, parents can install this application, insert the links of the distracting elements and pass through. Here is the detailed step by step guide to block porn websites on iPhone.
Grab your kid's iPhone and surf for "Refrain" application from the App store.

After the app gets installed, start with "Distracting Site List" option.

From this interface, just insert all kinds of unsuitable websites that you're willing to block and save it later.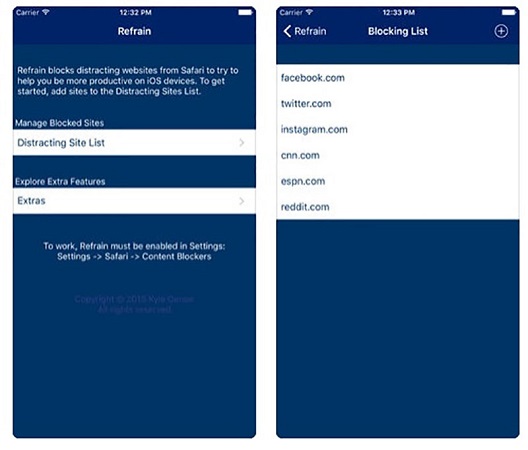 Part4. How to Use Site Blocker on iPhone
Other app alternative is Sit Blocker- an iOS app useful in blocking certain types of websites that are unfit for kids. This will result in blocking the websites whose links will be provided by the user. Hence, your kid/child won't be able to access them over Safari anymore. Here is the comprehensive guide on how to block websites on your iPhone.
On your kid's phone, simply download Site Blocker available in the App Store.

Carefully launch the application then add in all the links that you're intending to remove over the block list.

You can even set a schedule a particular timer for managing blocking of the website from its streak of features.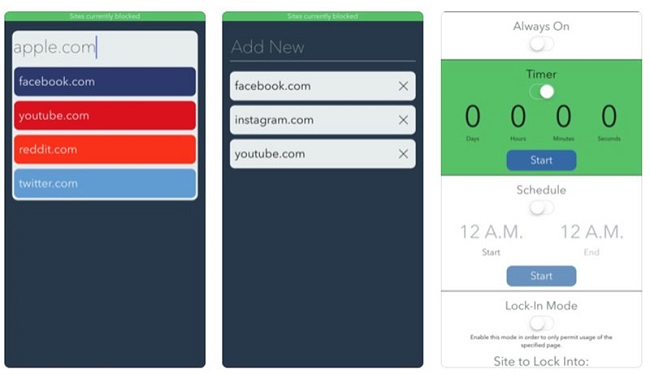 Part5. FamiGuard: Parental Tool to Block Website for Android
To save time and manual steps, consider using FamiGuard tool to master the art of monitoring. Not only can you put barriers over the unsuitable websites using its web filter feature but monitor them at your own accord. With FamiGuard, gain the minutest activities circling around their browsed websites. You can maintain firm scheduling for your kid's phone, remotely block websites or apps and filter the contents effortlessly. Hence, it is no rocket science for blocking any kind of inappropriate websites on your kid's iPhone.
Key Features:
One-click to block all the high-ristk websites. You can create whitelist or blacklist for your need.

Filters adult, pornographic, violent, or aome other inappropriate websites remotely.

Block access to inappropriate apps and games. Instantly lock the device and pause usage.

Track the real time geofence of your kid's phone.

Maintains updated records of the time a child uses over internet.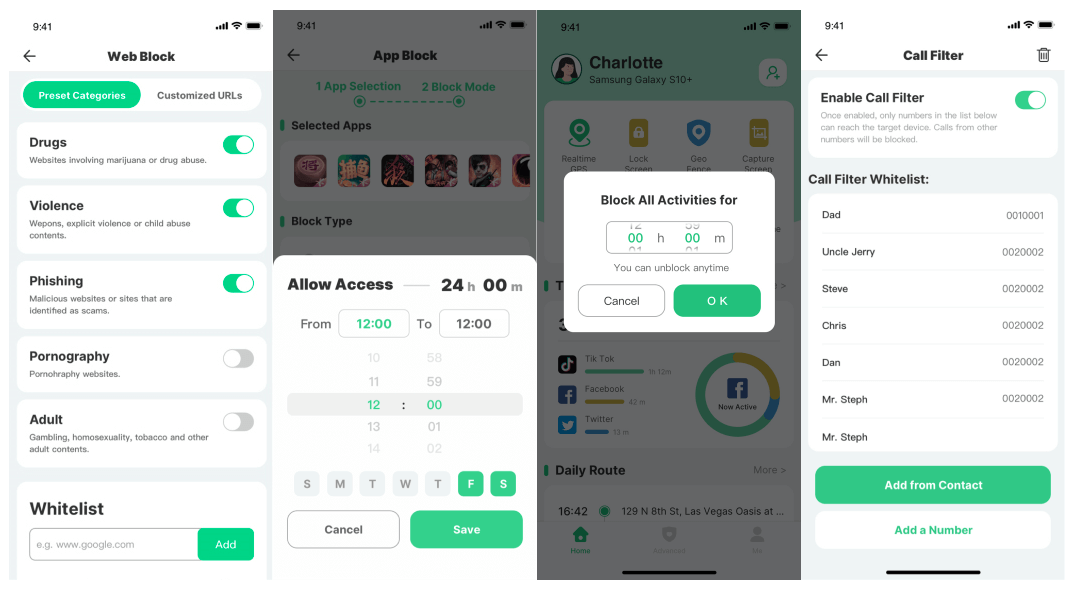 Conclusion
We've unveiled some of the helpful means on how to block certain adult content on kid's iPhone. While, all the methods are effective but requires a good amount of manual, so to cut short the efforts, allow FamiGuard to be your companion. It allows you to monitor the activities of your kid, fetch you details of locations and a lot more! Now, it's up to you to go with the conventional methods or get the best!
You may also be interested in:

By Tata Davis
professional in software and app technology, skilled in blogging on internet
Thank you for your feedback!