Blocking a website can sometimes be necessary because of several reasons. The reasons may include parental control or getting rid of some addiction. Whatever the reason is for you, you must know how to block websites on Android. It is because using the right way can save you time and effort. So, here are some of the best ways to block a website on Android.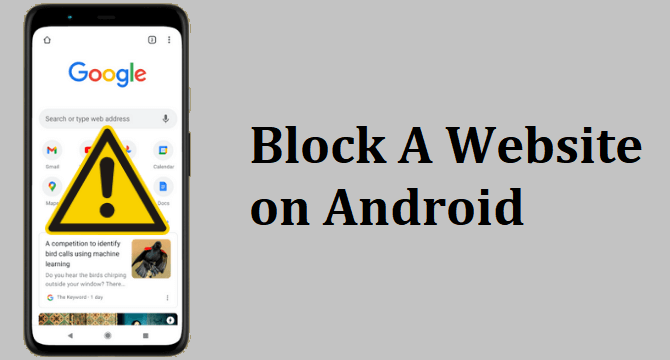 Table of Contents
Part 1: Block A Website on Android with Parental Control App
How to block websites on Android cannot be easier than this. If you are looking for a solution that works on most browsers instead of only one, then this is the solution you need to go for.
FamiGuard is the application that takes care of all your Android control needs. Blocking websites is one of them. It is an Android application that comes with the most security and controlling features. So, if you are looking to have good control over your kids or students or employees, then it is an amazing thing to go for.
Block inappropriate apps/webs to help kids build good digital habits and be safe online.

Lock screens to let kids focus on non-screen activities such as learning and exercise.

Keep track of kids' real-time and historic locations.
Step 1. Install FamiGuard on Parents Devices.
Step 2. Register and create a new account of FamiGuard, then login.
Step 3. Install FamiGuard on kids devices. You can start to monitor your kids' phones, like setting web block, Geo-Fence, etc.
Part 2: Block A Website on Google Chrome Browser
The next solution you can try is to block websites on a chrome browser. Chrome is one of the most commonly used browsers when talking to Android devices. So, restricting websites on this can solve the issue for you. There are two ways to try, and below are the details about each of them.
Option 1. Changing Site Settings
The simplest and one of the most effective ways to block a website on Android without the app is by changing the site settings on the Android device. Here are the steps to successfully complete this method:
Open the chrome application and go to settings.

Go to advance and then select site settings.

Now you can update the site settings to block that website.
Option 2. Using Chrome Extensions
Using chrome extensions is one of the best ways how to block a website on Android without the app, and here are the steps you need to follow:
Go to the google chrome website on those browsers and go for chrome extensions.

There will be a Block Site extension that you will need to install.

You just need to Add that website to block it in the extension settings.
NOTE:
These simple steps and the website will not work on other browsers because of the chrome extension.
Part 3: Block A Website on Firefox on Android
Blocking websites is one of the easiest things when you use Firefox. It is a browser that lets you easily block websites with add-ons and plugins. The process is also very quick and simple. So, if there is any website that you want to block on your device, you need to do the following steps on Firefox Android:
Open the Firefox application and go to the following link.

It will take you to the block site page, where you can search for the websites you want to block.

Now you will need to follow through with the process of adding this plugin, and it will block that website for your Android device.
NOTE:
This method will work as long as you are using the Firefox browser. However, it will not work if you use any other browser.
Part 4: Block A Website on Microsoft Edge on Android
Microsoft Edge is the browser that is recently getting a lot of popularity and recognition for its good performance. When it is about restricting some websites on your kids' phones, it brings you some of the best features.
One of those features includes restricting different websites from your kids' Android phones. Here are the steps that you will need to follow:
You need to start with your own Microsoft account.

Sign in and go to family settings. There you will see add a family member link.

Please enter the email address of your kid and add them by sending an invite.

Now from the family settings, you need to go to content restrictions and go for web browsing.

Go to always block and add the addresses/URLs of the websites you want to block for your kids.
NOTE:
Now you have blocked those sites for your kids on the Microsoft Edge browser. However, this method will work as long as they do not use other browsers. You also need to log in to Microsoft Edge with the child account you set up in family settings.
Part 5: Block A Website on Android with a Firewall
If you want to go deep into the settings, using a firewall might be the right solution. It takes things to the next level because instead of changing settings with the browser, you are using a Firewall. The good part about this method is that you can do it on both rooted devices and devices that you have not rooted.
Finding the firewall may be a little tricky for you, considering the features and ease of usage. However, once you find the right application, here are the steps that you will need to follow.
Open the firewall application that you selected.

Tap on "global" present in the options tab.

There will be an option to add a new pre-filter. Tap on it.

Now you will have to choose the type of data connections on which you want to block the website. Going for both Wi-Fi and data will be the best option.

In the address bar, you can add the address of the website that you are looking to restrict on that Android device.

Now go through the completion and permission process, and you will be done.

Starting the firewall will restrict the website for you.
Conclusion
Knowing the best way to block a website on Android can help you in amazing ways. You can not only restrict websites, but you can also make sure that your kids do not see anything bad on the internet. While there are many ways to do this, make sure that you select the best one according to your requirements for the best experience.

By Tata Davis
professional in software and app technology, skilled in blogging on internet
Thank you for your feedback!